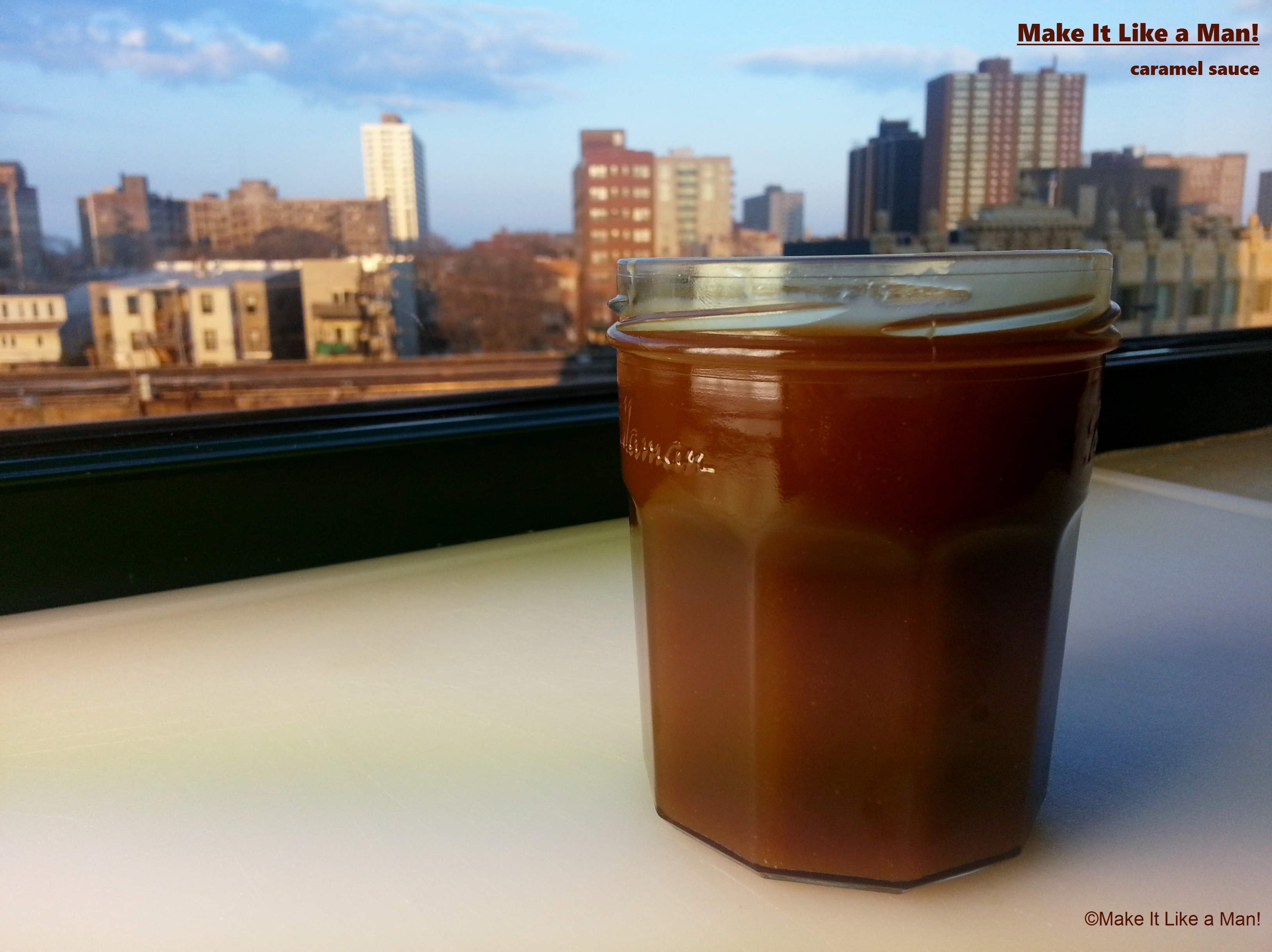 I have a thing for caramel. I make it every year, in one form or another. It's more of an art than a science, and there are all sorts of pitfalls, but once you get the hang of it, it can seem kind-of easy. I've been hanging onto this caramel sauce post for years, thinking it was just too good to cast freely out into the internet wilderness. But … here it is. Consider it your Christmas present.
Ingredients
½ cup heavy cream
½ tsp coarse salt
½ tsp vanilla extract
1 cup sugar
6 Tbs (¾ stick) cold unsalted butter, cubed
Directions
Pour the cream into a 1-cup measure. Add the salt and vanilla. Set aside.
In a medium saucepan, which must be dry as an Arizona desert, heat sugar over a medium-high flame until melted and brown at the edges, 3 minutes. With a heat-resistant spatula, pull the melted sugar toward center until all sugar is melted and caramel is deep amber in color, about 3 minutes more.
Off heat. Immediately whisk in butter, a few pieces at a time, until it melts. Take care as mixture is extremely hot and will bubble. Turn heat to med-low and slowly add cream mixture, whisking as you do to make sure that each addition is fully incorporated before adding more. (Each subsequent addition can be of a greater amount.) Switch to a wooden spoon and stir sauce until any hardened caramel is dissolved and mixture is smooth.
Strain into a heatproof container and let cool.
If what you're used to is the stuff you buy in a jar near the ice cream aisle, you'll come to understand that it is to homemade caramel what a Polaroid is to a high-res color image. I'm not kidding. You will gasp aloud upon tasting this sauce.
Here are my notes on knocking this recipe out:
Let me just start with a confession: I never do the prep before setting out on a recipe. I know you're supposed to. I'm a rebel. This recipe is an exception. Once things get going, it's like trying to jump on moving train. You either have to be right on top of it, or you're fucked. Everything must be prepped and measured, a whisk at the ready. Station the cream so that it's available to your non-dominant hand.
Also, David Lebovitz – whose caramel recipes I've poured over quite a bit – suggests wearing a shirt while making caramel. OK, actually he suggests wearing a long-sleeved shirt. The first time I made caramel sauce, I was wearing no shirt, just shorts. Never again. But let's just say thank God I was wearing the shorts, OK?
Now listen up, folks. When I say "heat-resistant spatula," I'm not kidding. This sugar's going well upwards of 300°F. Don't assume your spatula's going to be happy about it. Also, don't let the spatula stay in contact with the bottom of the pan for more than a few seconds at a time, even if it's a really good spatula.
A fantastic pot would be well-suited for this. Less-than-fantastic pots may not heat evenly and may have hot spots.

Uneven Heat: If your pot doesn't heat evenly, use a bong. Oh wait, this post is about caramel. If your saucepot doesn't heat evenly, the sugar in the center of the pot may never melt before the time is up, and/or before the rest of caramel starts to burn. Midway through the "pulling" stage, you may have to push some of the sugar out of the center of the pan. The flip side of the center-not-as-hot problem is that the caramel at the sides of the pot may get too hot (too dark, bitter, or burned). As a last resort, you might lift the pan off the heat for a few seconds to lower its temperature as the last bit of sugar melts.
Hot Spots: watch the pan carefully. It you notice hot spots, make sure to pull the caramel away from them diligently, and rotate the pan periodically.

It's worth noting that caramelized sugar and butter don't exactly mix as well as Kim Kardashian and basketball players. They're more like a Rihanna/Chris Brown kind of thing. But don't fret, because the heavy cream is like their Oprah. So, regardless of what may seem to be happening, keep whisking until the butter melts.
I pour the caramel from the pot directly into a Bonne Maman jelly jar. It's the perfect size. If you suspect that you have a few hardened pieces of sugar in the pot, pour the caramel through a sieve into the jar. If you put the jar's lid on immediately, it'll pop as the caramel cools, but don't take this to mean that you've "canned" it. The mixture is not acidic enough to be canned in this way. The caramel sauce must be kept refrigerated once cooled.
It's a bit difficult to make a double-batch – the stirring is quite a task. It might be easier to make two individual batches, back to back.
Some people start their caramel with a sugar-and-water mix. Those people are pansies. Sad.
When I first started making caramel, I had a hard time understanding just exactly what color "amber" is. In all fairness, amber comes in different colors. What you're after in this recipe is "red" amber. Like this: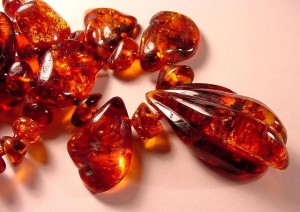 When you pull the caramel out of the fridge, it'll be thicker than peanut butter. You'll have to reheat it if you want it to become pourable. 15-30 seconds in the microwave will do it.
How long will it keep? I think the real question is, "Can anything keep me from eating all of it in one sitting?" If you have the willpower, I'd guess it'd keep for a long, long time.
♠
What to Do with Caramel Sauce
Drizzle it on someone you love. Or eat the entire batch with a spoon, if you're in between someones. Fair warning: this sauce is so good, you might lose interest in sex. Temporarily, of course, because, I mean, nothing's that good. On the other hand, if you need something you can admit publicly:
Drizzle it on anything pumpkin. It's an interesting combination.
Put a heaping spoonful in a cup of steamed milk or latte, and nuke until blendable.
Of course ice cream. Duh.
Just eat it by the spoonful.
♠
Caramel Sauce
This content was not solicited, sponsored, or written in exchange for anything.
Keep up with us on Bloglovin'