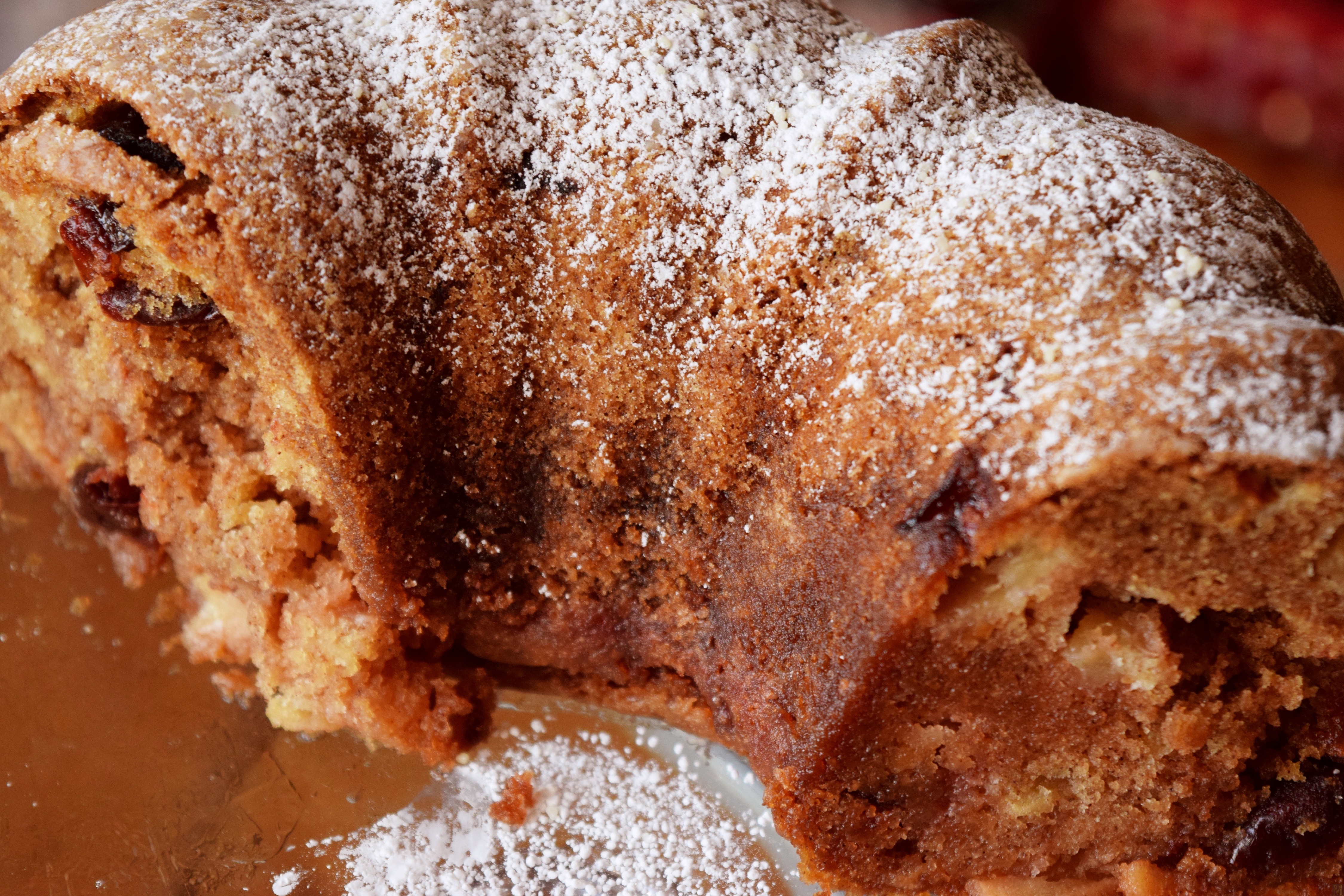 It's dense, moist, and not overly sweet. It has an old-school, wintery charm. No, that's not my Tinder profile. It's a description of this Brandied Cherry and Apple Spice Cake! Even if it's elegance comes mainly from its warm, unassuming simplicity, it deserves to be on a pedestal – and by that, I mean a simple, raised, glass cake plate – where it will contentedly wait for you discover its quiet, honest deliciousness. Wait, maybe that is my Tinder profile. Anyway, let me tell you about this spice cake.
Ingredients for one Bundt cake, serving 10 people:
8.5 oz. bread flour (1½ cups)
6.75 oz. cake flour (1½ cups)
0.25 oz. ground cinnamon (1 Tbs)
1 tsp baking soda
1 tsp salt
5 oz. olive oil (½ cup + 2 Tbs)
5.6 oz. vegetable oil (½ cup + 3 generous Tbs. See note.)
14 oz. + 3½ oz. sugar (2 cups + ½ cup)
5.25 oz. eggs (3 large)
2 tsp homemade vanilla extract
12.5 oz. peeled, cored, and cut (into ½-inch pieces) Granny Smith apples (3 cups, from 2-3 large apples)
0.75 cup brandied cherries, strained, liquid reserved
2 Tbs confectioners sugar, plus more for dusting
1 cup heavy cream (substitute vanilla ice cream)
Caramel sauce (optional)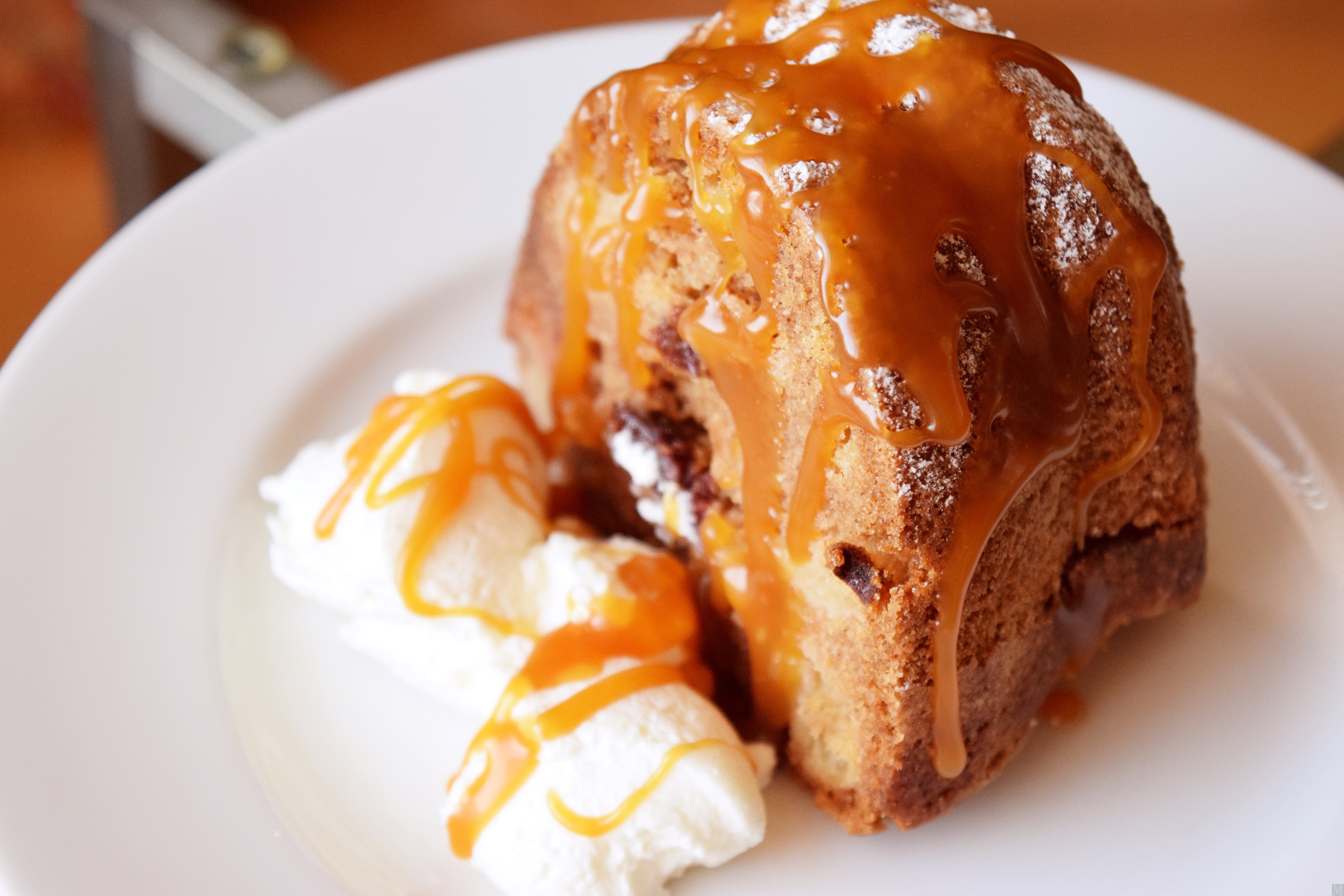 How to Do It:
Take any chilled ingredients out of the fridge, so they can come to room temperature. Preheat oven to 350ºF. Grease and flour a Bundt pan; set aside.
Use a stand mixer set to speed 2 (out of 10) to "sift" the flour, cinnamon, baking soda, and salt for 30 seconds; set aside.
Combine both oils, 14 oz. sugar, and eggs on speed 6 until lemon yellow, about 1½ minutes. Stir in 1 tsp vanilla.
Set the mixer to lowest speed and gradually add the dry ingredients until just incorporated. Add apples. Add cherries.
Scrape batter into prepared pan, and bake until a cake tester inserted in the center comes out clean, about 1 hour.
Meanwhile, add 3½ oz. sugar and 8 oz. water to the reserved cherry liquid. Bring it to a full boil, stirring at first to make sure to sugar is dissolved; set aside.
As soon as you've removed the cake from the oven, use your cake tester to poke lots and lots of holes into the cake, all over. Spoon the cherry liquid over the cake, and let it soak in. Continue to let the cake cool on a rack until the pan is cool enough to handle.
Invert cake out of the pan and onto a rack, and cool completely. Once it's cool, dust it with confectioners sugar.
Whip cream, 2 Tbs confectioners sugar, and 1 tsp vanilla to soft peaks. Serve cake garnished with whipped cream (and drizzled with caramel sauce).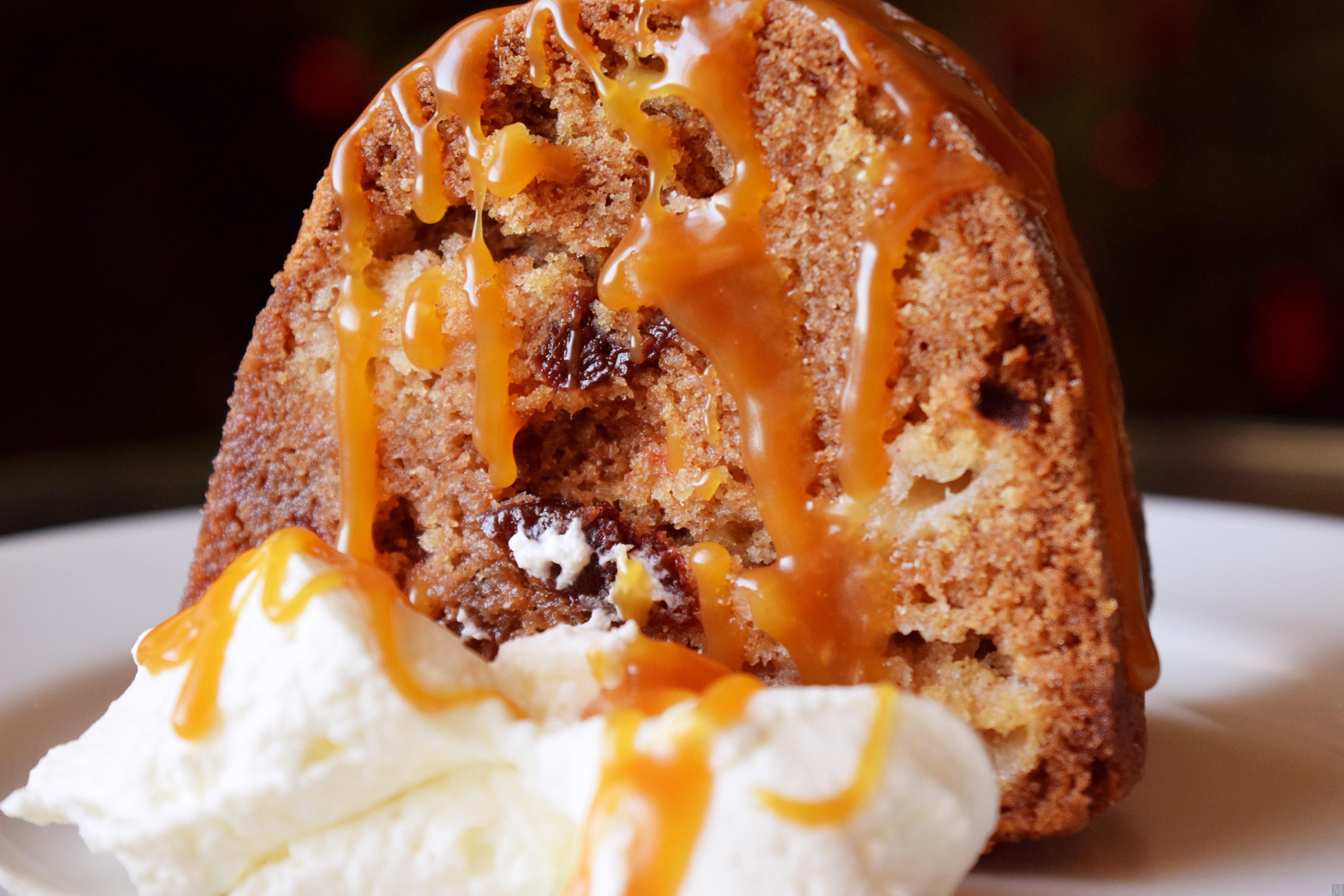 Notes:
If you're going to use a volume measurement for the oil, pour 5 ounces of olive oil into a 2-cup measure, and then fill it to the 1⅓ cups mark with vegetable oil.
I prefer to use olive oil unless there's a pressing reason not to. Cake might be one of those reasons. Many cakes need a neutral oil, and or that reason, I keep a small bottle of either vegetable or saffron oil on hand. However, because I don't use it often, I might have it on hand for a long time. To extend its shelf life, I keep it in the fridge, where it congeals and looks weird … but once it comes to room temperature, it's perfectly fine. Having said all of that, I love the flavor that olive oil brings to a spice cake, and to apples – so, two reasons to use it here. However, a full 1⅓ cups would be overpowering.
"Instead of using a combination of bread and cake flour, you can use 3 cups of AP flour if you must," I said, rolling my eyes an entire rotation.
If you come up short on egg weight, make it up with butter.
Here's a super-simple way to make brandied cherries: take a 1-cup capacity glass jar with a tight-fitting lid and fill it with good-quality dried cherries. Pour in your favorite brandy, covering the cherries completely. Screw on the lid, and let the jar sit in a cool, dark place for God knows how long … weeks, months, a year, forever.
You could substitute dried or candied fruits, or nuts for the cherries. In that case, you could soak the cake in a simple syrup that's been flavored with a liqueur – but be careful that you don't wander into fruitcake territory.
I used a standard-size Bundt pan for this cake. Unfortunately, "standard" seems to mean different things to different people. To my way of thinking, a standard-size Bundt pan will hold 12 cups of water if you fill it almost to the brim.
Crème fraîche would be an excellent stand-in for the whip or ice cream.
The caramel is mainly for looks (plus I happen to make a famously irresistible caramel sauce). If you really wanted to indulge, ladle a warm toffee sauce onto each serving plate and place the cake slices on top. Add a dollop of cream, lest anyone not recognize decadence when they see it.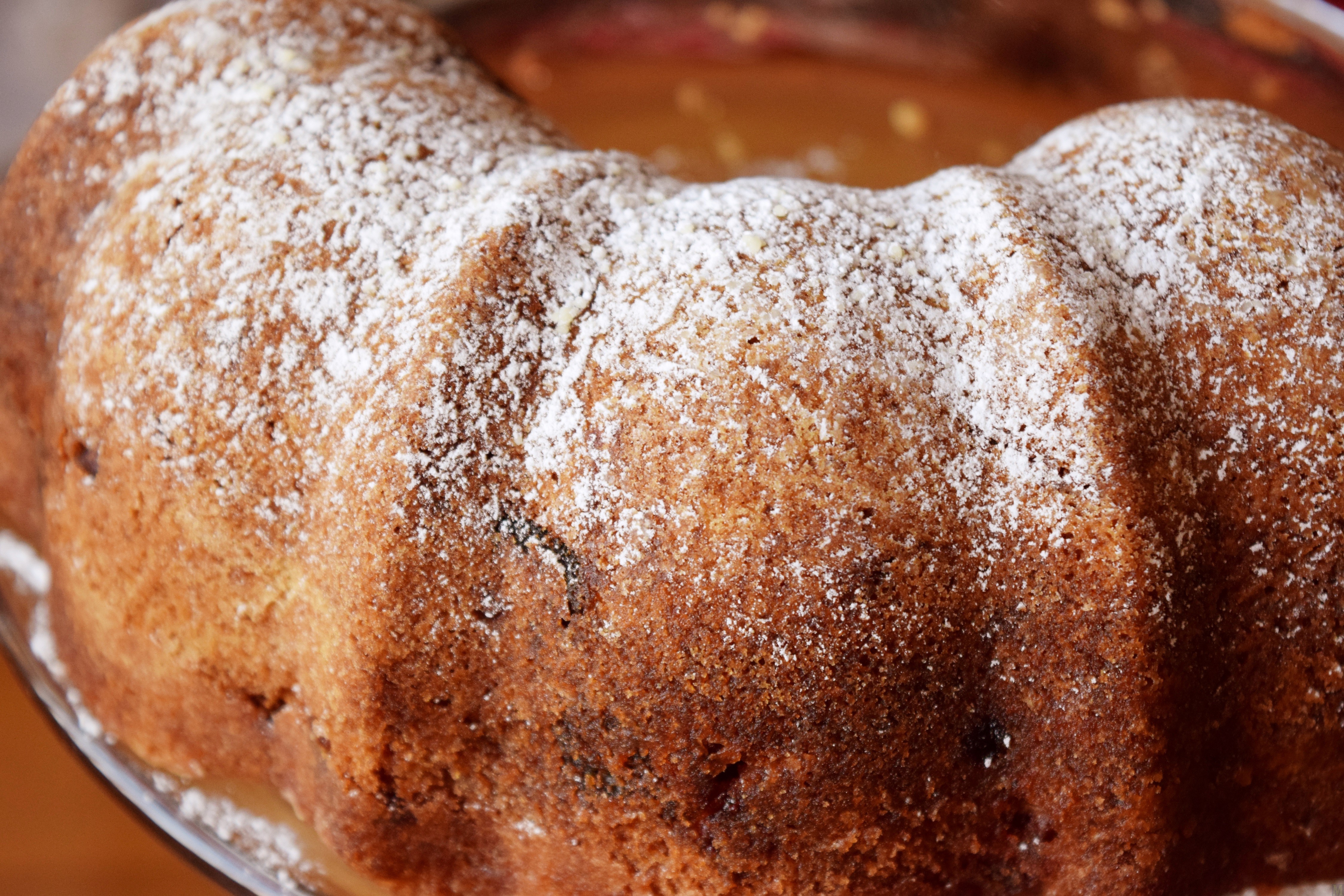 This cake would be so at home on Downton Abbey. It's absolutely wonderful without making a spectacle of itself. It's refined and absolutely of the highest caliber, and yet somehow evocative of the countryside. You should have your cook make it a faraway kitchen that you rarely see, and then have your butler oversee the footman who serves it to you.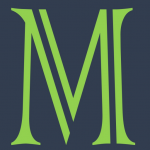 Brandied Cherry and Apple Spice Cake
The recipe owes something, but not everything, to Martha Stewart. Credit for images on this page: Make It Like a Man! This content was not solicited by anyone, nor was it written in exchange for anything.
Keep up with us on Bloglovin'