♣
I found this chocoflan recipe on Betty Crocker's website. But wait, don't judge me yet.
It also involves a box cake.
♣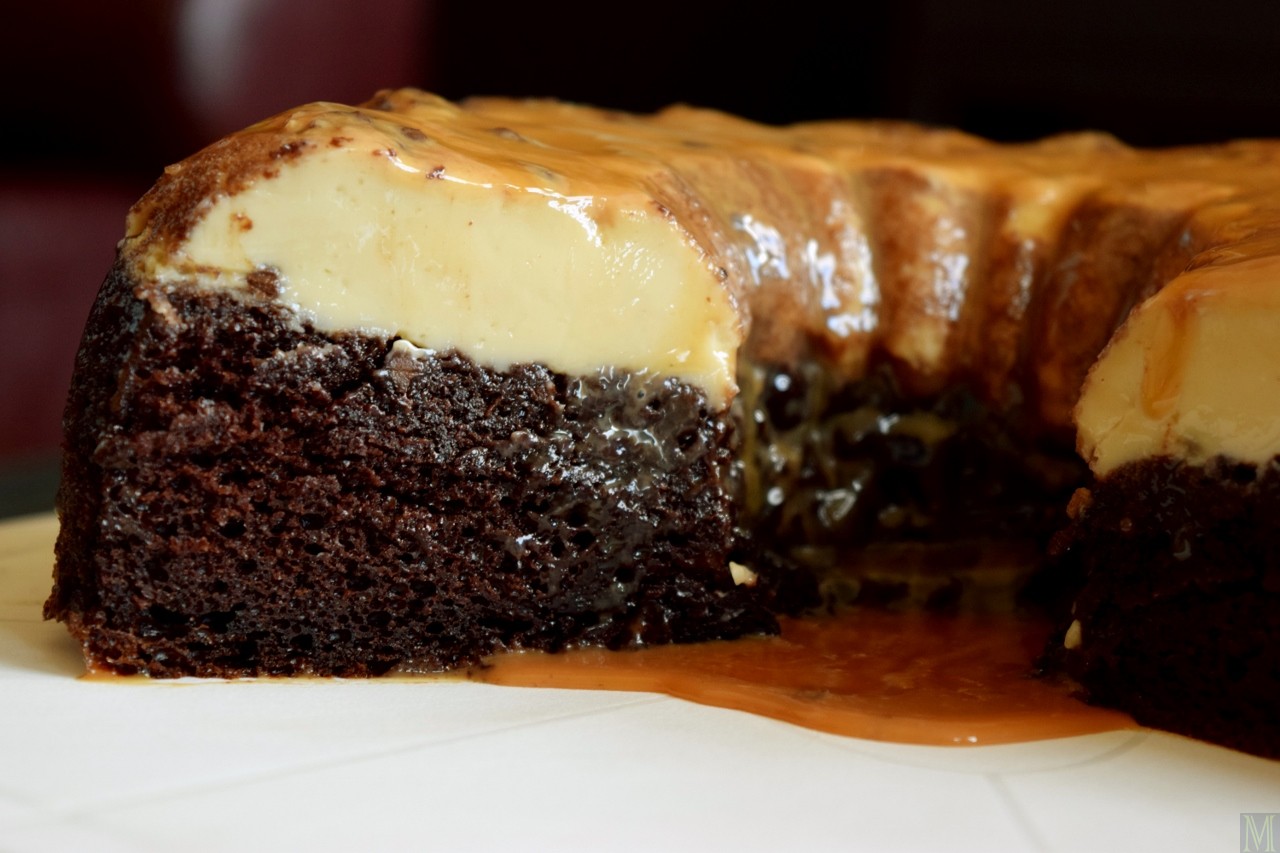 If you're still with me, I modified the recipe to use a from-scratch cake, so you can stop clutching your pearls. I have to tell you, though, the box cake was delicious. The flan lends moistness and density to it. My cake is better: richer, darker.
I had never heard of this kind of cake until recently. I found it in a Mexican restaurant last spring. It had a flan layer in between two layers of chocolate cake. I have no idea how to do that. The chocoflan I'm presenting today has only two layers, but it's every bit as delicious.
This chocoflan is called "magic," because you pour the cake batter into the pan before the flan batter, exactly the opposite of what you'd expect. Science makes the flan sink to the bottom and separate from the cake, et voila. I've searched and searched, for, like, literally 15 minutes on the internet, looking for someone to tell me what would happen if you poured the flan in first. Word on the street is that the flan would burn and stick to the pan and that, furthermore, it might not attach itself to the cake layer. I have my doubts about this, but not so much that I've been willing to test it.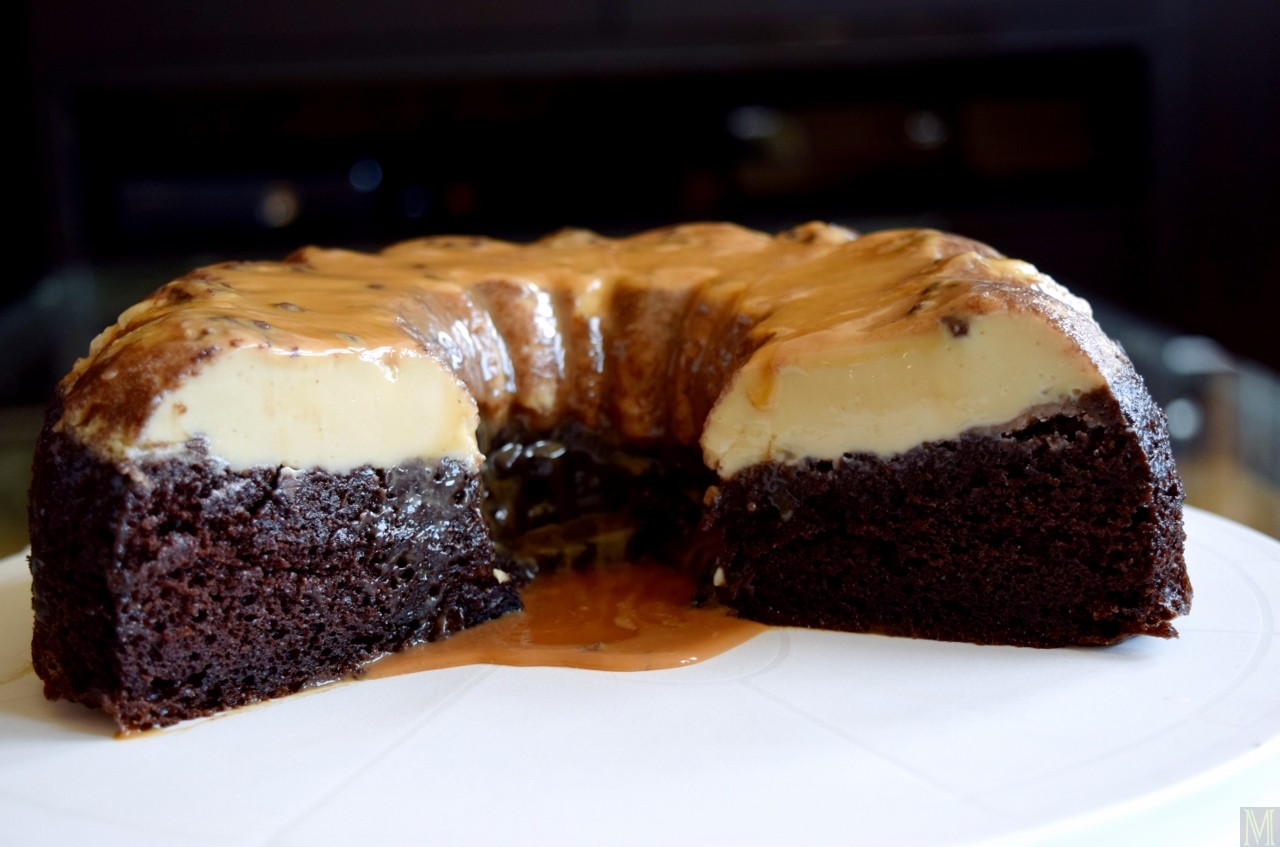 This cake, considering how easy it is to make, is unbelievably good. I mean, first of all, flan. Amiright? It's the crack cocaine of comfort foods. And dense, rich chocolate cake … it's two desserts for the price of one … with caramel on top. But it's not just about flavor. The texture is mind-blowing: custardy, dense, rich, and a tiny bit gooey.
What you need to to make 8 nice-sized or 16 dainty servings:
FOR THE CAKE
Butter
1/4 cup caramel sauce
One batch of batter for Darker-Than-Black® Profoundly Chocolate Cake
FOR THE FLAN
1 can (14 oz) sweetened condensed milk (not evaporated)
1 cup milk
4 eggs
How to do it:
Heat oven to 350°F. Grease up a standard-size bundt pan (12-cup) with butter. Pour caramel topping in bottom of pan. (Optionally, manipulate the pan to roll the caramel around, so that you get an even swath that's at least 2 inches wide.)
Pour batter over caramel topping in pan.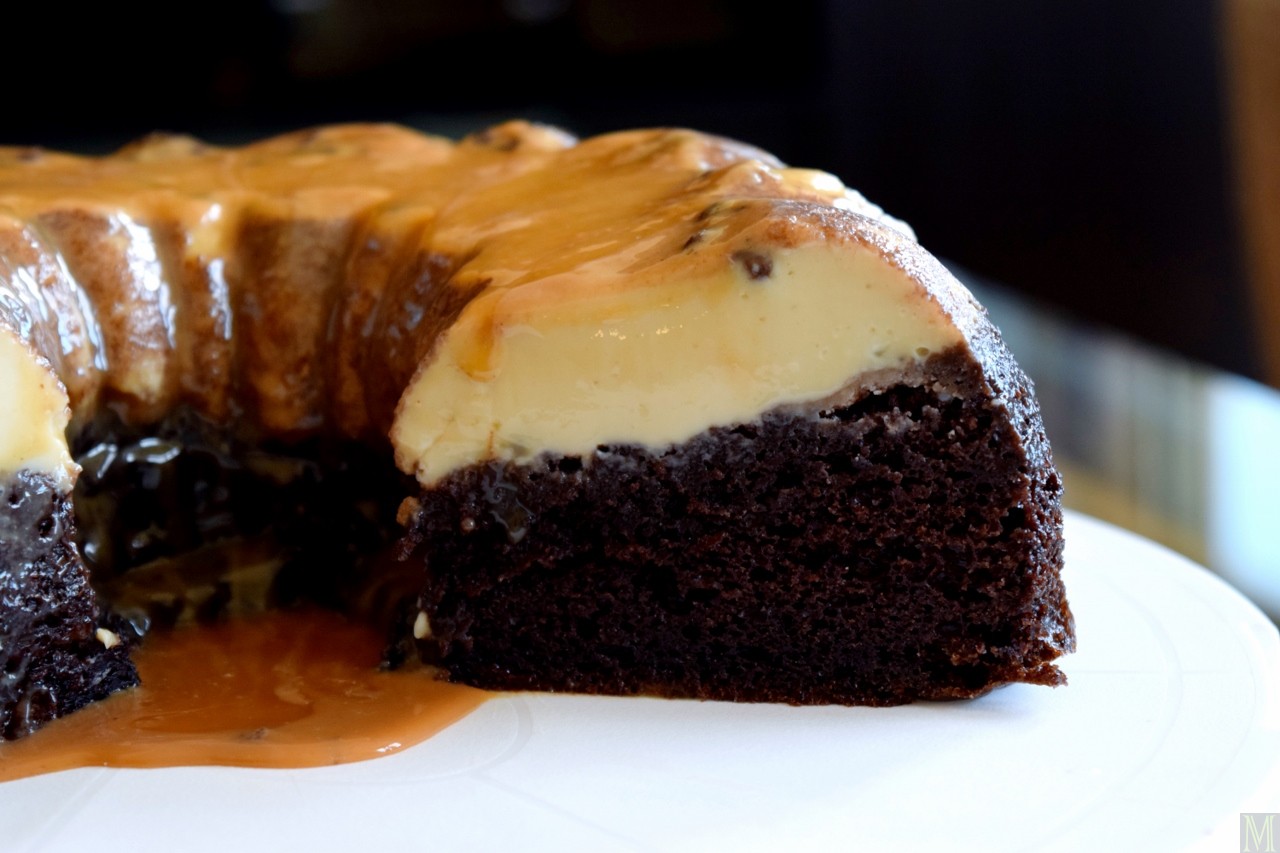 Pour flan ingredients into blender; blend on "blend" speed until smooth, about 40 seconds. Slowly pour mixture into the pan, right into the chocolate batter, circling the pan as you pour.
Place cake pan in large roasting pan; add 1 inch of hot water to roasting pan.
Bake until toothpick inserted in center comes out clean, about 1 hour. Remove cake pan from water bath to cooling rack. Cool completely, at least 1 hour. Once cool, cover with foil and refrigerate overnight.
To unmold, fill kitchen sink with hot water. Place the cake into the water – taking care that water doesn't seep into the pan, of course – and hold it there for one minute. Remove to a towel. Place serving plate upside down on cake pan; turn plate and pan over. You may have to tap and shake a few times until the cake falls out of the pan.
Store in refrigerator, where it will remain absolutely perfect, untouched by the ravages of time, for one full day. On the second day, you might imagine that you detect a subtle degradation in quality, but you won't be sure. It's only somewhere between the third and fourth days that you'll notice that the flan has begun to oversaturate the cake, and that the two flavors have begun to meld.
Notes:
You may add other flavors to the flan, such as vanilla, grated orange peel, or your favorite liqueur.
If you can't make your own caramel sauce, store-bought is fine. But if you've never made your own caramel sauce, you have no idea how superior it is to even the best store-bought.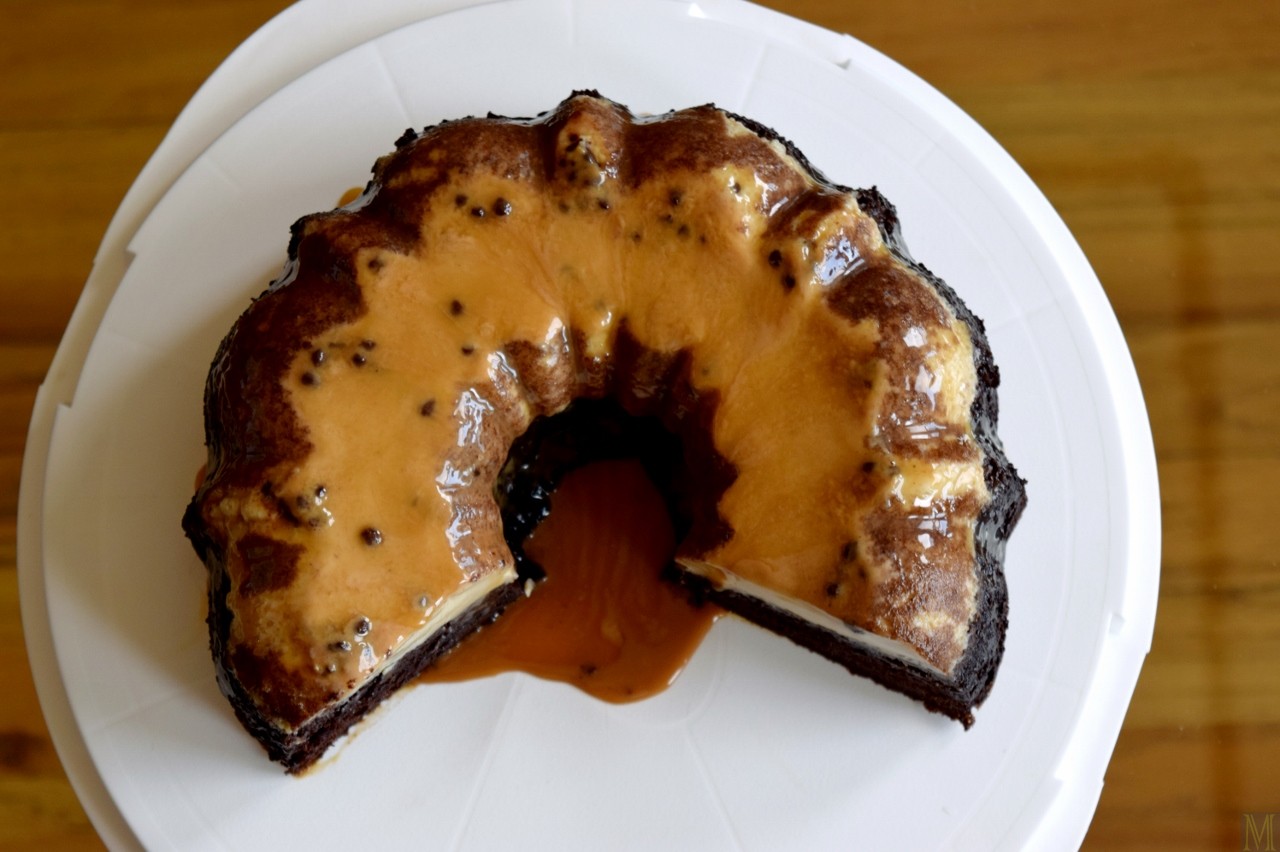 Chocoflan
Credit for images on this page: Make It Like a Man! This content was not solicited, nor written in exchange for anything. I'm telling you, though, if you want some chocoflan, you'd better bake one right away. I mean, half of it's Mexican, and the other half is dark chocolate. In Trump's America? Don't be surprised if ICE is tracking condensed milk sales. If this post suddenly disappears and is replaced with a recipe for white cake with vanilla frosing, you'll know they've gotten to me.
Keep up with us on Bloglovin'