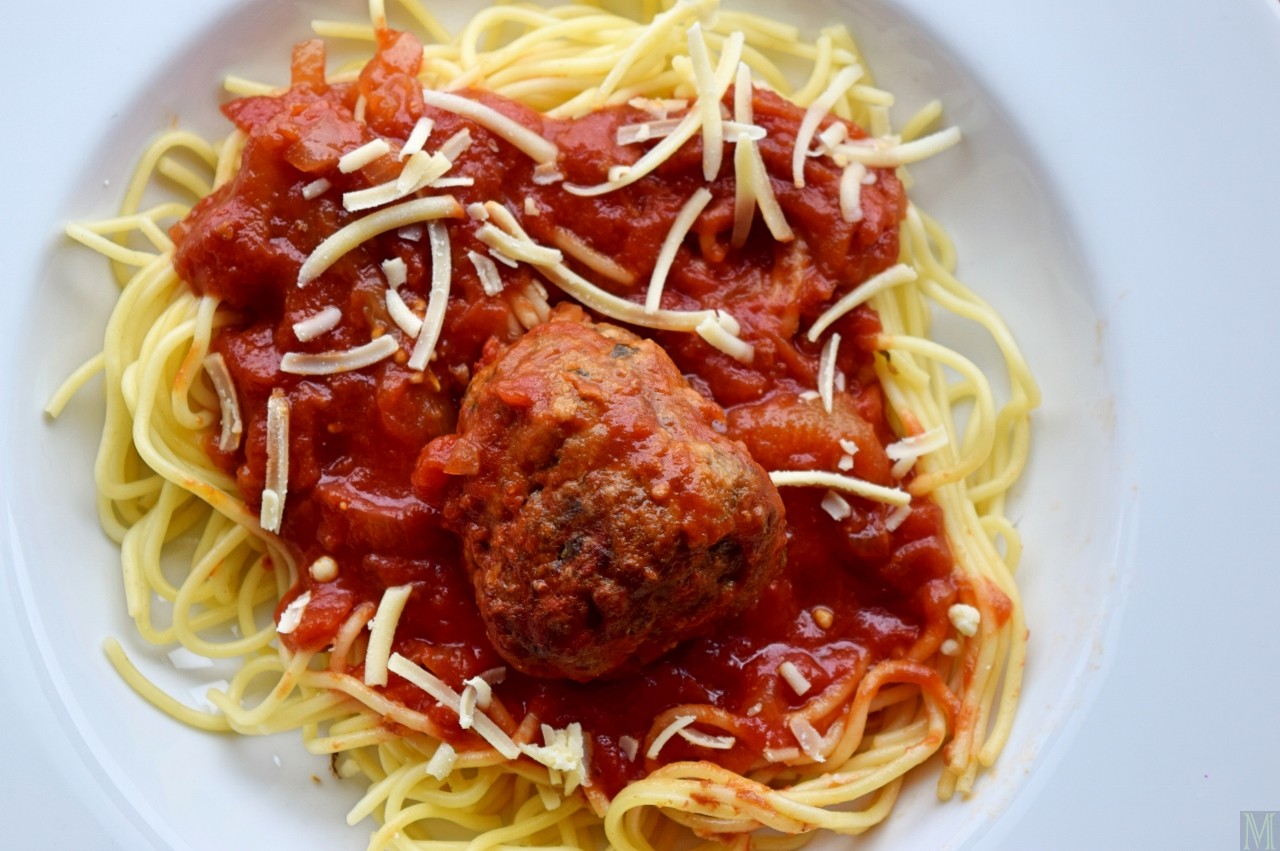 Like the lasagna recipe I posted last year, Spaghetti and Meatballs is another of Lidia Bastianich's spectacular recipes. And, again like that lasagna, once I tried her recipe, it became definitive for this dish as far as my cooking repertoire is concerned. It's celebratory, excessive in ways … worthy of a special dinner.

(5 / 5)
This one is not nearly as massive an undertaking as the lasagna, and it's not difficult. Lidia's recipe produces six, nice-sized meatballs, about 4.75 oz. each before cooking, and one per serving is somwhere between plenty and the kind of meal that wants to be followed by a nice, long nap … especially if it's accompanied by a bottle of red wine. Regardless, it's so delicious that you're going to want more than one meatball. That may not mean seconds, but if not, it will mean leftovers – which is cool, because this stuff reheats beautifully. That's one of the reasons that I usually double her recipe, as I have here, and make a dozen meatballs. The other reason is to take advantage of economies of scale. Making twice as much is only slightly more effort. You're going to whip the excess into lunch or dinner days or months later with breezy ease, and it will be just as fantastic as it was the first time around.
You might have some doubts about the sauce. It seems too simple. However, magic happens when you cook the meatballs in it. It becomes thick, rich, and substantial. The spices give it just the tiniest kick.
What you need to serve 12:
FOR THE SAUCE:
7 lbs. canned Italian tomatoes. (That's 112 oz.)
½ cup olive oil
1 large white onion, chopped (about 2 cups)
2 tsp crushed red pepper flakes
4 bay leaves
Salt and pepper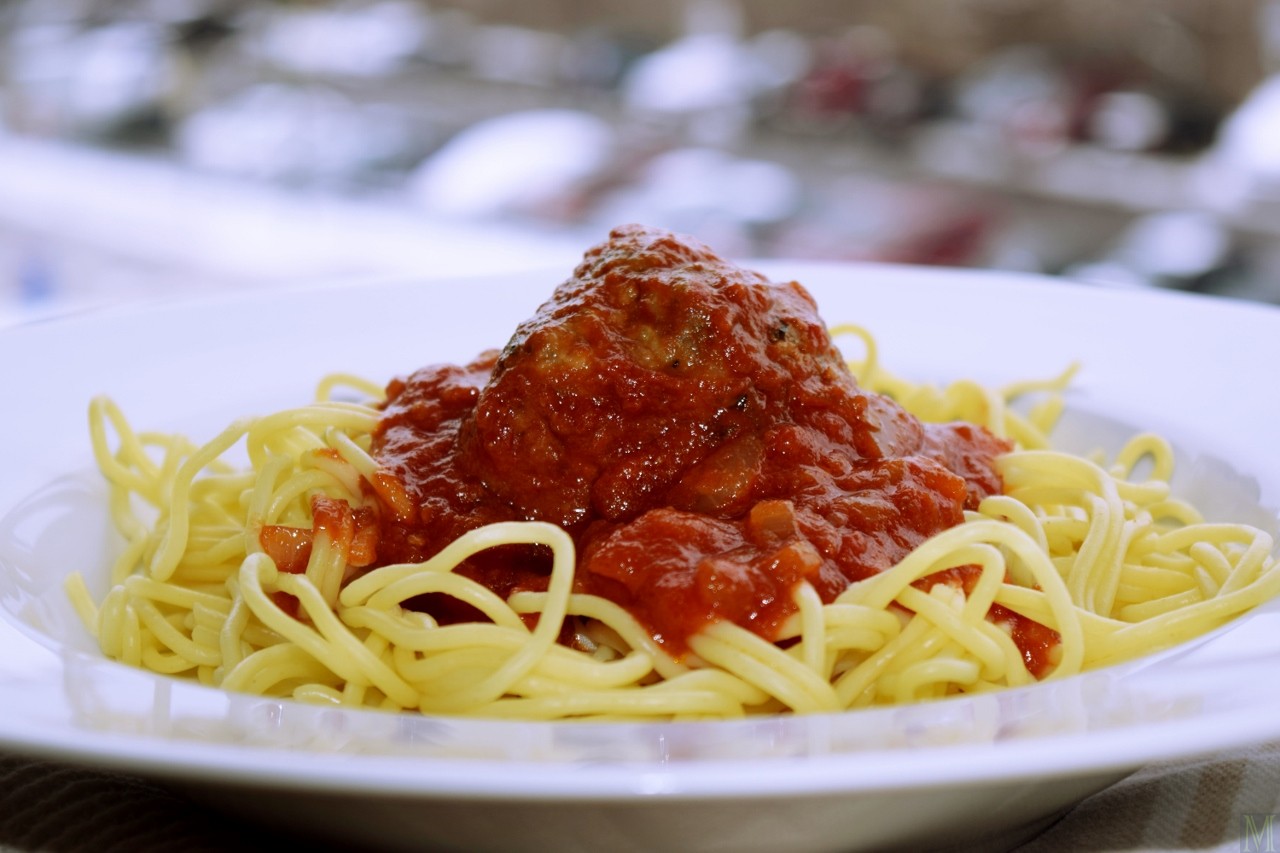 FOR THE MEATBALLS:
1 lb ground pork
1 lb ground beef
2 cups fine, dry breadcrumbs
⅔ cup freshly-grated Parmigiano-Reggiano
½ cup chopped fresh Italian parsley
4 cloves garlic
2 eggs
2 tsp salt
½ tsp pepper
Flour
Olive oil
FOR SERVING:
2 lbs spaghetti
1⅓ cups shredded Parmesan
How to do it:
These are abbreviated directions. See "Lidia's Italian American Kitchen," Knopf NY, 2003, pg. 134-35.
Crush or mill the tomatoes. Sauté the onions in oil until soft. Add the tomatoes. Simmer for a half-hour. Mix all the meatball ingredients except the flour and oil. Dredge. Brown. Submerge in sauce and cook gently for 30 minutes. Serve with spaghetti and cheese.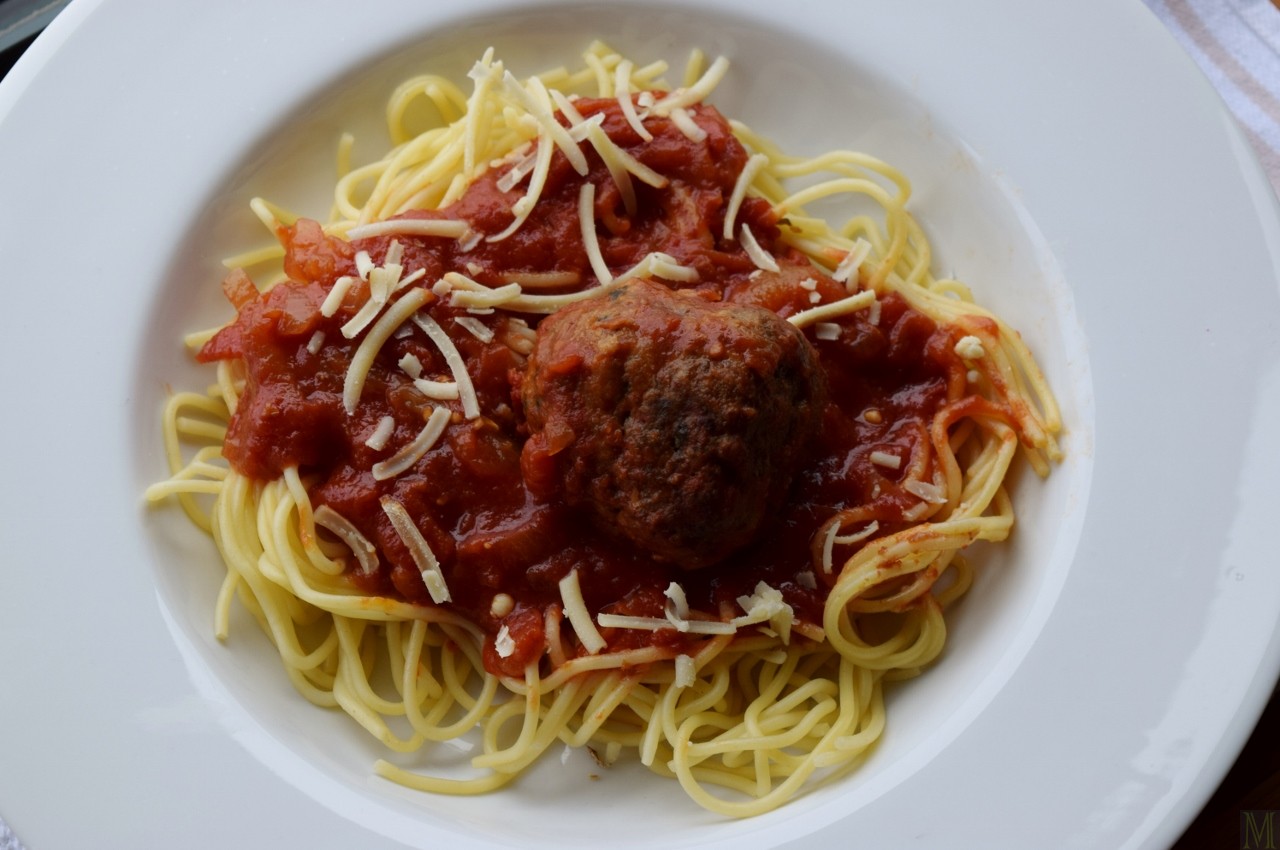 Notes:
The recipe is so straightforward, that there are very few shortcuts or clarifications that I can give you. But it would be truly unlike me to have nothing to say, so…
Do they really have to be Italian tomatoes? Yes. I've tried American brands; they lack character. The difference in price is eyebrow-raising. However, even if you buy pricey tomatoes, this is not an expensive dish in the long run. If all you have are the spices, the rest of the ingredient list might cost you $38 – and that's including the Italian tomatoes and a pricy hunk of high-class Parmesan. Divided by the number of servings, we're talking right around $3 per.
If you don't have a food mill, you can crush the tomatoes by hand. You just – wash your hands, you animal – empty the cans into a large mixing bowl, then shove your hand in and start crushing the tomatoes. There's an art to it: you have to hold the tomato fully submerged in liquid before you squish it. Otherwise, it will send spurts flying around at you, your clothes, your face, the counter, the walls, and the floor. Seven pounds of tomatoes is a lot; you're going to be well past your wrist, deep into it. It's sort of gross in an extremely cool way. In the end, you won't get a result as uniformly sauced as a food mill, but the crushed tomatoes will break down during cooking and you'll wind up with a beautifully chunky sauce. Plus, you will have had a great time. (I learned this trick from Lidia, by the way. I mean, not personally, but from watching her on PBS.)
I rarely cross paths with a 35-oz. can of tomatoes. The stores I frequent stock 28-oz.cans. But they also stock those awesome 106-oz. mofos! Pick up one of those bad-asses and supplement it with a small can.
You can use store-bought breadcrumbs – the typical kind with the consistancy of sand. That is, in fact, what the reicpe calls for. But you can also use homemade crumbs – so long as they're dry. I used more of the wealth of leftover bread I still have from that stuffed French bread recipe, hacked to oblivion in a food processor.
Lidia browns her meatballs in a large amount of oil, half olive and half vegetable. I use quite a bit less, 100% olive. I eyeball it, using about twice the amount I would for a typically sauté.
To make this ahead, finish it completely, let it cool, and store it in the fridge. To reheat, separate the meatballs from the sauce, place each in separate, covered pots, and bake at 350ºF for about an hour.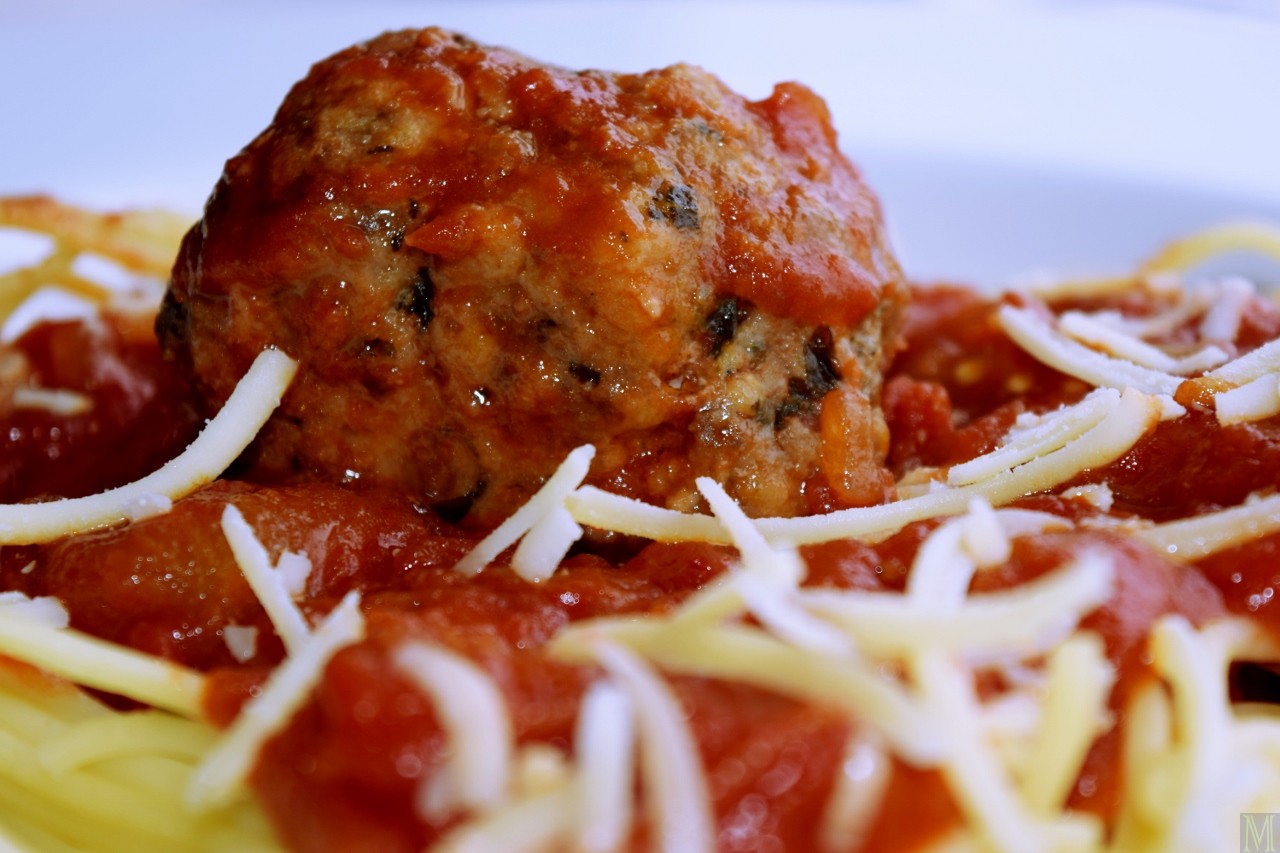 Spaghetti and Meatballs
Credit for images on this page: Make It Like a Man! This content was not solicited, nor written in exchange for anything. In doing research for this recipe, I came across this quote at the Smithsonian: "Don't think I'm pretentious enough to teach you how to make meatballs. This is a dish that everybody can make, starting with the donkey." I nonetheless persisted.
Keep up with us on Bloglovin'