♣
This post was featured at Honest Cooking.
♣
This week, we tested a feta-spinach stuffed French bread hors d'oeuvre/appetizer recipe from Kevin Is Cooking.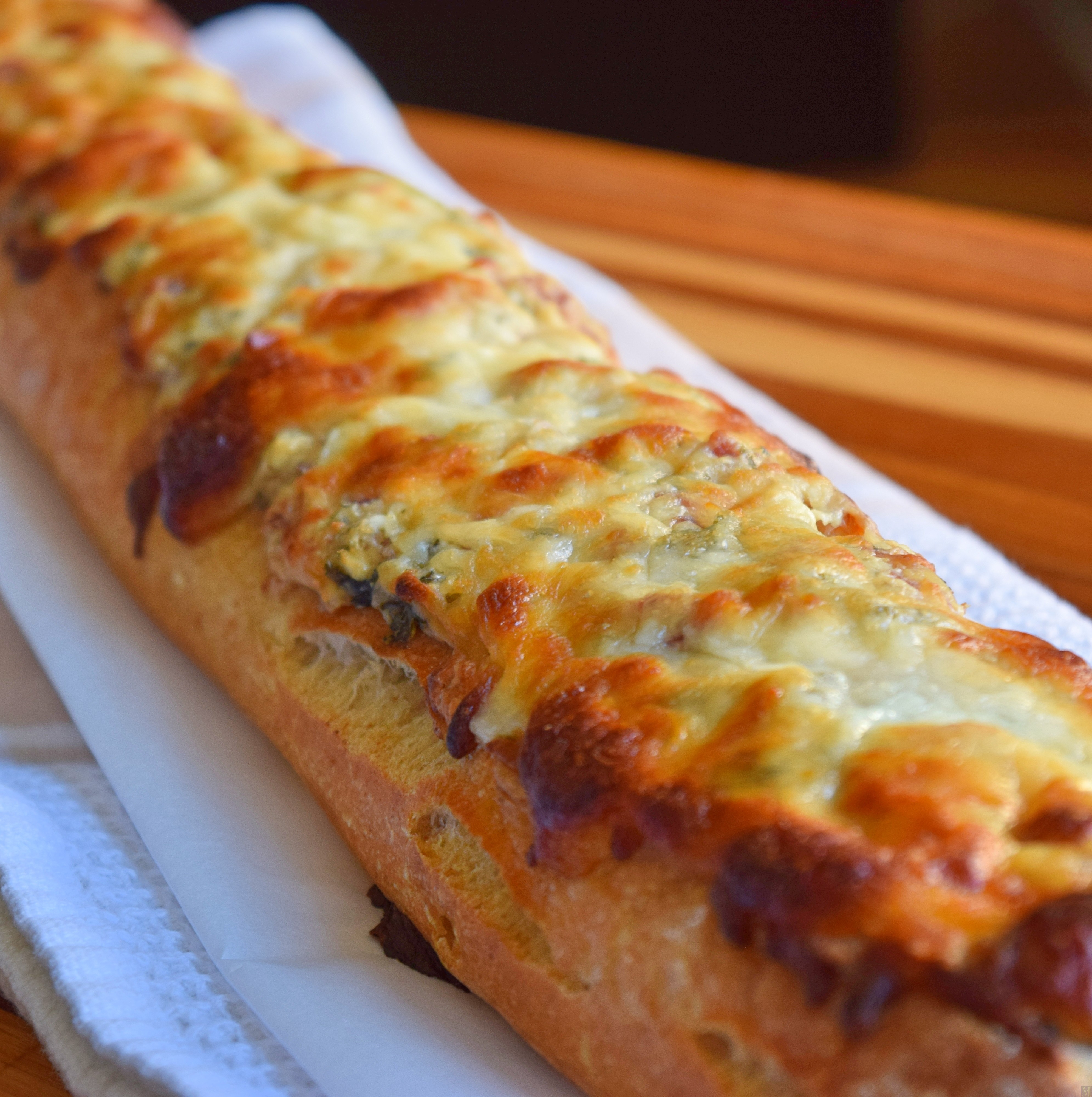 I always get a kick out of the first half of January. Everyone pays homage to "eating healthy" for the whole of about two weeks, when the anticipation of game day drives them back to cream cheese. Not to worry; cream cheese isn't offended by your dalliances with whole grains and Stevia. It knew you'd come crawling back.
I found this recipe for Feta-Spinach Stuffed French bread on one of the blogs I like following: Kevin Is Cooking. It's dangerously good. I'm not sure if Kevin fully realizes what he's unleashed on an unsuspecting world in terms of this killer appetizer. It is packed with flavor. It's gorgeous. And it's easy to make.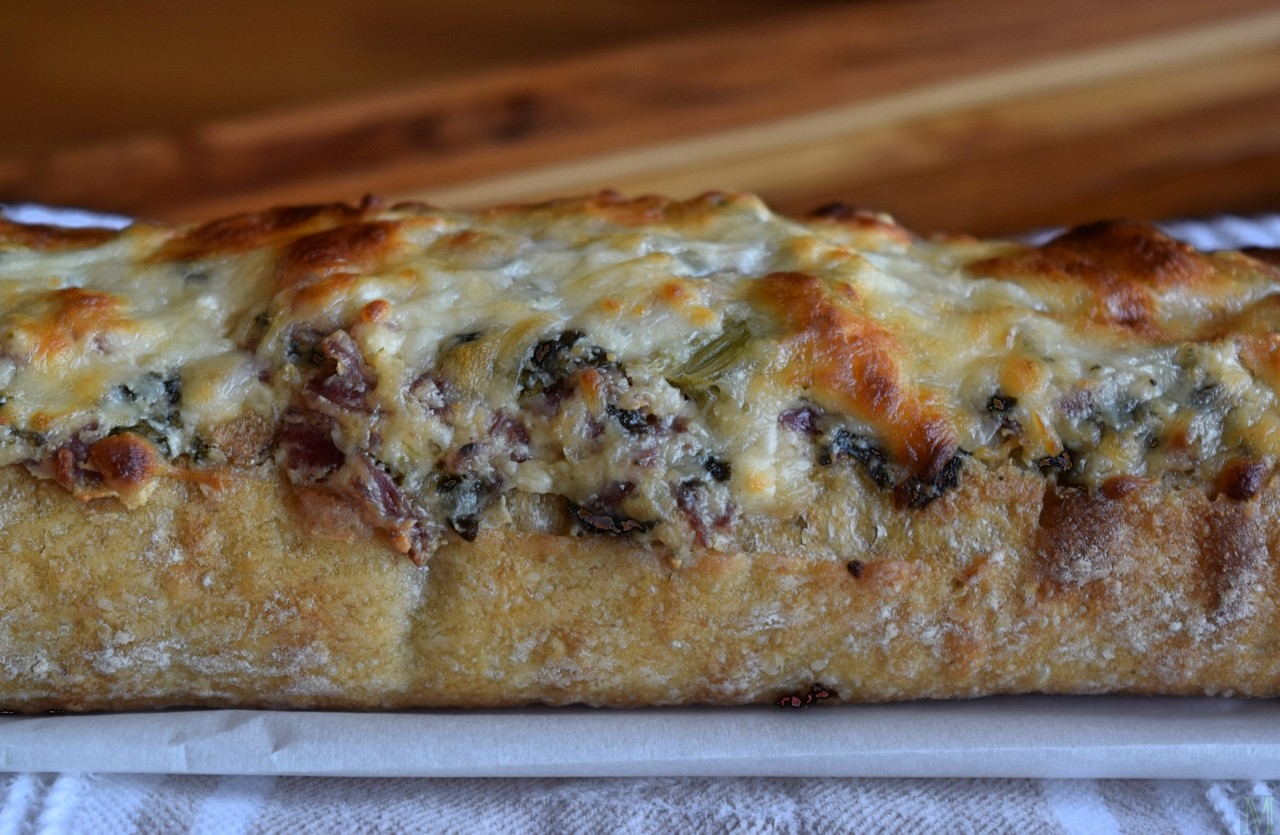 Feta-Spinach Stuffed French Bread
What you need to serve 24:
10 oz. package frozen chopped spinach
2 loaves French bread, or 4 baguettes (see notes)
8 oz. cream cheese (room temperature)
½ cup mayonnaise
½ cup sour cream
1 package Lipton onion soup mix
½ tsp fresh cracked black pepper
2 cups mozzarella (separated)
1 cup (8.5 oz.) feta
15 oz. salami, chopped (See notes)
Abbreviated Instructions:
Thaw and drain spinach. Mix cream cheese, mayo, sour cream, soup mix, and pepper. Add half the mozzarella and all the feta. Add the spinach and salami. Hollow out bread. Fill bread, and top with remaining mozzarella. Bake at 350°F for 20-24 minutes, or until top is golden and bubbling. Cool slightly. (For full instructions, see Keviniscooking.com.)
My Notes:
I enjoyed making it, and the Make It Like a Man team was thrilled to try it – so much so, that we decided to make it again, and feature it at party we hosted the week following our initial test. Solid (5 / 5) recipe, Kevin!
If I never have to cook for 24 people, I'll be fine with it.

You may want to cut this recipe in half. But let's face it, if you do, you're going to have just about every ingredient left over, and every time you look at them, the first thing that will come to mind is to throw them all together into something very similar to this baguette stuffing. You might as well make the full recipe, and with the leftover stuffing, consider spreading it on chicken or fish. Or, turn it into a salad dressing. (Salami salad dressing … what? I think it'd turn out to be genius.)
However, I was able to pack all the stuffing into two 24-inch baguettes. Granted, I did use only half the salami (see notes), and even so, I had to mound the stuffing – but it seemed totally appropriate.

Spinach:

You can thaw it overnight – or even two days ahead – in the fridge, placing it in a plastic bag or on a plate, because it will almost certainly leak. To drain it, press it between layers of paper towels.
Try this recipe with 8 oz. chopped, frozen, organic kale instead of the spinach. It's a bit chewier – but in a good way. And it tastes great.

It's worth it to splurge on really good bread for this recipe, even though you're tossing the crumb, for the most part. A really good loaf will be better looking, and will have an outstanding crust. Go to (or pre-order from) your favorite bakery. If you like sourdough, it works nicely here.
Make-ahead:

You can mix all the stuffing ingredients ahead, and hold it in the fridge for day, overnight, or more. In that case, there's no point in waiting for the cream cheese to come to room temperature before mixing the stuffing. Although that means you could make this in the morning and bake it later that day, you do not want to smell feta and salami until after you've been out of bed for at least four hours.
You can also completely assemble the stuffed baguettes ahead of time, wrap them tightly in foil, and keep them refrigerated for at least two days before baking them.

If you're using a solid block of feta, just after you dump it into the mixing bowl, give it a couple run-throughs with a butter knife. Mix slowly, but once things get going, 10 seconds on med-high speed will break it down sufficiently.
The first time I made this, I accidentally bought only 8 oz. of salami, and found myself standing in front the KitchenAid, wondering if I should run back to the store. But 8 oz. of chopped salami looked like a shit-ton on the cutting board, so I went with it. I was pleased with the amount in the finished appetizer.
What to do with leftovers: wrap them tightly in foil and refrigerate them (of course). They'll readily endure a second trip through the oven, and you'll be hard pressed to tell them from fresh. Or, if it's just you and you're not picky, you can nuke two 1-inch pieces for one minute at 50% power. The bread will lose its crunch. but overall you'll fare better than you would nuking leftover pizza.
This content was not solicited, sponsored, or written in exchange for anything.
Keep up with us on Bloglovin'