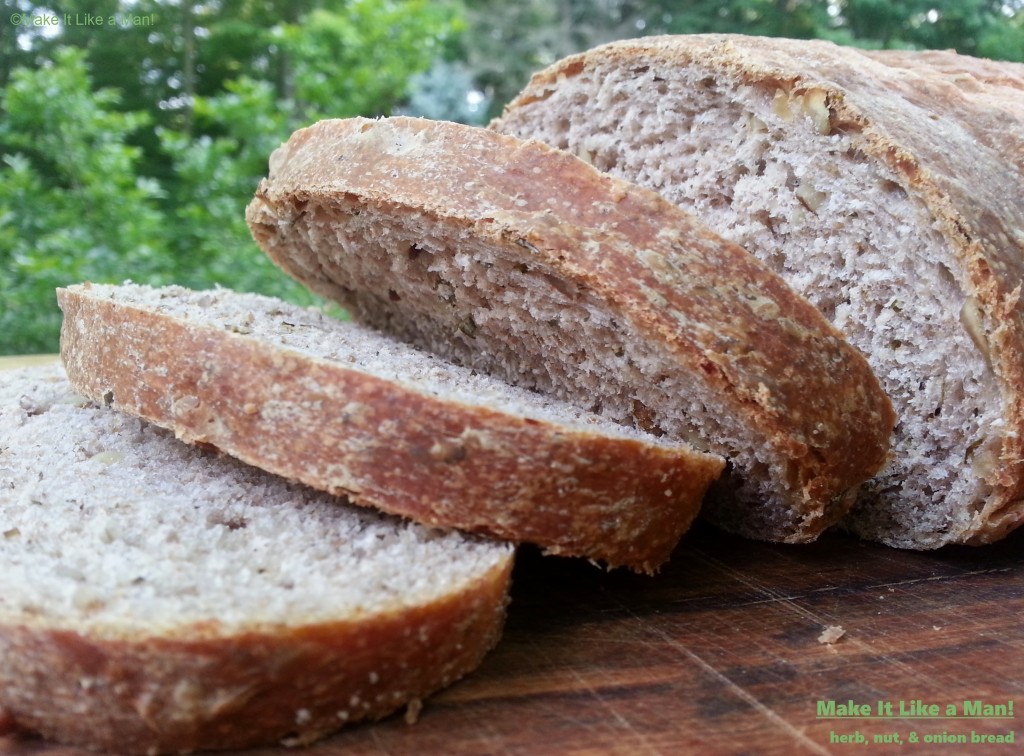 ♣
This bread has a surprisingly light and refined texture for such a substantial and flavorful loaf. Its scent is so appetizing and its flavor is as fresh as a vegetable garden at the height of summer. It would beautifully compliment a hearty sandwich or a sharp cheese. It makes fantastic toast and is great with eggs and thick-cut bacon.
♣
Makes 2 loaves
This Herb, Nut, and Onion Bread recipe uses a pre-fermentation technique that helps give it flavor and substance.
Specifically, it uses a sponge (or, to hit the nail right on the head, a poolish), which has the added benefit of endowing the bread with a longer shelf life. It also includes nut meal. Although you can buy nut meal, a coffee grinder will turn walnuts into a fine meal in a mere couple of seconds. Be careful; a couple more seconds and the meal will start turning to a paste.
Sponge Ingredients
½ cup spring water
½ tsp active dry yeast (from one ¼-oz packet)
¾ cup white bread flour
Sponge Directions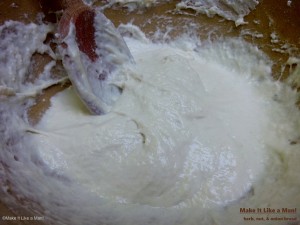 Warm the water, but don't let it get hot.[1] You can do this by either nuking it, or by mixing cold and hot water until you've arrived at the right temperature. Put the water in a small bowl and sprinkle the yeast on top. Let it sit for 1 minute, then stir. Add the flour and stir just until blended. Then, stir it vigorously for 100 strokes. (If you're super hard-ass, do it with your non-dominant arm.) When you're done, it should be smooth, yet a bit granular, and quite thick – kind of like a very thick milk shake, except that it will also be very sticky. It should look something like a batter, not like dough. Add water to achieve this consistency, if needed. Scrape down the sides with a spatula. Place a damp cloth or plastic wrap over it, and let it sit in a warm spot[2] for anywhere from 2 to 10 hours. It should significantly increase in volume, smell yeasty or beer-like, and appear disturbingly bubbly.
Dough Ingredients
1½ cups (loosely packed) fresh thyme leaves
1½ cups (loosely packed) fresh oregano leaves
6 oz walnuts
3 oz pecans
2 cups white bread flour
2 Tbs minced, dried onion
1¼ cups sour cream, room temperature
1½ cups spring water, room temperature
The rest of the packet of active dry yeast
1 Tbs salt
1 Tbs honey
1 tsp olive oil
3½ cups[3] light wheat flour[4]
Dough Directions
Adding the Special Ingredients:
Chop the herbs; set aside. Grind half of the walnuts into a fine meal. In a medium mixing bowl, whisk the meal with the white flour. Set aside. Chop the remaining walnuts and all of the pecans to pieces approximately the size of popcorn kernels. Scrape the sponge into a large mixing bowl. Add herbs, chopped nuts, onion, sour cream, yeast, salt, and honey. Stir thoroughly, and make an effort to break up the sponge. Add the nut-meal mixture, and stir to combine thoroughly.
Adding the Flour:
Begin adding flour by heaping half-cupsful, stirring after each. Quite soon, it will become too difficult to stir. At that point, scrape it onto a floured surface and continue adding successively smaller amounts of flour, mixing it together with a bench scraper and your hands. Take your time and don't work too hard. The dough wants to incorporate the flour, and you're just assisting it. In time, it will become dense enough that you can knead it. Continue kneading and adding flour until the dough is no longer sticky. Note that it will be somewhat tacky, but it will not actually stick to your hands or the counter. Form the dough into a loose ball.
When you first begin to add flour, you add relatively large amounts, and it incorporates quickly. As the process moves along, it takes longer and longer to incorporate the flour, and you add less and less of it each time. Indeed, the last couple flour additions might be a scant ¼-cup at the most.

Kneading is a cyclical process: the dough feels sticky, so you add some flour. That eliminates the stickiness, so you continue to knead … but eventually the dough feel sticky again. Each time you repeat this cycle, the amount of time that you can knead the dough before it becomes sticky increases.
Clean out and dry the mixing bowl. Then, oil it lightly. Place the dough in the bowl, then remove it from the bowl, turn it upside down, and place it back in the bowl. This gets oil all over the dough. Cover the bowl with a damp towel or plastic wrap, and let it sit until the dough increases significantly in volume and passes the finger test. You can let his happen in the fridge overnight. In that case, the dough has to come toward room temperature before proceeding.[5]
Punch the dough down, shape it back into a ball, cover the bowl back up, and let it rest for 30 minutes.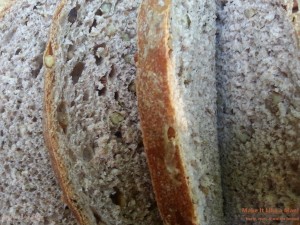 Gently move the dough to a lightly floured surface. Divide it in half, and form each half into whatever final shape you desire, or put them into buttered bread pans.[6] Cover them with oiled plastic wrap and let them rise until they substantially clear the edges of the pans, or until, once again, they pass the dreaded finger test (which is different for the 2nd rise).
Preheat the oven to 450°F. Place a shallow dish (or a pie plate) of water in the bottom of the oven.[7] Bake the loaves for 15-20 minutes, then lower the temperature to 400°F and continue to bake for 15-20 minutes more. The finished loaves should be richly browned. Test the loaves by removing them from the pan and tapping them on the bottom. They should sound hollow. If they need more time, place them back into the oven, in or out of the pan. Let them cool on a rack, out of the pan. The inside of the bread will continue to cook for several minutes as it rests on the rack. Wait until the loaf feels completely room temperature before slicing into it.
♠
Notes
Could you make Herb, Nut, and Onion Bread in a stand mixer? Of course you could. The process I use for 8-Grain White Bread would work just fine if you have a large-size mixer. For a standard-size mixer, cut this recipe in half and make one loaf at a time. If you have the right space for it, though, making bread by hand is a kind of a deep-down good experience. You need a surface that is a couple inches lower than your waist, so that you can easily leverage the weight of your upper body onto your hands while keeping your elbows relatively straight. Lean into the dough instead of relying exclusively on muscle power. Kneading dough can be therapeutic and meditative rather than just a lot of work. With your hands in the dough, you're also more likely to add just the right amount of flour.
♠