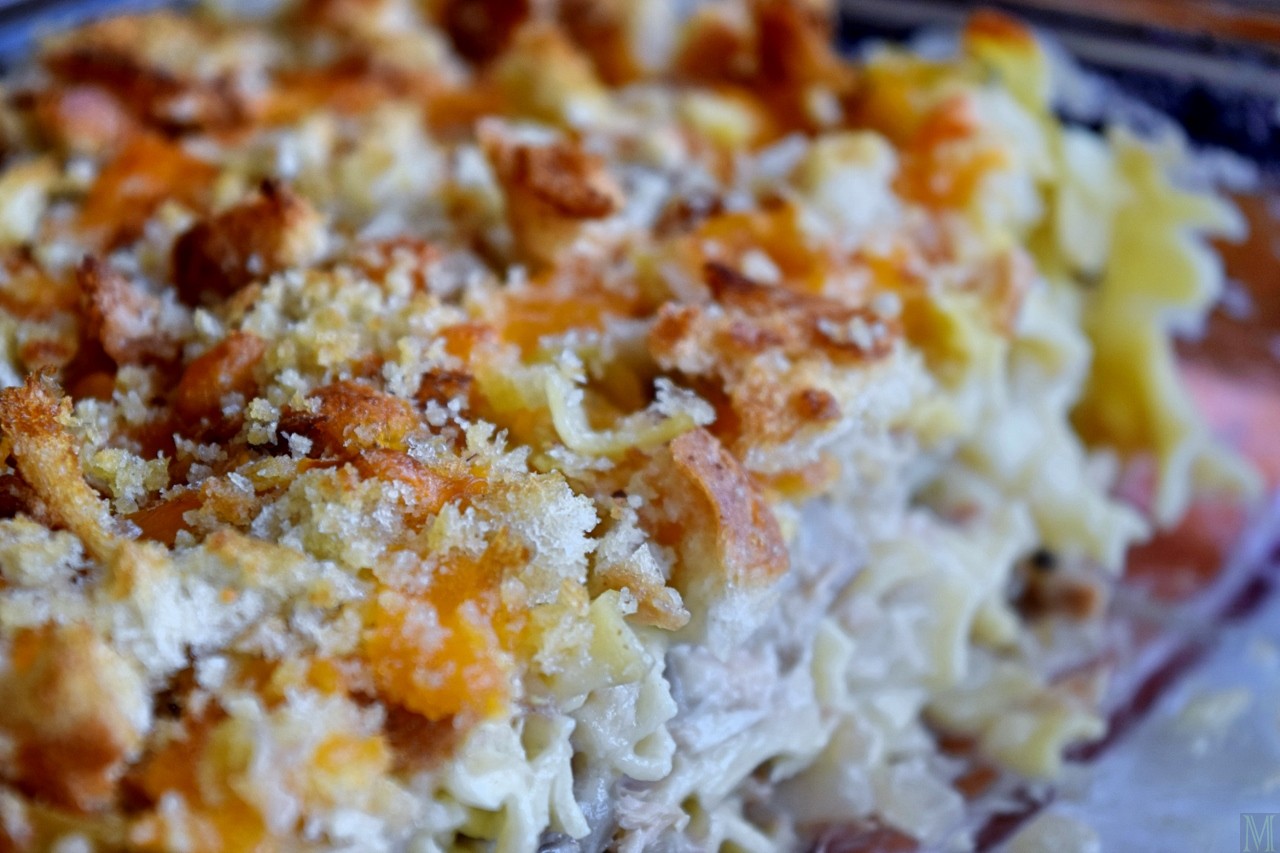 I had a 12-oz. can of tuna in the cupboard that I wanted to use up, and I haven't had a from-scratch tuna casserole in, well, I can't remember. So I hunted down an upscale tuna noodle casserole recipe. I found this one at Epicurious. I liked that it requires a homemade sauce, rather than a can of mushroom soup, and that it calls for sherry. It uses a béchamel made with chicken broth – which I've never done before. (I love trying new things.) This particular béchamel is much lighter than cream of mushroom soup, yet just as tasty. The casserole topping is made from coarse, fresh bread crumbs, which create quite a satisfying crunch.
In the end, though, it's tuna casserole. It's good, and I love that it's completely from scratch. I enjoyed it, and I'd be happy to have it any night if the week, but there's a utilitarian aspect to tuna casserole that you just can't escape.

(4 / 5)
This recipe uses only 6 oz. of tuna, which is kind of nice in as much as it's in keeping with the lightness of this casserole. You could add more tuna if you wanted. However, that's not what I did. Stay tuned for "vitello" tonnato.
What you need to make 9-12 servings
6 oz. dried curly egg noodles (about 3 ¼ cups)
1 medium onion, finely chopped
4½ Tbs unsalted butter
Salt
10 oz. mushrooms, sliced ¼ inch thick (4 cups)
2 tsp soy sauce
¼ cup sherry
¼ cup all-purpose flour
2 cups chicken broth
1 cup milk
2 tsp fresh lemon juice
Pepper
1 can (6-oz.) tuna in olive oil, drained
3 oz. coarse fresh bread crumbs (crusts included, optionally, from 3 slices firm white bread … about 1½ cups)
4 oz. coarsely grated Cheddar (1 cup)
1 Tbs vegetable oil
How to do it:
Normally, I'd present abbreviated directions and direct you to the source, but in this case, I felt the original directions were inefficient.
Cook noodles according to package directions. Drain. Set aside, but be careful not to let them harden into a tangled clump.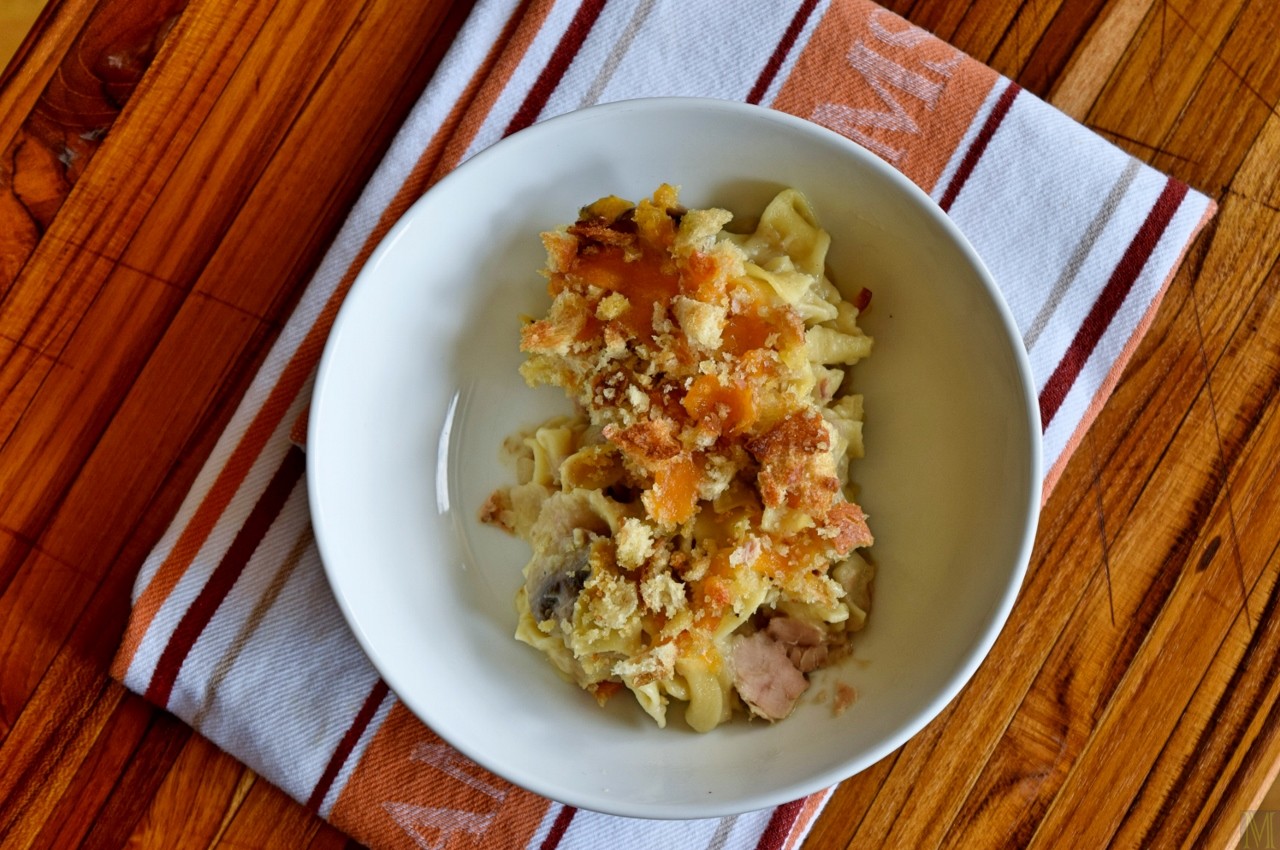 Cook onion in 1½ Tbs butter with a pinch of salt, over medium-low heat, covered, stirring on the rare occasion, until softened, about 5 minutes. Increase heat to medium-high and add mushrooms. Sauté, stirring occasionally, until they begin to give off liquid, about 2 minutes. Add soy sauce and continue to sauté, stirring, until liquid is evaporated. Add Sherry and boil, stirring occasionally, until evaporated. Off heat.
Pre-heat oven to 375°F. Melt remaining 3 Tbs butter in a medium-size saucepan over medium-low heat and whisk in flour. Cook, whisking, 2-3 minutes. Be careful that the flour doesn't brown or burn. Add broth in a stream, whisking, and bring to a boil, whisking. Whisk in milk and simmer sauce, whisking occasionally, 5 minutes. Pour over mushroom mixture. Add lemon juice. Season it heavily. (You have to plan for the addition of the bland noodles, but once the noodles are in, you can't stir the mixture too vigorously without obliterating the tuna.) Flake tuna into sauce and fold gently. Add noodles and stir gently to combine. Transfer mixture to baking dish, spreading evenly.
Toss bread crumbs and cheese in a bowl. Drizzle with oil and toss again, then sprinkle evenly over casserole. Bake until topping is crisp and sauce is bubbling, 20 to 30 minutes.
Notes:
Dry vermouth is a good substitute for sherry in this dish.
Once you've lit a fire under the pasta water, multitask that with the onions and mushrooms. During your free time, get the sauce started. If you're quick on your feet, you can manage all three if you start them one at a time.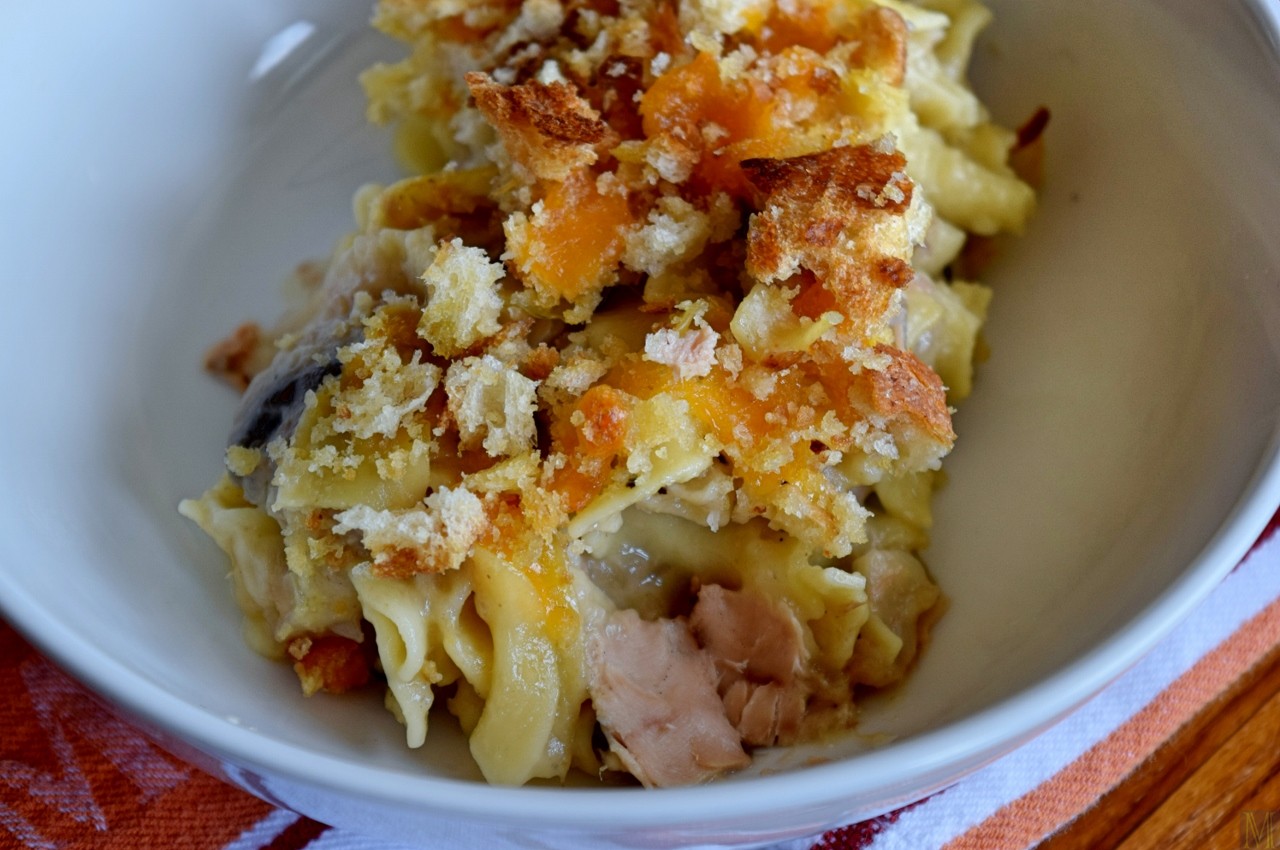 Tuna Two-Way: From-Scratch Tuna Casserole
Credit for images on this page: Make It Like a Man! This content was not solicited, nor written in exchange for anything.
Keep up with us on Bloglovin'