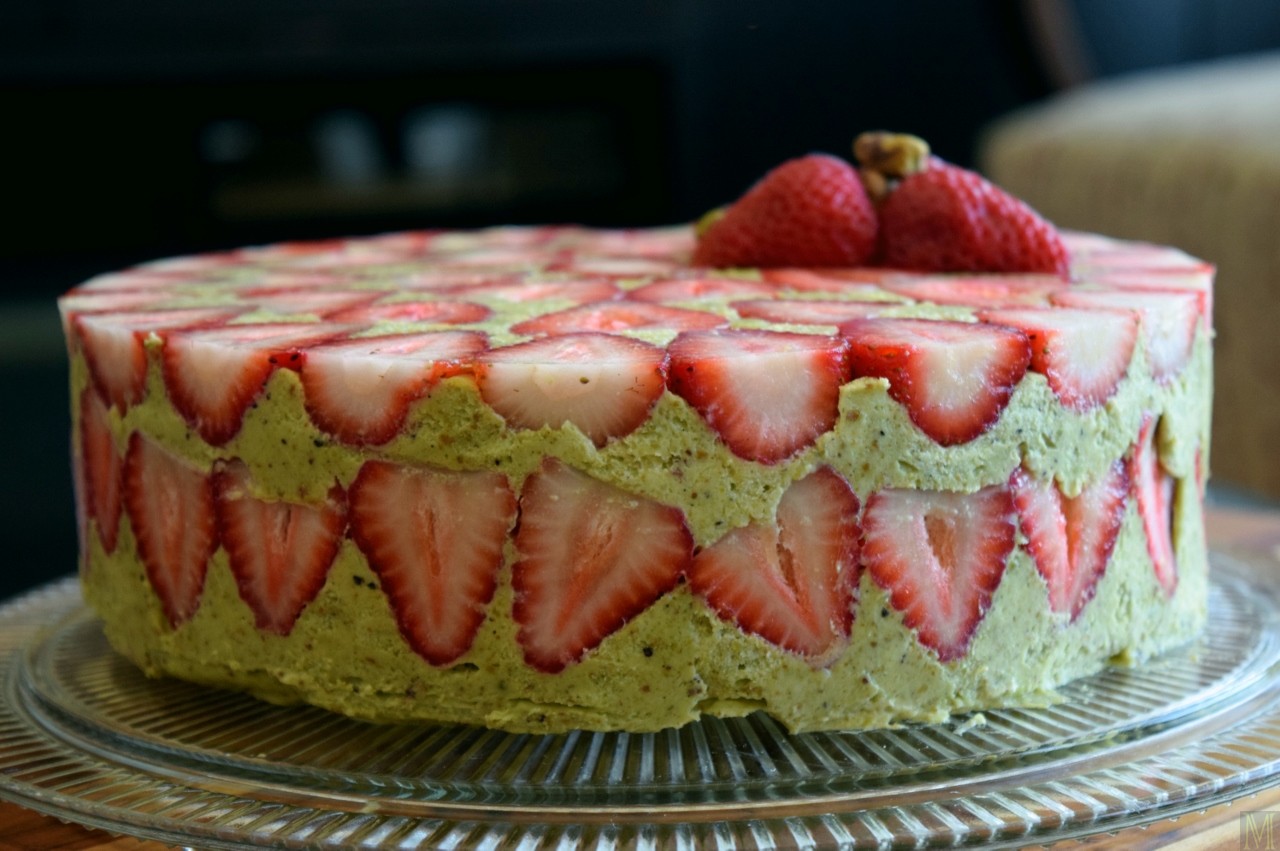 This week, I tested a recipe for a very fancy cake from Bruno Albouze. I spread the work out over three days; yes, it's that fancy. It's intimidating, in fact … but mainly because it requires patience (which, for me, necessitates a lot of swearing) and dedication (which is hard for me, because I'm lazy). But take heart, casual bakers – it doesn't require the kind of insider secrets that come from years of cake-baking experience. What it does call for are several from-scratch components – which is what makes it both daunting and an absolutely fantastic endeavor. Each of the constituent recipes involves interesting techniques; I learned a ton from following them (and from watching Bruno's technique as he made this cake on his Real Deal video channel). And if the techniques were interesting, the results were delicious and inspiring. My mind is still spinning with spin-off ideas for the mini-recipes that come together in this Fraisier Cake.
I made a few alterations to Bruno's recipe, so right away, I have to confess that my "test" was less of a test and more of an adaptation. The thing is, Bruno calls for an 8-inch pastry ring, and I didn't want to buy one just for this test. I don't have enough room for all the kitchen stuff that I already have. What I do have is a 9-inch springform pan. I decided to made do with that, which necessitated some minor modifications to the recipe. The modifications worked perfectly; I produced a 9-inch cake instead of Bruno's original 8-inch masterpiece.

(5 / 5)
Serves 12
2 oz. almonds (a generous 1/3 cup)
2 oz. powdered sugar (about 1/2 cup)
2 3/8 oz. granulated sugar (about 1/3 cup)
5 eggs
4.5 oz. cake flour (1 cup)
1.5 tsp baking powder
2 oz. unsalted butter (4 Tbs), melted
Almond genoise: prep an 8-inch, high-sided cake pan with butter and parchment. Set aside. Pre-heat the oven to 350°F.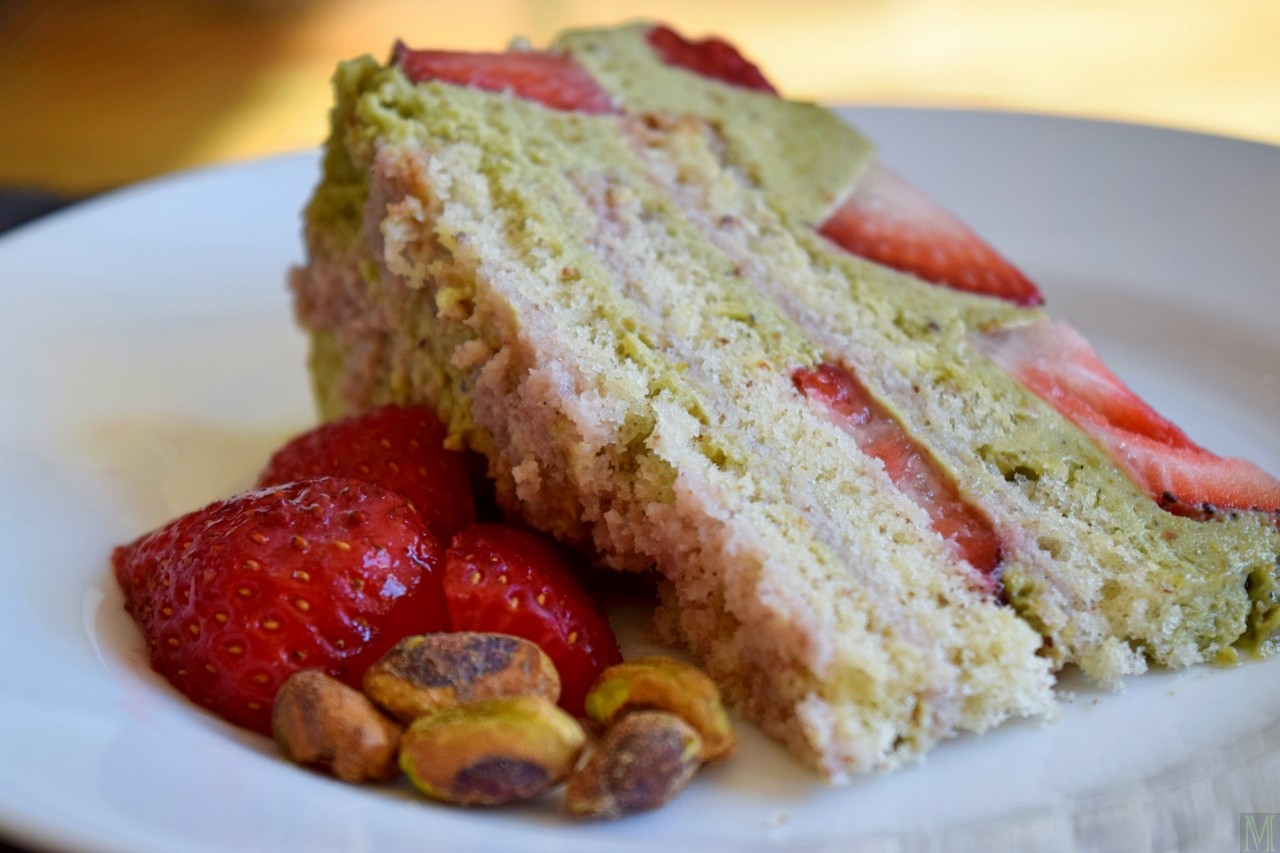 Process the almonds with the sugar until the mixture becomes a "meal," which is about as close as you can get to turning it into a flour. Toss this into the bowl of a stand mixer, and whisk it with the sugar. Add 2 of the eggs and whisk until combined, gradually increasing to high speed. Add the remaining eggs and whisk for 10 minutes. Yes, ten! Meanwhile, sift the flour and baking soda together.
When the 10 minutes are up, mix a cup of the batter with the butter and set aside. Fold the flour into the remaining batter, and then gently mix in the butter mixture. Pour into prepped pan. Bake for 35 minutes, testing after 30, until tester comes out clean. Cool on a rack for 10 minutes, then flip cake out of pan and allow to cool fully, on rack. Wrap in plastic, then in foil, and keep at room temperature.
Notes:
You need the high-sided (2-inch) pan. It's a tall cake. You may also find that you need the parchment; I loathe it, so believe me when I recommend it.
Bruno says you can use almonds and sugar, or almond paste. At first, I couldn't see how they'd be equivalent; I imagined that the paste would make a moister cake. But then I realized that the difference between the meal mixture and a paste is about two teaspoons of egg white, and, considering the amount of white in the genoise, the difference is tiny. Even if it is somehow drier, this cake is eventually going to be soaked in syrup.
Almond paste is easy to make, and so delicious … it's like candy. I promise you that, come next Christmas, I'm going to dip some in chocolate and call it a cookie. I imagine that many people use blanched almonds when making paste, but I was thoroughly satisfied with a skins-on version.
Bruno uses a Chinese strainer to fold! Brilliant!
7.5 ounces shelled pistachios
1.5 Tbs peanut oil
Pistachio paste: Toast pistachios in a 300ºF oven, 10 minutes. Immediately process with oil until completely smooth. Set aside or refrigerate.
Notes:
Pistachios still in their shells are of higher quality than the type that are packaged without their shells.
If you don't remove the skins, they'll turn your pistachio paste brown. If would be an absolutely good idea to blanch the pistachios. However, there's a third way, which I'll come to in time.
Pistachio paste is just a few dribbles of oil shy of the consistency of natural peanut butter. It'd make an exquisite PBJ.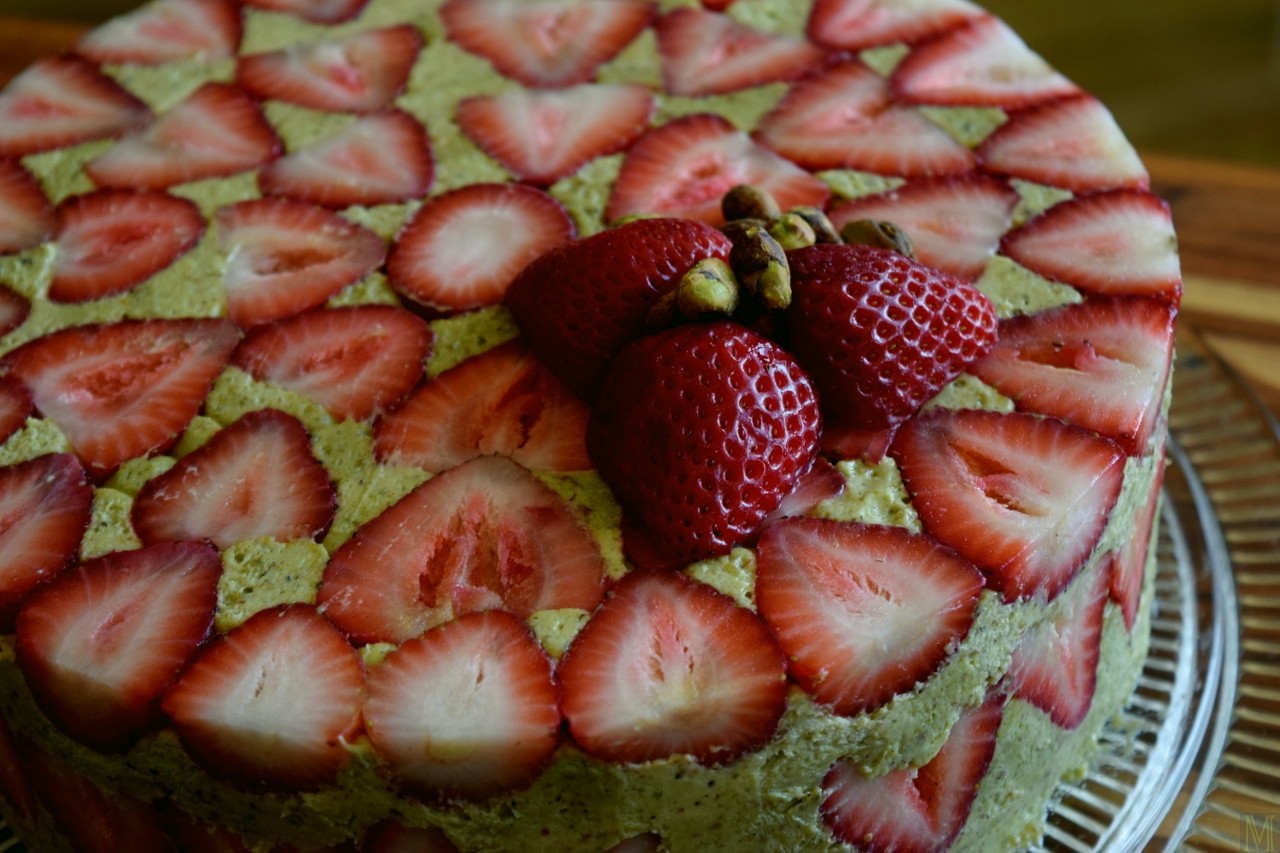 1.75 oz. sugar (1/4 cup)
2 oz. water (1/4 cup)
1 vanilla bean, split, seeds scraped
8 oz. strawberries, hulled and halved
1 oz. lemon juice (2 Tbs, from 1/2 lemon, or to taste)
1 Tbs Kirsch (optional)
Water to readjust consistency (optional, or use more Kirsch if you need to)
Strawberry syrup: Bring sugar, water, bean pod, and seeds to a boil to make a simple syrup. Let cool. Remove pod. Pour the syrup into a blender and add the berries, juice, and Kirsch. Pureé to a juice. (If it seems too much like a smoothie, thin it with more Kirsch, or with water.) Set aside or refrigerate. Bring to room temperature before using.
Notes:
If you've read through the whole recipe you realize that 8 oz. is just a portion of the berries you need for this cake. Pick through all the berries to sort for size and quality. Choose 8 oz.-worth of the largest and/or the least attractive berries for the syrup.
Add the used pod to your bottle of homemade vanilla.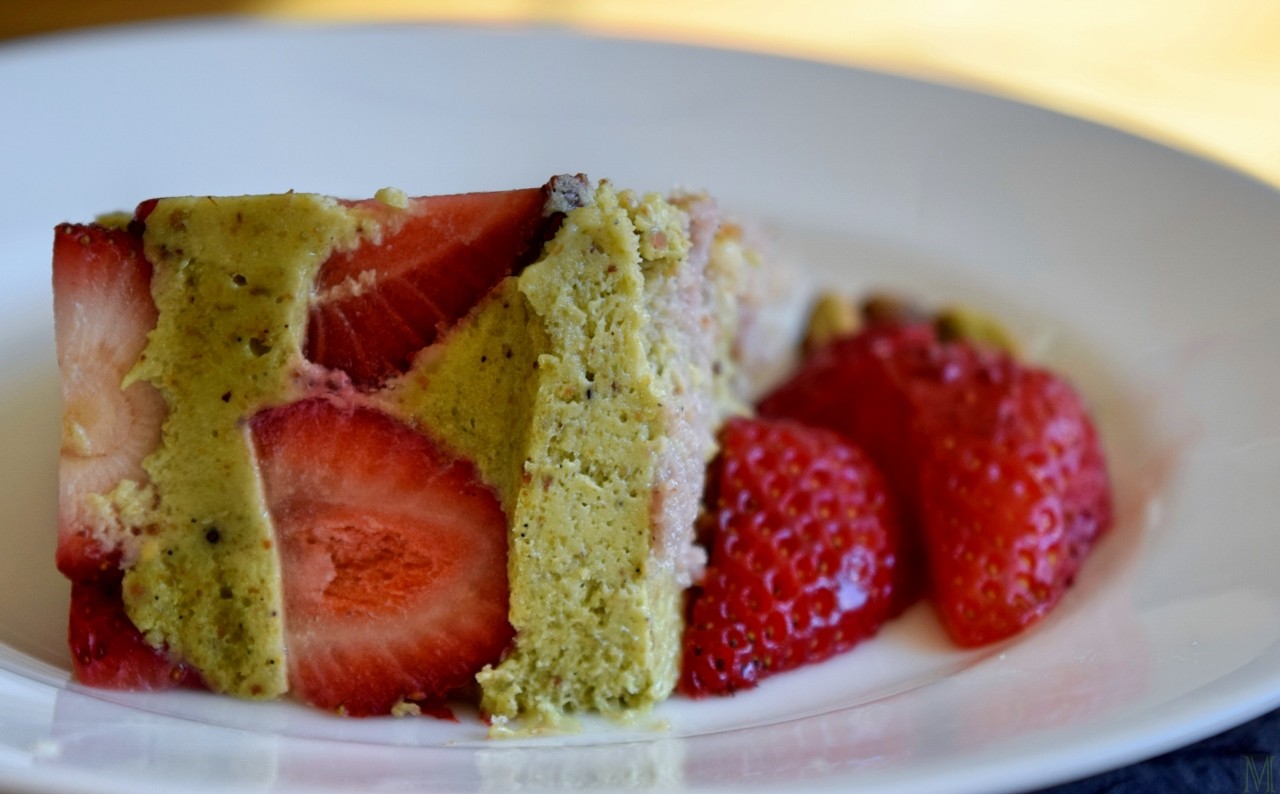 19 1/8 oz. whole milk (2.25 cups, 2% works)
1 vanilla bean, split, seeds scraped
3.5 oz. granulated sugar (about 1/2 cup)
4 egg yolks
2 Tbs + 3/4 tsp AP flour
2 Tbs + 3/4 tsp corn starch
10.5 oz. high quality unsalted butter (21 Tbs), at room temp
Pistachio paste, previously set aside
Pistachio mousse: bring the milk, vanilla bean and seeds, and half the sugar to a boil over medium heat. Meanwhile, whisk the remaining sugar into the yolks. Add flour and cornstarch to the yolks and whisk to blend. Slowly pour the milk into the yolks, whisking on high speed constantly. Return the mixture to the pot, and cook over medium-high heat, whisking fast, thoroughly, and constantly, until it thickens rather dramatically, about 2 minutes. Off heat. Whisk in half the butter. Place in the mixture in the refrigerator until it comes to 65ºF, about 10 minutes, removing once to whisk. Whisk on high for 1 minute, then whisk in remaining butter. Continue whisking on high speed for 5 minutes. Slowly whisk in pistachio. Set aside or refrigerate.
Notes:
This is a wonderful mousse – a crème mousseline, actually … a type of pastry cream. Leave out the pistachio paste, and I'm sure you could find many, many uses for it. It'd make a fantastic filling to just about any cake.
If you incorporated too many pistachio skins into your paste, it will be brown rather than green, and so will your mousse. You can overcome this by whisking 6 drops of green food coloring into the finished mousse.
2-3 lbs strawberries, hulled and halved
Assembly: Slice cake into discs between 1/4 and 1/2-inch thick. You'll need three of these. (The rest is "garbage cake.") Lay a gallon-size freezer bag onto a flat, portable surface, like a pizza pan. Place the ring from a 9-inch springform pan over the bag. Cut one or two pieces of parchment, and use them to line the sides of the ring. Arrange strawberries, cut-side down, inside the ring in concentric circles. Take care about the arrangement, because this will form the top of the cake. Snuggle the berries as tight as you can without disturbing the design.
Spoon the mousse into a second gallon-sized freezer bag. Roll out as much air as you can, and seal the bag. Snip a small piece off one of the bottom corners, et voila, you've got a make-shift pastry bag. Pipe mousse in a spiral, to cover the berries. Use a spoon or spatula to smooth the mousse and push it into all the crevices among the berries.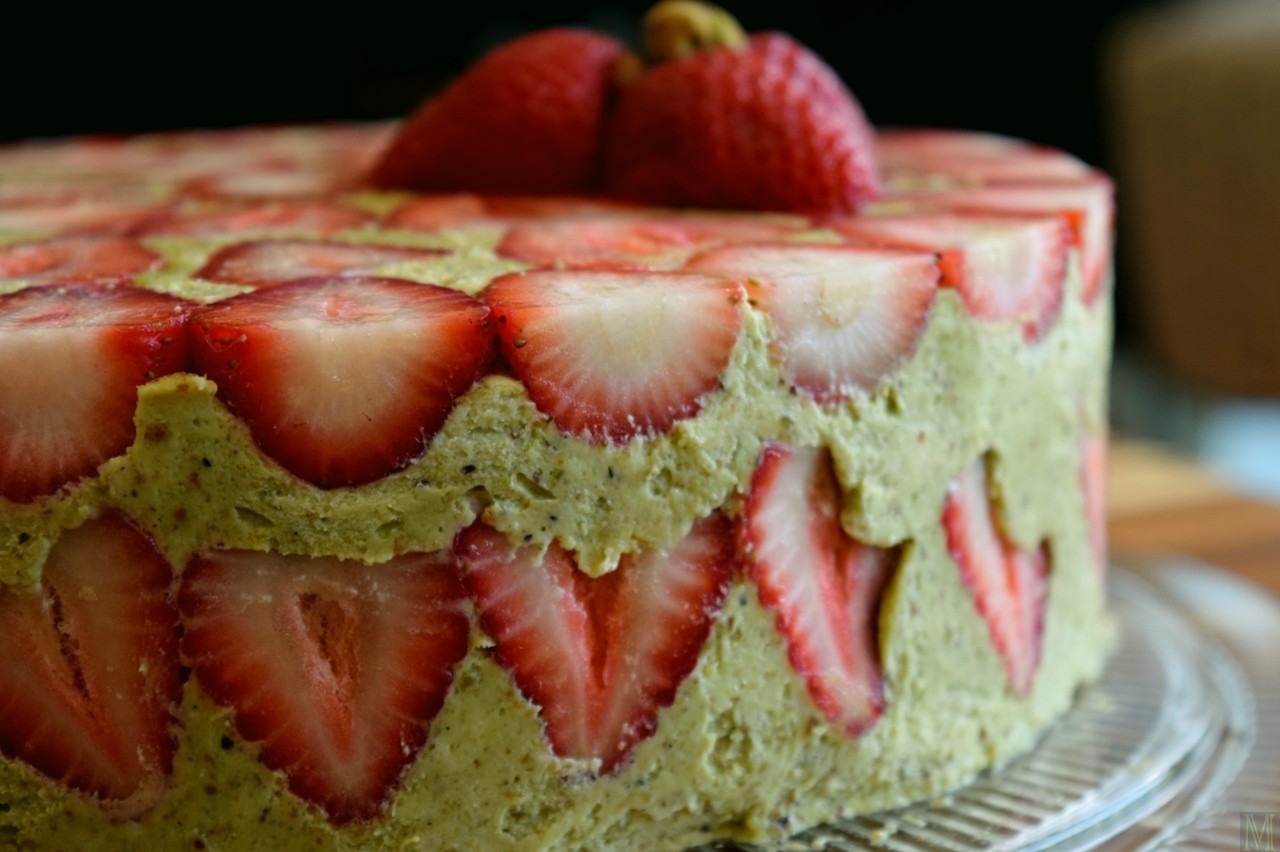 Pour the strawberry syrup into a large, shallow bowl. Soak one of the cake layers in the syrup to get it mostly saturated, pull it out, and place it carefully on top of the mousse, centered in the ring, saturated-side up. Tuck berries, blunt end down, cut side against the ring, into the space between the cake and the ring, all the way around. Pipe mousse onto these berries, pointing the tip particularly into the crevices around them. Use a spoon to push the mousse into the crevices. Pipe a circle of mousse into the center of the cake, and spread it in a thin layer so that all the cake is covered. You'll wind up with a concave surface. Slice some of the larger and/or less attractive berries, and lay the slices flat into the concave area, to level it. Soak a second layer of cake and add it to the ring just as you did the first one. However, this time, the berries that are already hugging the side of the pan will take up at least some of the space between the cake and the pan. Use a thin layer of mousse to even things out. Add an even layer of sliced strawberries, and a final layer of soaked cake. Pipe mousse along the perimeter, to level the cake's edges. The cake will not fully fill the ring.
Refrigerate the cake for at least an hour, preferably two or three. You'll be able to tell that it's become quite firm and solid.
To unmold, first remove the ring. Then, use scissors to snip the parchment down so that it is even with the surface of the cake. Place an inverted cake plate on top of the cake, and hold it in place with your dominant hand. Slip the other hand under the pizza pan, and in one even motion – not slow, but not so fast that it's frantic – turn the cake over. Remove the pizza pan and freezer bag, and carefully peel away the parchment. Run the side of a butter knife over the top and sides of the cake. This will help gloss the mousse.
Garnish. Keep refrigerated. The cake is easiest to cut cleanly (with a sharp knife, run under hot water) when it's straight from the fridge, but let it sit out several minutes before removing the slices and serving them. The cake is at its most beautiful same-day. Next day, the flavors meld and become subtly more delicious, but the strawberries, because they're not glazed, start to loose their sparkle – but not to the point that you wouldn't want to serve the cake proudly to guests.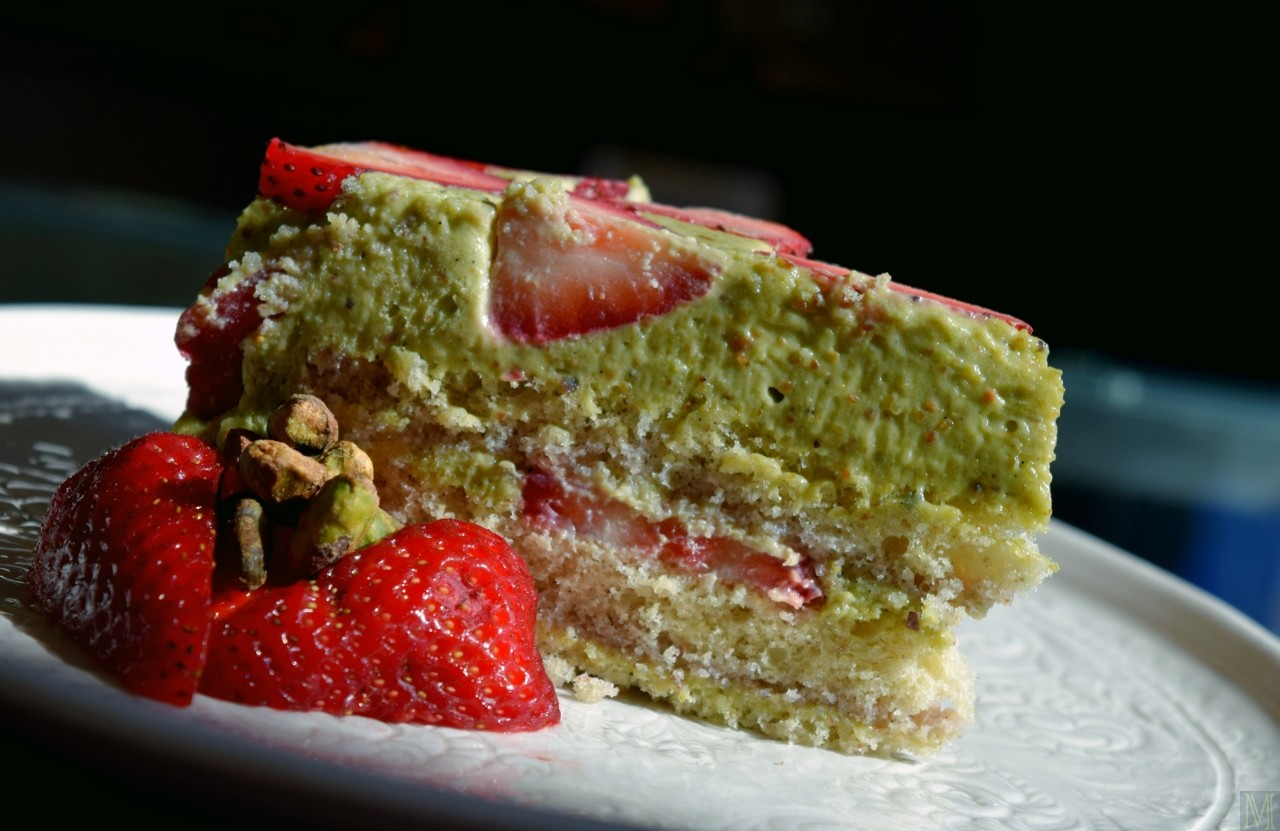 Notes:
Bruno deftly free-hands his cake into discs. I used a cake leveler instead.
A little bit of peanut butter will stick the parchment to the ring, to make things neater.
As much as you can, use smaller, uniform berries for your initial design. If you wind up having to use some of the larger berries, try to incorporate their size into the design.
Instead of a bowl, I poured the strawberry syrup into my Dutch oven.
Soaking the cake layers is one aspect of this recipe that does take some experience. Too long, and the cake will fall apart. Not long enough, and the cake will be too dry. It only takes a few seconds. If the cake does rip or come apart as you're lifting it out of the syrup, just piece it back together inside the ring. However, you must not let the cake turn to mush.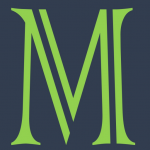 Fraisier Cake
Credit for images on this page: Make It Like a Man! This content was not solicited, nor written in exchange for anything.
Keep up with us on Bloglovin'