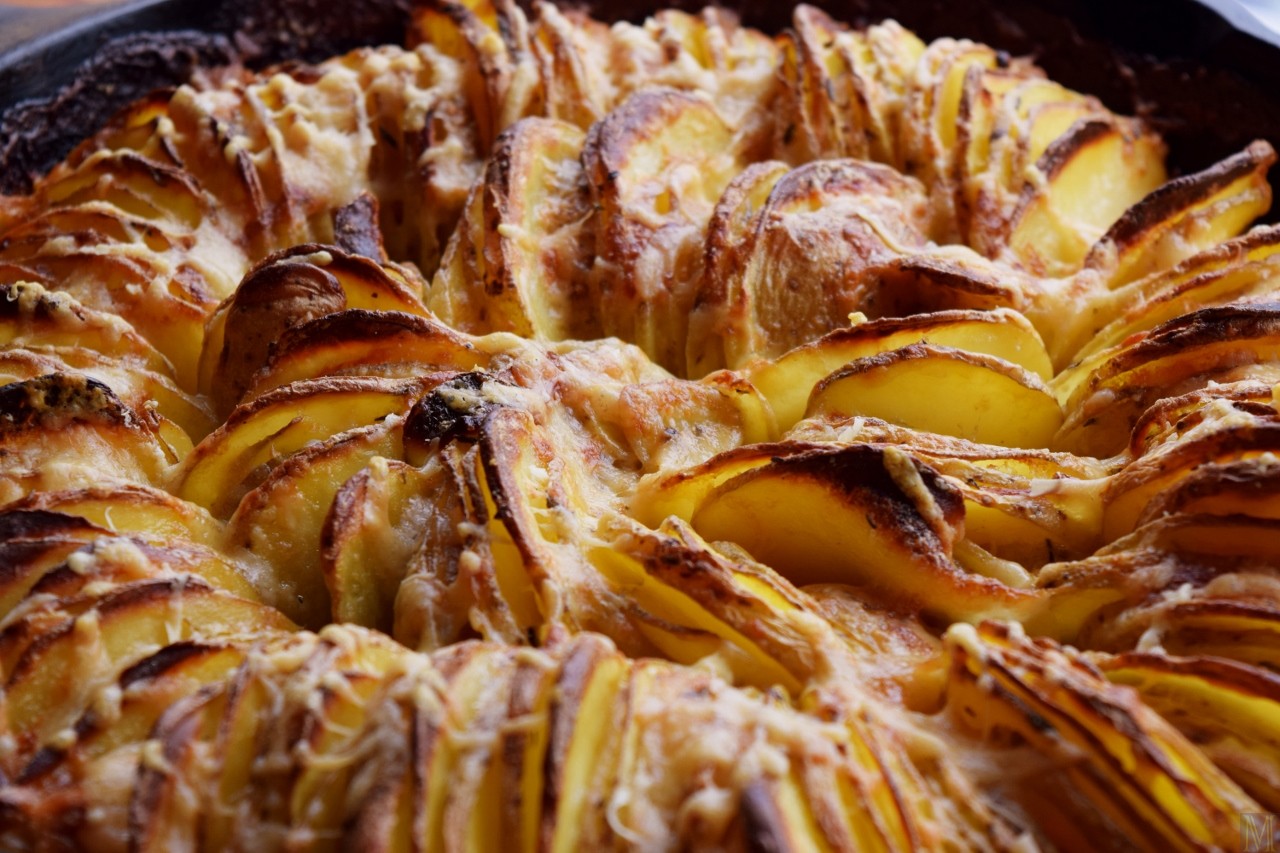 This Hasselback Potato Gratin Recipe is worth every minute of the time it takes. Fortunately, most of that time is wrapped up in the oven, non-attended. Slicing the potatoes, although it would go much faster on the mandoline you don't feel like digging out of you're-not-sure-which cupboard, goes surprisingly quickly and seems unexpectedly easy with a chef's knife. The upside to having this dish baking for an hour and a half is that your house will smell deliriously wonderful. A word of warning: this is extra-strength comfort food. As it sits out on the counter, cooling, you'll think, "I should just take out one little slice, just to see how it came out. No one will notice." Then it's another slice, then another, and after a while, you're just standing in front of the pan with a fork.
What you need for 6 hefty or up to 12 reasonable servings:
5 lbs yellow potatoes
2 Tbs unsalted butter
3 oz. gruyère, freshly grated
2 oz. parmesan, freshly grated
2 cup heavy cream
1 tsp roasted garlic (or two fresh cloves, minced)
1 tsp dried thyme
1 tsp salt, divided
Pepper, to taste
How to do it:
Reserve one potato. Slice the remaining potatoes into 1/8-inch slices.
Preheat the oven to 400ºF as you butter a 10-inch cast-iron skillet. Use all the butter.
Mix the cheeses together in a very large bowl. Set aside one third of the cheese mixture. Add cream, garlic, thyme, ¾-tsp salt, and pepper to the bowl, and mix thoroughly. Add potatoes and toss to coat. With one hand, pull potato slices out of the bowl, one at a time, dunking them in the liquid to ensure that each slice is fully coated. Stack each slice in your other hand until you've accumulated a manageable handful. Lay the stack into the skillet on end, working your way around the outer edge, and building concentric circles toward the center. The potatoes should be tightly packed; if you need to, slice the remaining potato, coat the slices, and tuck them into the pan. Pour the remaining liquid evenly over the potatoes. Cover the pan tightly with foil and bake for 30 minutes.
Remove the foil and continue baking for another 30 minutes.
Remove the pan from the oven, sprinkle reserved cheese even over the potatoes, and return the pan to the oven until the top is deeply golden-brown and crispy, another 30 minutes.
Sprinkle remaining ¼-tsp salt over entire dish. Allow to rest for at least 10 minutes before serving. Because a cast-iron pan retains heat well, it will stay warm for quite some time. I like these potatoes best once they've cooled to just pleasantly warm – quite near room temperature.
Notes
Your grocer probably sells cheese by the pound rather than by the ounce. Two-to-three ounces 0.125-0.1875 lbs., which translates to, "Buy the smallest chunks available." Although, having leftover cheese is never a bad thing in my house.
Generally, I prefer to eat any vegetable or fruit with the skin on. In this case, because yellow potato skins aren't especially chewy, and the intent of the dish is to provide a complex texture, I can't see a good reason to peel the potatoes before slicing them.
You're going to need to bust out your big-boy bowl for this. My go-to, large mixing bowl isn't large enough. I had to resort to my 7-quart bread-making bowl. As an alternative, you could keep the liquid in a medium-sized mixing bowl, the potatoes on the cutting board, and dip each slice as you go.
"Pepper, to taste," for me, is about 15 seconds of grinding. Eyeball it.
When it comes to the "remove the foil" part of the recipe, I do this with my bare hands. Why? Because I'm a guy, that's why. Don't construe this as a suggestion to do the same, because who knows, maybe this is a King Arthur-type test to find out if you're man enough. You hate to find out the hard way. Although, if you're a person who is invested in intelligence at least as much as gender role, you should know that aluminum foil, although it is a good conductor of heat, has a small mass. So, it holds a relatively small amount of thermal energy. When you touch the foil, this thermal energy is quickly dissipated into your hand, which has much more mass. Plus, your hand is mostly made up of water, and water has a high heat capacity (meaning it takes a lot of heat to raise the temperature of water). The end result is that the foil doesn't feel hot. However, touch that cast iron skillet accidentally, and you'll make another important scientific discovery about how swearing serves an important function in relieving pain.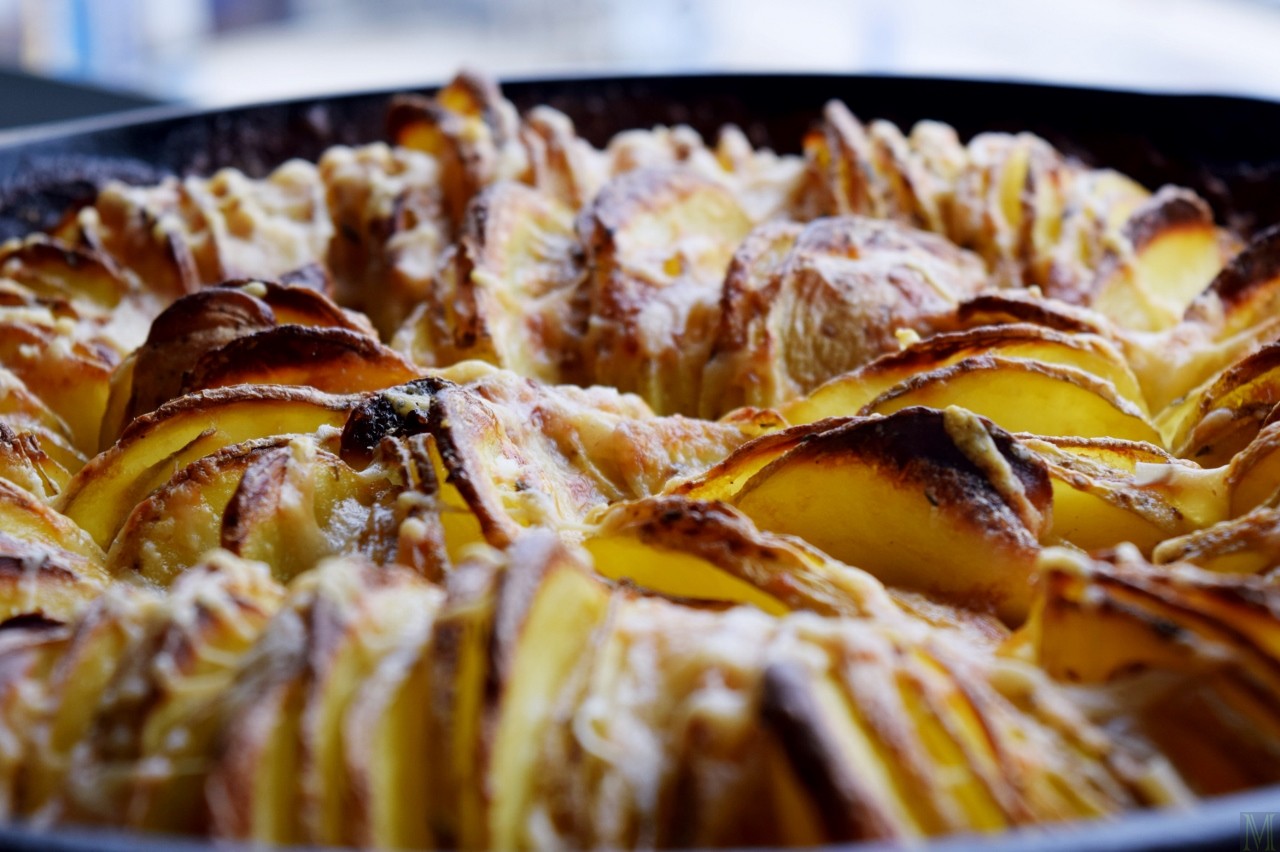 Cast-Iron Skillet Hasselback Potato Gratin Recipe
Credit for images on this page: Make It Like a Man! Clicking on images will enlarge them. This content was not solicited, nor written in exchange for anything. This recipe is a modification of one I found in the Cooking section of the NY Times, an élite publication full of non-alternative facts, or fact-facts, as I like to call them. DISCLAIMER: never take my advice nor follow my example. Always do what is sensible. By most people's accounts, I'm partly crazy. "Touched," is how they usually put it.
Keep up with us on Bloglovin'