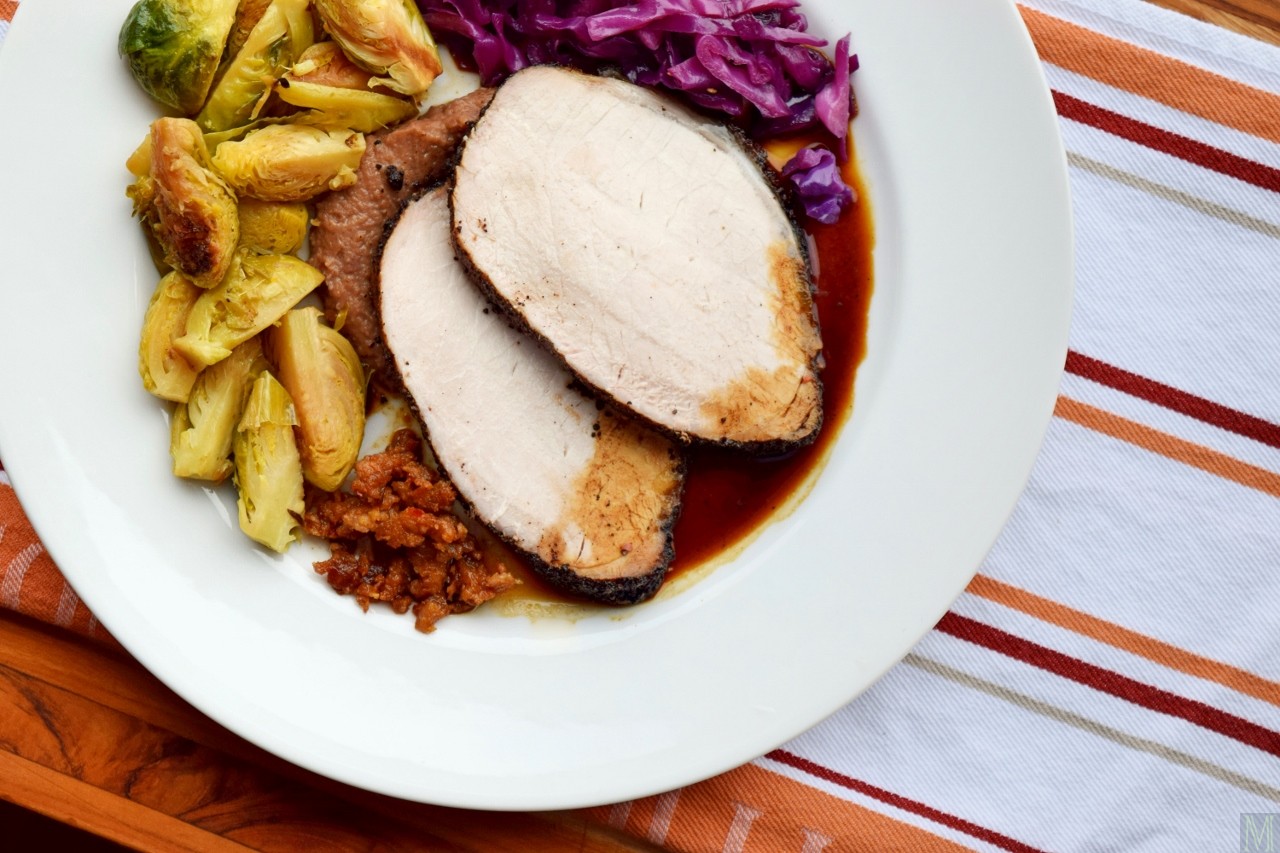 COFFEE-CRUSTED PORK ROAST with caramelized Brussels sprouts, chestnut purée, crumbled chorizo, red-wine-braised red cabbage, and orange cardamom jus
My fiancé's best friend is married to a chef. We spent a lazy weekend together at their beach house last summer … three days filled with late nights, slow mornings, day-drinking, Scrabble, and incessant laughter. No plans, no schedule … we just meandered as the spirits moved us, from the living room, to the deck, to the beach, and back to the living room. At one point, we decided we were hungry, and the Chef – whom we'd never put upon to cook on his vacation – volunteered, "Well, let me see what we've got in the kitchen." A couple of hands of cards later, he calls us to the table for coffee-crusted pork roast and an array of beautifully grilled vegetables.
I'd never heard of using coffee in this way. Let me tell you, it's stunning to see and amazing to eat. The coffee doesn't taste like coffee. It's tastes earthy and meaty. If you really know coffee, you can hunt for and find the flavor of the bean. But "coffee" is not the impression you'll have when you taste this pork. The flavor of the juicy pork is front and center; the coffee seems to amp up the umami. My contribution to this creation is the jus and purée; the cardamom provides a bit of depth, while the orange adds high hits of sweetness that balance out the dark, black crust. The purée is all about texture, adding a lusciousness to the light pork, and the chorizo ties the coffee and cardamom together into a consonant triad.
You can pull this together, start to finish, in about 3½ unrushed hours. Or cook all the veggies ahead of time, and you can do it in about 2 hours – most of that time spent sitting around while the roast is in the oven.
Start with the cabbage. Once it's done, let it cool. You can reheat it while the pork is resting. In fact, you could make it at least a day in advance.
This recipe comes from Epicurious. The given timings and temperatures didn't seem to agree, at least in my test, so I've adjusted them.
Serves 8
¼ cup (½-stick) butter
1 two-pound head of red cabbage, quartered, cored, very thinly sliced (about 14 cups)
½ tsp (or more) salt
3 Tbs dry red wine, such as (Karen Birmingham 2013) Merlot
1 Tbs red wine vinegar
Pepper
Melt butter in heavy large pot over medium-low heat.
Add cabbage and salt; stir and toss constantly until cabbage begins to wilt, about 7 minutes.
Add wine and sauté until liquid evaporates, about 10 minutes.
Add vinegar and turn heat to low; stir frequently until cabbage is tender and turns bright fuchsia, about 13 minutes longer.
Season to taste with pepper and more salt, if desired.
Continue with the Brussels sprouts. Like the cabbage, the sprouts can be rewarmed and/or made at least a day in advance.
This recipe is a modification of one from Kevin Is Cooking.
Serves 8
6 Tbs olive oil
2 lbs Brussels sprouts, trimmed and quartered if large – halved if small
¼ tsp Kosher salt
4 Tbs butter
2 Tbs minced fresh ginger
2 medium limes
Heat oil in a large skillet over medium heat.
Add sprouts and salt. Toss well to coat.
Cover pan with lid or foil ajar by about 1 inch. Turn heat down to medium low, and cook, stirring occasionally. Sprouts should start to brown in 8-12 minutes.
Turn the heat to low; cook until sprouts are well browned, about 15 minutes.
Nuke butter and ginger on high for 30 seconds. Grate limes to garner 2 tsp of zest; set aside. Squeeze limes for 2 Tbs of juice; add to butter-ginger mixture.
Off heat. Pour ginger-butter mixture over vegetables and toss well. Season to taste and top with zest.
While you're finishing the sprouts, start in on the roast.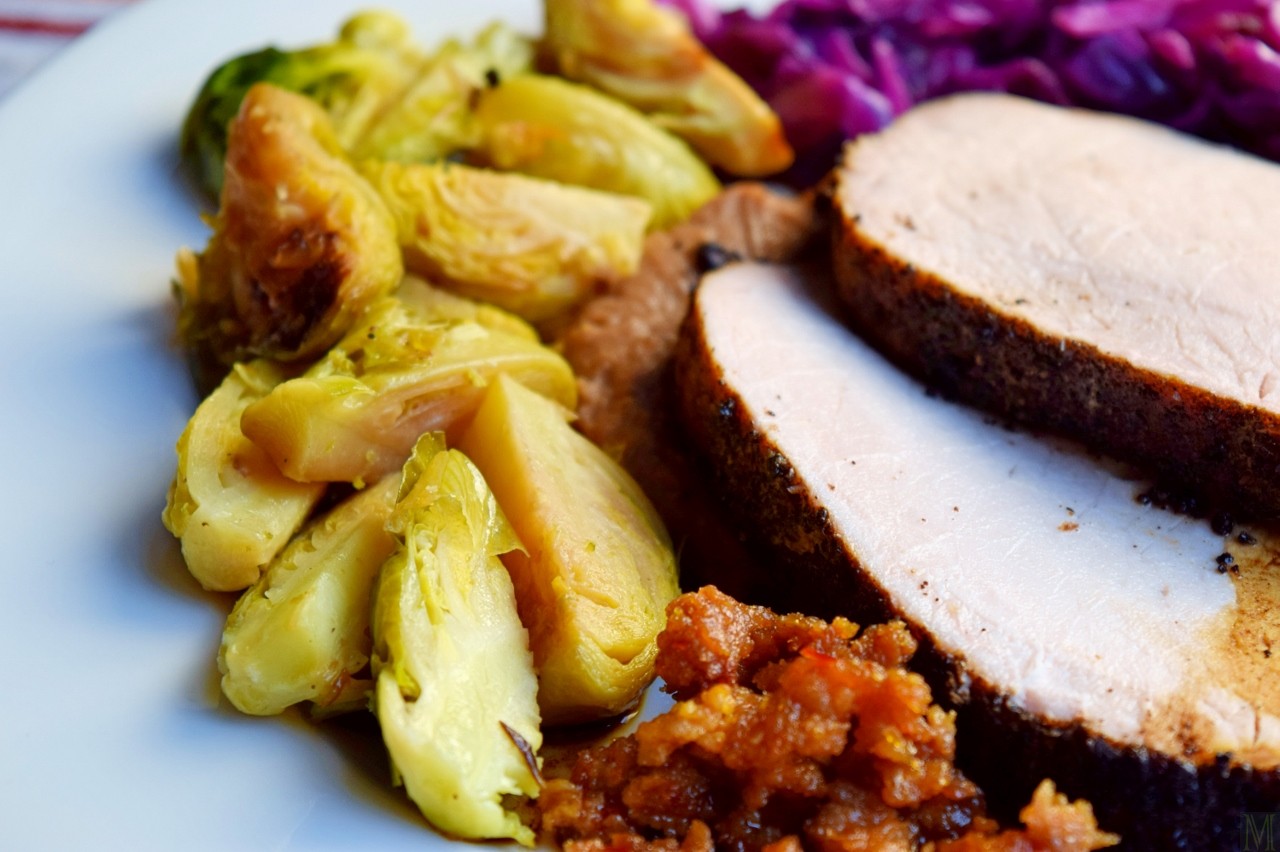 COFFEE-CRUSTED PORK TENDERLOIN with orange cardamom jus
Serves 6
3 Tbs coffee, med-coarse grind
1 Tbs brown or Demerara sugar
2 tsp kosher salt
1 tsp black pepper
3 to 4 lbs boneless pork loin roast
1 to 2 Tbs olive oil
2 Tbs fine-grind coffee
¾ cup orange juice
1 cup chicken broth or water
10.5 oz. Chestnut Purée
2 Tbs milk
1 small chorizo sausage, casing removed, crumbled
¼ tsp (somewhat mounded) cardamom
Preheat to 350°F. Prep a roasting pan with a rack.
Thoroughly mix together med-coarse coffee, sugar, salt, and pepper.
Score the roast's fat side.
Spread rub all over roast. Refrigerate, or place in pan, fat side up.
Drizzle roast with olive oil. Sprinkle fine-grind coffee over top and sides of roast and pat down. Pour orange juice and ¾-cup broth into pan to prevent burning.
Bake until internal temperature reaches 145°F (or up to 160°F, depending on your preferences). IMPORTANT: check every 20 minutes to make sure pan liquid hasn't evaporated; add stock as necessary.
In the meantime, place chestnut purée in a small saucepan. Add milk. Heat and stir until consistency of loose mashed potatoes. Off heat; set aside.
Sauté chorizo until nicely browned. Set aside.
Rest the roast for 15 minutes. In the meantime, deglaze pan with stock. Once the pan is clean, transfer liquid to a small saucepan. Add cardamom and reduce to a syrupy consistency. Correct seasoning. Gently reheat purée and chorizo.
Garnish pork servings with purée, chorizo, and jus.
Serve the pork with the wine you opened for the cabbage.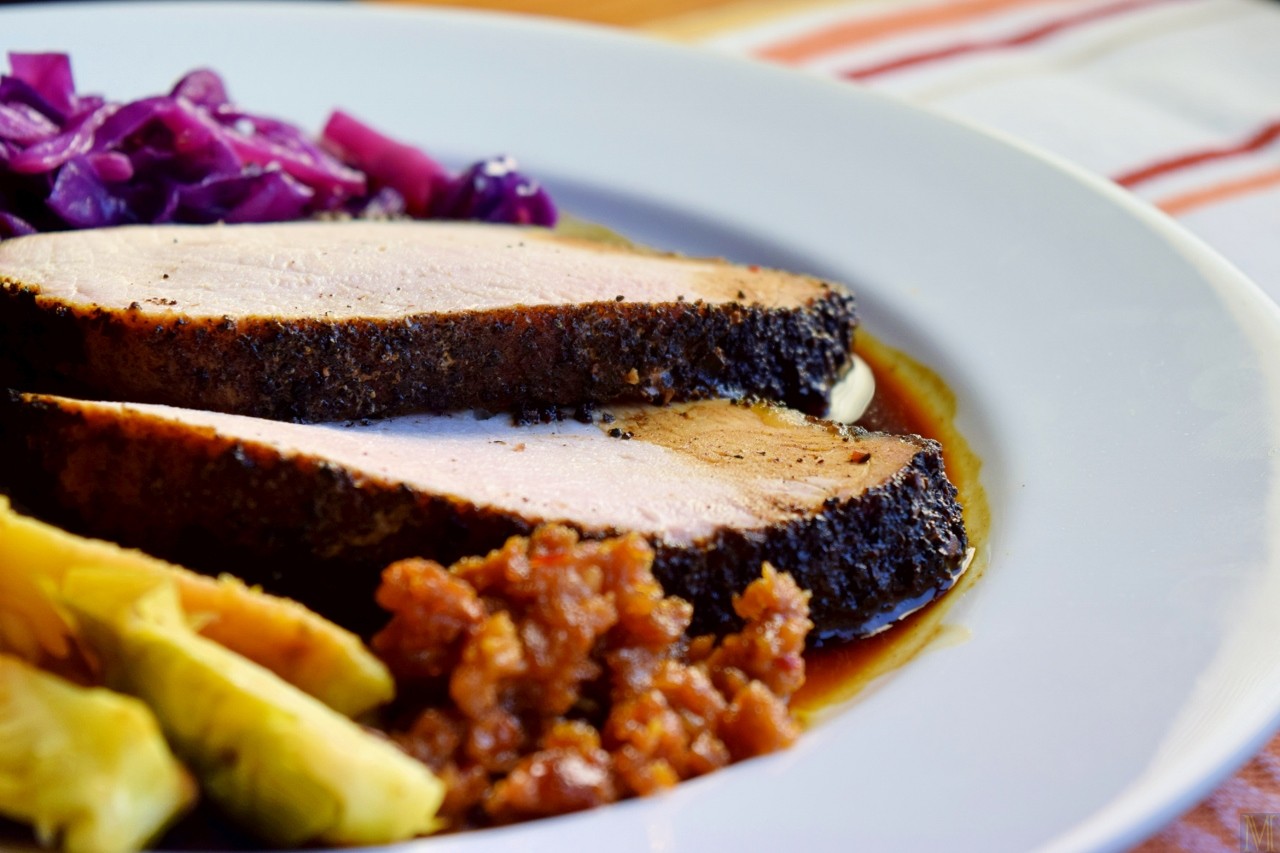 Coffee-Crusted Pork Roast
Credit for images on this page: Make It Like a Man! Clicking on images will enlarge them. This content was not solicited, nor written in exchange for anything. In doing research for this recipe, I came upon a recipe by Leith Devine on Food 52 as well as a video by Dear Martini on Vimeo, both of which I found to be helpful.
Keep up with us on Bloglovin'
Before I go, I just have to take a moment to say this:
love is all around