♣
Just in case push comes to shove, and we have to flee the country, seeking basic human rights, it's comforting to know that there's really good food in Canada.
♣
The 360 is a revolving, circular restaurant in the CN Tower. It gazes down on downtown Toronto's Entertainment District from a 1150-foot perch. If my calculations are right, that'd put it about seven floors higher than the observation deck of the Empire State Building. The main difference is that when you look down from the Empire State Building, the people look little ants, but when you look down from the CN Tower, the people look like they have universal healthcare. The other difference is that at the top of the CN Tower, there's really good food.
After taking down the Christmas tree, after several weeks of "breakfasts" that consisted of holiday cookies and cappuccino, after making soup from the Christmas Eve turkey, and after at least a dozen ways to use up leftover cranberry sauce (one of which was "…just eat it with a spoon"), the miLam team felt a celebration was in order: food that someone else cooked. We dragged ourselves over the snowy border, navigated our way through the maze they call The Path, crammed ourselves into a speedy elevator, and ate like royalty. Here's what we had:
Appetizer. CA$24
POACHED SHRIMP "COCKTAIL" Mary rose and cocktail sauce. I was really in the mood for an old-fashioned, big-fat-shrimps-hanging-off-the-side-of-a-big-ol-glass-goblet affair. This was more nuanced than that.
3 Course Prix Fixe. CA$79
First Courses
ROASTED BEETS and HEIRLOOM CARROTS with frisée lettuce, first pressed canola oil and verjus dressing, and crispy red onions
PINE MEADOW FARM'S BEEF TARTAR with Kozlik's mustard, house pickles, and charred habanero aioli. You should try this. I could've eaten the tartar all night long, especially with the mustard.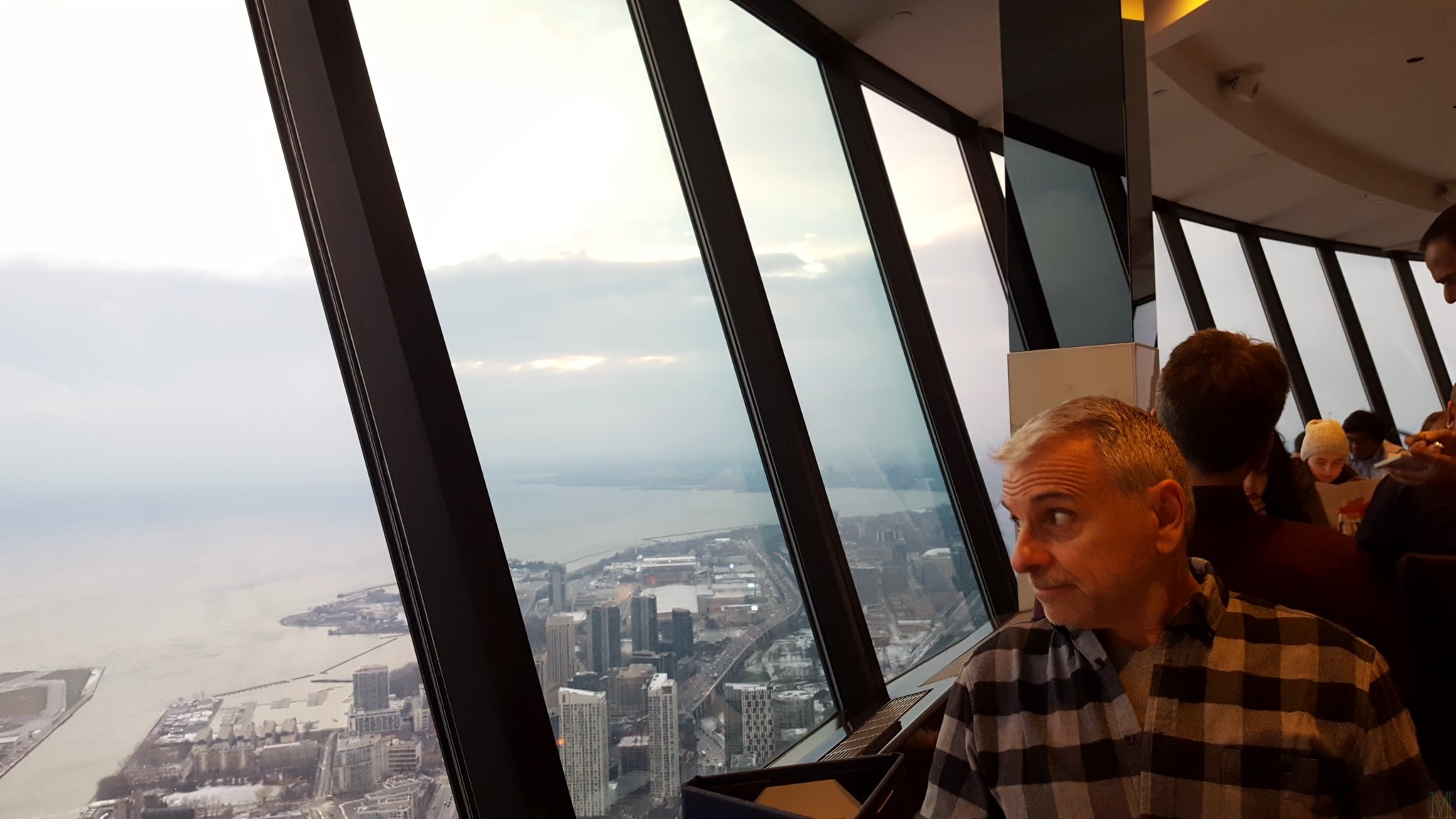 Main Courses
QUÉBEC PORK TENDERLOIN with caramelized Brussels sprouts, chestnut purée, crumbled chorizo; Grower's Blend, Tawse Winery braised red cabbage; and orange cardamom jus
NIAGARA PANCETTA WRAPPED FOGO ISLAND COD with pickled spruce tip tapenade, Sweet Potato confit, Henry of Pelham Estate Winery charred broccolini, tomato thyme jus. I'd have a hard time choosing between these two as my favorite dish of the evening. They were both fantastic. Everything – everything – from the pork and the cod to every little tidbit on the plates – was delectable.
Cheese Course. CA$8 prix fixe upsell (Apparently, the prix isn't literally fixe.)
CANADIAN CHEESE SELECTION: St-Albert 5-year-old cheddar, Castellon smoked gorganzola, Mountain Oak 2-Year-Old gouda, Upper Canada's comfort cream, with raisin walnut toast, pears, maple glazed pecans.
Dessert
DARK CHOCOLATE TOWER: farm fresh cream with toffee liqueur, preserved berry compote
The ambiance at the 360 is incredible. Subdued, elegant, everything you want "fancy" to be. I'm not aware of a dress code; people were dressed casually but well. The entire circumference of the restaurant is floor-to-ceiling glass. There's a ring of tables along the glass. There's a second ring, just inside that. If there is a secret to getting a table right next to a window – if that's what you want – it may be this: get an early reservation. They don't guarantee window seats with any reservation, but they do seem to seat along the window first, and then fill in the inner ring. An early start time – 4:45 – not only got us a seat next to a window, but also had us starting dinner before mid-winter sunset, and finishing in the nighttime glow of Toronto's colorful city lights. Having dinner that early has a nice side affect: you have all night afterward to hit up comedy clubs and stylish little bars.
Do you enjoy a nice walk after dinner? for a small fee, they'll let you step outside and walk the perimeter of the tower in a harness.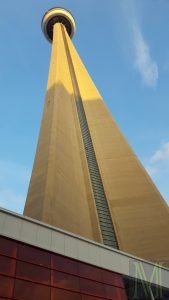 Dinner comes with a complementary pass to the observation deck, one floor below the restaurant; but the views in the restaurant are so stunning, the atmosphere so serene, and the food so good, that the observation deck is a definite step down. You might feel that the seating is a bit tight in the restaurant, but if you really want to see a crowd as unruly as grade-school kids at recess, yet as packed as a Wal-Mart on a Saturday, see the observation deck. It's a hot mess.
The service doesn't rush you, but the courses come astonishingly quickly. I swear that as soon as we ordered the appetizer, and waiter waltzed off and immediately returned with it, as though someone in the kitchen had the ability to see the future, and had already prepped our plates. Coincidence, you might think … but this happened with every order. Order a cocktail, you get it in 30 seconds. Order your entrée, and it's there within a minute or two. I did not feel rushed. But I also didn't feel as though I could linger, and I really wanted to linger and take in that magnificent view.
360 Restaurant CN Tower
As it was, our dinner took about one-and-a-third rotations, but I could've gone for a full two.
I've listed the prices, so you can come to your own conclusions about how affordable it is. I'll say three things: first, I was fully satisfied. Second, compared to restaurant prices in Chicago … let's just say I've eaten fried chicken on picnic tables for the same price. Third, at the time of my trip, the exchange rate was in my favor by about 30%.
You'd think this place'd be a tourist trap. It isn't. We were thoroughly pleased with the entire experience, from start to finish.

(5 / 5)
Credit for images on this page: Make It Like a Man! Clicking on images will enlarge them. This content was not solicited, nor written in exchange for anything. 360, the CN Tower, Toronto, Canada, the Queen of England … none of these people, places, or things invited me to write this post, nor did they comp me in any way. They don't even know miLam was there unless they're reading it here, now, like you are. For further reading, we recommend The Star and The Camera Eats First. Featured image credit: Affluence Avenue
Keep up with us on Bloglovin'