♣
This Hawaii-inspired salad is so good, so fresh, so sophisticated. I love it. If you served it to guests,
they'd be amazed and delighted.
♣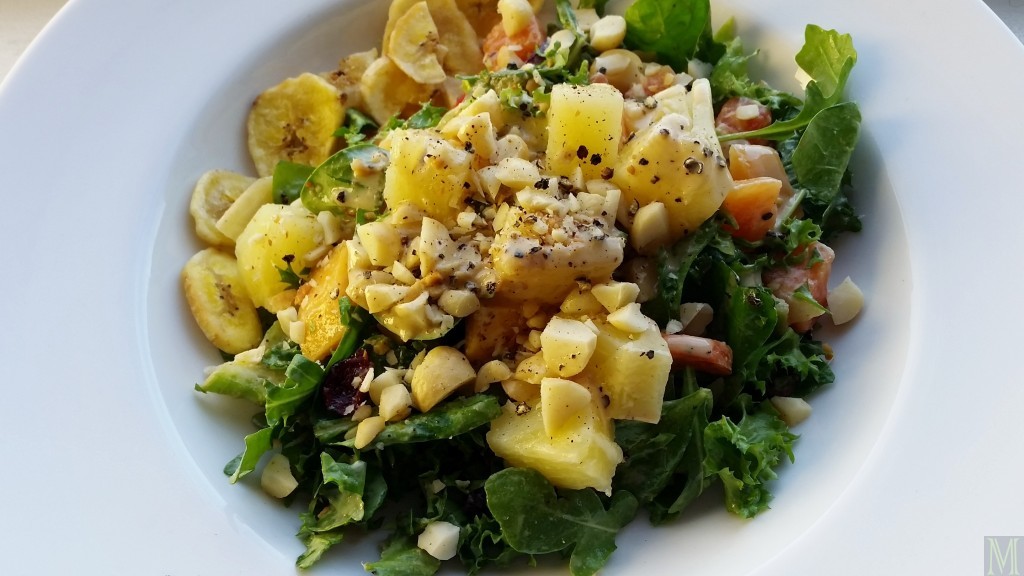 And it's vegan!
(If you're sensitive to veganism, add emergency bacon.)
Serves 2 if you're having it for dinner, 4 if it's a side. Source: Healthy, Happy Life
What You'll Need for the Pineapple Tahini Dressing:
7/8 oz. tahini paste [a generous 1½ Tbs]
2 tsp really good maple syrup
½ oz. apple cider vinegar [1 Tbs]
1 oz. pineapple juice [2 Tbs]
Loads of freshly cracked black pepper
What You'll Need for the Salad:
2 cups frisée, packed, chopped
2 cups, lightly packed, fancy lettuce mix or baby spinach
1 cup diced pineapple
1 cup diced papaya
¾ cup macadamia nuts
Handful of banana chips
Fresh black pepper
Optional: roasted corn, spicy tempeh cubes, or nearly anything you'd put in a garden salad

How To Do It:
1. Place all dressing ingredients in a jar. Shake it (and put it in the fridge if you're doing this ahead). 2. Toss salad together, save the fruit and nuts. 3. Dress salad, reserving a bit. 4. Arrange fruit atop salad portions; sprinkle with nuts, tuck chips around edges. 5. Drizzle remaining dressing atop servings, sprinkle with pepper.
Notes: The original recipe had some ingredients that weren't directly in my path, and I couldn't easily conjure them up. I'm just an ordinary guy: no vegan diet, no vegan powers! So I kind of re-drew this salad with my own set of crayons, you know, in my mind's eye or whatever.
I thought long and hard about using tahini sauce in this recipe, which is what the original called for. I think it should call for tahini paste, which is what I used.
Grade B maple syrup is all the rage, but it's hard for a clueless mainstream white guy to find. I have good friends who have close ties to a maple farm in the UP, but rather than call in that favor, I used grade A. Let's just be happy that I didn't use Aunt Jemima, OK?
Cider vinegar is not hard to find. But if you don't have any on-hand, use red-wine vinegar. Do not use white vinegar, you fool!
Your grocer might call frisée "endive."

You may want to shop for the papaya and pineapple ahead of time. Unless you shop at a really interesting grocery, you can't always be sure of finding a papaya, let alone one that's ready to eat that very minute. Both fruits will ripen on your countertop. Watch carefully for signs of decay – especially at the base of the pineapple – because this might indicate the fruit needs to be prepped immediately. Both fruits, once peeled and sliced or diced, will keep well in the refrigerator for several days – (and they both taste great cold, by the way). So, with care, you can be sure to have what you need when the time comes.
The original recipe calls for roasted, salted macadamias. If all you can find are raw macadamia nuts, be fucking proud of yourself. Chop them to pea-size (because whole, they're a bit challenging to fork) and toast them in a dry cast-iron skillet. At first, nothing will seem to happen and you'll wonder why you're doing this. Then, you'll smell popcorn, but it won't be time for the main feature to start – it'll be the very beginnings of macadamia nuts, toasting. Stir them with sort of "whatever" carelessness, but do so ceaselessly. They will eventually turn ever-so–lightly toward the brown-ish side. Be careful, though, because I swear to you that the moment you think they no longer need your attention, they will burn. Toasting them brings out a coconut-like quality. Just after adding the nuts to the salad, bless it with the tiniest dusting of salt.
Plantain chips? That's what the original called for. I just went straight for the banana chips in the Whole Foods bulk bin, and was satisfied with them.
Don't bother roasting corn just for this salad. Use fresh, if you have it. And tempeh? Isn't that a city in Arizona? I think vegans use stuff like that just to mess with you.
You'd be fine adding all sorts of things to this salad, in small quantities: tomatoes, dried cherries or cranberries, carrots, cucumbers.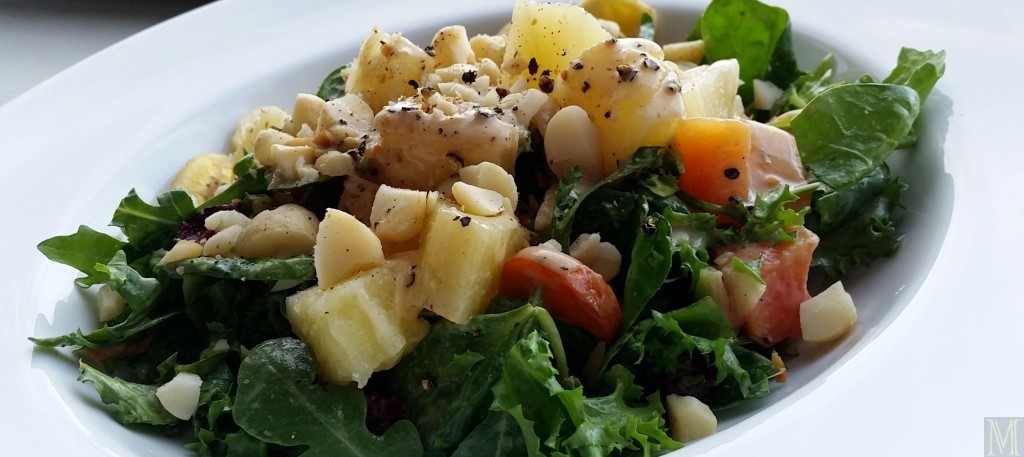 Want to fit this Kahuna Salad into a Hawaiian-themed menu? Follow this link.
Summing it up: delicious, satisfying, refreshing:

(5 / 5). Brava, Healthy, Happy Life for this delightful salad recipe.

♠
Credit for all images on this page: Make It Like a Man! Hover over images and/or green text for pop-up info. Click for joy. This content was not solicited, nor written in exchange for anything.
♠