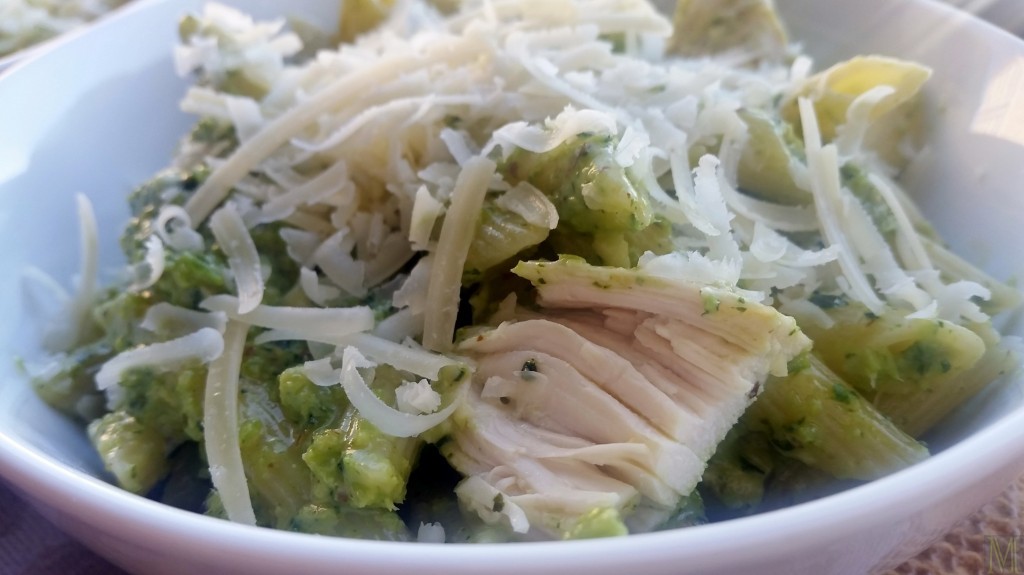 Pesto pasta with chicken: of course I'm not the first person to think this up. Chicken goes perfectly with pesto, and pasta goes with … well, everything. What I want to tell you is that leftover chicken goes perfectly with pesto. Who's got leftover chicken? You do. Or you could, if you play your cards right. Maybe it's from the chicken you roasted or grilled, or the rotisserie bird you brought home from the grocery. Maybe it's because you made a dish that required two or four breasts, and you were forced to buy them in packs of three. As you're shoving that leftover chicken into the fridge, grab some pesto out of the freezer and shove that into the fridge right along with it. Now you've got a delicious, home cooked meal that's only about 10 minutes from being table ready, just waiting for you. Maybe tomorrow, maybe the next day … friends will pop over unexpectedly, you all get the munchies, you whip this up like it's just some normal thing you'd do any old day, and your friends flip out because it's so delicious.
Pesto freezes so beautifully, that there's little reason not to make a boatload of it, once you've hauled out the food processor and dirtied it up, and lob a bunch of it into stasis. You can pull it out on a whim and makes all kinds of stuff.
Although it can be more elaborate, traditional pesto is made from basil, pine nuts, olive oil, garlic, parmesan, and salt. It's one of the easiest foods to make – or it would be, if it weren't for blanching the basil (which keeps it green) and toasting the nuts (which is simply tasty). Other than that, it's a breeze.
It takes a lot of basil to make a decent amount of pesto – which is no big deal if you're growing your own. (And if you are growing your own, please invite me over … even if it is just basil.) If you're buying basil from the grocery store, though, pesto can turn out to be expensive to make. What no one seems to tell you, however, is that you can make an interesting pesto from all kinds of different herbs and nuts, many of which are inexpensive.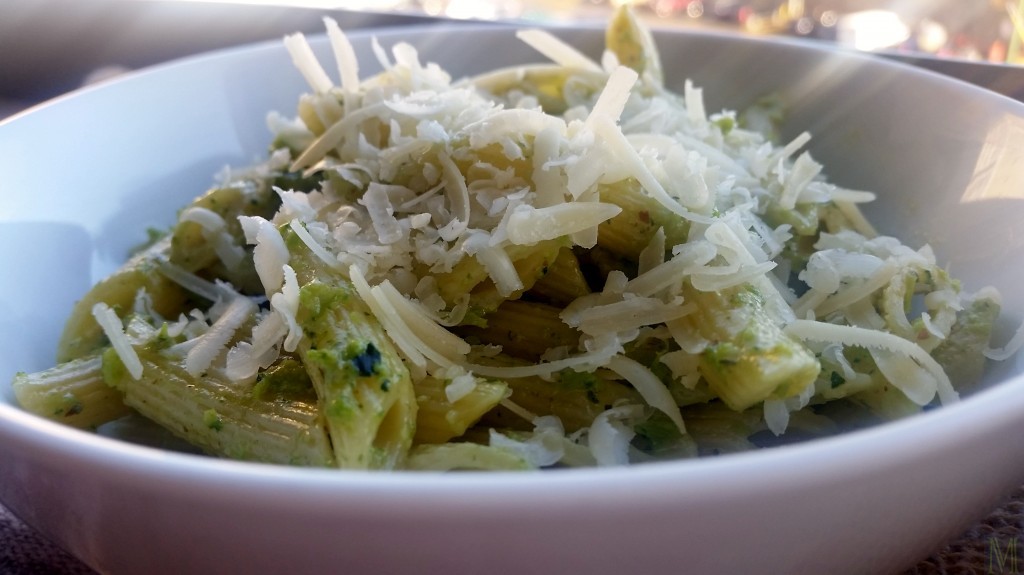 Here's a quick and easy way to turn pesto and leftover chicken into lunch or dinner:
What You Need For 1 Serving:
¼ cup pesto
1 Tbs cream
Salt (optional)
1½ cups cooked penne pasta
2 Tbs shredded parmesan
How to Do It:
Warm the leftover chicken in the microwave, using 50% power. Get it nice and hot. Set aside.
Place the pesto and cream in a microwaveable bowl and nuke it until warm but not hot. Stir and taste for temperature (and seasoning). Continue heating, stirring, and tasting, as necessary.
Toss the chicken, pesto, and pasta.
Top with cheese, and serve immediately.
Notes:
For me, 1½ cups is about one serving of undressed pasta.
You could definitely get by with less pesto and cream, if you like your pasta lightly dressed.
You could substitute milk or even water (see Stefan's comment, below) for the cream. With some pestos, you can get away without any added liquid altogether, maybe.
It's best to start in on the dressing during the last few minutes that the pasta is boiling. If your pasta's already cooked (for instance, if it's leftover and cold), warm it up before dressing it.
You want to warm the chicken without further cooking it, in as much as possible. Cold chicken has a "cold chicken" taste that will only go away if the chicken is fully warmed. However, too much cooking will dry the chicken out. The best way to do this in the microwave is to use low power and a longer time setting.
Your aim is to warm the pesto without fully melting the cheese; adjust timing and/or power setting accordingly. Don't get it "hot" hot. If you see that the cheese is developing a stringiness as you stir the pesto, don't heat it any further.
Once dressed, the pasta will absorb liquid from the pesto, and the texture will begin to become thicker than you probably want. If, for some reason, you can't serve the dressed pasta immediately, you may have to add water to it, and gently rewarm it.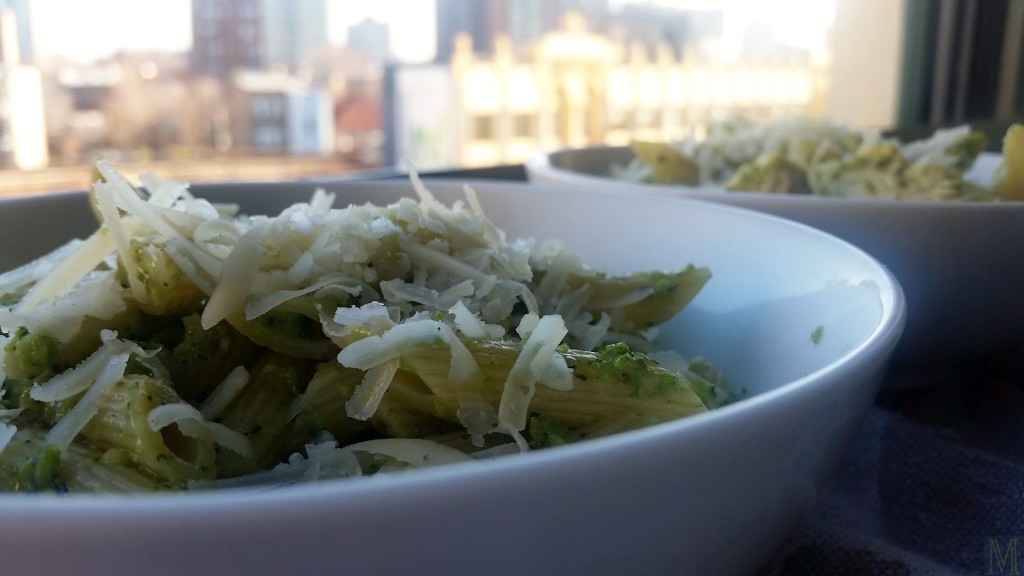 Pesto Pasta with Chicken
Credit for images on this page: Make It Like a Man! Hover over images and/or green text for pop-up info. Click for joy.
This content was not solicited or sponsored. This page does contain ads, but those ads do not appear in exchange for any specific content.
Keep up with us on Bloglovin'
You Might Also Like…