Is that a
banana holder

 in your pocket? Or are you just happy to see me?
♣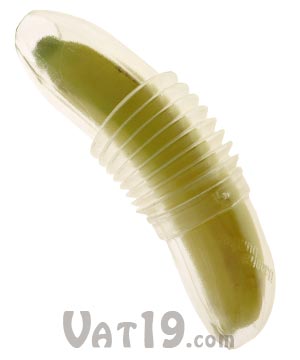 Hold My Banana
But Please Don't Bruise It
This Is Part 1 of a 2-Part Post on Banana Safety
♣
I always thought that bananas came with their own holders: banana peels. Little did I know that banana peels need sheathing in order for the delicate banana inside to be considered properly prepared for transport. All this time, I've been so careless with my banana, just shoving it into whatever pocket seemed convenient, without the proper protection.
Introducing the Banana Holder
If you're interested in keeping your banana safe – and who isn't –  there are several products that offer more than adequate protection. Let's start with this: the plastic Banana Holder. The plastic Banana Holder will give your banana ample protection, while still allowing it to breathe.
Yes, this purple monster looks like it kind of hurts, plus, you have no idea what's actually inside it. Perhaps you're the kind of guy whose banana needs a more sophisticated holder. Not to worry! For a small step up in price, you can graduate to a transparent Banana Protector, so you'll always be 100% confident that it is indeed a banana in your pocket.
Now, I know what you're thinking: what if my banana has more of a curve than that? Or what if mine's straight as a steel I-beam? Or, worse yet, what if my banana's profile varies minute to minute, depending on how ripe it is?
Not a problem! Many banana protectors are flexible! You can bend and shape the protector in any manner you please, to suit the proportions of even the most peculiar banana profiles. Its patented design will flex to follow your fickle fruit regardless of what it decides to do.
Banana protectors are made of durable plastic that's so hard, you could use your banana as a weapon if you had to.[1] Yet, as reassuring as that is, a stiff, rigid banana protector may not be appropriate for all occasions. Now and then, you probably want to slip your banana into something soft and comfortable. And for that, there's the Banana Cozy.
The cozy offers minimal support, with maximum soothing comfort.  It's the perfect reward at the end of a long, hard day.
With a banana holder, a flexible protector, and a banana cozy, you'd think you'd be ready for anything. Well, what if you're not wearing any pants, and thus have no pockets? What if you're wearing bike shorts? It's hard enough to fit what God gave you – let alone a banana – into those skintight bastards, with or without protection. What can a guy do? Continue reading to find out!
Notes:
[1] Weapon: not applicable to plantains. Plantains should never be weaponized. They're dangerous enough as-is.
Next: Hold Me Closer, Pink Banana→