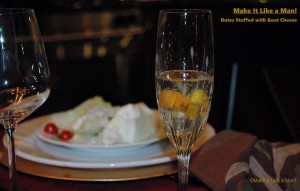 You may not have heard of or may not think you'll like kumquats. But can't we agree that the best response to things you don't know about or care for is to pair them with alcohol?
Two Kumquat Cocktails
Jump to Kumquat-Champagne Cocktails Recipe
Jump to Kumquat Sour Recipe
Kumquat cocktails are the celebratory winter drinks of the cognoscenti. Far off the path beaten down by amateurs with their vodka-cranberries and Effen-Black-and-diets, the kumquat cocktail drinker "knows someone who owes him a favor." Kumquats are drifters in the underworld of citrus fruit, unafraid to associate with probable criminals. When I need to find some, I'll often start with Whole Foods – to find kumquats, I mean … not criminals. Actually … both, come to think of it. Kumquats like to ride the edge of obscurity. At Christmas, I expect to find them in any well-stocked produce section. But there've been years when I had to try six stores before finding any. All I know is, when you come across some, you should just grab them on the spot and count yourself lucky … I don't care where the hell you are, or what goddamned time of year it is. As someone who has always enjoyed living on the fringe, I've gotten to know kumquats over the years. Their tart, orangy-lemonish-tangerinian flavor beguiles me. Like a pirate and his parrot, I've taken to taking kumquats everywhere I go, in the form of "puddings" and cocktails and whatnot. For years, I've been spreading the word. Everywhere I spread it, those I spread it on invariably tell me that they've never heard of a kumquat, or had no idea they were edible. What are the chances that the circle of my friends doesn't intersect with the circle of kumquat devotees until I bring them together? Hmm…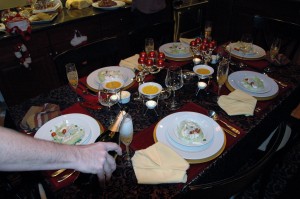 You'll find both of these cocktails to be delicious curiosities and easy conversation starters. The champagne cocktail is a great way to start off a holiday meal, mark a celebration, make a toast, or just say, "Fuck yeah!" The sour is fantastic before or after dinner … hell, it could be dinner. It has so much going for it: the novelty of the kumquat, the refreshing mix of citrus, and the lovely way that whiskey balances with the sharpness of the lemon and kumquat and the sweetness of the orange juice and syrup. And who drinks whiskey anymore? You're friends will drink glass after glass after glass after glass one delicious serving and be fine with it.
Kumquat-Champagne Cocktails
Makes 1 dozen
The kumquat syrup colors the champagne's background a warmer, sweeter shade, but doesn't interfere with it's crisp, clean taste.
2 pints kumquats
Cold water
3 cups sugar
2 bottles chilled Champagne or Prosecco
Tangerine wedges, optionally, for garnish
1. Candy the kumquats: Prick each kumquat a few times with a pin, or once with a small, sharp knife. As you do, make sure to remove any piece of the stem that might still be attached to the fruit. In addition, as you're going along, keep your eye open for a small kumquat that is perfectly orange all the way around, as opposed to those that may seem half-yellow, or those that have green areas. Once you find this perfect little kumquat, eat it. Yeah, toss it in your mouth and eat that little bugger. It's going to be sour, but no more sour than, say, a Jolly Rancher sour apple candy. It may have a seed, which you can easily chew up and eat, or spit out. Take a mental snapshot of how much you enjoyed or didn't enjoy this experience. We'll refer back to it in a just a few goddamned minutes. 2. Place kumquats in a large saucepan. Cover with cold water. Bring to a boil. Drain immediately. 3. Now we've come to a fork in the road, or maybe something more like what they call a "Michigan left." You need to take one or the other of the following options:
If you did not enjoy eating that raw kumquat, you should repeat Step 2 two more times (for a total of three boil-and-drains).  This will make your kumquats seem sweeter and milder, more candy-like.
If you enjoyed eating the raw kumquat, to on to step 4. Your kumquats will have the sweet/bitter balance of a good marmalade.
4. Add sugar and 2 cups water to drained kumquats in saucepan. Bring to a terrifying boil. Remove from heat immediately, and let kumquats and syrup cool completely. 5. Spoon 3 kumquats and 1 tablespoon syrup into each of 12 Champagne glasses. Top off with Champagne, and garnish with tangerine wedges.
Recipe Cred: Martha Stewart Living, December 2010
Kumquat Sour
Makes 1
Sweet and tangy. Tastes like a whiskey sour that's been caught in tangerine's gravitational field.
Orange juice
2 or 3 Candied Kumquats halves
Ice cubes
1½ ounces bourbon whiskey, such as Jack Daniel's or Maker's Mark
½ ounce fresh lemon juice
¼ cup kumquat syrup (from Candied kumquats)
1. Rim an old fashioned glass, using orange juice and sugar. Rimming the glass is optional. But it does add another option for sweetening what may be a tart drink, depending on how you make it. Remember that you have the option of triple-blanching the kumquats, described above. But using more or less lemon juice (below) will increase/decrease tartness as well.
2. Toss kumquats in glass. Fill glass with ice. Pour bourbon and lemon juice over ice. Add syrup. Top off with orange juice. Stir thoroughly. Drink up!
Adapted from The Martha Stewart Show, November 2010, Holiday Cocktails
This'd be the perfect time… …to whip up Jeff's™ Ginger Whiskey Highballs. They would compliment the Kumquat Sours beautifully, and give your guests another reason to drink more whiskey an alternative.
Leftovers:
Leftover candied kumquats are great on toast, in oatmeal, or in baked goods. You'll want to take the seeds out and chop the fruit up. Leftover syrup can be used as you would any kind of liquid sweetener: in tea, infused with a yellow cake fresh out of the oven, added to the ingredients for homemade caramels.
Next Up:
A super-delicious, super-easy, completely unusual hors d'oeuvre you can serve with either of these drinks: Dates Stuffed with Goat Cheese.
See Also: