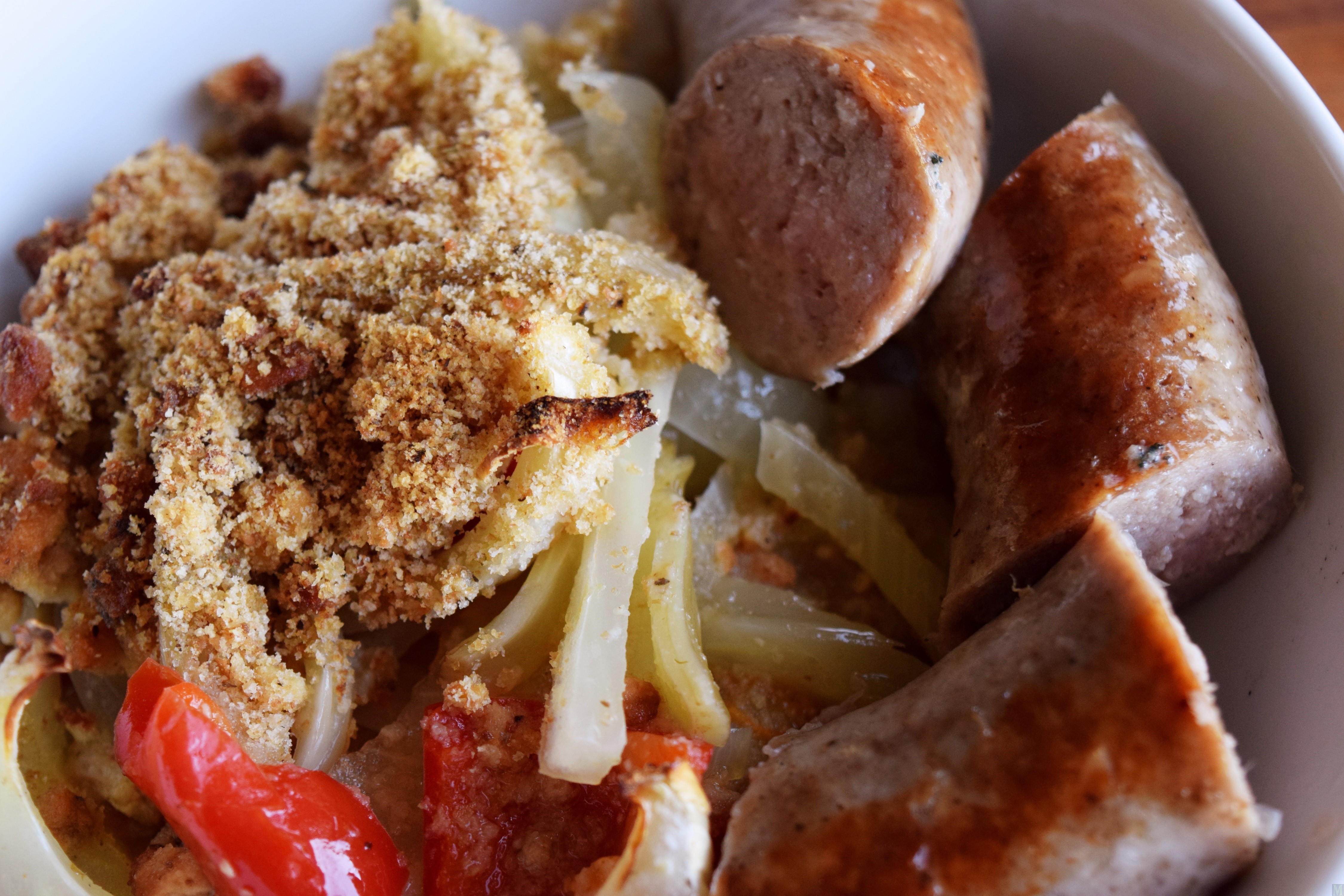 60, 24, 18. No, that's not the combination to my gym locker. It's the high temperatures from three consecutive days this month. When the mercury soars to absurd and impossible-to-explain heights, and then plummets faster than Bitcoins, you need to crank up the oven and crank out some serious comfort food. That's why, this week, we tested a recipe from "The Big Book of Casseroles: 250 recipes for serious comfort food," by Maryana Vollstedt (Chronicle Books, San Francisco, 2000. Pg. 265). The miLam team paired this fennel gratin with sausage, for a twist on the old sausage-and-peppers combo.
Gratin of Baked Fennel, Onion, and Red Bell Pepper with Gorgonzola
Ingredients for 4 servings:
1 Tbs butter, melted
½ cup dry bread crumbs
1 yellow onion, sliced
2 fennel bulbs, stalks and tops removed (save some tops for garnish), washed, drained, and sliced
1 red bell pepper, seeded and cut into 1½-inch squares
½ cup chicken stock
2 Tbs olive oil
Salt and freshly ground pepper, to taste
½ cup crumbled gorgonzola cheese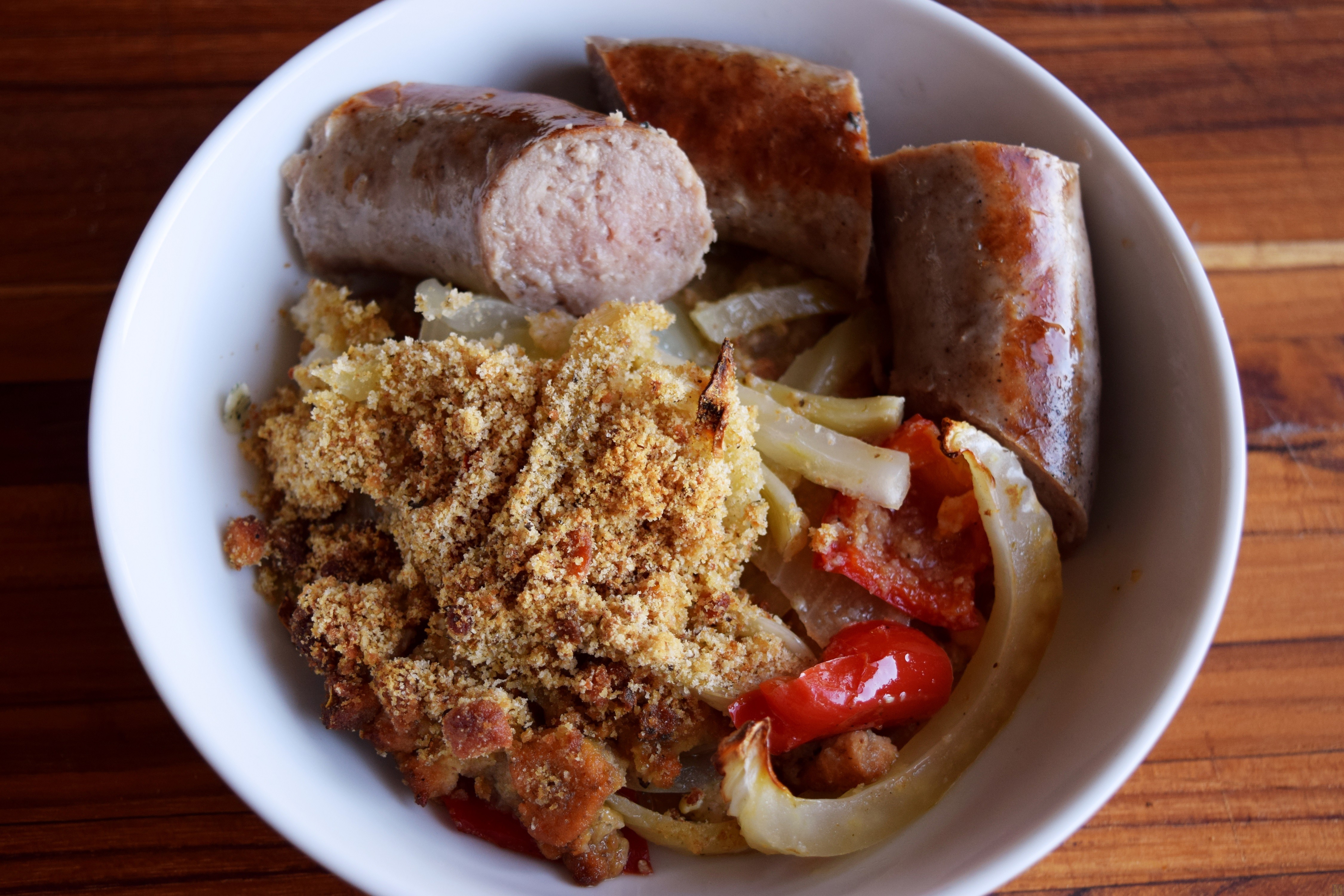 How To Make the Gratin:
Preheat oven to 375ºF. Stir the butter into the crumbs; set aside.
Arrange onion slices in an 8-by-8-inch baking dish or gratin dish lightly coated with cooking spray or oil. Layer fennel and red pepper on top of onion slices. Pour stock into dish. Drizzle with oil and season with salt and pepper. Cover and bake 30 minutes.
Uncover and check for tenderness; veggies should offer no crunch at all. Sprinkle with crumb mixture, then cheese. Bake, uncovered, until lightly browned, about 20 minutes longer.
Garnish with fennel tops.
Gratin Notes:
We modified the recipe slightly, adding the butter and elaborating on the instructions.
Preheat the oven well in advance, and use an oven thermometer. Otherwise, you won't get tender vegetables and a melded dish in the time called for.
Prep takes about a half-hour and can be done in advance. Once prep is done, cooking is almost completely unattended.
We recommend ¼-tsp of salt for seasoning, more if your stock is unsalted or low sodium.
We enjoyed this gratin. It's lighter than what you might think, if "gratin" makes you think "potatoes, cream, and cheese." But it's still got the wrapped-in-a-warm-blanket comfort food feel that you need mid-winter – especially one year into this gauche, national nightmare. We often think of gratin as a thing of pedigree, but this dish seems more like trendy, everyday fare. So, it may not have the brute-force, comfort food power of a more traditional gratin, but it probably won't leave you in a position of feeling you have to falsify your medical reports.

(4.5 / 5)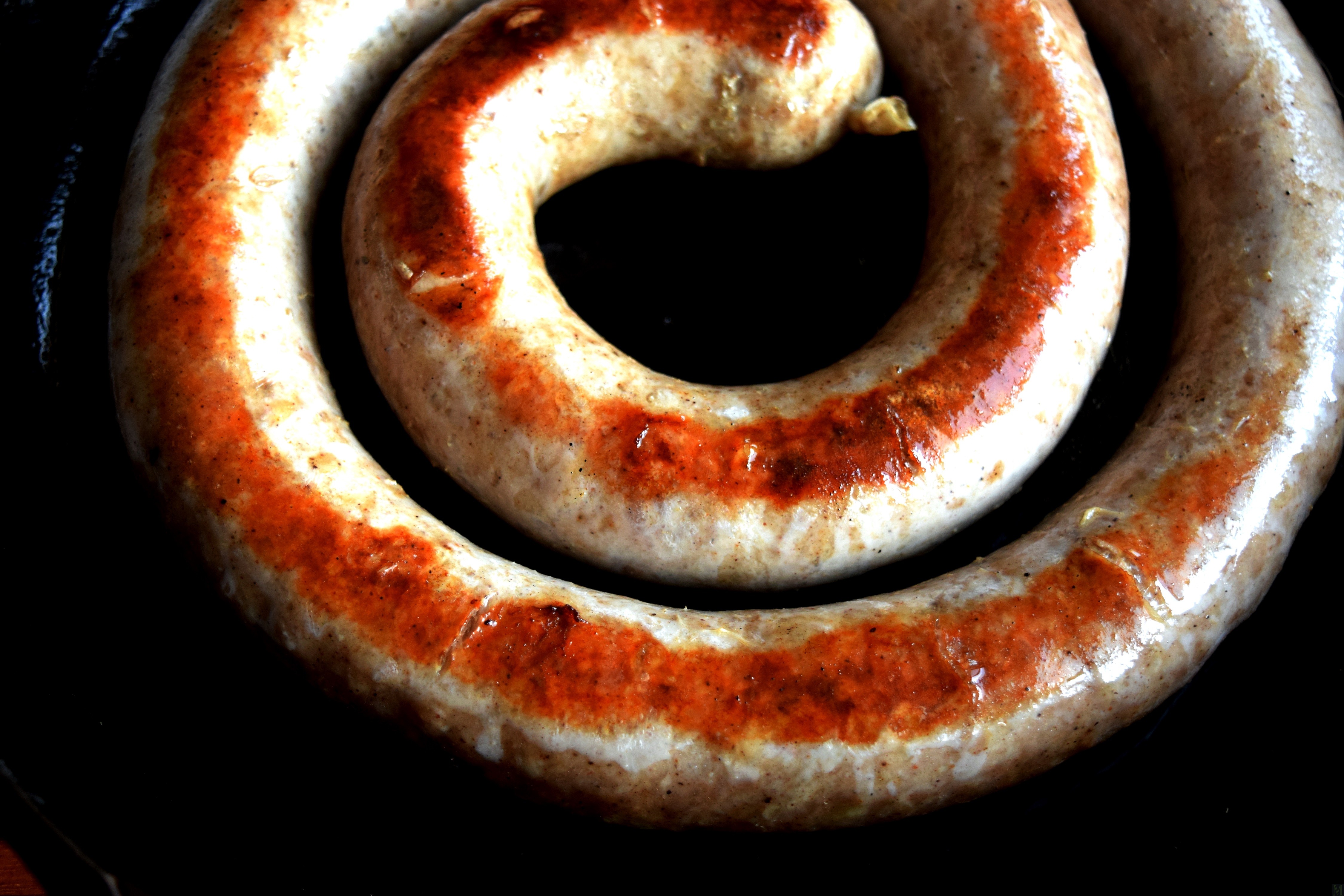 Danish Sausage
Ingredients for 4 servings:
1½ lbs. Medisterpølse
2 Tbs olive oil
How To Make the Sausage:
Place the sausage in a 10-inch, deep-sided skillet. Add water to the skillet until it comes up half-way the height of the sausage. Turn flame to medium-high, and bring the water to a boil. As soon as it comes to the early stages of a boil, turn down the heat, and simmer the sausage for 7 minutes. Flip the sausage, and simmer it for 7 more minutes.
Strain off the water and add the oil to the pan. Brown the sausage, flipping every 2 minutes until you achieve the color you'd like – perhaps a total of 8 minutes.
Sausage Notes:
Medisterpølse is a Danish (and Norwegian and maybe also Swedish … maybe we should just call it Scandinavian) pork sausage commonly seasoned with onion, allspice, cloves, and pepper. The recipe dates back to the 16th century and is commonly associated with winter. It has a delicate and rich texture in comparison with what many Americans would associate with sausage. We wouldn't call it "sweet," but it clearly has sweet notes. We also wouldn't call it "peppery," although it does have that tell-tale piperine pungency (mostly as an aftertaste). What makes it uncommon is the experience of allspice and clove in a savory context. It's decidedly "other." It takes outstandingly to mustard.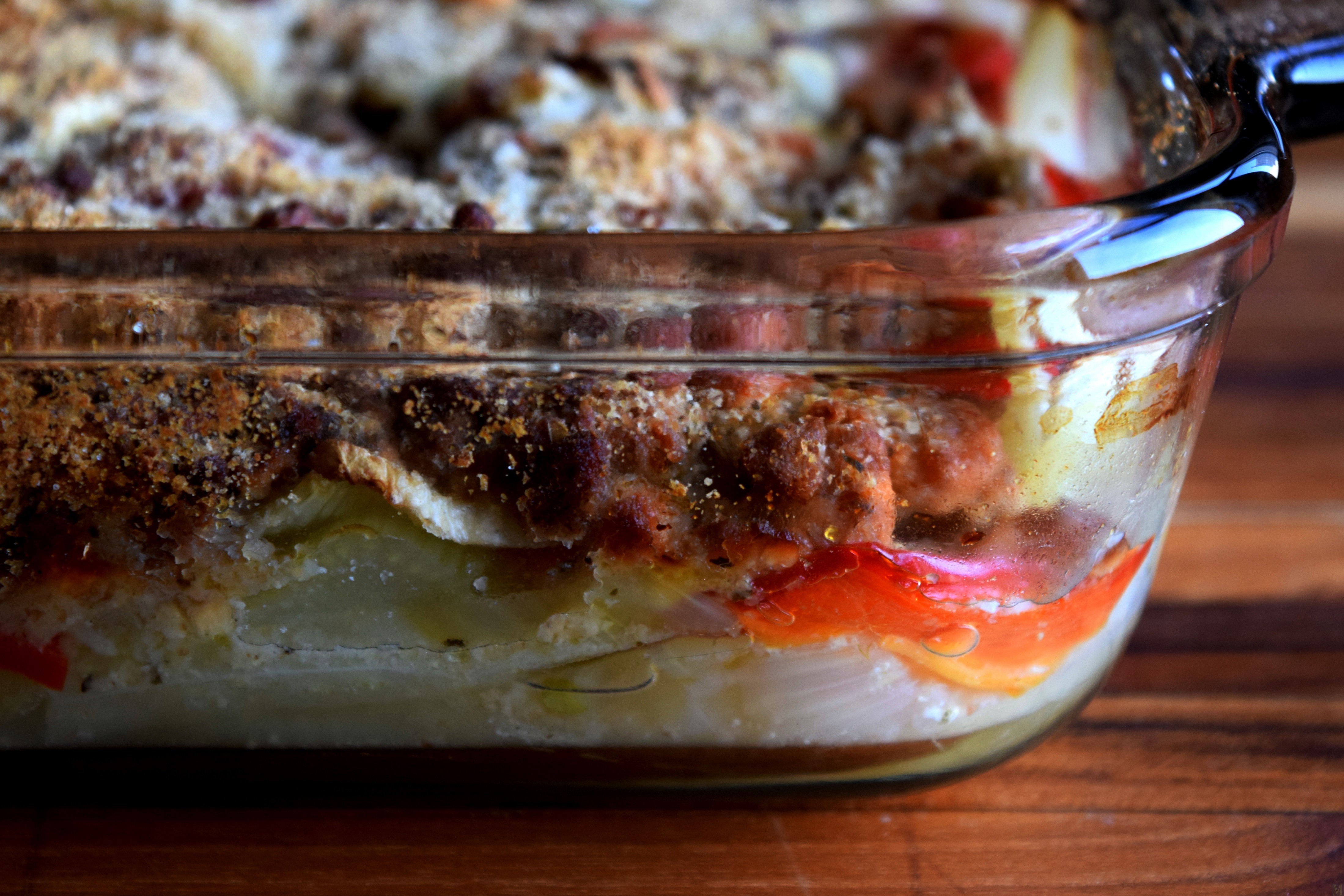 If medisterpølse isn't your thing, of if you find it hard to come by, this gratin pairs well – maybe even better – with tomato-basil sausage. It also goes well with fresh chorizo sausage, although in that case, you could get away with doubling the blue cheese.
Leftover medisterpølse, by the way, belongs between buttered slices of dark, seeded rye – accompanied pickled anything (especially beets) and a cold beer. And by the way, medisterpølse is one of those foods that are better leftover. The flavors seem to meld and the sausage becomes far more aromatic when cooked, refrigerated, and reheated.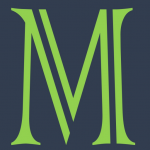 Gratin of Baked Fennel, Onion, and Red Bell Pepper with Gorgonzola and Danish Sausage
Credit for images on this page: Make It Like a Man! This content was not solicited by anyone, nor was not written in exchange for anything. All of us at miLam congratulate the awesome women who marched this weekend. Keep up the good fight!
Keep up with us on Bloglovin'