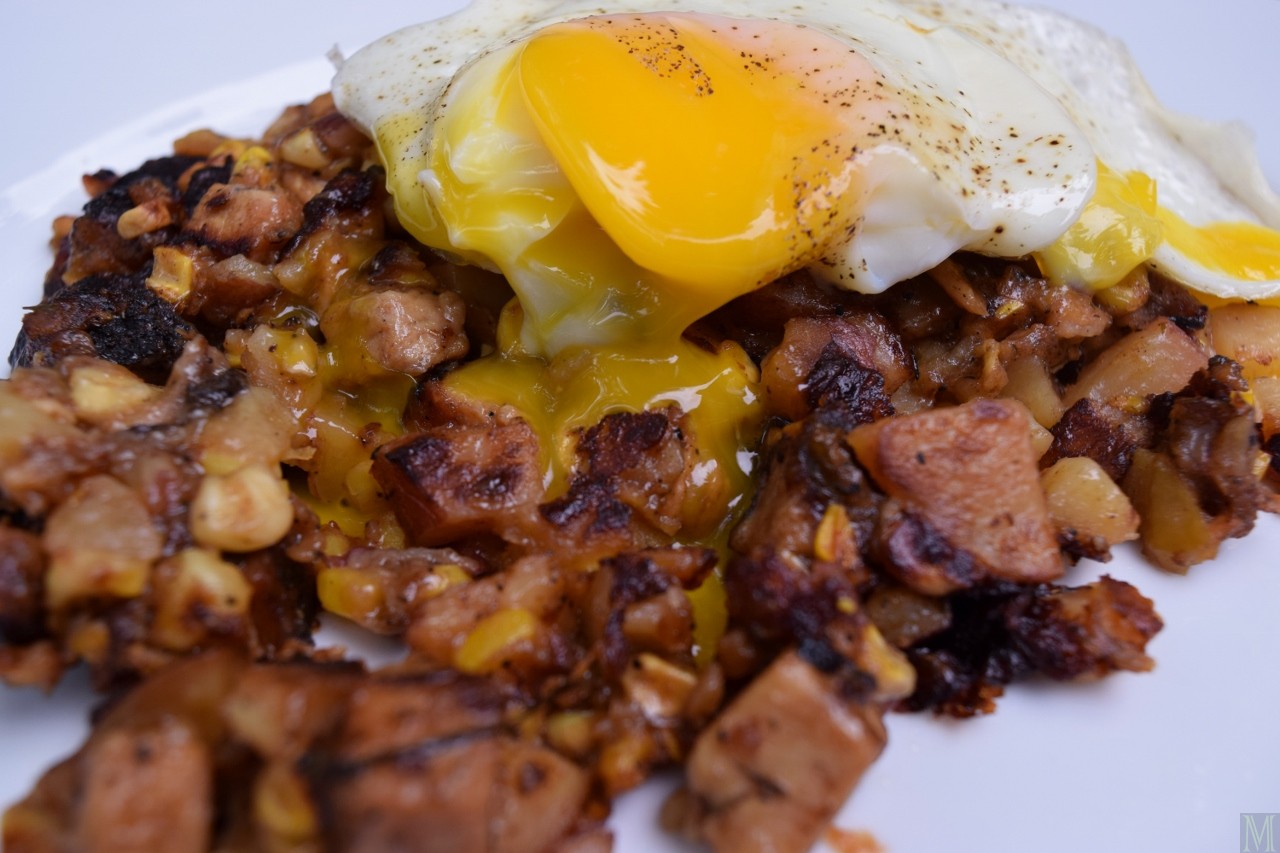 Although I sometimes follow a recipe to a T, I'm often the kind of guy who looks at a recipe and thinks, "I could do something a lot like that with stuff I have on hand." Right away I'm thinking how I could modify this, or swap out that. Using up the stuff in my fridge and pantry is something I consider to be one of the chief arts of home cooking. "The Way to Cook," by Julia Child (Knopf, 1999) is perfect for guys like me. It presents American cuisine in a way that is not unlike "Mastering the Art of French Cooking," but instead of master recipes and variations, it strips dishes down to their bare essentials, and then presents variations as ways to flesh them out. It lends itself to versatile, let's-see-what-I-have cooking.
Julia's recipe for Old-Fashioned Hash comes from a subsection of the "Meat" chapter, "Feasting on the Remains," pg. 263. I know that sounds like something a frugal vampire might do, but it turn out that she's talking about leftovers. I initially explored this recipe to use up leftover turkey from a Thanksgiving many years ago. It was fantastic; I've never forgotten it. And yet somehow, I never returned to it, until a couple nights ago. I barbecued a pork roast, and was planning to make pasties (a savory hand pie associated with Michigan's Upper Peninsula) from the leftovers, when it dawned on me that pasty filling is more or less a type of hash. I had guests  coming for the weekend, and realized that hash would make a good breakfast. So, goodbye pasties, hello hash.
Hash consists of four essential items: meat, potatoes, cheese, and something else.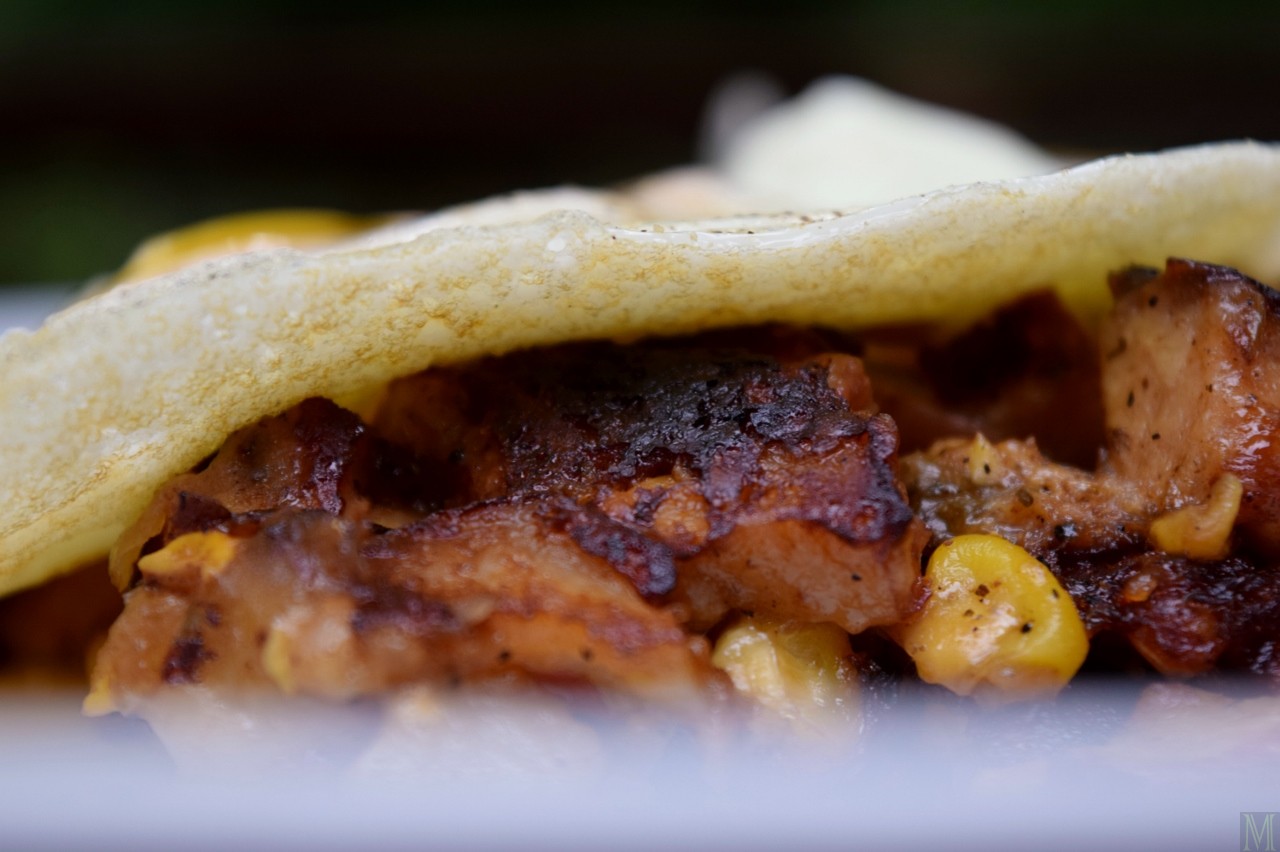 When I say "meat," do I mean that in a wide sense, so as to include things like poultry? And can you make a meatless hash? Yes and probably.
The potatoes should be the kind you'd boil: Yukon Gold, or red.
Julia suggests cheeses such as Swiss, cheddar, Monterrey Jack, or mozzarella. I'd say if you'd like it on a burger or in some mac-n-cheese, you'd probably like it in a hash. I'm not sure that'd hold true for processed cheeses, like American; who knows?
What kind of "something else" to use, and how many "something elses" to include is the same kind of decision-making process you use to make a salad. I'll explain that by example, as I go along.
I was starting out with leftover pork roast, so I cubed it and tossed it into a mixing bowl. Then, I rifled through my fridge and pantry, asking each item I came across, "Would you go well with pork?" Imagine that you were serving pork roast. What would you choose for sides? Of all the things I had on hand, these are the ones that made the cut: apples, celery, corn, onion.
At this point, you have to make a decision about cooking time. The hash will cook at a low-to-moderate simmer for about a half-hour. The meat's already cooked, and almost all the vegetables I chose would easily cook in that time. But not the potatoes. They'd have to be par-boiled. So, I cubed enough potatoes to equal the amount of cubed pork (proportions of ingredients is a matter of taste), simmered them until just barely softened, and set them out to drain. I prefer not to peel potatoes in general, by the way, and red potatoes – which is what I had – are really good skins-on. The apples, though I did peel before dicing. The celery and onion I chopped fairly finely. (You might decide the onions need to be pre-cooked, and in that case, I suggest you read through Julia's book.) The corn (on the cob, leftover) I sliced off the cob. I tossed all these things, along with the drained potatoes, in with the pork. In deciding how much of what, I did the same kind of thinking I'd do if I were loading up a salad plate from a salad bar: eyeballing it according to my preferences. You could, as I did, prep the hash to this point ahead of time and keep it in the fridge.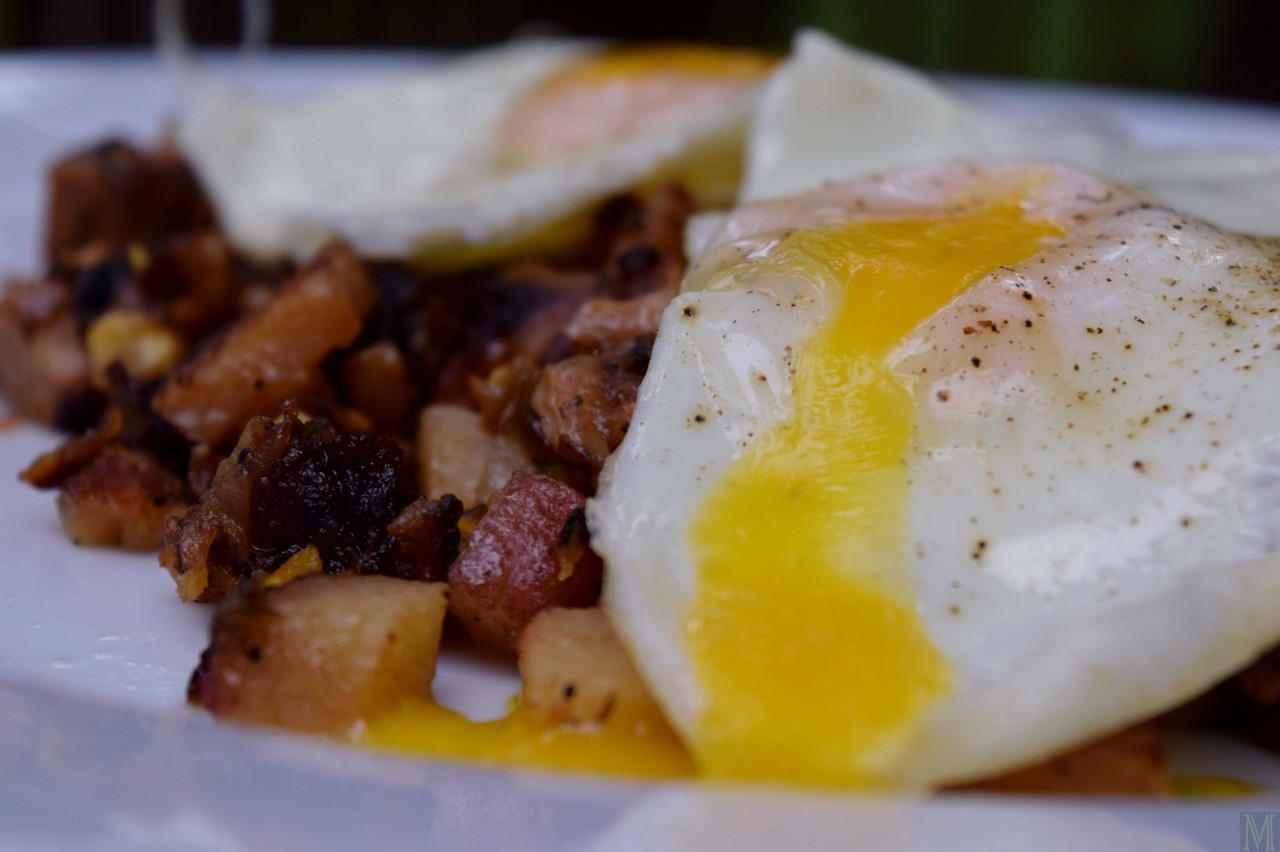 To proceed, you'll need a bit of know-how. You should count on about 1.5 cups of the hash mixture per serving. Add 1 Tbs flour for every three cups of hash mixture, and toss well. To cook up four servings, you'll need at least a 10-inch nonstick pan. You can do this in a pan that isn't nonstick, but what a mess. Once the hash is in the pan, add 3/4 cup of a flavorful liquid for every 3 cups of hash. Julia suggests everything from stock to cream. I would've preferred to use chicken stock with pork, but beef stock was what I had on hand (and it was delectable with the pork). At this point, raid your spice rack for any last-minute additions (for pork, for instance, I added some thyme and coriander).
Bring the mixture to a boil, and then lower it to a simmer. Add 1/3 cup tightly packed shredded cheese per 3 cups of hash mixture, and stir it in. Cover it, wait about 10 minutes. A bit of a crust should have formed on the bottom of at least part of the mixture. Use a pancake flipper to flip the crust to the top, and roughly mix it in to the hash. Keep going like this. If the mixture gets too dry, add some more liquid. If it seems too wet, keep the cover off. As this cooking and flipping proceeds, you'll get more and more and deeper and darker crusts each time, which you'll stir into the hash. In about a half-hour, you'll get a nice, deep, dark crust on the bottom of the entire mixture. Flip it once more, this time without mixing the crust into the hash, cover it, and turn the heat off but leave the pan on the stove.
At this point, your hash is done. If you want to top it with eggs, let it sit on the stove while you cook the eggs. Julia suggests poached eggs, which would, I'm sure, be lovely. I opted for sunny-side-ups. One trick for this: there are two kinds of egg white: there's the part of the egg white that turns white as soon as the egg hits the hot pan. Then there's the part nearest the yolk that stays transparent. If you wait for that part to cook through, chances are that the yolk will have cooked through also. Early on, while the egg is cooking, poke the tines of a fork into this thick, transparent part of the egg white. Slide the tines in, parallel to the pan, a good half-inch. Then, pull the fork directly up. This will rip that substance up a bit, and allow it to run and spread. Put a cover over the pan, and in a few minutes, you'll have fully cooked whites with nicely runny yolks. Slide the eggs over the hash, and you've got a great breakfast.
Old-Fashioned Hash
Credit for images on this page: Make It Like a Man! This content was not solicited, nor written in exchange for anything. Old-Fashioned Hashish does not redirect here, and if it did, I wouldn't tell you about it.
Keep up with us on Bloglovin'