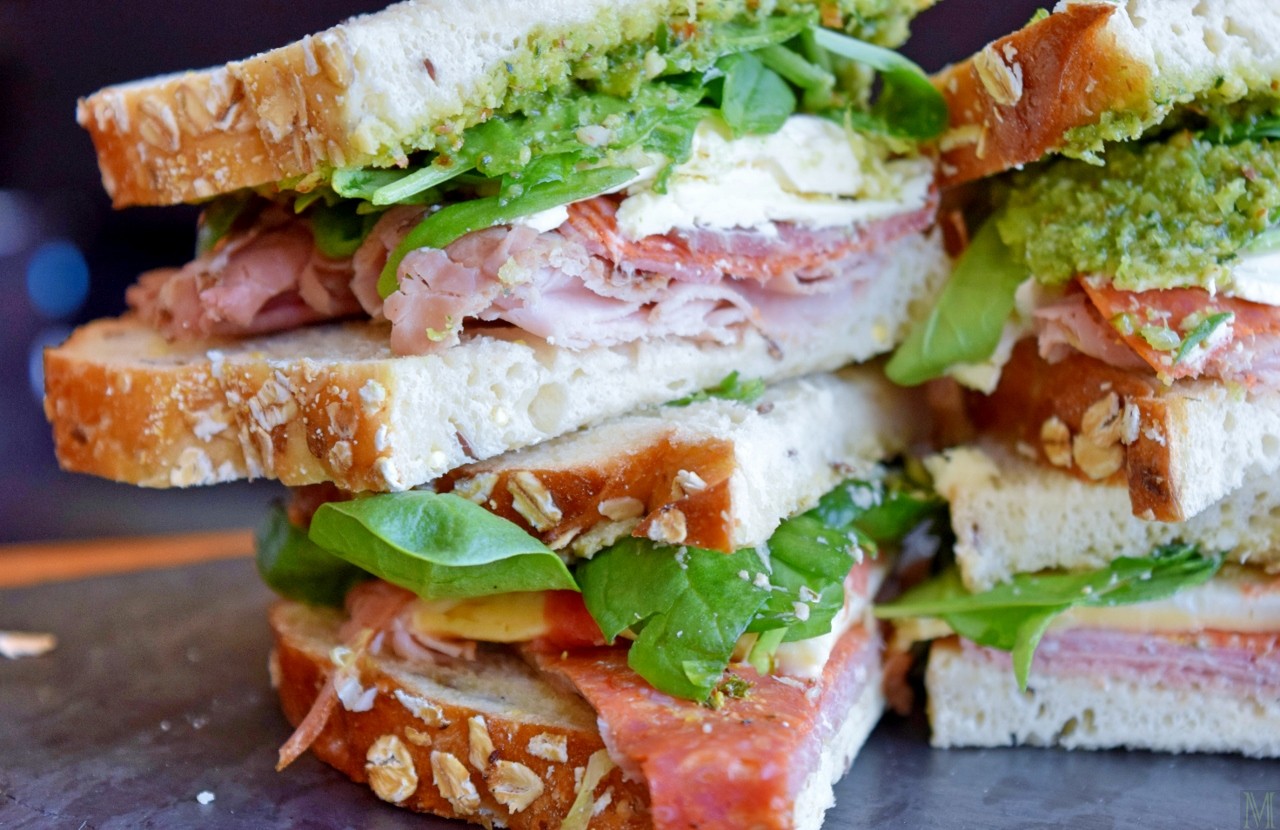 This is a post about leftovers in general … in particular, how I turned a leftover sandwich into a couple of new sandwiches. Leftovers are certainly not the most glamorous things a home cook does, but I daresay they're one of the most important. Dealing with leftover food is an art in itself. According to Reuters, Americans throw out nearly half of their food. Half! WTF? NFW! In my kitchen, one of my ground rules is that almost nothing should go to waste. And yet I have fairly high standards and bore easily. That means that leftovers need to be transformed into something worthy of celebrating – something new, amazing, and yummy. Sometimes, it takes is a bit of ingenuity. Other times, it simply takes a good attitude … as it did with these leftover sandwiches, for instance.
Over the weekend, I found myself craving an honest-to-goodness deli sandwich – the kind I used to get at Zingerman's when I lived in Ann Arbor. There's a deli I bike past almost every day called North Buena Market; I thought it was high time I checked them out. Although they have all kinds of interesting and delicious-sounding sandwiches, they make one that they call "The Corruptor." Of course, that's the one I had to have. Roast beef, Black Forest ham, mortadella, Genoa salami, pepperoni, American and provolone cheeses, topped off with roasted red peppers, lettuce, tomatoes, red onions (which I nixed), mustard, mayo, and Italian dressing. I would sum it up by saying it's enough meat to feed a family of four for a week, dressed and tossed inside a French roll, (for $9.99). It was delicious, but come on – it was a lot of sandwich! I ate about a third of it.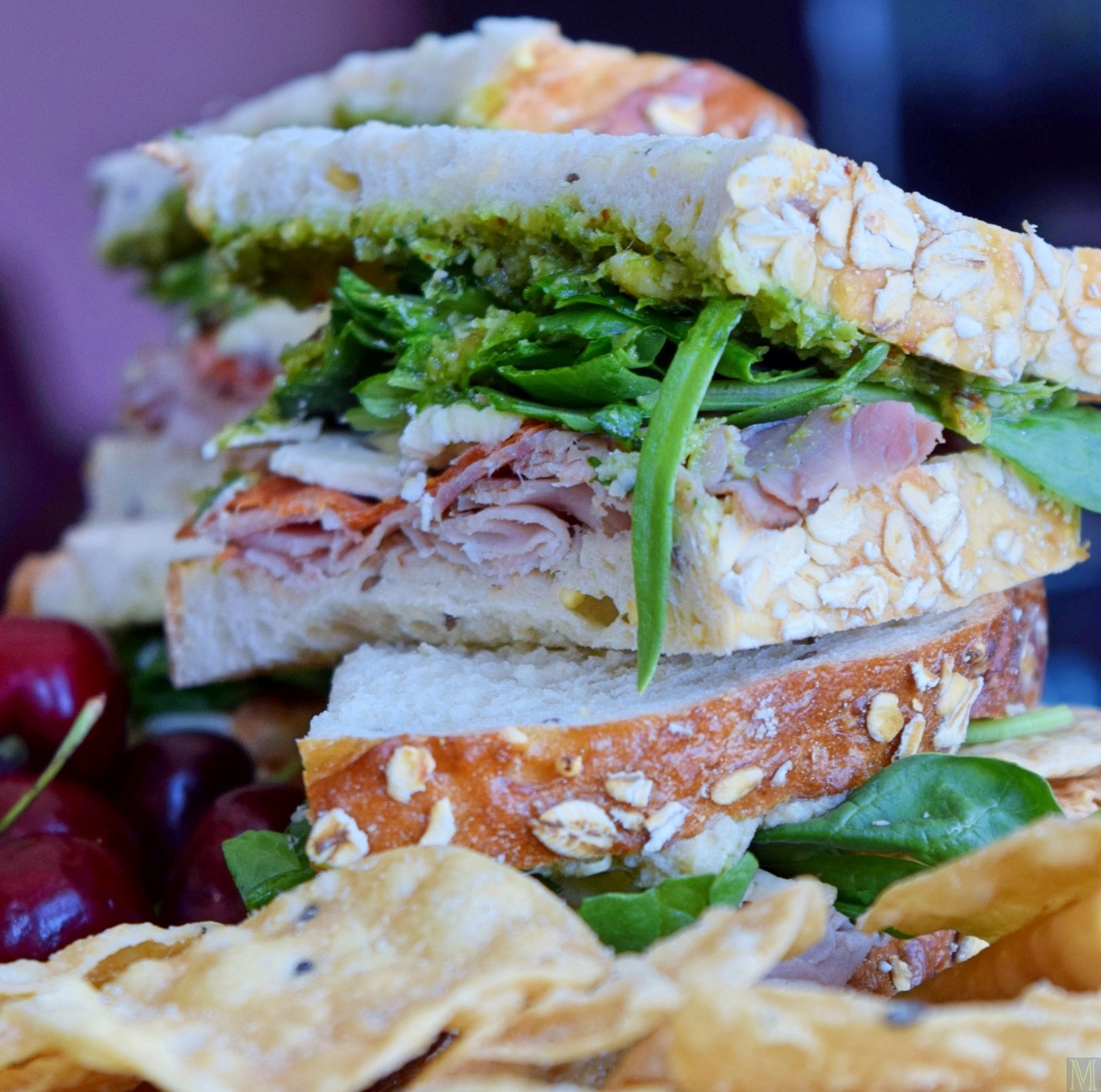 Now, you know how it is with sandwiches dressed like that: they're best fresh. Indeed, as far as I'm concerned, they're inedible the next day. (Limp lettuce and soggy bread are two of the few things I will not eat.) But no way was I tossing all those fabulous ingredients. I know that some people would. I just can't. It seems wrong. One of my previous lives must've been lived during the Depression.
So, I relocated the meats and cheese to a couple slices of Crunchy Grain Bread. (Today's Temptations makes it; their breads are stellar, and I mean stel-lar.) The meat that was once two-thirds of an outrageously generous sandwich was enough for two new, completely reasonably-sized sandwiches. Next, I scoured the fridge to see what I could add to them. I wound up spreading one of them with basil pesto, and the other with artichoke pesto (because, yeah, that's the kind of stuff you find when you open my fridge). There was only enough leftover cheese for one sandwich, so I layered the other one with brie (because, yeah, that's also the kind of thing you'll find when you open my fridge). Topped if off with fresh baby spinach, and as a final touch, gave them both a thin spread of Dijon. A bag of Maya Kaimal Chickpea Chips and some black cherries, and I had lunch for two. It was so easy, I'm sure even the Contessa wouldn't bother asking, "How easy is that?" (After taking these pictures, I realized I had some bacon slices, and so of course, they went in there, too.)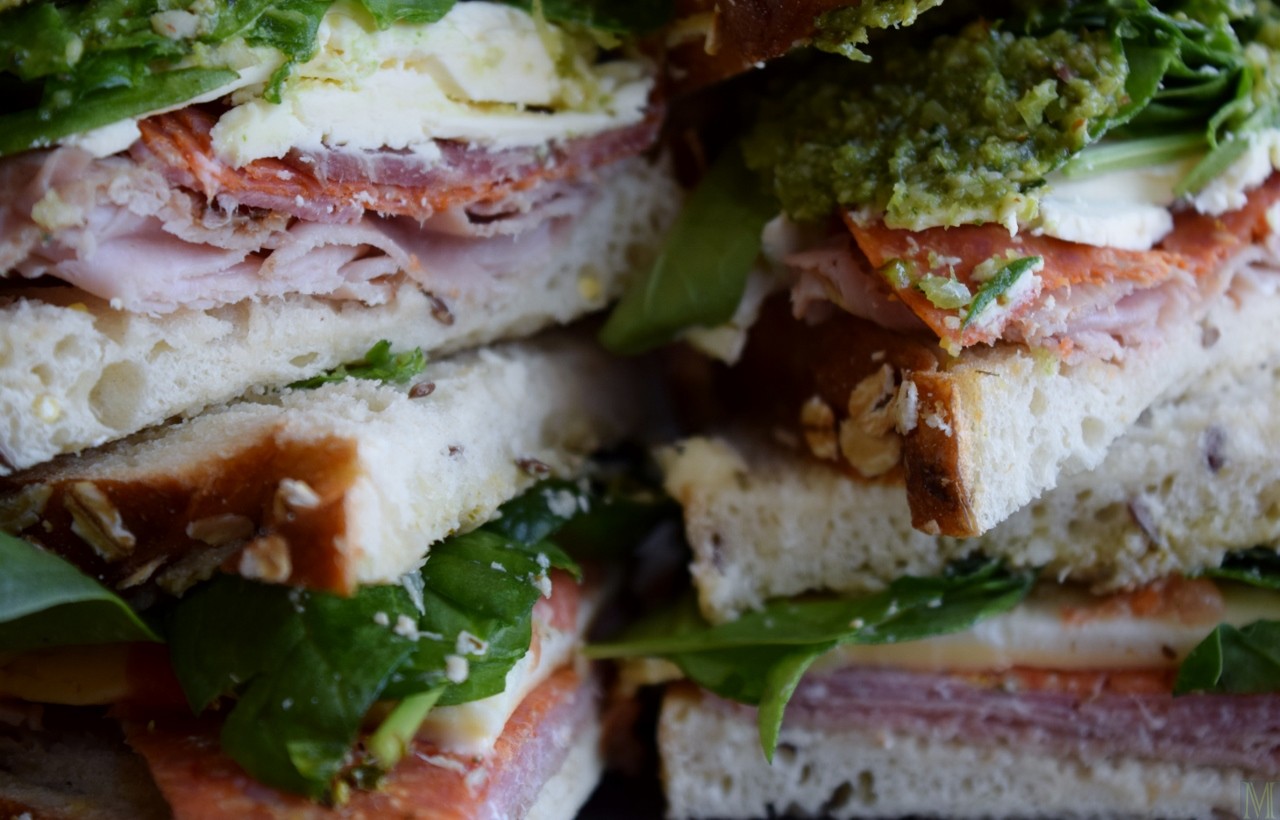 I served them with – and I'm not kidding, I really did this – flat tonic water that I reinvigorated by mixing it 1:2 with seltzer fresh from my Soda Stream. Completely refreshing! Now, even I'll admit that not being willing to throw away a long-ago opened bottle of flat tonic is something that I should probably mention to a therapist. But when you find that the Republicans aren't satisfied with taking away your basic healthcare, and decide that if you weren't such lazy asses, you'd be able to create all your own basic utilities – how dare you ask the government to provide water – and grow all of your own food, you'll come to me asking what you can do with the two pretzels and the lone packet of BBQ dipping sauce that you found in the back of your cupboard. And I'll think of something … maybe some kind of soufflé. Do you have eggs?
Born Again Sandwiches
Credit for images on this page: Make It Like a Man! This content was not solicited, particularly not by the "Christians" who manage to excuse every vile thing Trump does and says, and yet cannot abide someone who has to live through and go through the hell that it takes to trans one's gender. Nor was this post written in exchange for anything, not from Zingerman's, not from Buena Deli, not from Today's Temptations, not from anyone.
Keep up with us on Bloglovin'