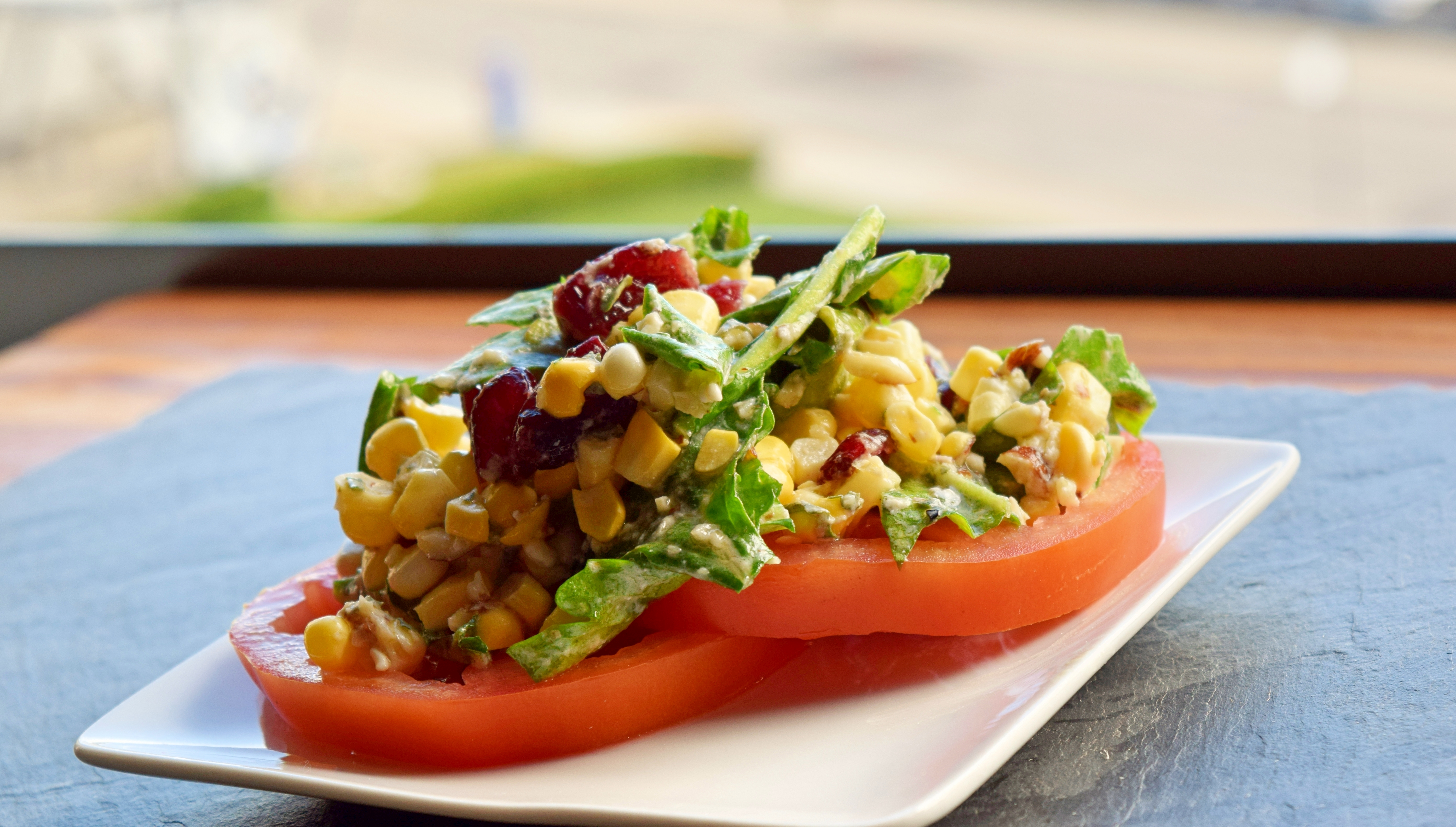 This tomato corn salad is fresh, fancy, gorgeous, different, sweet, tangy, peppery, full of texture, bursting with color, and delicious.
I'm a knee-high-by-the-4th-of-July, corn-fed Midwesterner, but even so, nearly half my life had gone by before someone asked me if I wanted it raw. Compared to boiled or steamed, raw corn seems milkier and more substantial. It's just as sweet (perhaps sweeter) and tender. I'm surprised it took me so long to discover raw corn; since I have, I cook it only about half the time.
Many people seem to feel that you must intercept the corn you purchase before it reaches a grocery store – within one or two hours of having been picked. Indeed, I feel that the best way to consume raw corn is to stand naked in a farmer's field, under the hot mid-day sun, and eat it while it's still on the stalk. Anything else is going to introduce some form of artificiality, and lessen the nutritional value. I do concede, however, that a somewhat less barbaric approach might involve an apron and a salad, in the comfort of an air-conditioned kitchen. What you might give up in sugars and antioxidants, you would almost certainly gain in civility.
This salad is not only decidedly civilized, it's downright sophisticated.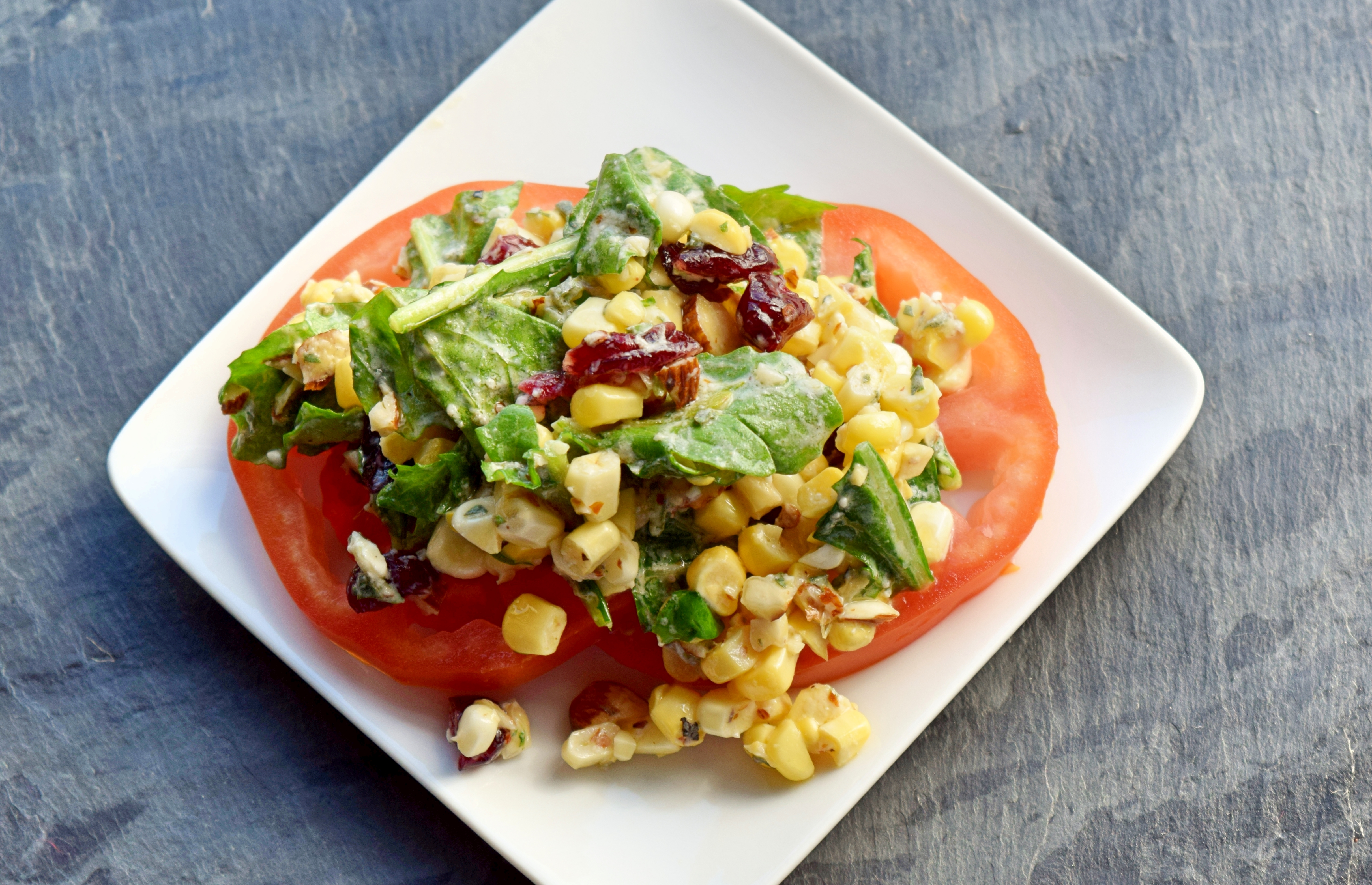 What you need to serve 8
3 cups fresh corn kernels (cut from about 3 large or 4 medium ears of corn)
2 cups (packed) roughly-chopped arugula (or un-chopped baby arugula)
½ cup dried cranberries
4 oz. feta, crumbled
2 Tbs chopped, fresh oregano
⅓ cup olive oil
3 Tbs white wine vinegar
1 Tbs brown sugar
Kosher salt
Freshly ground black pepper
2 lb. heirloom tomatoes, sliced
½ cup chopped, raw almonds
⅓-½ cup chopped, crispy bacon
How to do it:
Combine the first set of ingredients – corn through sugar – and toss. Season with salt and pepper; be careful about the pepper, because the arugula is already peppery.
Lay tomatoes on a platter. Top with corn mixture. Garnish with almonds and bacon.
Notes
As you toss the salad, the feta will blend to some degree with the dressing, lending it a bit of creaminess. The finished salad will have a feta tanginess, but won't have many discrete chunks of feta.
The salad will get pretty juicy over time. You could certainly do most of the prep ahead of time, but to avoid having it become too juicy, don't toss or assemble the salad until you're ready to serve it. It's pretty good leftover, but it's best fresh.
Raw corn tastes best when freshly cut from the cob.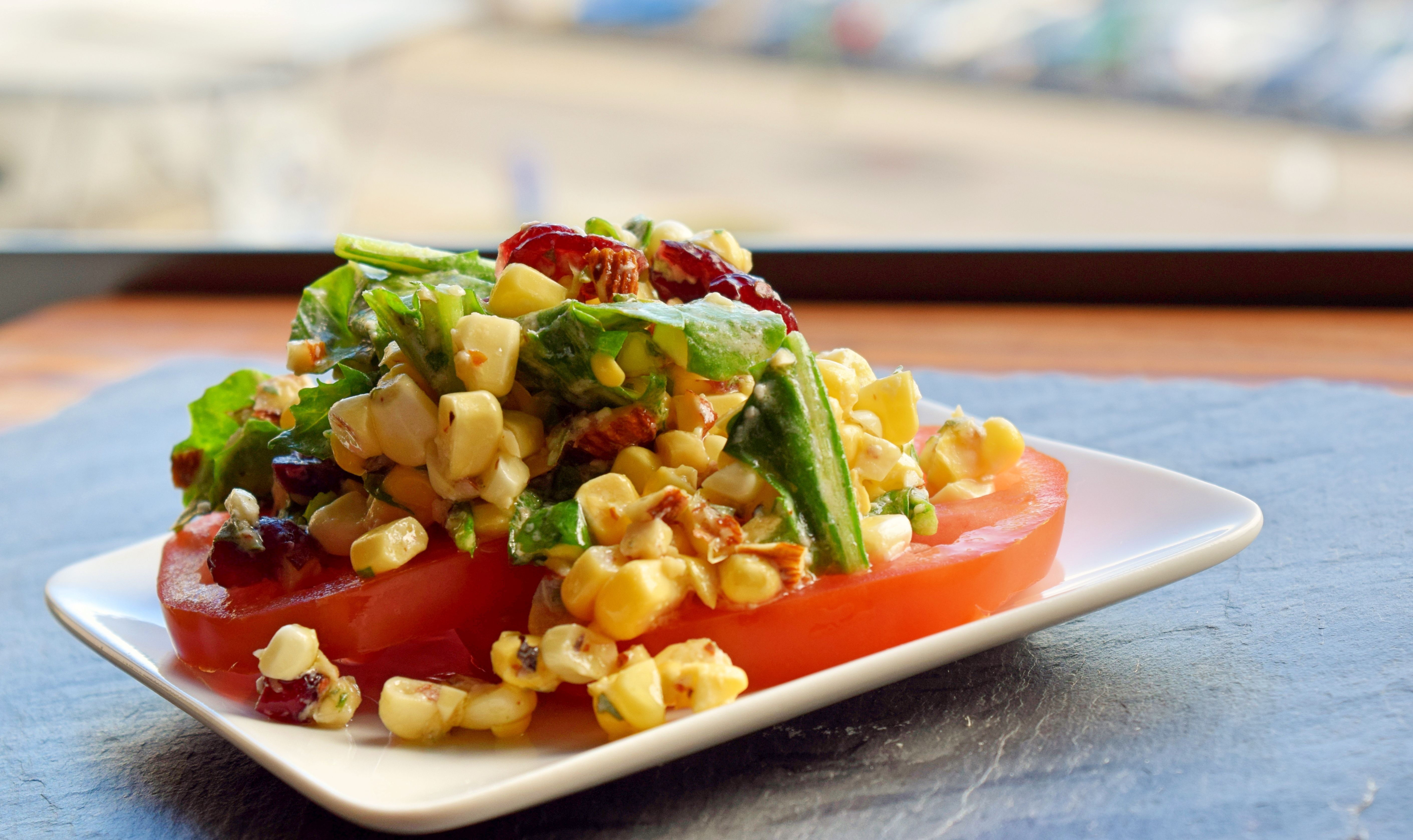 Tomato Corn Salad
This content was not solicited, sponsored, or written in exchange for anything – although it did earn me a TON of compliments from my family, and I have to admit that I indeed do a lot of my cooking in exchange for that.
Keep up with us on Bloglovin'