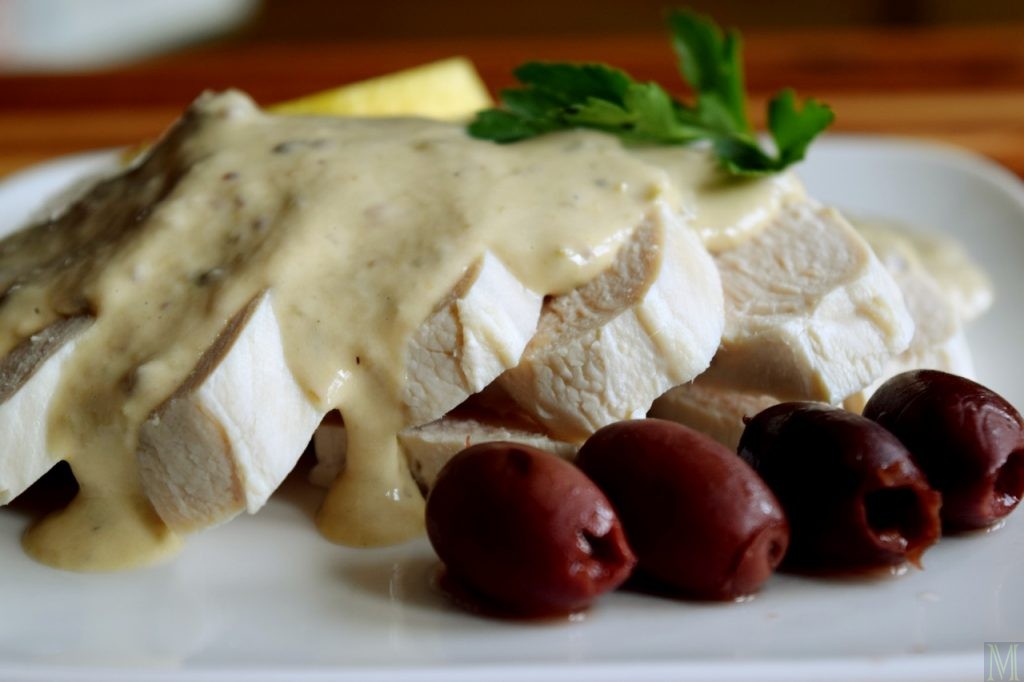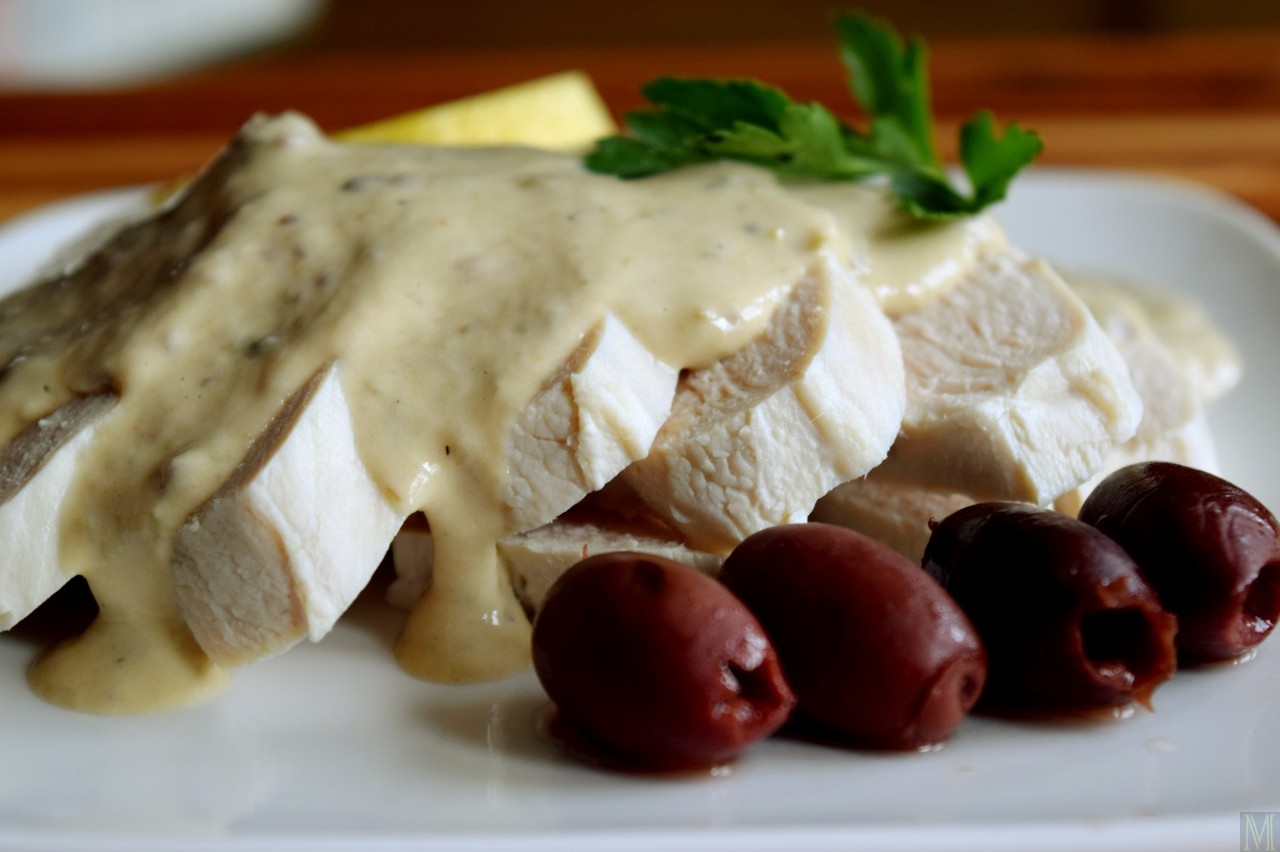 ♣
Cold, Poached Chicken in a Tuna Sauce
♣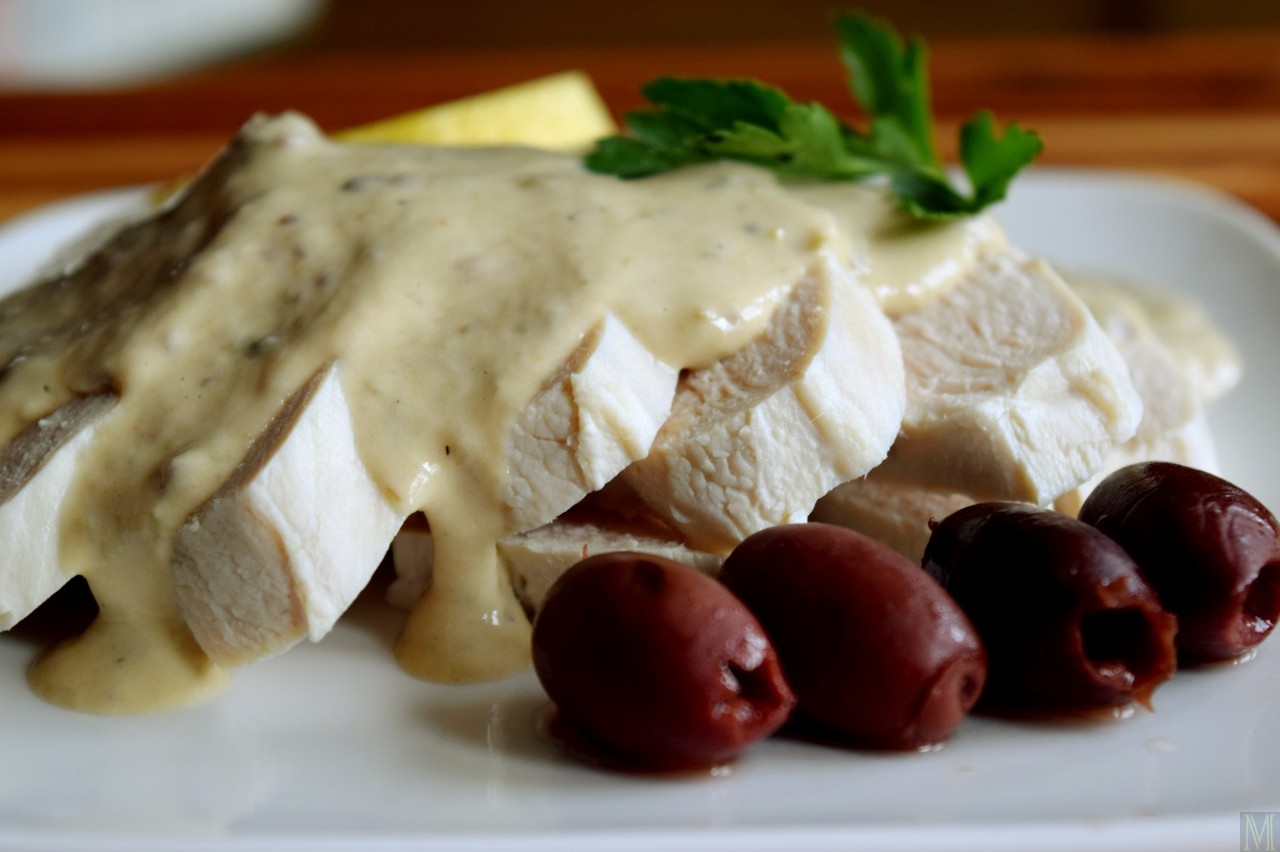 This is the second of my "what I did with my can of tuna" posts. I had a twelve-ounce can that I wanted to use up, so I split it in two and used the first half on a tuna casserole. While considering what to do with the second half, I came across a recipe for vitello tonnato, which includes a sauce made of tuna and anchovies. I immediately thought, "Ack. That sounds awful." And at the same time, "I've got to try that." (I'm a Gemini; this is how we think.)
Recipes for vitello tonnato vary. Most involve veal (vitello), but some involve other interesting meats. Many call for store-bought mayo, but some step you through making your own. Interestingly, many of the recipes call for cooking the meat in a concoction that is striking similar to Julia Child's chicken soup recipe. My recipe is a mash-up of all of these: a chicken version using store-bought mayo.
This dish turned out to justify none of the fear I felt going into it – completely the opposite. It was surprisingly and refreshingly delicious. Not only that, but it keeps really well in the fridge. After serving up the first portion, all nice and pretty, like in the photos, I tossed the rest in a large container and coarsely shredded the chicken slices. For the next several days, I whipped it out for a quick lunch or a fantastic snack. It's hard to accurately describe the flavor … it's definitely "tuna," but toned down and balanced with the chicken. As unlikely as you might think, the chicken and tuna complement one another in a way that fires up your appetite.
Accompany this dish with a light salad and crusty bread, and you've got a fantastic summer meal. Serve small portions, and you have an elegant first course.
Serves 4 as a meal, 8 as small-plates
FOR THE CHICKEN
1 cup chopped onion, or ½-cup of onion + ½-cup of leeks (white part only)
½ cup chopped carrot
½ cup chopped celery
1 Tbs oil or butter
4 cups chicken stock
2 or 4 boneless, skinless chicken breasts
1 bay leaf
¼ cup dry white wine or dry white vermouth
Salt and coarsely ground black pepper
Sauté vegetables in butter to al dente. Place into a medium-sized sauce pan. Add remaining ingredients and poach chicken just until done (use a temperature probe), about 10 minutes over medium heat. Off heat. Allow chicken to steep, covered, for a half-hour. Remove from broth and refrigerate. Save soup for another use.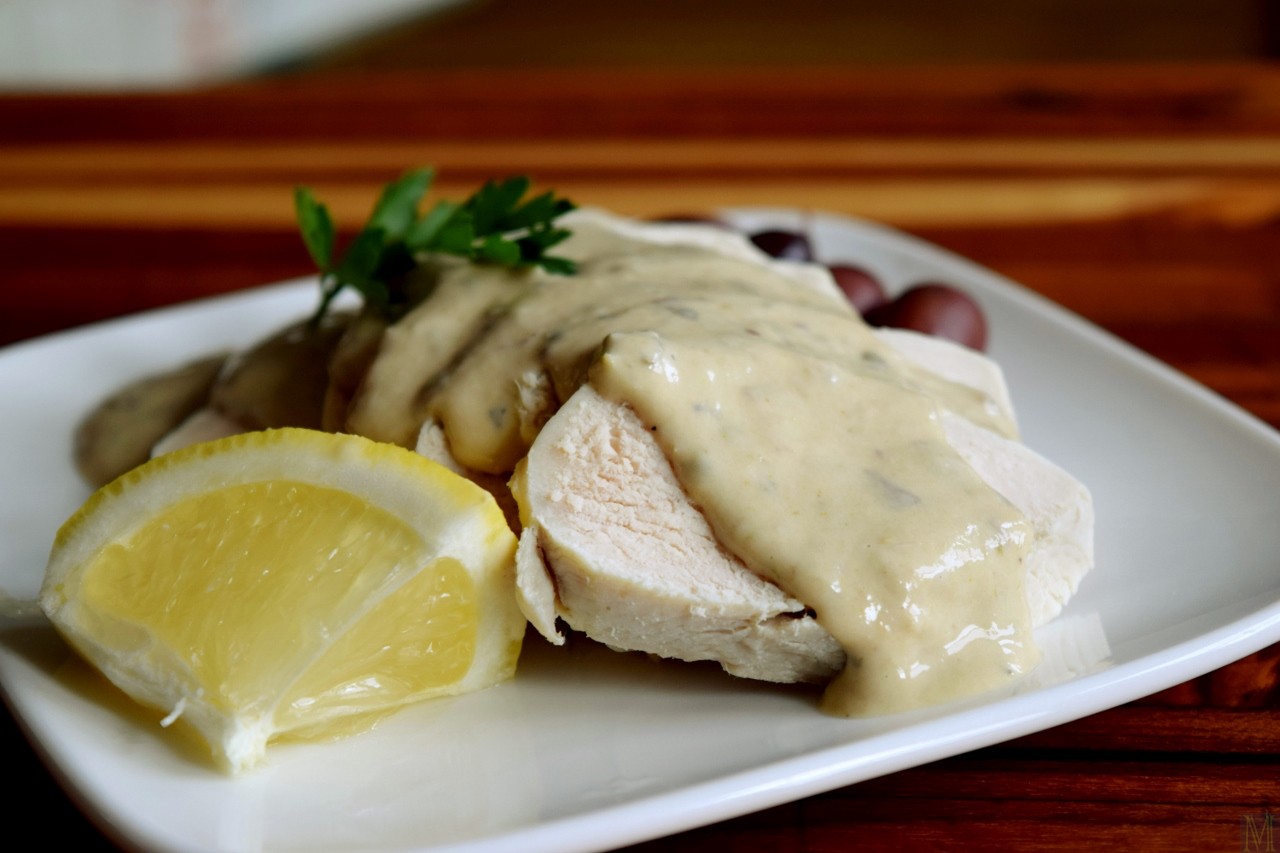 FOR THE SAUCE
1 can (2 oz.) oil-packed anchovy fillets, drained and rinsed
1 can (6 oz.) oil-packed tuna, drained
1 cup mayonnaise
2 Tbs salt-cured capers, drained
2 Tbs lemon juice
1 Tbs finely diced red bell pepper (optional)
1 Tbs minced fresh flat-leaf parsley
1 tsp finely grated lemon zest
1 tsp stone-ground mustard (optional)
———-
¼-½ cup olive oil
Freshly ground pepper, to taste
Process all ingredients except olive oil and pepper, until mostly smooth, but with just a bit of texture. Add olive oil until mixture is pourable, and a tad thinner than you'd prefer. Season to taste. Refrigerate the sauce for a half-hour or more. It will set up and become a bit thicker.
ASSEMBLY
1 jar (10.2 oz.) pitted Kalamata olives, drained
1-2 lemons
Slice the olives, or leave them whole. Slice lemons into wedges.
Serve sauce over sliced, cold chicken. Garnish with olive and accompany with lemon wedges. As an option, you can cover the plated but ungarnished dish in plastic wrap and keep it in the refrigerator for 24 hours or more, to allow the flavor of the sauce to mingle with the chicken. More options: instead of, or in addition to, olive and lemon garnishes, consider sliced boiled eggs and/or cornichons.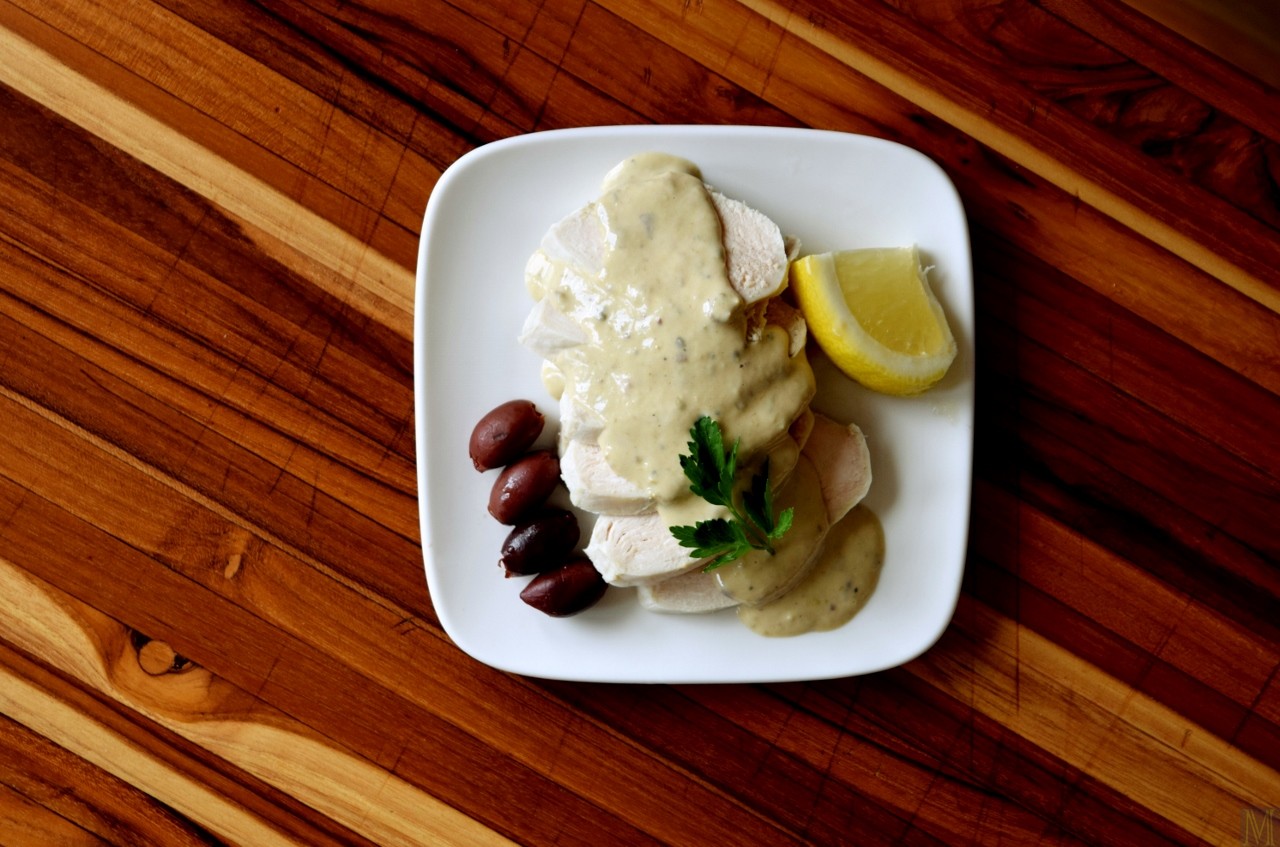 Notes:
Many vitello tonnato recipes call for Italian tuna. The difference between Italian tuna and any other kind is quality. It's not as though it's packed in Italian herbs, or anything like that. It tends to be from a more desirable species, and is packaged in oil rather than water.
I have complained in the past about the boring tuna we find in American supermarkets, and have used it as an excuse to talk about travelling in France, because I'm the kind of guy who wears all black, drinks white wine, and at cocktail parties interjects into conversations about tuna, "Well, the canned tuna in France is absolutely divine." If only I had a pencil-thin mustache, and a cigarette on a holder! Or a monocle. But I digress. Have you noticed that there's a lot more interesting types of tuna on supermarket shelves lately? Check it out next time you're in the tuna aisle. Or on the tuna isle, depending on how your store displays its tuna.
The finished product should be a thick, yet pourable sauce … similar in texture ranging from a thick thousand island dressing, to a thoroughly-stirred yogurt. You achieve this with olive oil. The flavor of the oil is also welcome in the sauce, so use a good oil. In addition, you'll find that without the oil, the sauce is too salty. If you get the oil to a pourable consistency, and yet you find the sauce to be still too salty, you can add as much as a tablespoon of sugar.
I don't consider the olive garnish optional. I think its boldness causes everything from the chicken to the sauce to make sense as a whole, and I love that it extends the Mediterranean feel of this dish. But olives aren't integral to this dish traditionally.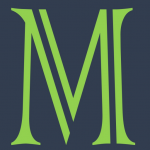 Pollo Tonnato
Credit for images on this page: Make It Like a Man! This content was not solicited, nor written in exchange for anything. In doing research for this post, I came across this article, which I found interesting: Strangers on a Plate: Vittello Tonnato, by Sam Sifton, New York Times.
Keep up with us on Bloglovin'