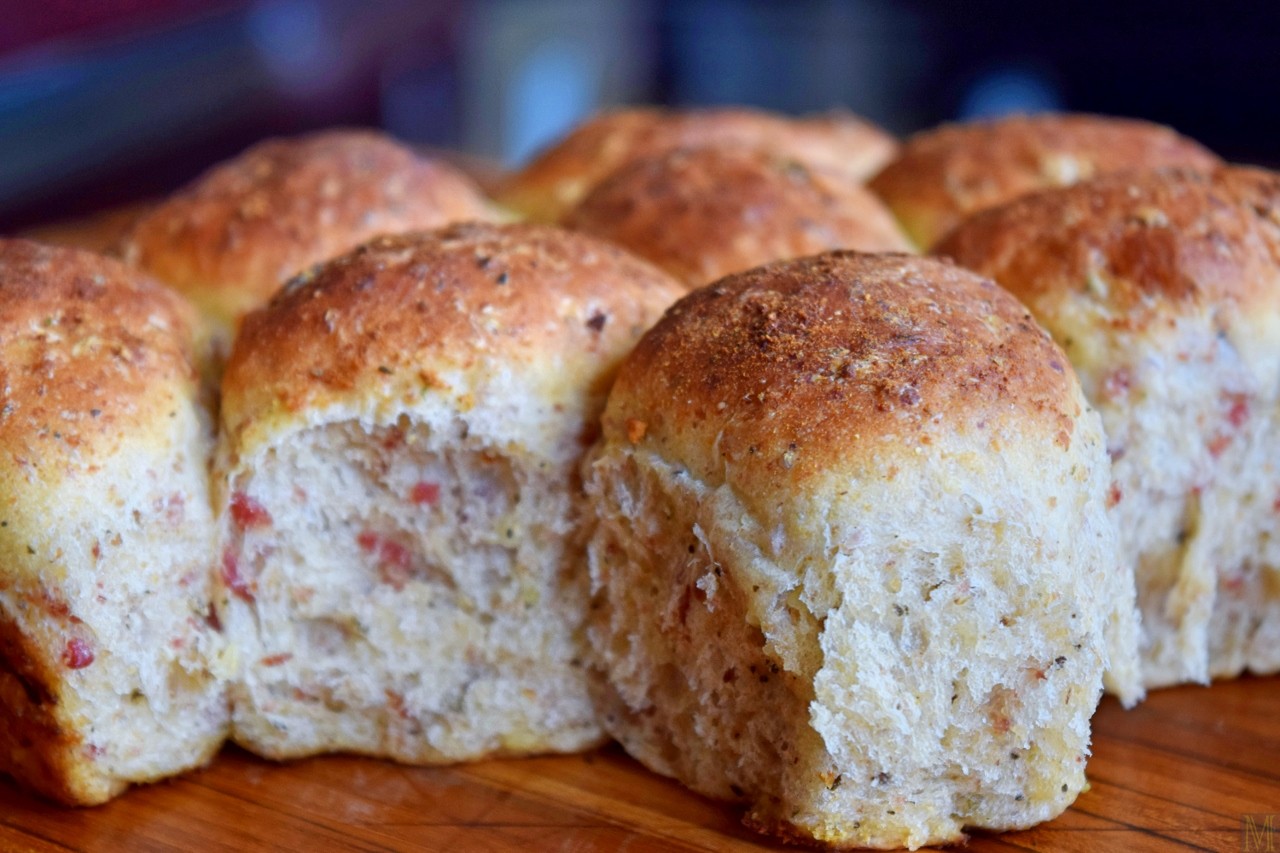 These are the least fussy, and yet among the most delicious rolls I've ever come up with. Rolls can be a lot of work – often to the point that I figure I can make from-scratch rolls, or dinner – but not both. These hard salami pull-apart rolls are such a breeze that one could easily multi-task many other things while making them. There's an insignificant amount of chopping involved, and the rest is hands-off. They're too flavorful to go with just anything … they beg to paired with something bold, like a bowl of spicy chili or zesty garlic-and-oil pasta. I'm sure they'd make showstopper hot dog buns, a killer pizza dough, or over-the-top ham and cheese sliders.
Makes a dozen 2-oz. rolls
11 oz. bread flour (2 cups)
2.5 oz. thin-sliced, hard salami, diced (about 1/2 cup)
2 large-ish cloves of garlic (about 3/8 oz.), minced
1.5 oz. rye or wheat flour (optional, for color and texture, 1/4 cup)
1.5 oz. shredded Parmesan (3/4 cups loosely packed)
1 packet (7 grams) active dry yeast
1/2 tsp basil
1/2 tsp oregano
1/2 tsp ground, dried tomato
1/2 oz. sugar (1 Tbs)
1/4 oz. salt (1 tsp)
8 oz. filtered water (1 cup), slightly warmer than body temperature
Olive oil
Butter
Cheese sprinkle (powder)
In a stand mixer, paddle 4 oz. (3/4 cup) bread flour, salami, garlic, rye or wheat flour, Parmesan, yeast, spices, sugar, and salt on low speed until well combined, about 1 minute. Add water. Switch to dough hook, and knead on low speed until all the flour is hydrated, about 2 minutes, stopping twice to scrape down the sides of the bowl. Add 5.75 oz. (1 cup) bread flour and knead until a ball forms and cleans the sides of the bowl. Add 1.25 oz. (1/4 cup) of flour and knead until it's incorporated. Continue to knead for 2 minutes, stopping once to push the ball off the hook. The finished dough should be soft, but not sticky. Place into an oiled, medium-sized bowl. Then remove it, flip it, and return it to the bowl. (This gets oil all over the dough.) Cover with a damp tea towel and place in a warm, draft-free spot for 1.5 hours or so.
Separate the dough into a dozen (2-oz.) balls. Shape them into rolls. Place them into a well-buttered, 8-inch square pan (or the equivalent). Cover with oiled plastic wrap and let rise until the rolls are touching one another snugly, about 45 minutes. Preheat the oven to 375ºF for 20 minutes, while the rolls continue to rise. At this point, the rolls should be starting to push against the plastic wrap. Carefully brush the rolls with oil and sprinkle with cheese powder. Bake until browned, about 25 minutes. Cool in the pan, on a rack, until pleasantly warm, about 10 minutes.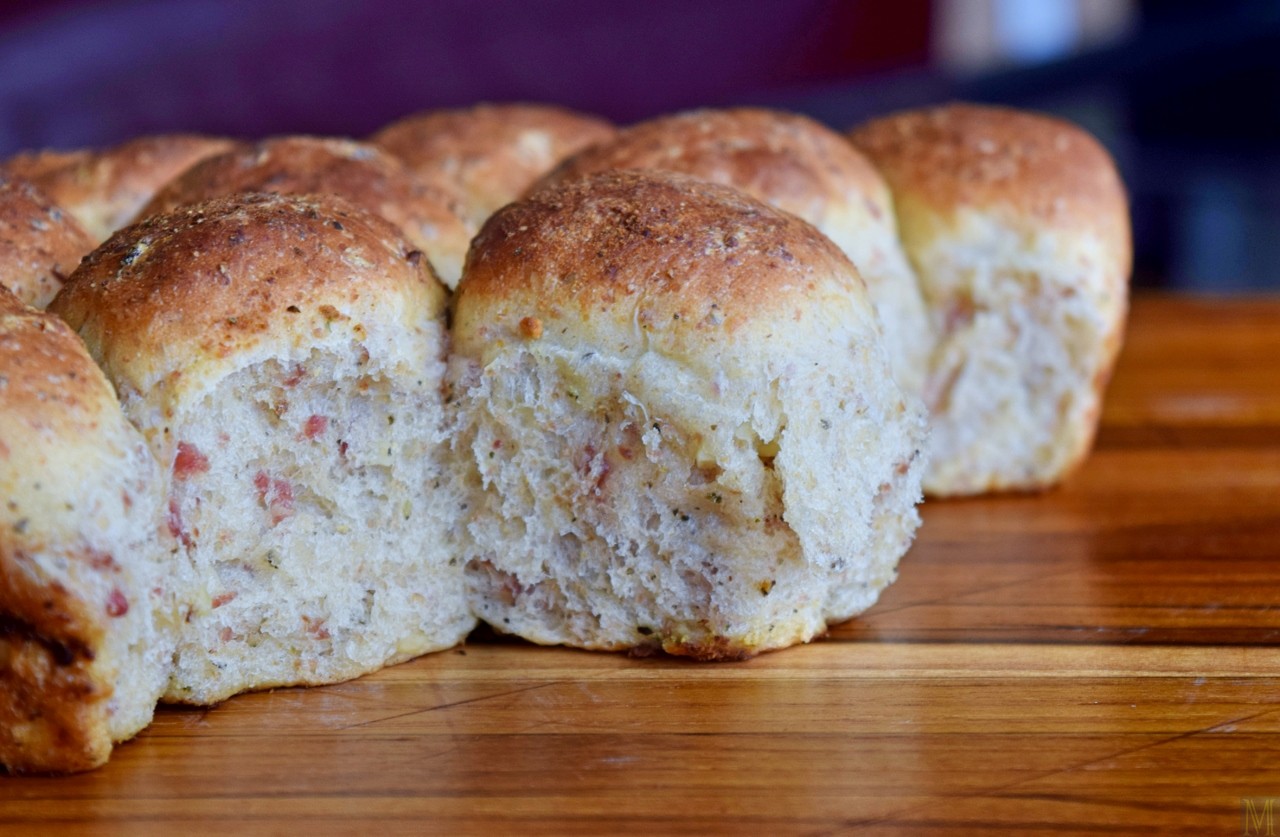 Notes:
This is going to seem like too much garlic, but in the end, it's not.
The tomato powder is worth it, even if you have to work hard to procure it. It contributes depth to the rolls' flavor, and really sets them apart.
I generally feel that making bread by hand – without a mixer – is best. However, a big part of the charm of these rolls is their easy breeziness, which a stand mixer emphasizes. But of course you can make these rolls by hand.
How many times have I read, "…let rise in a warm, draft-free spot?" I live in a climate-controlled, urban soft loft. It has no warm spots (not even in the décor!). However, it does have floor-to-ceiling windows, where, especially on sunny days, it gets nice and warm if I turn off the AC. Hence, turning off the AC is usually the first thing I do when making bread. If it's not sunny, I'll set a heating pad (the kind you'd use on your body) on the kitchen table, set it to its lowest setting, and place the bowl of dough on top. This is absolutely contrary to the warming pad's manufacturer's instructions – so do not do it! I'm obviously reckless! But I'm telling you, it works perfectly (is what they'll write on my tombstone).
I've read so much about rising bread that I've had to increase my data limit several times. The best way to understand when bread has risen is to bake bread with someone who knows how. You need to get the feel of the dough. Properly risen dough feels sort of like a marshmallow, but softer. Moreover, it feels distinctly and obviously different than it did when you put it into the bowl: lighter, more easily pliable, more liquid in its movement when you pick it up (and you'll feel it deflate as you do).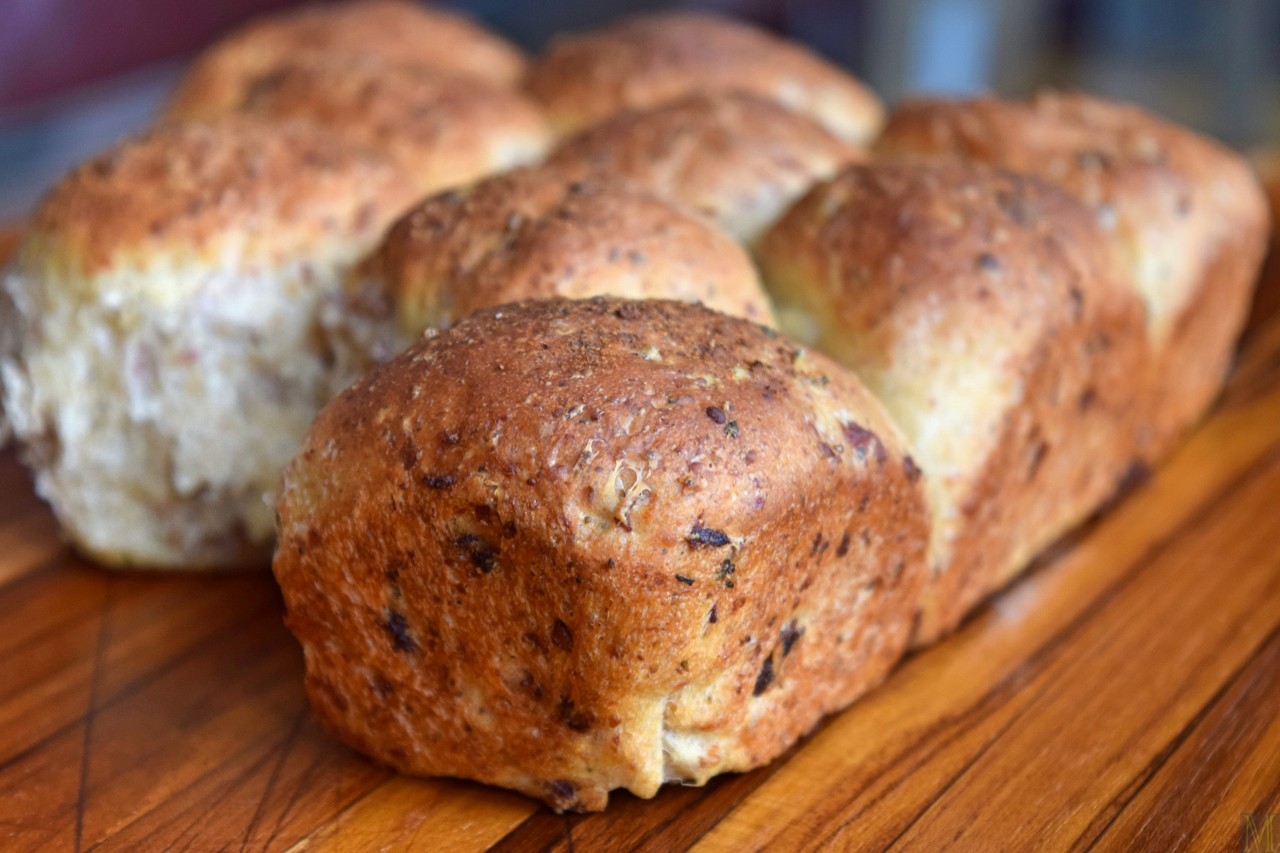 Homemade Hard Salami Pull-Apart Rolls
Credit for images on this page: Make It Like a Man! This content was not solicited, nor written in exchange for anything. I want to give an unsolicited shout-out to "Old Taylor Street Cheese Sprinkle," from The Spice House. A second shout-out: I was inspired to make this bread by a post at Words of Deliciousness, a blog that I love to follow.
Keep up with us on Bloglovin'