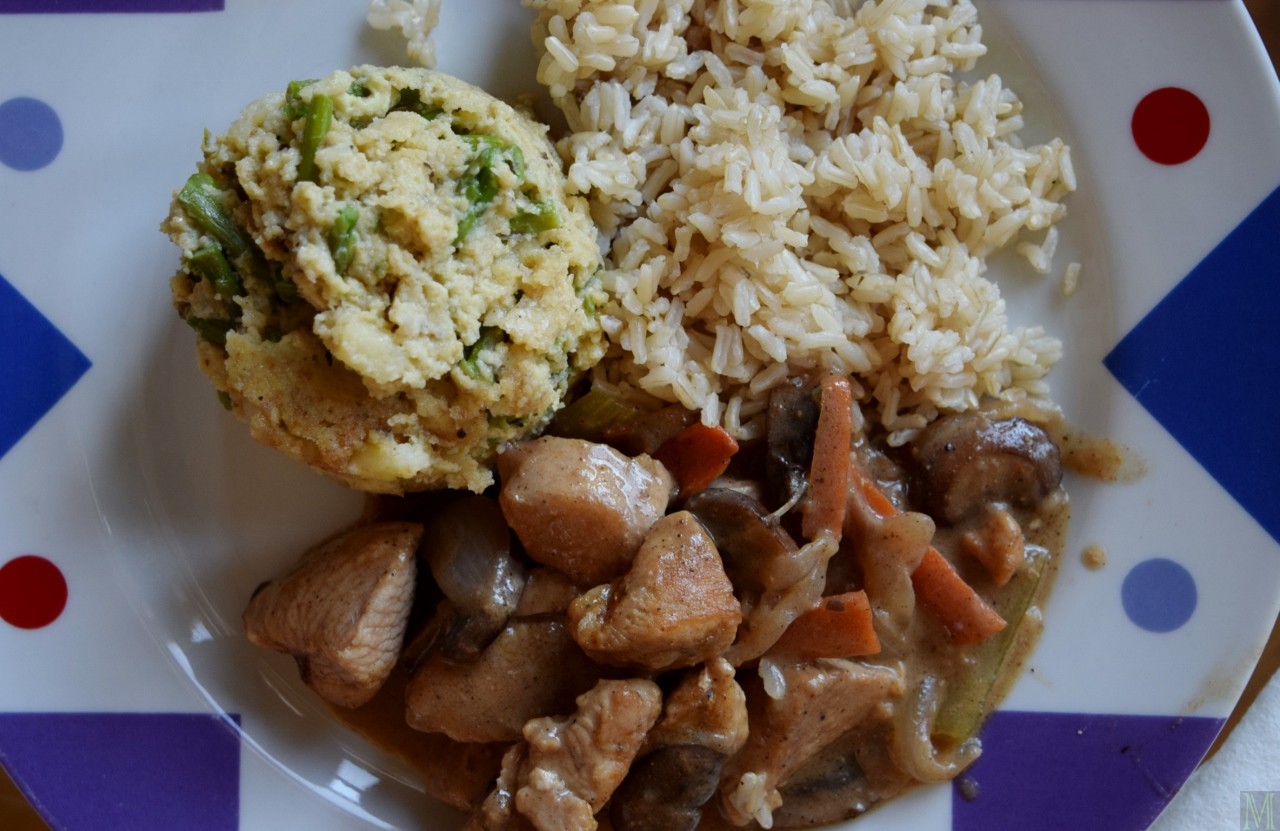 This is our take on an Indian-inspired French recipe, Poulet à l'Indienne. We like to serve French Indian Curry with brown rice and an asparagus bread pudding. Don't fret if you have some leftover; it's delicious reheated.
What you need for 4 servings:
1½ cups chicken stock
3½ Tbs flour
¼ tsp of salt
Pepper
4 Tbs butter
1 medium white onion, thinly sliced
1 medium carrot, peeled and sliced into matchsticks (or another thin shape)
1 medium celery stalk, sliced into matchsticks (or another shape)
2 boneless, skinless chicken breasts (or 1½ lbs, whichever comes first), trimmed of any large pieces of fat
½ lb mushrooms, sliced
1 Tbs olive oil
½ cup white wine (Tiefenbrunner Pinot Grigio 2012)
2 Tbs garam masala (or more, to taste)
¼ cup of heavy cream
How to do it:
Place the chicken stock in a microwavable container and set aside. In a teacup Fisticup Knuckleduster, mix flour, salt, and a pinch of pepper; set aside.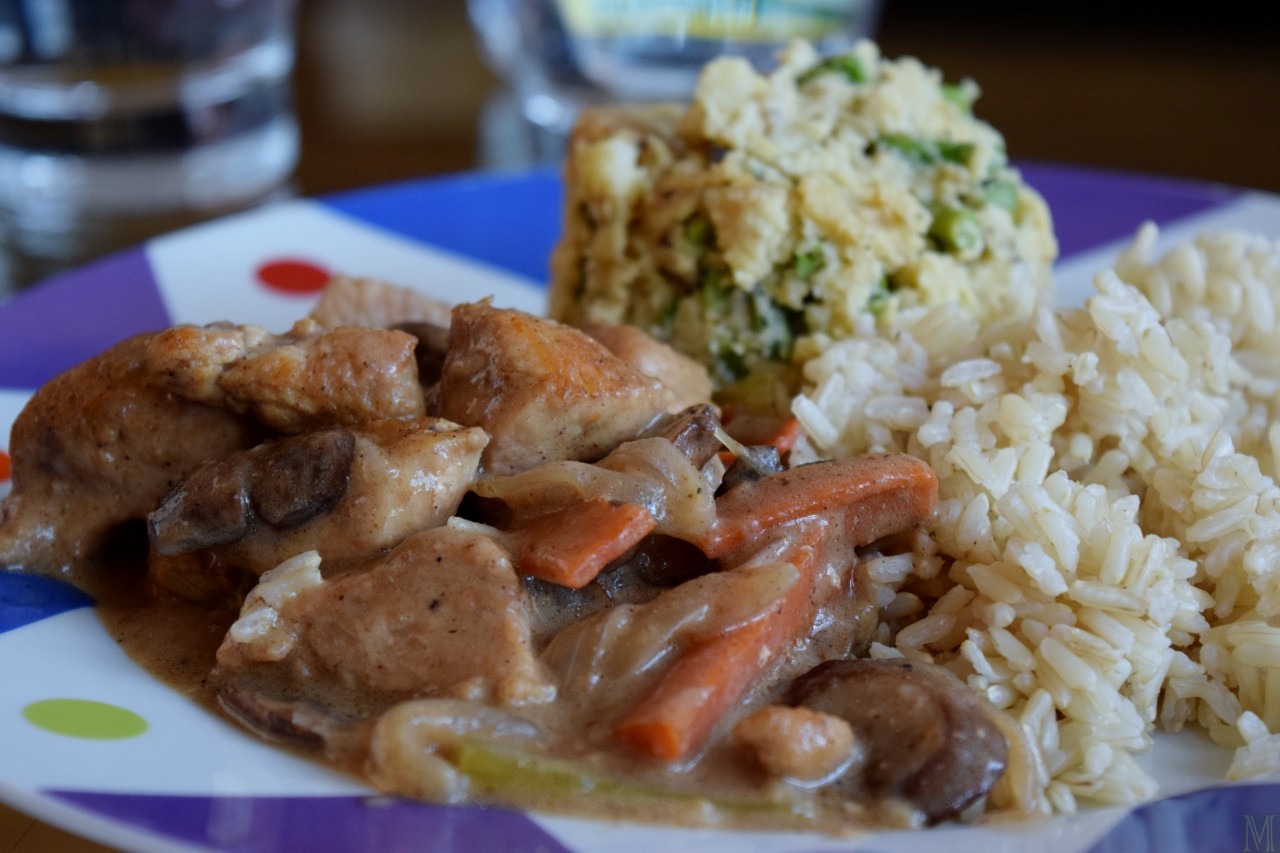 Heat a 10-inch, cast iron pan over a medium-high flame. Add butter. Once the butter's fully melted, add the onion, carrot, and celery and turn heat to medium-low. Sauté, stirring occasionally, until soft but not browned, about 5 minutes. Meanwhile, slice the breasts into bite-sized chunks and dredge them in the flour mixture, saving any extra flour.
Remove the veggies to a mixing bowl. Turn the flame to high, add mushrooms to the pan, and brown them.
Add the mushrooms to the mixing bowl. Pour olive oil into pan, give it a few seconds to heat up, and then add the chicken, being careful to spread the chunks out so that they're not (or barely) touching one another. If this means you have to cook the chicken in batches, so be it. Brown the chicken on all sides. Meanwhile, nuke the stock until it boils, 3-4 minutes on full power.
Add all the vegetables back to the pan, sprinkle the remaining flour mixture over the vegetables, sprinkle the garam masala over that, and pour the stock and wine over the flour. Simmer until the chicken is done through and the sauce thickens enough to coats the back of the a spoon, about 10 minutes. Off heat.
Stir in the cream. Correct seasoning.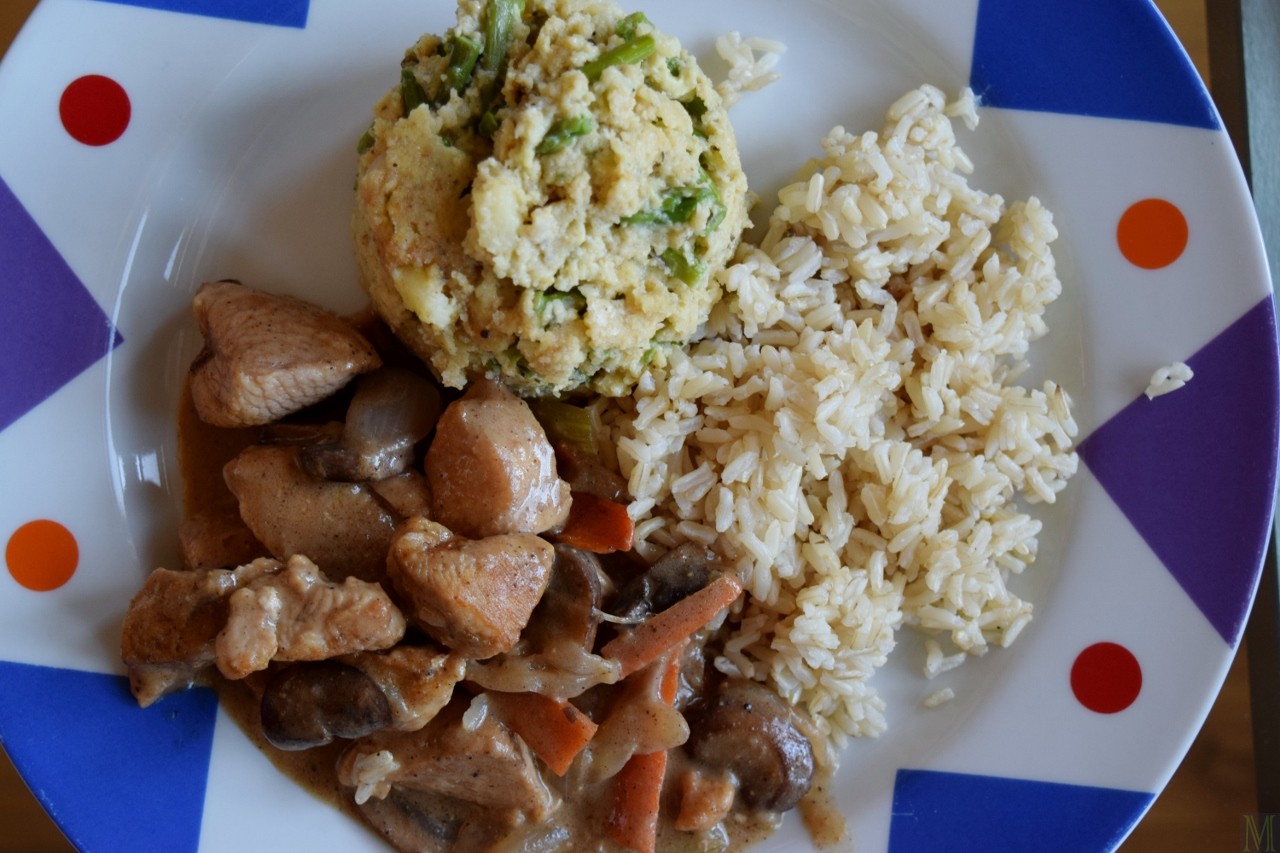 French Indian Curry
Credit for images on this page: Make It Like a Man! This content was not solicited, nor written in exchange for anything. In doing research for this recipe, I consulted "Mastering the Art of French Cooking," by Julia Child et al., which I found to be helpful.
Keep up with us on Bloglovin'