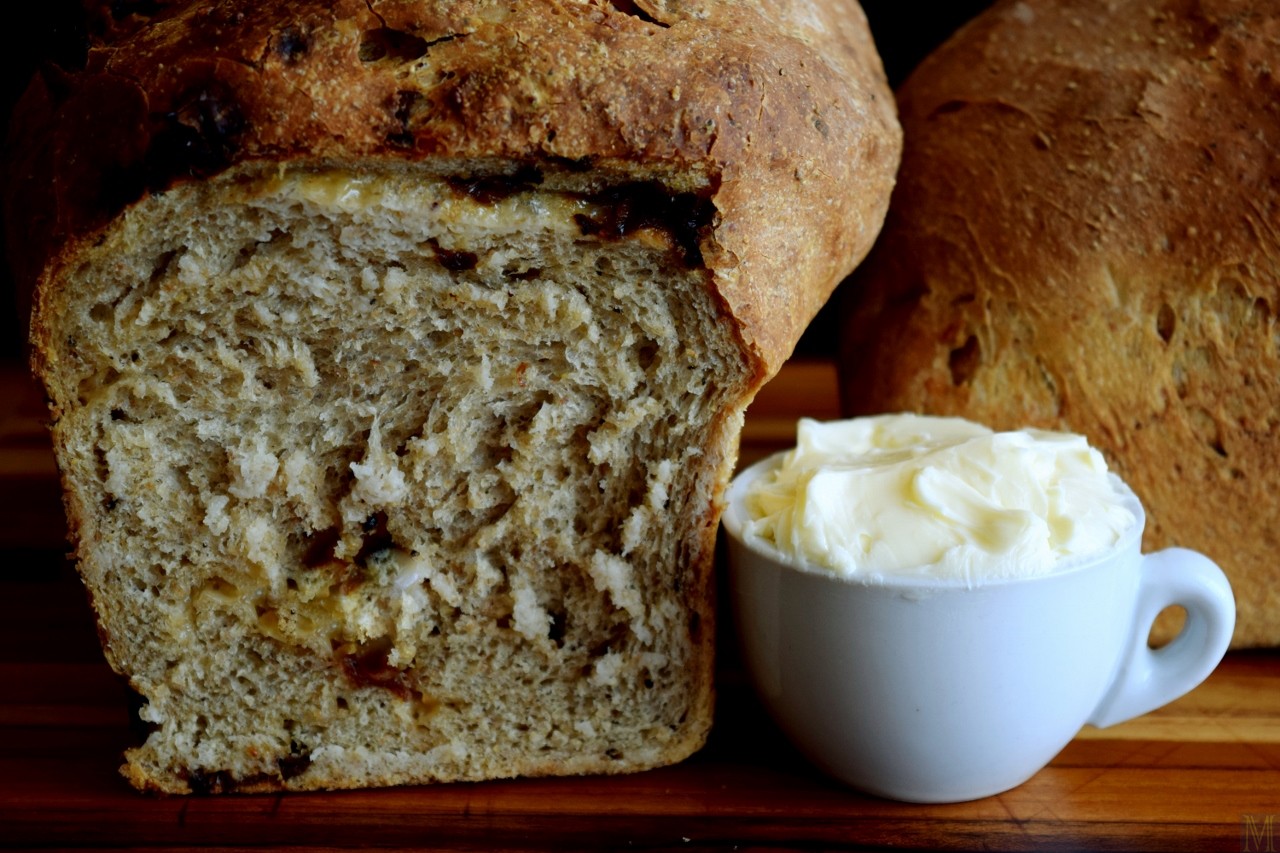 This is a soft, pillowy bread with a thin, pleasantly crunchy crust. Light Rye Bread with Onion, Garlic, Herbs, and Parmesan is not the dense, serious kind of rye you're probably used to. It's fun, wild, and packed – I mean packed – with garlic! The onion and cheese put it over the top.
Makes 2 two-pound loaves
½ tsp active dry yeast, from one ¾-oz. packet
½ cup spring or filtered water (4 oz.), slightly warm
¾ cup bread flour (4.125 oz.)
Sprinkle the yeast over the water and let stand one minute. Stir in flour until blended. Stir vigorously for 100 strokes. Scrape down the sides of the bowl with a rubber spatula. Cover with cling film or a damp tea towel, and let stand overnight. This will become your starter.
2½ cups spring or filtered water (20 oz.), room temperature
¼ cup herbs in olive oil (2 oz., see notes)
The rest of the packet of active dry yeast
1 Tbs salt
2 cups rye flour (8 oz.)
9 cups bread flour (24 oz.)
Scrape the starter into the bowl of a stand mixer fitted with a dough hook. Add water, herbs in oil, yeast, and salt. Stir to combine. Add flour by the cupful, until you've added all of it and the dough cleans the bowl. Knead for a few minutes. It will be sticky. Remove it from the bowl, and place on a well-floured countertop. Continue to knead and add flour by hand until the dough is tacky, but not sticky. Place in an oiled bowl. Immediately remove the dough, turn it upside down, and place it back into the bowl. (This gets oil all over the dough.) Cover with a damp tea towel, and let rise in a warm place for about 2 hours. Meanwhile, prepare the onions and garlic.
2 oz. butter
2 white onions (10.5 oz. each), peeled and very thinly sliced
1 head of garlic (3 oz.), cloves separated, peeled, and smashed
Salt and pepper
Pre-heat a 10-inch, cast-iron skillet over low heat for two minutes. Add butter and raise heat to medium. Once butter has mostly melted, add one small piece of onion. Once the onion begins to sizzle, add the rest of the onion and sauté, stirring occasionally, until the onions brown, and then a few minutes more – a total of 10 minutes. Add garlic, and sauté until the garlic has browned, 10 minutes more, lowering the heat if the onions begin to blacken. Off heat. Season lightly and remove from pan. Allow to cool. Chop.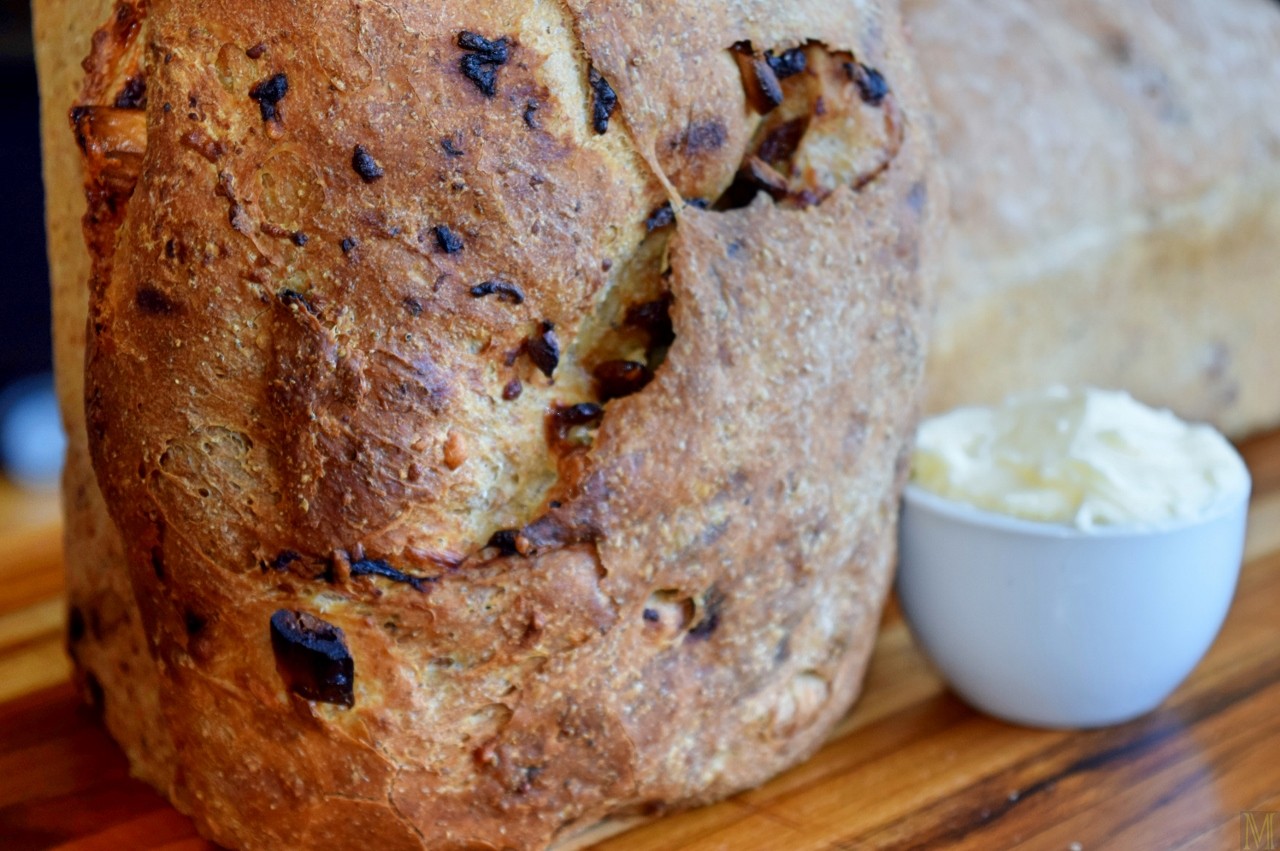 3 cups freshly-shredded Parmesan (8 oz., total)
Once the dough has risen, divide it into two equal portions. With a rolling pin, roll each portion to about a 1-inch thickness. Spread with chopped onion-garlic mixture, and then Parmesan. Roll each into a log, tucking the ends under, then cup it into a ball, and finally shape it for your pan or into whatever shape you wish. Place into buttered bread pans, or whatever. Cover with buttered plastic wrap and let rise for about 1-1.5 hours.
At least 20 minutes before the loaves have fully risen, preheat the oven to 450ºF. When the loaves have risen, bake them at this temperature for 20 minutes. Lower the temperature to 400ºF and continue baking for another 20 minutes. Remove from pans and cool on racks.
Notes:
You hardly need a stand mixer. However, you hardly knead if you own a stand mixer! You can do this completely by hand, and in fact, in many ways it's preferable.
I had a bottle of oil infused with roasted garlic and Italian herbs. I'd come to the useful end of the bottle, but about 1/4-cup of the herbs and garlic that had been used to infuse the oil remained in the bottle, with little oil. This is what I used. You could emulate this by soaking a 1/4-cup of herbs and a few cloves of roasted garlic in olive oil.
Of course you don't need to use cast-iron. If you don't, the pan may or may not need preheating; check manufacturer's instructions.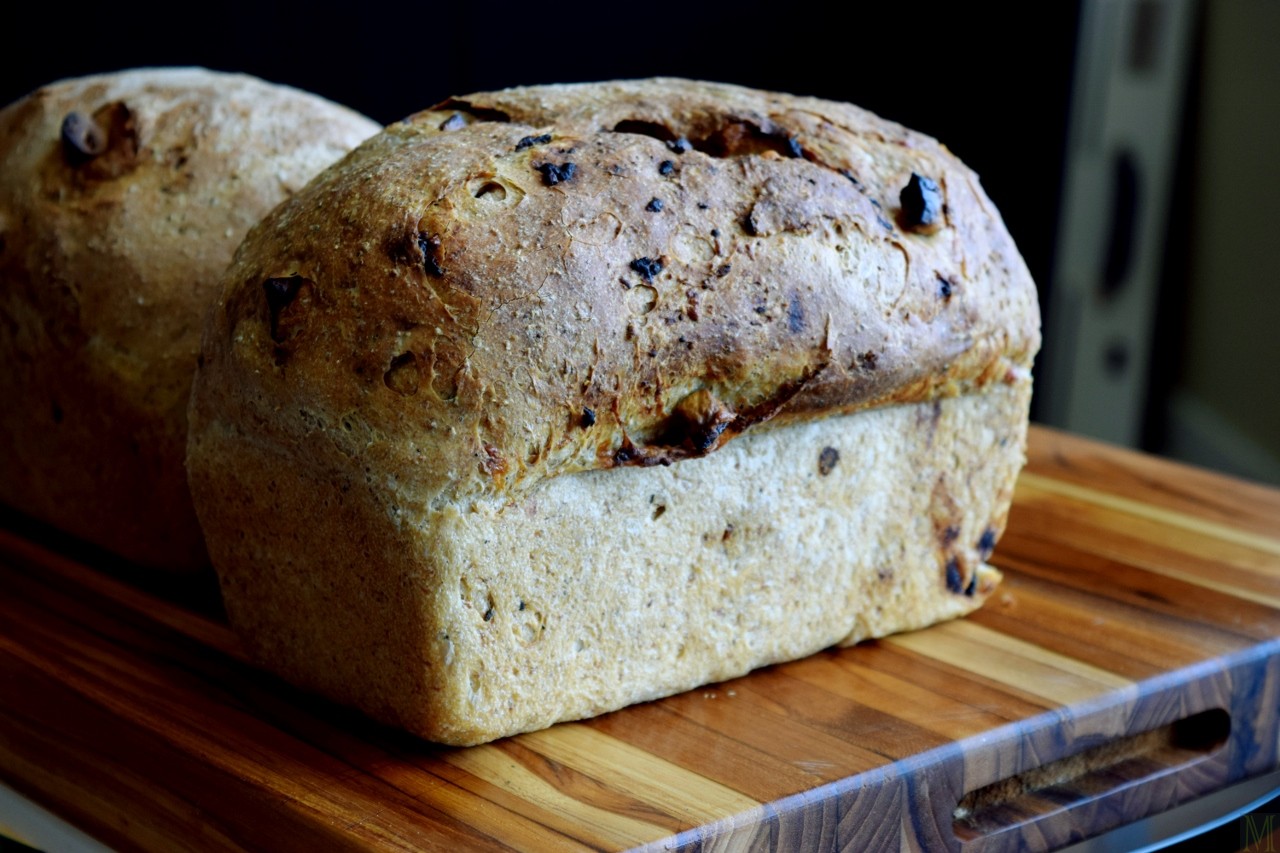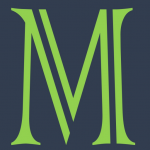 Homemade Light Rye Bread with Onion, Garlic, Herbs, and Parmesan
Credit for images on this page: Make It Like a Man! This content was not solicited, nor written in exchange for anything.
Keep up with us on Bloglovin'