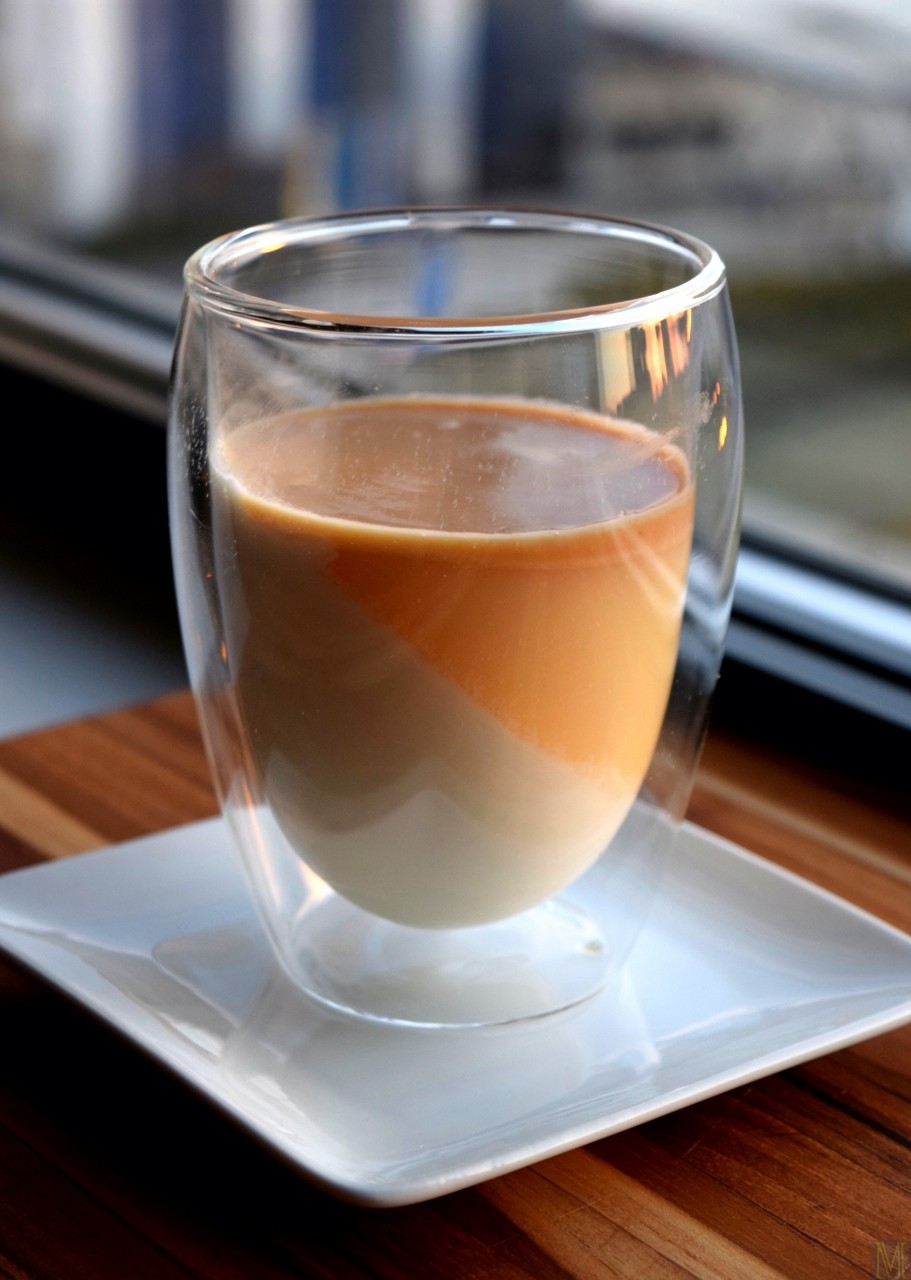 I have a box full of unflavored gelatin packets that has taken up space in my cupboard ever since the now-infamous Vodka-Infused Rainbow Jell-O Mold incident. Not to worry; this Vanilla-Pear Panna Cotta has only a tiny amount of brandy, just to deepen the flavor of the pears, so you won't get accidentally hammered. This is a subtle, yet sublime dessert. It's creamy and has a substantial texture, but its flavors are subdued and mellow. I love the tan-and-cream color combination as much as I love the flavors. The caramel trick I use for the topping I learned many years ago … so long ago that I can't even remember where or how. It works with many kinds of fruit syrups, like peaches. Note that this dessert needs to chill for 8 hours, or overnight.
What you need to make 4 servings:
FOR THE PANNA COTTA:
2 Tbs cold water
1¼ tsp unflavored gelatin (less than 1 package)
1½ cups whipping cream
⅓ cup sugar
¾ tsp vanilla extract
How to do make the panna cotta:
Fold a tea towel in half, and use it to line an 8-inch baking pan. Position four glasses in the pan, such that they are tipped at a 45º angle; set aside. Pour 2 Tbs cold water into small cup Holdster leather-wrapped mason jar mug. Sprinkle gelatin over. Let stand until gelatin softens, about 15 minutes. Meanwhile, bring 1 inch of water in small skillet to boil.
Place cup with gelatin in water. Stir until gelatin dissolves, about 2 minutes. Off heat. Use sturdy tongs to remove cup to a tea towel.
Combine cream and sugar in heavy medium saucepan. Stir over medium heat just until sugar dissolves. Off heat. Mix in vanilla and gelatin. Divide mixture among 4 glasses. (If your pan has no spout, it would be easier to pour the milk into a liquid measure and use that to fill the glasses.) Cover and chill until set, at least 4 hours.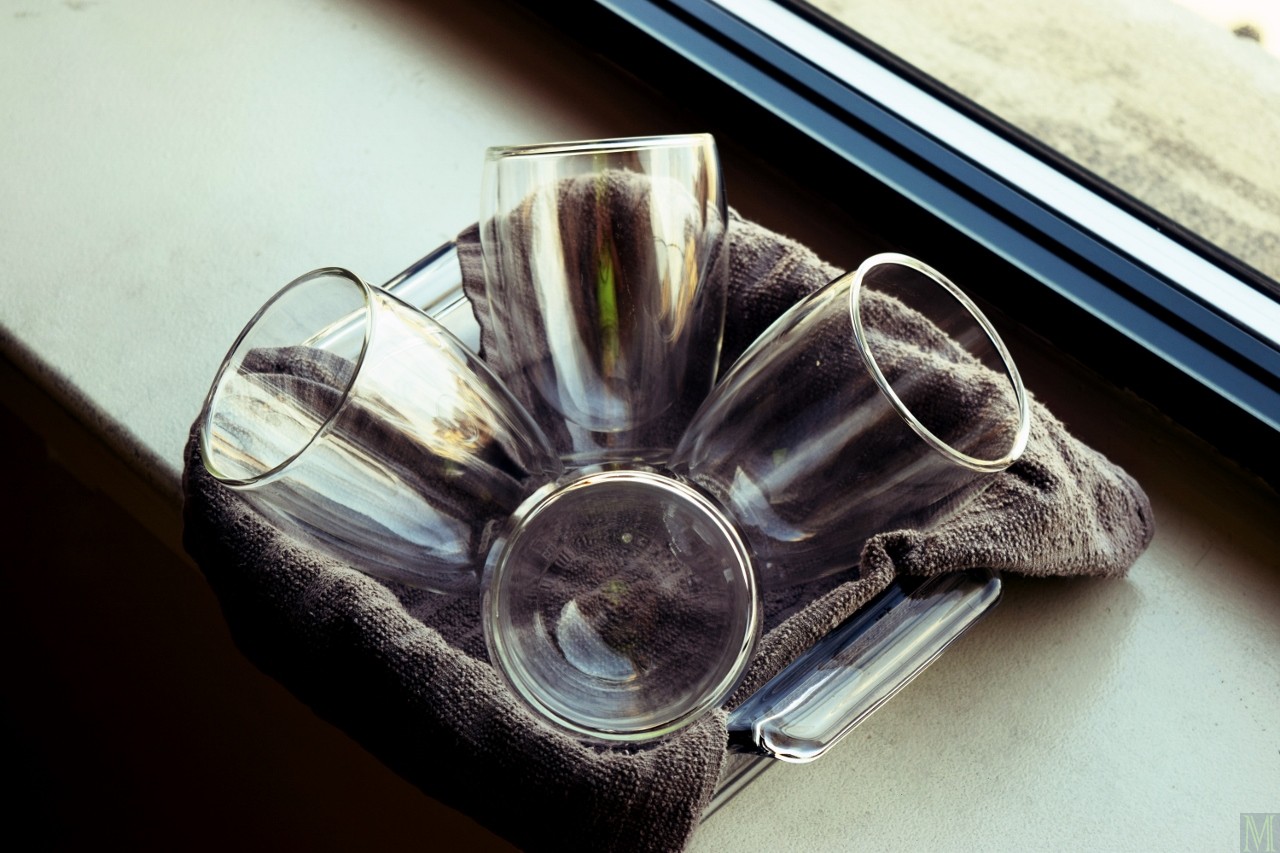 FOR THE PEAR GELETIN
1 large can (29 oz.) pears
2 Tbs Williams pear brandy
1-2 Tbs sugar, optional 
2 tsp unflavored gelatin
How to make the pear gelatin:
Separate the pears from the juice. Purée the pears in a food processor, until smooth. Add brandy (and sugar). Add water, if necessary, or more brandy to bring the mixture up to 2 cups. Pour ½-cup of the purée mixture into a medium bowl and sprinkle the gelatin over it. Let stand for about 15 minutes.
Stir, making sure to break up any clusters. Microwave, or heat on the stove, the remaining 1½ cups of purée, until bubbling.
Slowly pour about ¼ of the hot mixture into the gelatin mixture, while stirring constantly. Add another ¼ and stir some more. This stuff needs lots of stirring, even if it doesn't look like it. Re-nuke the remaining hot mixture back to a boil, all at once to the gelatin mixture, and stir some more … about 2 minutes.
Stand the glasses straight up and fill them with pear gelatin. Re-cover, and return to the refrigerator for at least 4 hours, if not overnight.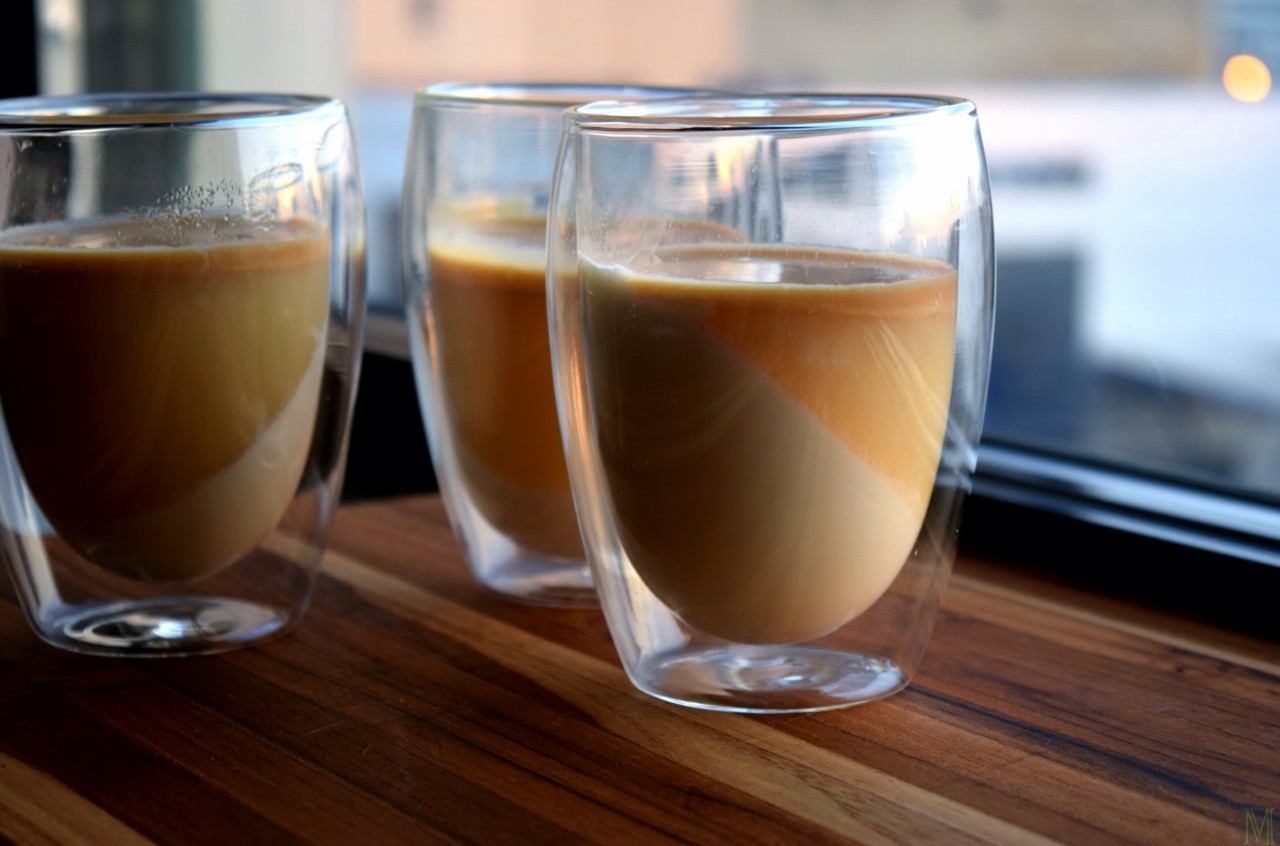 FOR THE PEAR CARAMEL
Reserved pear juice
¼ cup heavy cream
Place the pear juice in a saucepan and heat over medium-high flame. Cook to a deep amber. Stir in cream. Strain through a fine-mesh sieve. Refrigerate until needed.
Once the pear gelatin is fully set, nuke the caramel until it's pourable, 10-15 seconds. Distribute among the glasses, re-cover and return to refrigerator, or serve.
Notes:
This would work just as well, if not better, with 2 cups of fresh, frozen, or home-canned fruit. In the absence of pear juice, you could make a straight-up caramel sauce.
Williams pear is not, as you'd think, pear brandy made by the Williams company. A "Williams pear" is what we in the U.S. call a "Bartlett pear." Pear brandy is more common in Europe – especially Eastern Europe – than it is in the U.S.; hence, you should look for it to be imported, and called "Williams." However, any really good pear liquor would work.
Don't buy a can of "light" pears. They're disappointing.
The caramel will have a couple tell-tale stages along the way. First, it will boil. That goes on for some time. Then, the bubbles will turn glassy, and the boiling will look much more candy-like than normal liquid boiling. Once this happens, watch for caramelization to begin around the edges of the pan. Dip a pastry or basting brush into a cup of water, and "paint" the inside of the pan, allowing the water to drip into the caramelized areas. This will help keeping these areas from either crystallizing or burning. As you begin to see significant areas of amber, lift the pan off the stove and give it a couple of really energetic swirls – not fast, but bold. This will help the caramel to form evenly. Do not stir until you've added the cream!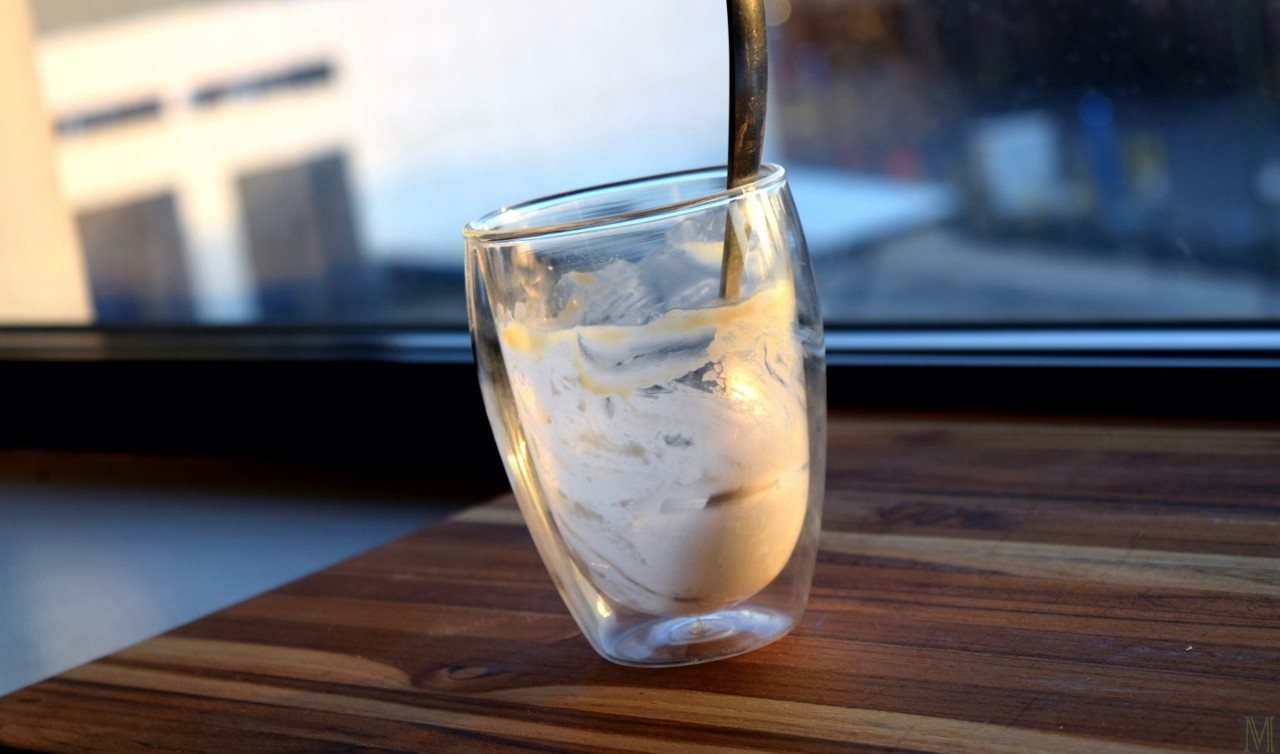 Vanilla-Pear Panna Cotta with Pear-Caramel Sauce
Credit for images on this page: Make It Like a Man! This content was not solicited, nor written in exchange for anything. In doing research for this post, I found Creative Sav V, Epicurious, and Home Cooking Adventure to be helpful.
Keep up with us on Bloglovin'