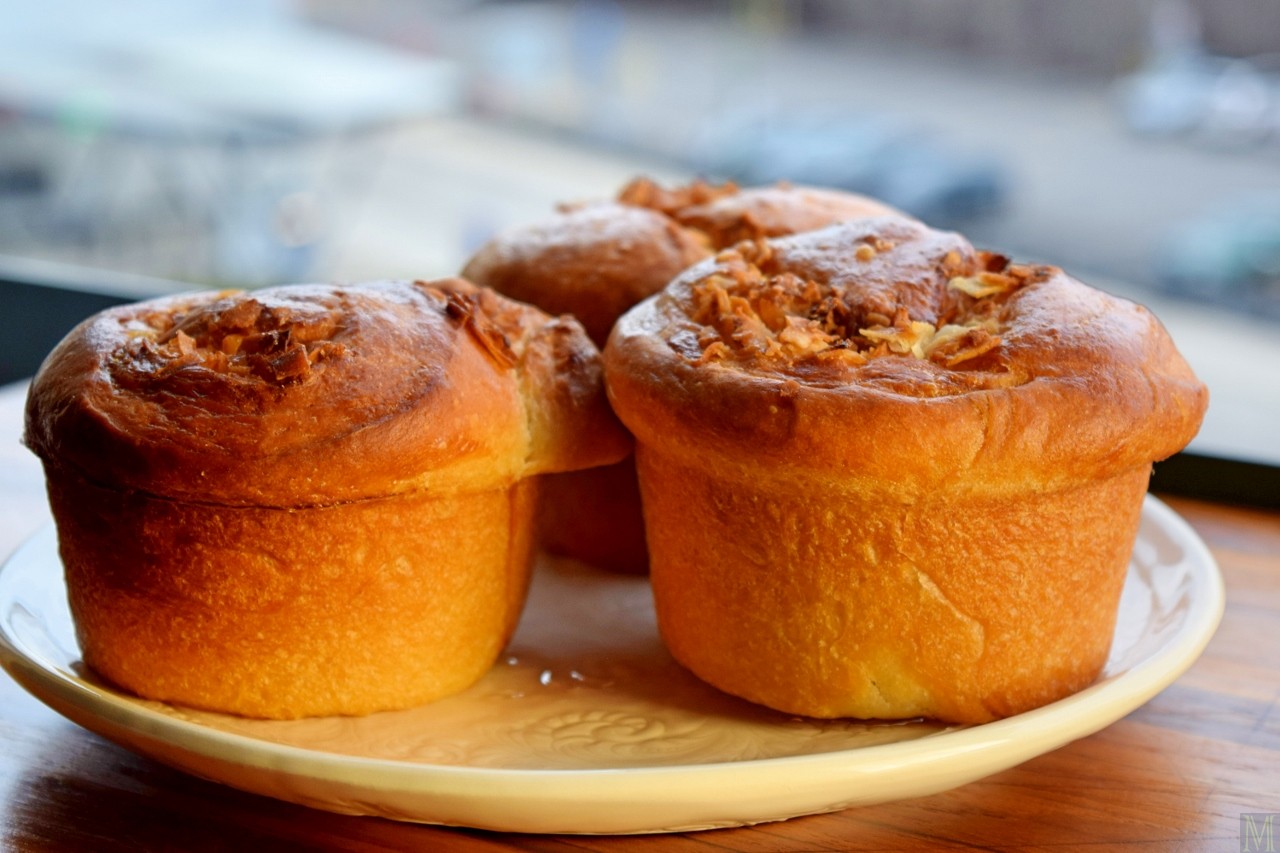 Why I associate Easter with coconut, I can't tell you. On the Sunday after the first full moon of spring, many people's thoughts turn to chocolate bunnies and jelly beans … mine turns to coconut cake. But it also turns to babka. Sweet breads are a traditional staple of a Polish Easter menu, so my thoughts usually spin that way not long after registering a hankering for coconut. This year I guess I whipped my thoughts around a bit quicker than usual, and the two ideas fused. And I'm so glad they did! This coconut babka turned out beautifully – and I do mean beautifully. I think it's one of the best things I've ever made. The crumb is reminiscent of a croissant: buttery, soft, pillowy. The crust, flaky. The flavor is mildly sweet. The coconut is crunchy and appealing. The color is fantastic.
Babka is like a distant cousin to brioche … a bit lighter, less complex, with a suggestion of just a hint of a slight inclination toward something vaguely more reminiscent of cake than any brioche would e'er but dream. I owe this idea to a fantastic Aussie baker at You Can Do It at Home. However, whereas she uses a common quick-rise babka-making method, I've departed from it to create a slow-rise babka that's richer, tastier, and able to retain its moisture longer without being heavy or dense.
Makes 2 eight-inch loaves, or 12 jumbo rolls; or a 1-loaf, 6-roll combo
Sponge Ingredients
1 can (13.66 oz.) unsweetened coconut milk
½ tsp active dry yeast, from one ¼-oz. packet
3.5 oz. bread flour (about 2/3 cup)
Measure 5.5 oz. (about ½-cup) of the milk into a microwavable container. Nuke until lukewarm, about 15-20 seconds. Pour it into a small mixing bowl. Sprinkle yeast on top and let stand for 1 minute. Stir briefly. Stir in flour with a wooden spoon, until smooth (about 100 strokes). Scrape the side of the bowl with a rubber spatula. Cover with damp tea towel. Let sit overnight (12 hours, give or take). Meanwhile, store remaining milk in refrigerator.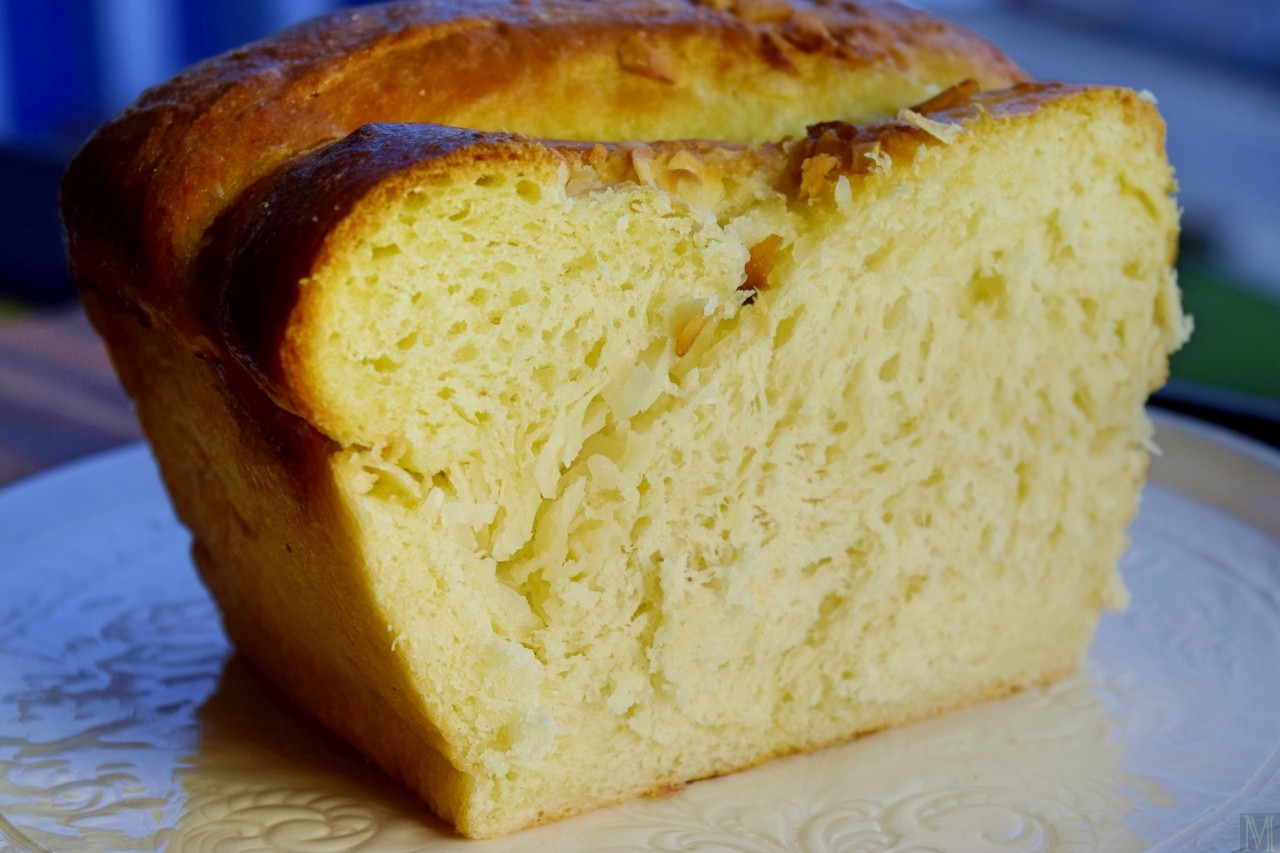 Dough Ingredients
4.5 oz. butter (9 Tbs)
Remaining coconut milk from can
Remaining yeast from packet
2 eggs
0.375 oz. salt (about 1½ tsp)
2.375 oz. sugar (a scant 1/3 cup)
22 oz. bread flour (about 4 cups)
In a two-cup measure, melt the butter in the microwave, about 1 minute. Stir to dissolve any remaining solids. Stir milk into butter. Nuke until lukewarm, about 30 seconds. Combine the milk mixture and sponge in the bowl of a stand mixer fitted with a dough hook. Stir in yeast, eggs, salt, and sugar. Add flour by the cupful, allowing each cup to incorporate before adding the next. Knead until dough cleans the bowl. Pull the dough out of the bowl, and knead it briefly on a lightly floured surface. It should be oily, remarkably soft, but not sticky. Place it into a buttered bowl. Cover it with a damp tea towel and let it rise (in a warm room, about 75°F) for 1.5-2 hours. Meanwhile, mix up the coconut filling (see below).
Butter a 9×5″ loaf pan and a 6-count jumbo muffin tin; set aside. Divide the dough into halves. Roll one of the dough halves into a 9×13″ rectangle. Spread half of the coconut mixture across the entire surface, leaving about a ½-inch margin along the edges. (The easiest way to do this is with your hand.) Grab one of the long sides of the rectangle, and roll the dough up like a jelly roll. Place seam-side down on a lightly floured surface that is easily maneuverable, like a flexible cutting mat. Use a bench scraper to slice the roll in half lengthwise. Be careful to split the loaf into as equal halves as you can eyeball. Orient the halves cut-side up, and butt them right up along side one another, lengthwise. Carefully braid the halves, crossing one over the other. If necessary, with a hand at either short end, gently butt the loaf to reduce its length so that it will fit into the loaf pan.  Cajole the bread into the pan, cover with buttered plastic wrap, and let rise until the dough rises well above the edges of the pan, 45-60 minutes. Meanwhile, turn the remaining dough into rolls.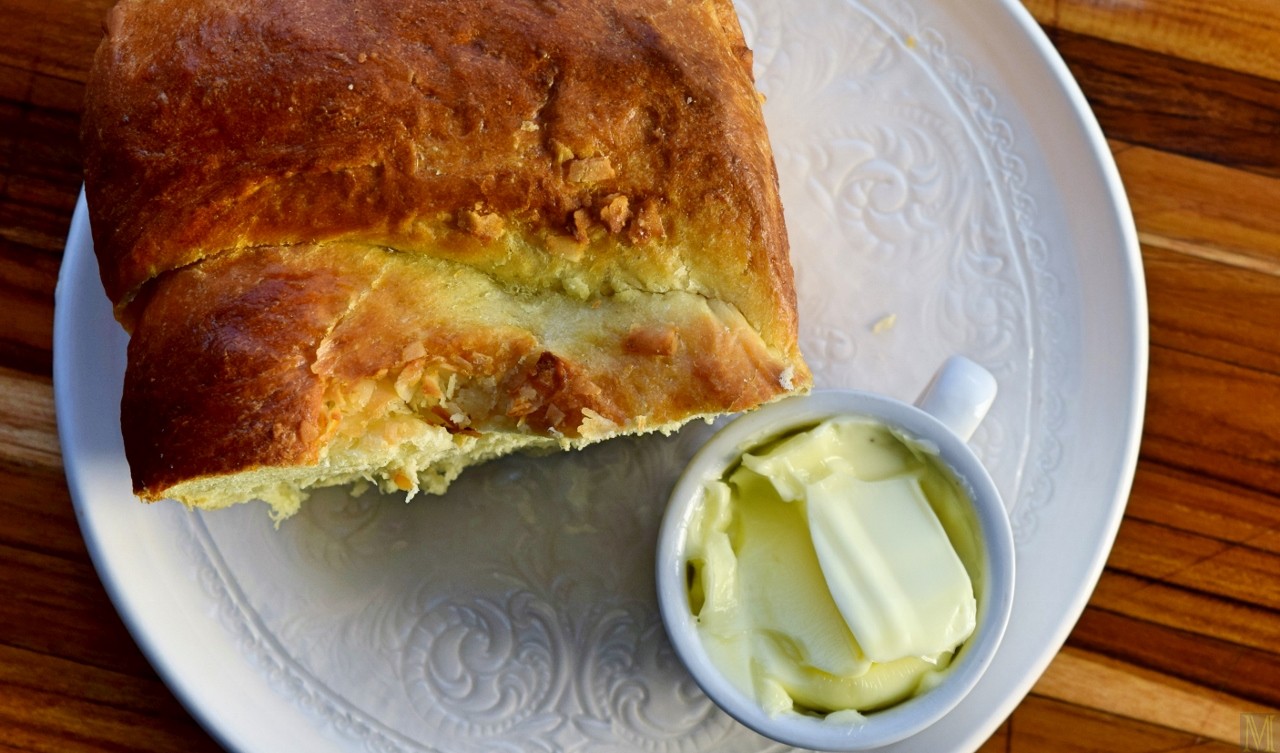 To make rolls, follow previous directions until you've completed the "jelly roll" stage. Instead of placing the dough on a cutting mat, leave it on the counter top. Use a bench scraper to cut through the roll widthwise, several times, to produce 6 equal-sized segments. Turn each segment on its side so that the cut surface is facing up, and place them into the muffin tin. Proceed with plastic wrap and remaining loaf directions. Meanwhile, prepare the egg wash (see below) and preheat the oven.
Paint the top of the loaf and rolls with the wash. Bake at 350°F until deeply golden-brown. The rolls should take about 30 minutes, the loaf 40.
Coconut Filling
2.5 oz. butter (5 Tbs), very soft
2 oz. desiccated coconut (about 2/3 cup)
0.5 oz. sugar (about 2¼ Tbs)
The butter has to be so soft and so spreadable that you'll be able to spread it onto risen dough without having to apply much pressure. If the butter isn't soft enough, melt a portion of it. Combine all ingredients. Let stand until needed.
Egg Wash Ingredients
1 egg
1 Tbs milk
Stir vigorously with a fork until well bended.
Notes: of course there's no reason why you couldn't make 12 rolls or two loaves. You could also make this bread by hand; a stand mixer isn't required. Preheat your oven much longer than you think you should – like, 20 minutes or even 30. For short-term storage of a freshly baked loaf, keep it uncovered at room temperature. For mid-term storage, keep in a resealable plastic bag, at room temperature. The crust will soften, but the bread will be delicious nonetheless. You could crisp it back up with a short stint in the oven: 10 minutes at 350ºF. You'll find it very tasty, but a bit drier than it was when it was fresh. Interestingly, when reheated in this manner, it will turn out to taste exactly like a quick-rise babka. So … still, pretty good. For long-term storage, wrap tightly in foil, place in a resealable plastic bag, try to suck as much air out of the bag as you can (or if you can use a Food Saver deftly, do that), and freeze. Thaw without unwrapping, at room temperature.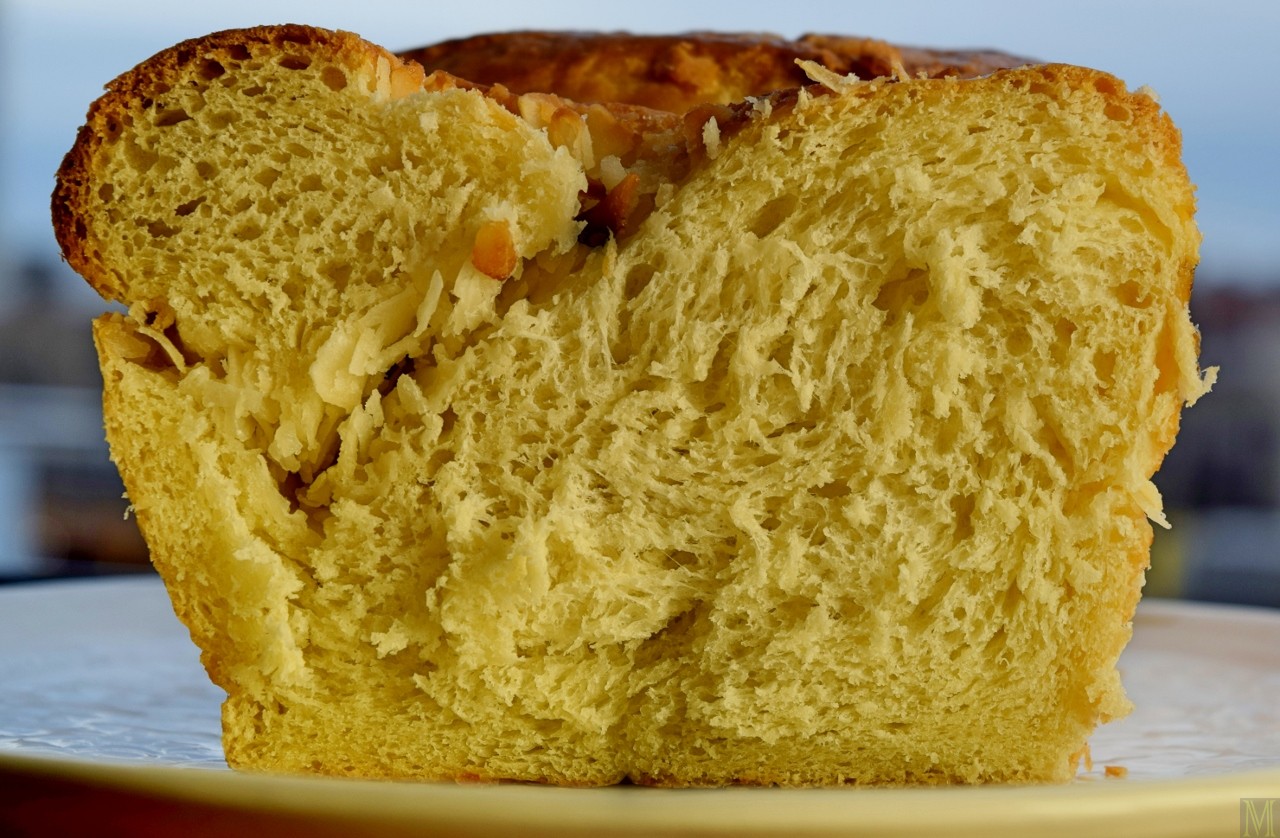 Coconut Babka
Credit for images on this page: Make It Like a Man! This content was not solicited, nor written in exchange for anything. In researching this post, I found this to be useful: Convert Grams to Ounces. And this: What Things Weigh. And this: How Much Does a Cup Weigh?
Keep up with us on Bloglovin'