♣
After a huge Italian dinner with friends in Philly, the server asked if we wanted dessert. I asked for cheesecake. She brought me a cheesesteak. The weird thing is, I ate it. You don't pass up a cheesesteak in Philly.
♣
In Philly, you can get cheesesteaks pretty much everywhere. Even for dessert, apparently. But if you're going to have a cheesesteak in Philly,  don't pass up an opportunity to get one from Pat's or Gino's. The question is: Pat's? Or Gino's? Well if you ask me, that's a trick question. The answer is Pat and Gino's. I mean, they're right across the street from one another, and don't tell me you don't want two sandwiches. OK, maybe you don't. I went with a couple of friends, and we all split our sandwiches, so that we could have the other half at the other place.
On the way home from my Philly trip,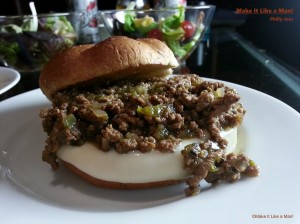 I was reading a post on one of my favorite cooking blogs, about elevating the time-honored Joe. It inspired me to see if I could take a Sloppy Joe – the equivalent of a small-town club fighter – and give it a shot at the world heavyweight championship of cheesesteaks … to see if I could capture the flavors of a Philly Cheesesteak in a Joe. Hey Adrian! Philly Joe is here! And he's straight-up comfort food and super-easy to make.
Philly Joes
Makes 4 substantial sandwiches
Ingredients
4 slices of provolone cheese [1], [2]
1 medium onion
1 medium green bell pepper
1 tablespoon olive oil, or – if you love fun – bacon fat
1 lb ground beef, 80% lean ground chuck preferred
¼ cup steak sauce [3]
1 cup beef broth
2 teaspoons cornstarch
Salt and ground black pepper (to taste)
2 tsp Worcestershire, optional
¼ tsp dry mustard, optional
4 large hamburger buns
Directions
1. Take the cheese slices out of the fridge now, so that they start to come to room temperature as you're cooking. 2. Chop the onion and pepper into very small pieces – not quite minced, but close. It would be worth the trouble of getting out the food processor. Once chopped, you should have approx. 1 cup of onion and approx. ¾-cup pepper. If you have a little more, go ahead and use it. If you have a lot more, set the extra aside for another use. 3. Heat the oil in a large skillet over medium-high heat. Scramble the beef until just the tiniest bit of pink remains. Pour off any excess liquid. Add the pepper and onion and cook for 3-4 minutes, until the onions become translucent around the edges. Stir in the steak sauce and beef broth, and season with salt and pepper. Bring to a boil and simmer for five minutes. Extract about 2 Tbs of liquid from the pan, put it in a bowl, and whisk in the cornstarch until no lumps remain. Stir this back into the meat mixture and continue cooking until you've cooked away most of the liquid. If your joe-meat needs a bit more zing, which will vary according to the type of steak sauce that you use, add the optional Worcestershire and mustard.
A note about texture: You don't want the final mixture to be soupy, but you don't want it to be dry, either. You want it to be juicy. Here's how to test it: give the entire pot a really thorough stirring, then use a spatula to push the meat away from the bottom of the pan in one spot. If liquid immediately runs back into the spot, it's too wet. Keep cooking. You want the liquid to very slowly seep back into the spot – so slowly that it may not completely fill in the spot.
4. While the meat is cooking, prep the buns. My toaster has a "bagel" setting that toasts only the cut side of the bagel. I use that to toast the inside of the buns. As a rather tasty alternative, you can butter the cut side of the buns and fry them in a skillet until browned. 5. If you've ever had a Sloppy Joe, the assembly of the Philly Joe will be pretty obvious: bottom half of bun, covered with lots of the meat mixture, slice of cheese over that, top half of bun on top. If the cheese slices are warm enough that the hot meat mixture will melt them easily, you're good to go.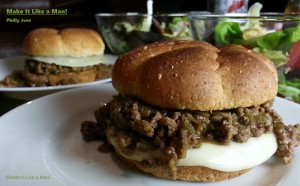 If your cheese is too cold to do that, do this: place a cheese slice onto the cut side of the top bun. Place it in the microwave, cheese-side up (of course), and nuke for about 11 seconds, or until the edges of the cheese have just curled themselves downward. You don't want to fully melt the cheese; you just want to get it teetering on the edge of melting, so that the heat of the meat will finish the job. In any case, you want the cheese to be fully melted when you serve up the Joe.
Leftovers
The meat mixture is good leftover, maybe even better. Heat it on the stove with a splash of water, stirring frequently. It also freezes well. Sometimes I like to add cooked rice to the leftover Joe meat and then eat it from a bowl rather than on a bun.
♠
Notes
[1] Slice: If you want to use a provolone sauce, net-search "how to make a cheese sauce" and use provolone as the cheese. You'll definitely achieve a more luxurious texture this way, but it's a considerable amount of effort.
[2] Provolone: You can have a cheesesteak without cheese … if you're some kind of lunatic. The only choice a sane person has is provolone or Wiz. Yes, I'm talking Cheez Whiz. Buy a jar of Cheez Whiz. Scoop out a fantastically-heaping soup spoon per Joe, nuke it until warm, and spoon it on top of your meat instead of the provolone. Turn your nose up at it if you want, but unless you've had "one wiz with" from one of the South Philly temples of cheesesteak, you don't know.
[3] Sauce: I use Lizano Salsa. Why? Because I can. I have a friend from Costa Rica. Use your favorite steak sauce.
[4]
While doing research
for this post, I came across what I think is
the weirdest blog thread
I've ever come across. It launched out with an article about how crustless sandwiches will destroy America – which, after reading, I have to say I agree with … assuming Trump doesn't do it first (or has he already?) – and then proceeded to ask whether or not to cut a Viking. I mean, assuming you could time travel, Vikings were fierce warriors. I don't think you should casually sit around thinking you could take a knife to one without loosing a body part, if not your very life.
See Also:
♠
Creds for all images on this page: hover over image to reveal source. If an image has a green caption, hover over it. Click to jump to or toward source.
♠