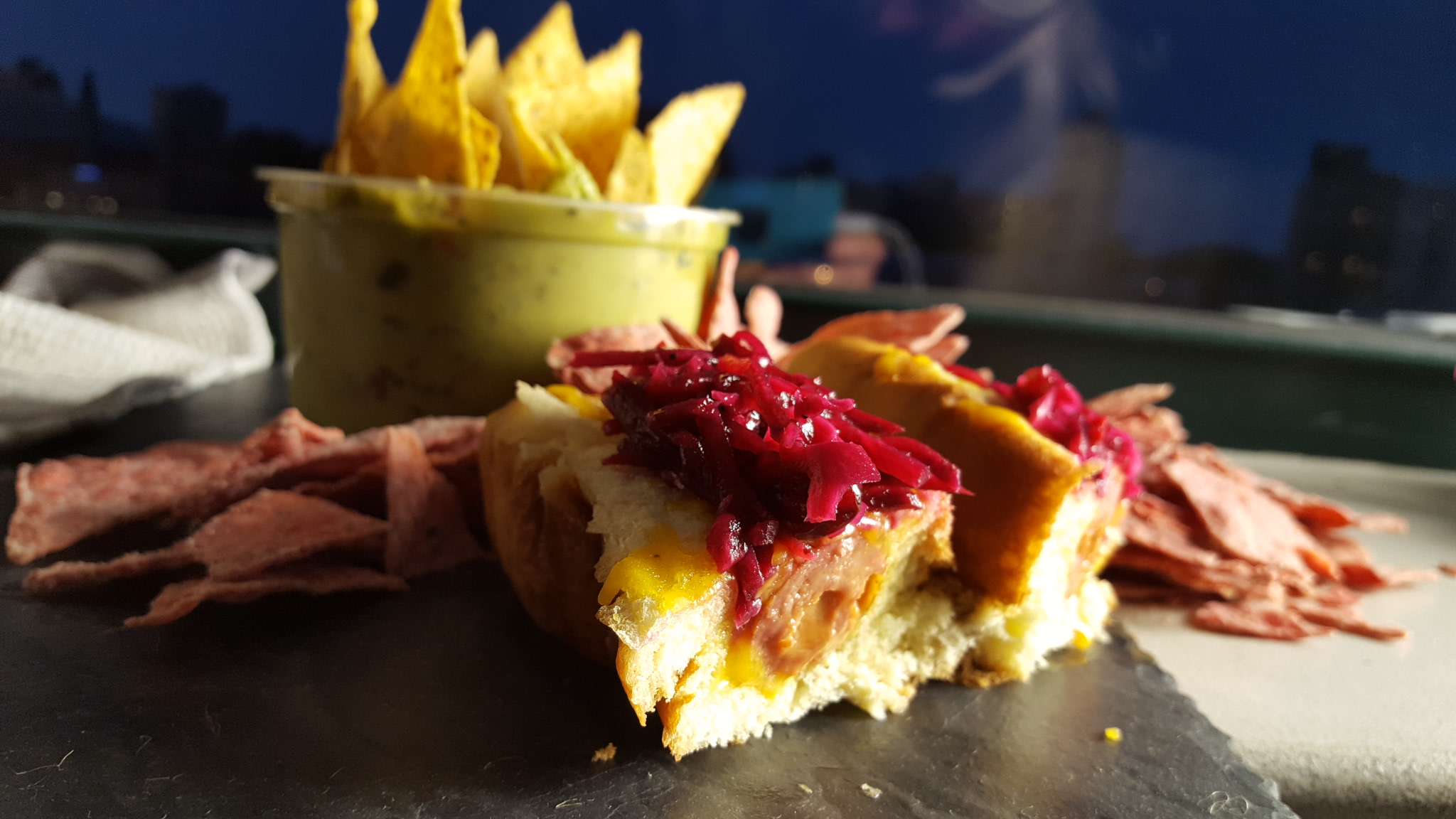 As you may know, we're Cubs fans. And as you really ought to know, this is the year. No kidding this time. This year is the year. So, if you haven't been to Wrigley Field in a while, you should fix that. The first Cubs game I ever saw, I did it right: sat in the bleachers, got a sunburn, and ate Chicago dogs. If you've never had a Chicago dog … wait, what? On the other hand, maybe you'd rather have your salad in a bowl and save your buns for something special. In that case, you should know that this summer, Gilbert's Craft Sausages, a small-batch sausage maker from the Chicago burbs, is selling some impressive, inventive dogs at Wrigley. They sent us some, so that we could give you the heads up.
Gilbert's Craft Sausages: Product Review
We sampled a bunch of them: Caprese, Beef & Bleu, Bourbon Apple, Beef & Cheddar, and Aloha. All of these sausages would be fantastic on the grill, but this spring, Chicago seems determined to put off grilling weather (it was cold and rainy), so we grilled them indoors, in a Cuisinart Griddler. They're already cooked when you unpack them, so they're ridiculously easy to prepare: heat them through and get some nice grill marks. It takes about 10 minutes in the Griddler, turned up to "sear." Note that the cheese-stuffed sausages may pop out a bit of cheese as they're cooking, and if that happens, you'll need to wipe down the grill before the next batch. You lucky outside grillers won't have that problem. Note that we also microwaved a few … you're better off grilling or even pan frying.
Keith, our art director, and Chris and Andrew, the yin and yang of taste testing, pitched in to help. We tested each dog straight up, and then with a variety of condiments – everything from several varieties of mustard, to sriracha mayo, beet and cabbage slaw, and plow boy chow. We're Chicagoans; we did not test with ketchup. Every one of the sausages – which come in easily unwrappable four-packs – turned out to be interesting and bun-worthy. The  sausages casings are collagen, which we liked. It gives the sausages a beautiful snap without making them chewy. We all agreed that we liked all the sausages.

(5 / 5)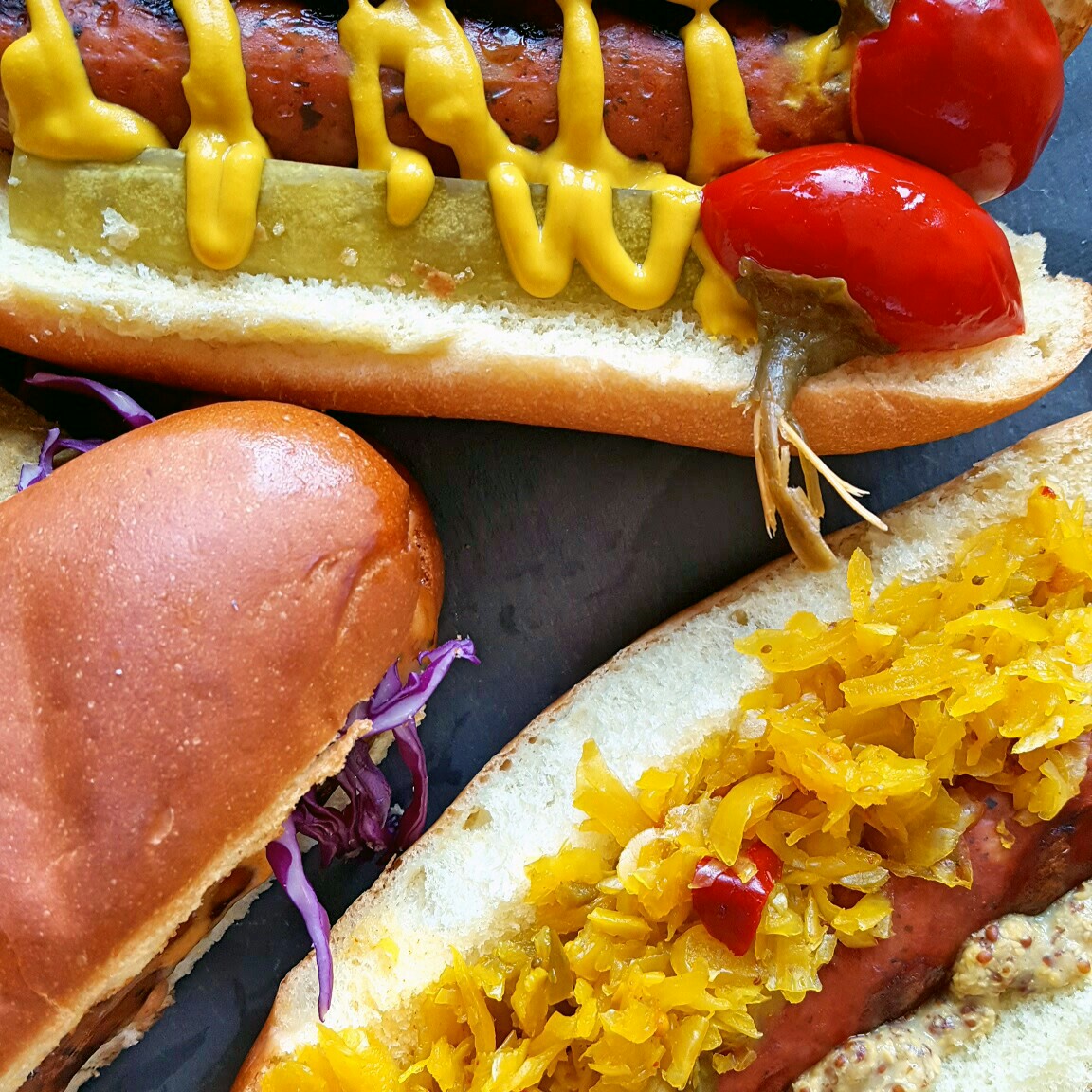 Bourbon Apple: this one was my personal favorite. It's a sweet and savory chicken sausage, packed with a ton of flavor. Made me yearn for an apple farm in early October. The bourbon flavor sits neatly in the background. Right up front is this oaky, smoky, cidery apple. Gilbert's suggests pairing it with oatmeal, which seems intriguing, but from the looks of it, they also seem to suggest pairing it with a lumberjack, which seems awesome.
The Caprese is a chicken sausage with mozzarella, basil, and sun-dried tomato. It pairs nicely with pasta – and not just Italian ones; it complements feta and olives surprisingly well. As with all of these sausages, you want to be careful to pair the Caprese with something that won't overshadow its unique flavor. So, we wouldn't choose this one to use in a cooked-all-day, tomato-based pasta sauce, for instance. Go with something lighter, like Fresh Garlic Parmesan Pasta. The Caprese was a big hit with our taste testers. The sun-dried tomato kicks ass! Equal hints of sweetness/spiciness put it over the top.
The Beef & Bleu is manliest of all those we tested. Its flavor is deep, like a stew that was cooked all day over a campfire, after a long afternoon of bow hunting. The bleu cheese is just right: it's mild, and is perfectly balanced with the dill-and-garlic beef. I'm still debating about declaring this to be my favorite, even though I'm still siding with Bourbon Apple by a sliver. I love this sausage's texture. It's not homogenous, like a hot dog or bologna, but instead it has a minced texture. I love the Beef & Bleu just as it is, unadorned, un-bunned, hot off the grill. (I did use a knife and fork on it; I'm not a complete barbarian.)
Beef & Cheddar. I swear to you, I knew exactly what I wanted to say about this one, then checked out what Gilbert's had to say on their website, and they'd taken the words right out of my mouth. It's beefy and cheesy. Impossible to not like. Traditional.
In the Aloha, we taste the sweetness of grilled pineapple and the brightness of the ginger. Definitely the hardwood-smoked brown sugar. Don't treat this one like an everyday dog and slather it with typical condiments. Its flavors need something inventive. Gilbert's recommends lime aioli, chips, mango salsa, and shredded cabbage. They call that combination the Aloha Stadium Dog, and you can buy yourself one at one of the games this summer – it's the Official Chicken Sausage of Wrigley Field and the Chicago Cubs!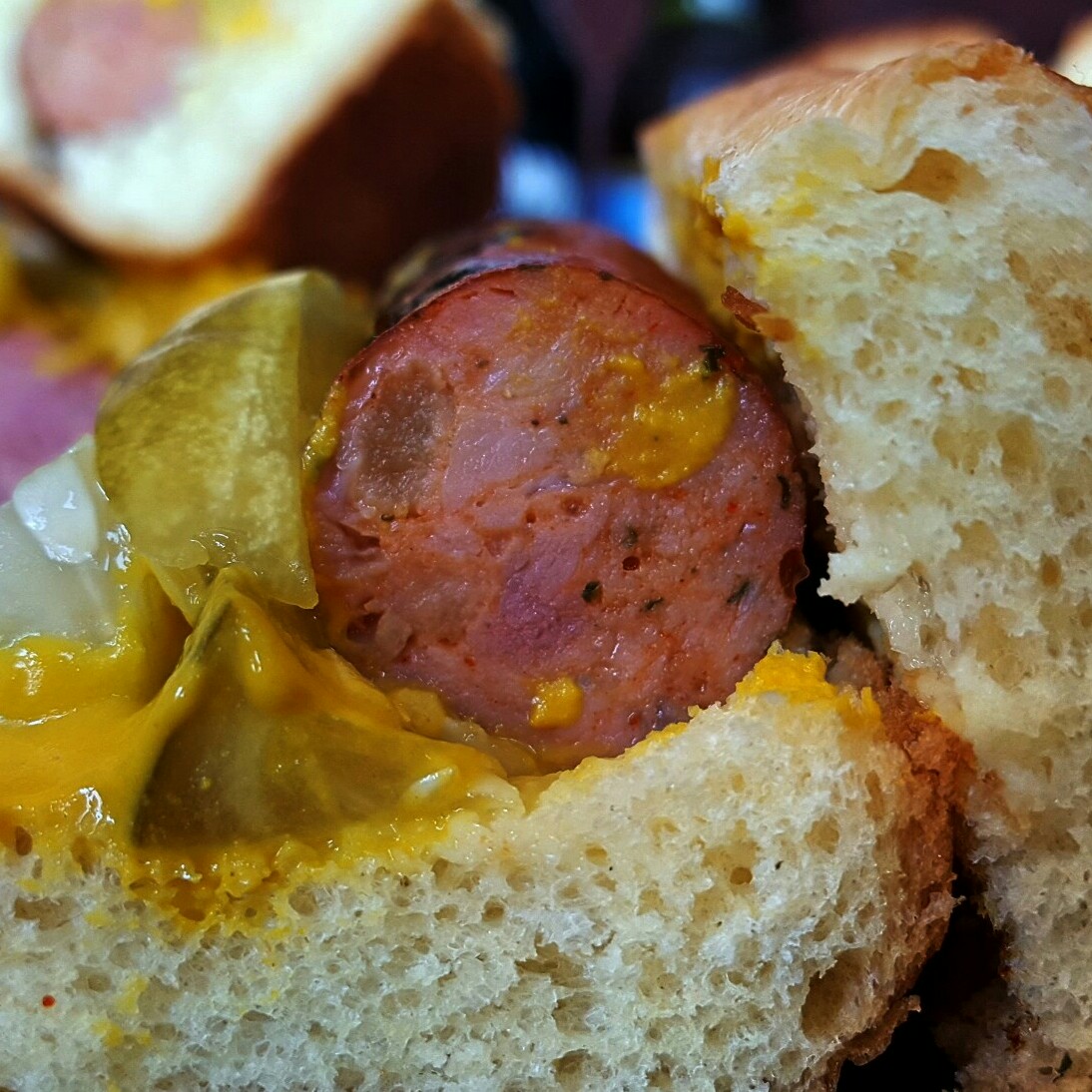 If you have an urgent craving for Gilbert's Craft Sausages, and the Cubs are playing an away game, you can find them at Jewel and Mariano's. You can also order them online: $6.50 for a pack of four.
Credit for images on this page: Make It Like a Man! Clicking on images will enlarge them. Although this content was prompted by an offer for a couple handfuls of free sausages and a t-shirt, our opinions are honest and unbiased. When it comes to sausage, anyway. Our opinion of the Cubs is completely biased. This is the year!
Keep up with us on Bloglovin'