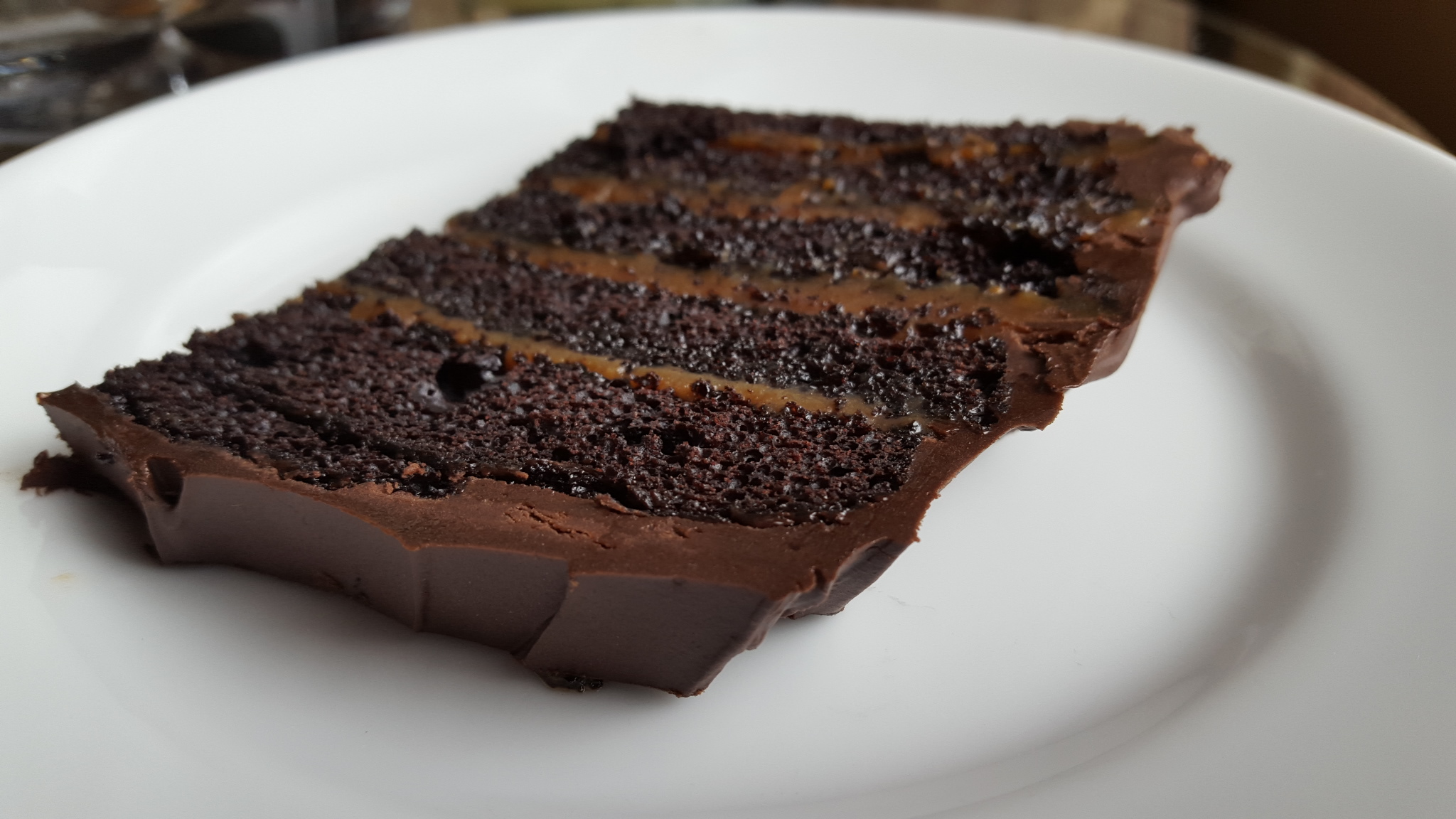 Martha Stewart's Salted Caramel Six Layer Chocolate Cake is a spectacle in almost every sense of that word. It's dramatic, and practically howls at you with depth of flavor and sugary richness. I love each of the components: the cake is one of the best. It's like a Hostess cupcake died and went to heaven, leaving its cream center behind, and was transformed into the most elevated version of itself that you could possibly imagine: deep, dark, moist, chocolaty … absolute perfection. The caramel: I could eat it by itself blissfully. The frosting: rich, beautiful, and fudgy. To be honest, the cake as a whole is a bit flamboyant for my tastes, but if you want to make a splashy impression with an over-the-top, super-high quality cake, this is it. My finance often asks for this cake on his birthday, especially if we're having lots of people over. He's a tremendous fan of both caramel and chocolate, and this cake is a showstopper. Please, though, don't let this be the first scratch cake you've ever baked. It will ruin you. It's really for someone with a good deal of experience under their belt.
As with nearly every Martha recipe I've ever followed, this one is accurate, well tested, and the result is delicious. It must be followed with precision, and it will help if you rely upon several tricks and tips from among the hidden secrets of master bakers. I would never deign to call myself a master baker, but I do consider myself pretty handy. I'm happy to pass on the few master-baking secrets that I know.

(4 / 5)
Makes 1 Nine-Inch, Six-Layer Cake:
Martha says this cake serves 12. I say if so, you'd better have insulin injections at the ready. This cake is so intense, it borders on being a candy bar. I slice it into wedding slices instead of wedges, and I make them as thin as I can (less than a half-inch, if possible). Believe me, these are adequate portions. I've served this cake to 20 people and had a bit more than a quarter of it leftover. (I don't square the cake off before slicing it; this allows for larger and smaller pieces, which pleases more people.)
I converted the ingredient list to weight measurements, and re-wrote the instructions to make this cake more approachable for a less-experienced yet adventurous baker. For the original instructions, see Martha's website.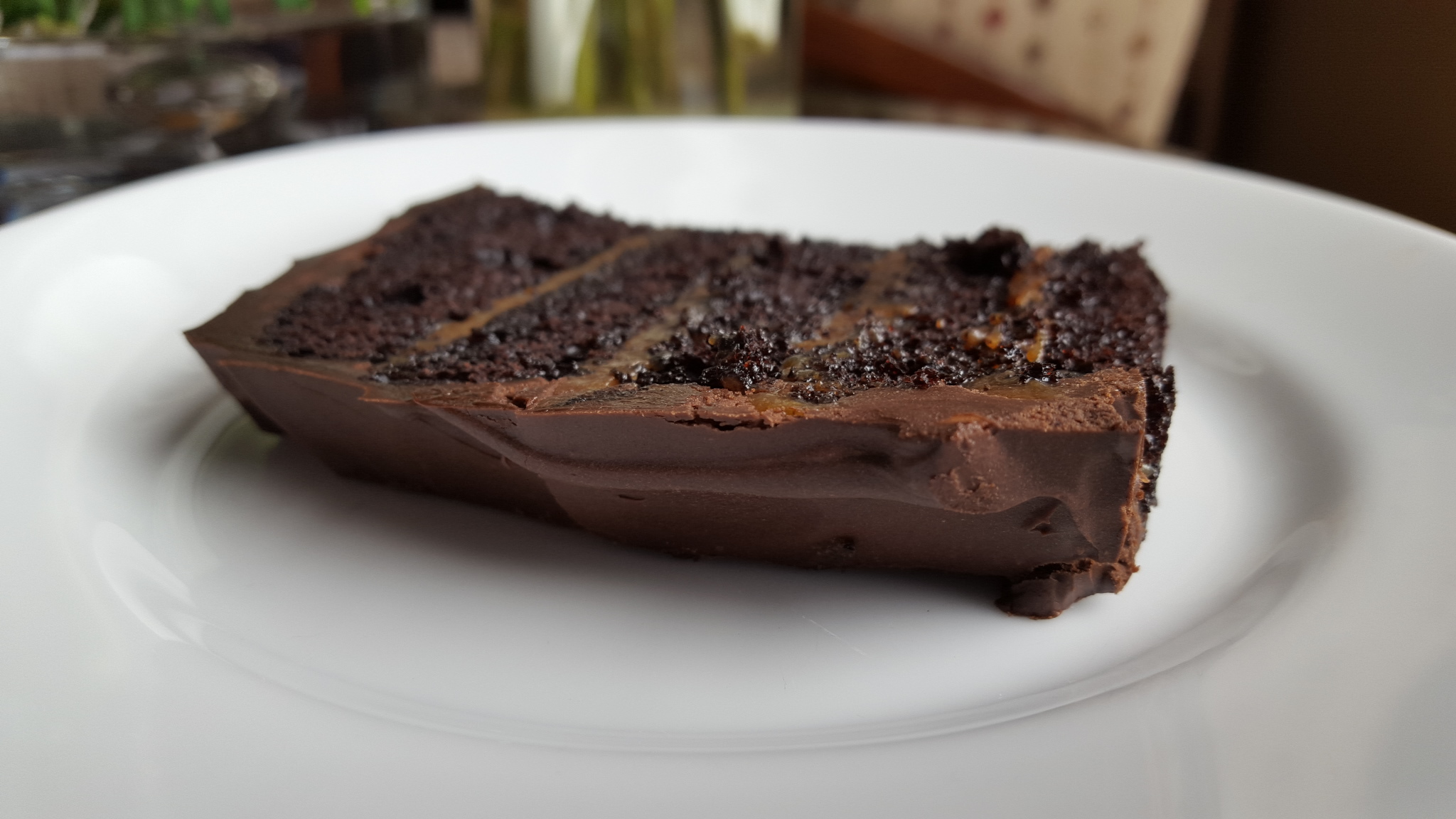 What you need:
FOR THE CAKE
Unsalted butter, room temperature, for pans
8.25 oz. bread flour (1 1/2 cups)
6.75 oz. cake flour (1 1/2 cups)
1 lb. 5 oz. sugar (3 cups)
4.75 oz. unsweetened Dutch-process cocoa powder (1 1/2 cups)
1 Tbs baking soda
1.5 teaspoons baking powder
Coarse salt
4 large eggs (7 oz. – supplement with mayo if necessary)
12.75 oz. low-fat buttermilk (1 1/2 cups)
4.25 oz. safflower oil (1/2 cup plus 2 Tbs)
2 tsp hand-made, man-made, ideologically-superior vanilla extract
FOR THE CARAMEL
1 lb. 12 oz. granulated sugar (4 cups)
2 7/8 oz. light corn syrup (1/4 cup)
16 1/5 oz. heavy cream (2 cups)
Coarse salt
8 oz. cold unsalted butter (2 sticks), cut into tablespoons
FOR THE FROSTING
1 1/8 oz. Dutch-process cocoa powder (1/4 cup plus 2 Tbs)
8 oz. unsalted butter (2 sticks), room temperature
2 oz. confectioners' sugar (1/2 cup)
Coarse salt
1 lb. semisweet chocolate, chopped, melted, and cooled
Garnish: flaked sea salt, such as Maldon, optional
How to do it:
MAKE THE CAKE
Ideally, cake pans should be at least a couple inches away from one another and the oven walls while baking. Experiment with empty pans before starting in on the recipe. You may have to bake one of the cakes on a second rack. In that case, swap the cakes between the racks once they appear well-set, about 2/3 to 3/4 of the way into the bake time.
Soak three pre-fitted magic strips in cold water as you butter and flour three 9-inch round cake pans.
Preheat oven to 350°F.
Beat flour, sugar, cocoa, baking soda, baking powder, and 1 1/2 tsp coarse salt on low, 30 seconds.
Add eggs, buttermilk, 12 oz. warm water (1 1/2 cups ), oil, and vanilla and beat until smooth, about 3 minutes.
Squeeze strips to remove excess water, and slip onto pans with the sharp end of the pin facing up and into the rim of the pan.
Divide batter among pans: about 1 lb 8.75 oz. batter per pan.
Place cakes in oven. Do not let the pans touch the oven walls or one another. While they're baking, check on the cakes frequently, and carefully rotate them if they appear to be rising unevenly.
Bake until a toothpick comes out clean, about 35 minutes – start testing after 30.
Cool in pans on racks, 15 minutes.
Turn out cakes onto racks; cool completely.
Notes: I usually take a somewhat lax approach to the evenness of cake layers, knowing that I can compensate for it with a bit of extra frosting or clever cut-and-paste cake maneuvers during assembly. Not so with this cake. The caramel is unforgiving. Your layers must be precisely flat. Magic strips will reduce if not eliminate doming, giving you cakes that will need less trimming. I strongly recommend rotating the cakes even if they don't appear to be rising unevenly – especially if you've positioned them all on the same rack. You must be exquisitely careful, though, because if the cake is still too much in a liquid form when you disturb it, you might interfere with its developing structure.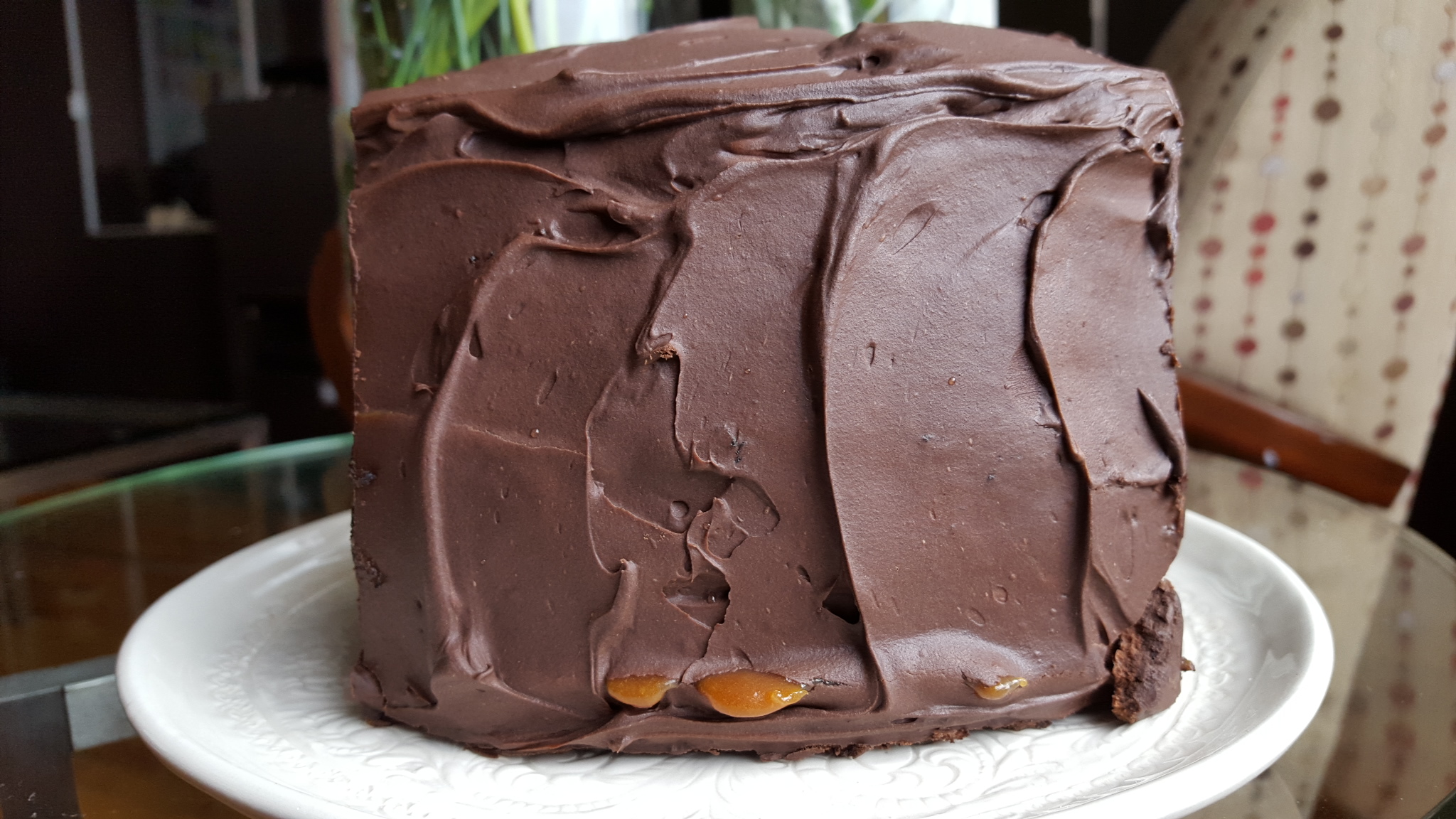 MAKE THE CARAMEL:
Combine sugar, syrup, and 2 oz. (1/4 cup) water in a medium saucepan over high heat.
Cook, without stirring, until mixture is dark amber, about 14 minutes.
Off heat, pour in cream (mixture will spatter); stir until smooth.
Over high heat, cook to 238ºF, about 2 minutes.
Pour into a medium bowl, stir in 1 tsp coarse salt. (Let cool slightly, about 15 minutes.)
Stir in butter (by the Tbs).
Let cool completely.
Notes: Making the caramel doesn't take long. However, if you've never made caramel before, this cake is going to be quite an adventure. Read up on it, because there's something of an art to caramel making; it takes practice and makes use of insider tips. You want a darker amber than you'd probably achieve if you were making typical caramel or caramel sauce. That way, it will stand out against the chocolate cake. When you pour in the cream, it will not just spatter, it will appear as if a strange alien creature is about to emerge from the bubbling, gurgling mixture. The temperature is critical: a degree under, and your layers will not adhere to one another. Instead, they'll slide off of each other in a grossly disappointing failure. A degree too hot, and your finished caramel will be too thick to spread without destroying the cakes. When it comes to incorporating the butter, I find that it's not necessary to cool the caramel beforehand; indeed, it can assist in the cooling process. You can get away with adding the butter in larger increments – or even all at once – so long as you're willing to stir the hell out of it. Once your caramel is made, time really and truly is your friend. I recommend that you let it rest overnight in the fridge, and then allow it a few hours to come to room temperature before using. Why? Because you need it to be thick. If you allow it to cool to room temperature, chances are it will be on the hot side of room temperature when you try to use it, which will increase the likelihood that the layers will slip off of one another. If you allow it to warm up to room temperature, chances are it will be on the cooler side when it comes time to use it, and this is better. Even if it's a little hard to spread, your layers will adhere.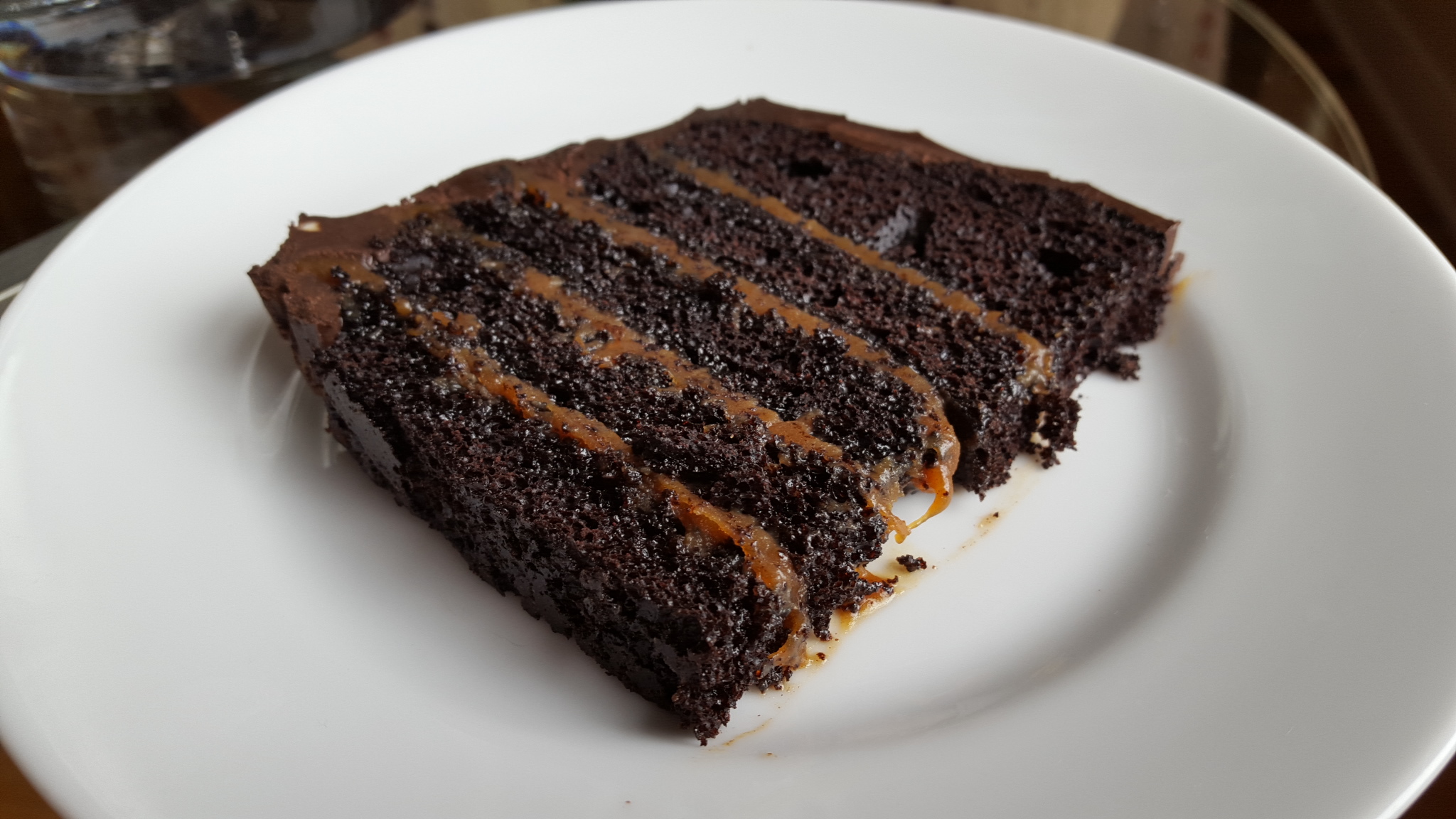 ASSEMBLY:
To hell with a serrated knife. Buy a cake leveler.
I'm not kidding.
Chances are that even with magic strips, your cakes domed slightly. Choose the one with the prettiest dome and designate it as the top layer. Level the other cakes so that they are completely flat. Eat the cake scraps as you work; they're ridiculously delicious. But don't do what I did, and get so carried away with how good it is that you can't stop yourself from eating one of the layers entirely. (Yes, you'll notice that make cake is only five layers, because I ate the other one while trimming. Oops.)
Next, cut all three cakes in half horizontally to form 2 layers out of each.
Retrieve your cake pans and line them with plastic wrap, letting the wrap overhang the sides of the pans.
Transfer a cake layer into each pan, and spread about 3/4 cup caramel (eyeballing it) over top.
With a small rubber spatula, push the caramel near the edge of the cake, stopping short by about 1/4 to 1/2 inch.
Top each layer with with another cake layer, and repeat with remaining caramel, but don't put any caramel on the designated top layer.
Refrigerate until set, 1 hour at least.
Ready a cake plate.
Rub your dominant hand with a thin film of the same oil you used for the cake. Hold the cake pan in your other hand, and place the oiled hand directly onto the caramel. Invert the pan and remove it, leaving the cake upside down in your oiled hand. If the plastic wrap came out of the pan along with the cake, remove it before inverting the cake onto the plate. You may have marred the caramel and a bit of it may have stuck to your hand. No big deal. It will repair itself as you stack the layers. Wash your hand and re-oil it to remove the other caramel-topped cake from its pan. The pan with the top layer will be easier to deal with.
As you stack the layers, manhandle them a bit to make sure they're perfectly aligned. Examine them from all angles. If you need to make an adjustment, push sideways onto the layers, using your entire hand – palm and fingers – so that you're distributing the pressure over a wide area. Push firmly, gradually applying more and more pressure, until you move the layer(s) into position. Once the cake is fully stacked and aligned, wrap it with plastic and return it immediately to the fridge.
Check on it periodically. If the layers appear to be sliding, adjust them. After an hour, the cake should be fully set. If this doesn't happen, you'll need to insert one or more skewers into the cake to make it stay upright. If your layers are truly flat and you cooked your caramel to the correct temperature, this won't be necessary, but shit happens.
Notes: I've tried it both ways: the knife is far more frustrating and the leveler is fun and foolproof. A leveler will set you back less than $10.
MEANWHILE, MAKE THE FROSTING:
Dissolve cocoa in 2.75 oz. (1/4 cup + 2 Tbs) warm water.
Beat butter, sugar, and a generous pinch of coarse salt on medium speed until pale and fluffy.
Gradually beat in melted chocolate, then cocoa mixture. With a spatula, scrape the sides of the pan and ensure homogeneity.
Let stand for 30 minutes.
Once the cake is set, you're good to frost it. Go thin with the frosting; you won't need to use it all.
(Sprinkle with sea salt.)
Notes: Martha says that the caramel can be refrigerated for up to 3 days. I suspect you could go longer than three days, but I didn't test it. She also says that the cake layers can be refrigerated for up to 3 days, and that they actually taste better when refrigerated and have a better texture for stacking. I agree. Furthermore, she says that when finished, the frosted cake can be refrigerated for up to 3 days. I concur with that as well. Not only can you do these things, you should. Otherwise, this cake would be a full-time job that will frustrate and exhaust you.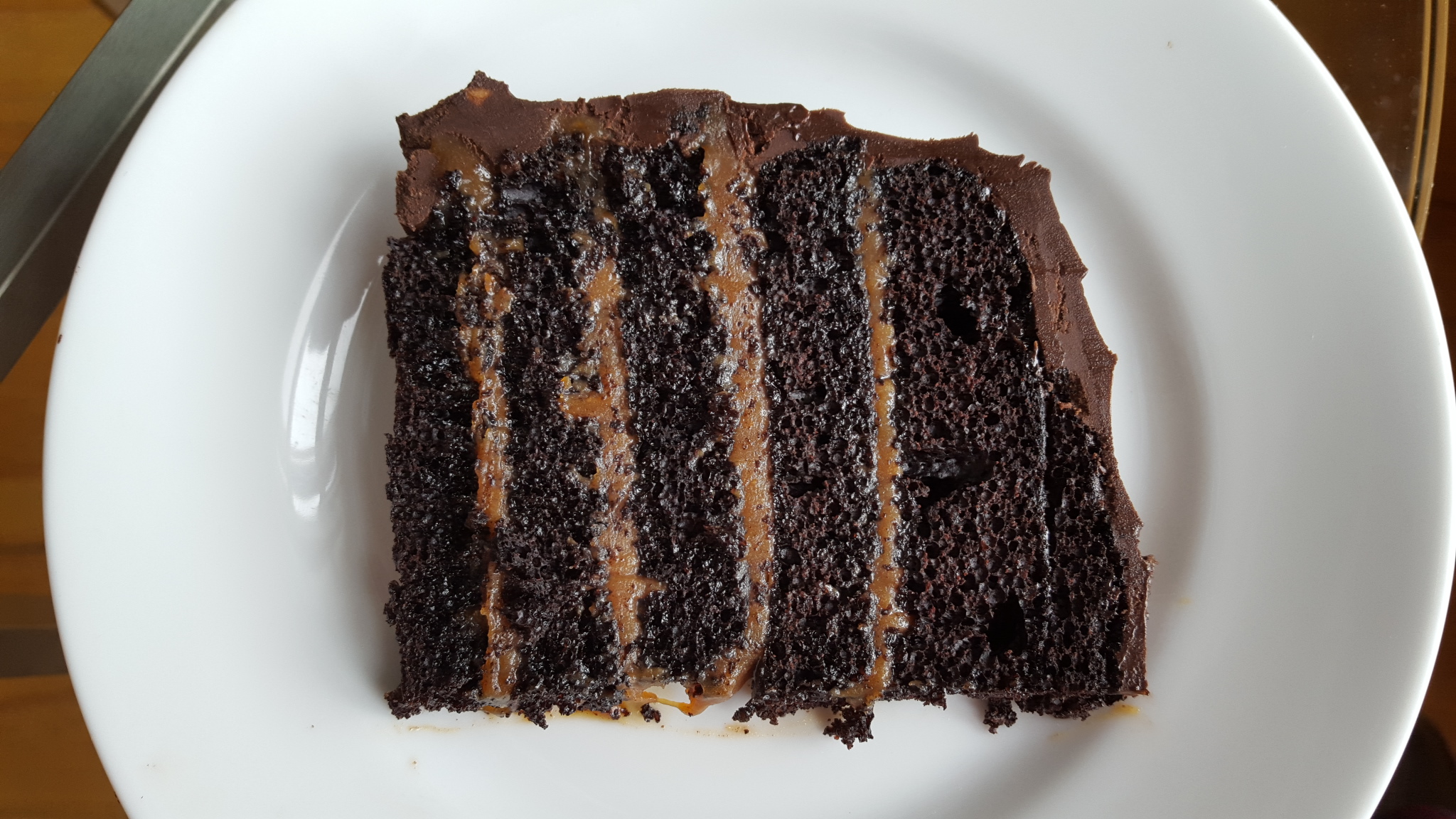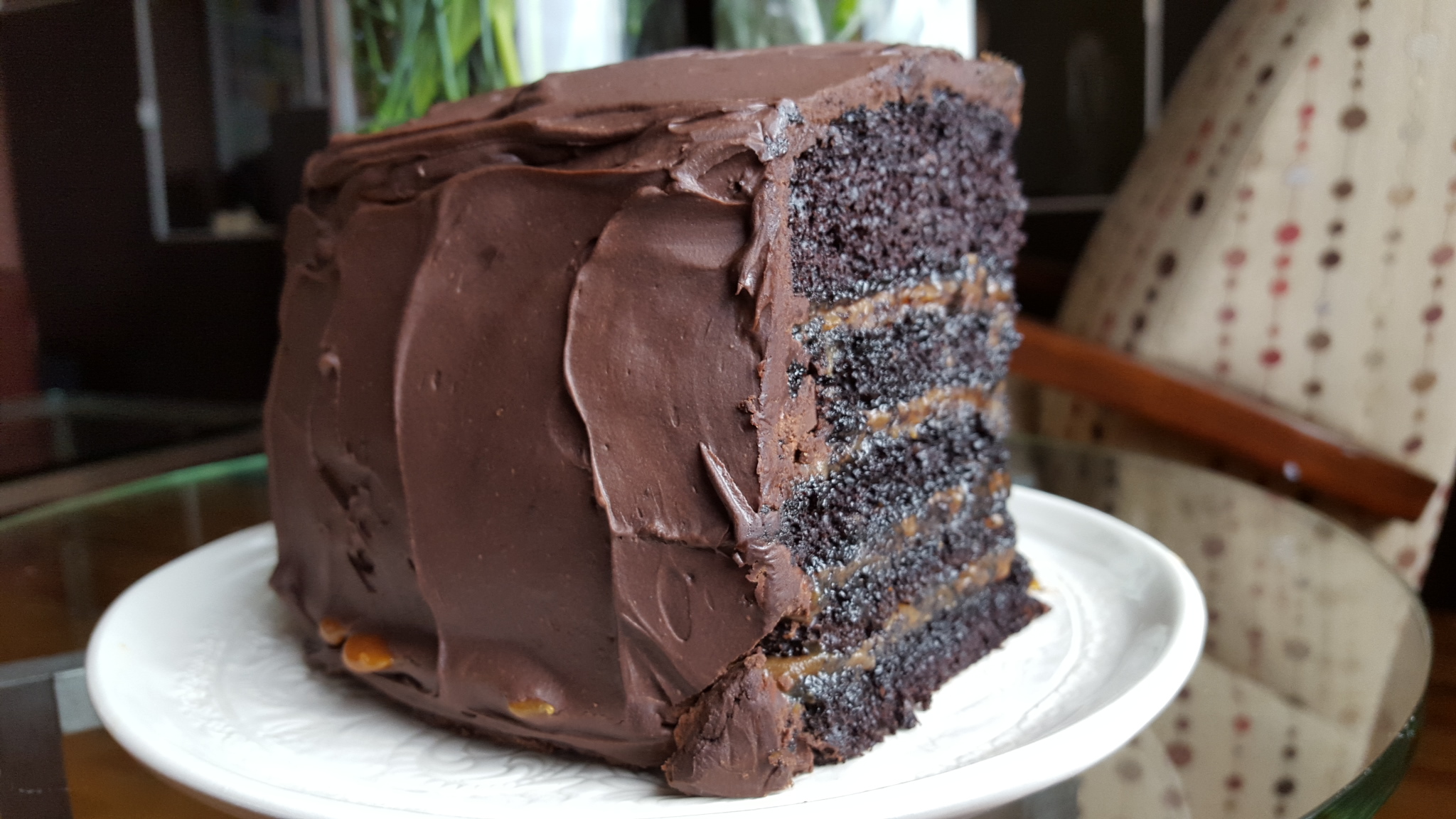 Salted Caramel Six Layer Chocolate Cake
Source: Martha Stewart Living. Credit for images on this page: Make It Like a Man! Clicking on images will enlarge them. This content was not solicited, nor written in exchange for anything. I'm not saying that Martha Stewart Living begged me to sponsor this post; I'm just asking where stuff like this ends. She owns Emeril, for God's sake. No kidding, she actually owns Emeril Lagasse. He sits in a cage on one of the cramped corners of her Manhattan apartment, and every time she points to him, he has to say "bam." Am I going to end up as a fixture in her East Hampton summer house? Well, look, like I said, I'm legally bound from flat-out telling you that she begged me to sponsor this post, and I'm not saying that she may have even offered me Emeril. I'm just saying that at the end of the day, this turned out to be an unsponsored post.
Keep up with us on Bloglovin'
Love Chocolate? Of course you do. Check this out: