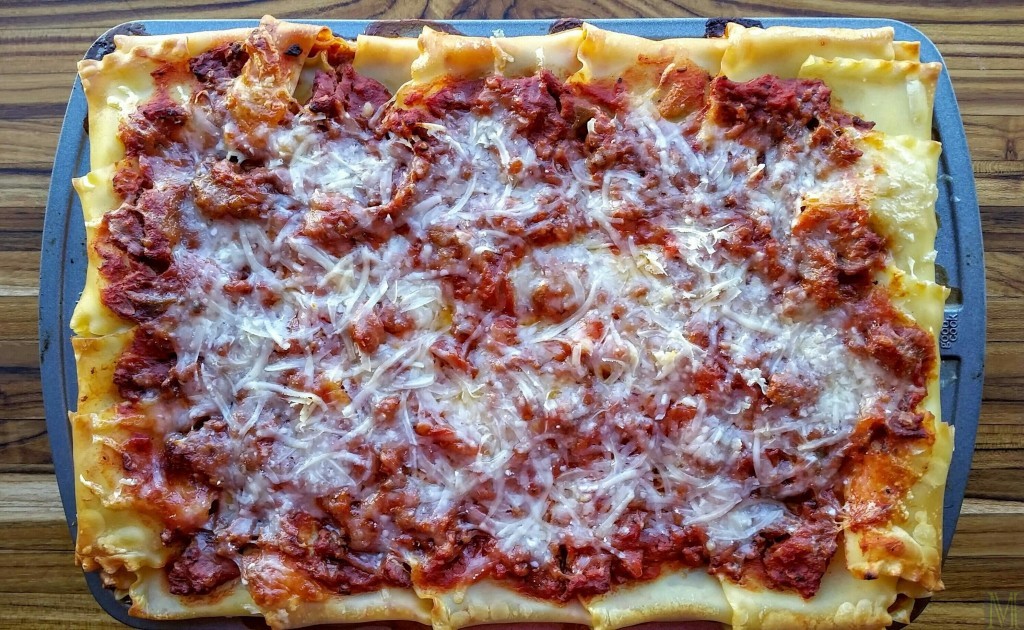 This is a Lidia Bastianich recipe. I've made more than a handful of her recipes, and this one is, like all of them, delicious and impressive. It's so loaded with meat, sauce, and cheese that it borders on obscene. I have to be right up front with you about this lasagna, however: it's a hell of a lot of work. But, the work can be – as far as I'm concerned, should be – spread out among several days. I promise you, the payoff is well worth the work. You'd be proud to serve even the leftovers to guests.
What you need to serve 12 incredibly generously:
2 Tbs olive oil
Salt
2 lbs lasagna noodles
2 large eggs
2 lbs fresh or packaged whole-milk ricotta cheese, strained
8 cups Italian-American Meat Sauce
2½ cups freshly grated Parmigiano-Reggiano cheese
1 lb mozzarella cheese, preferably fresh, sliced thin
Summarized Directions:
This recipe is from "Lidia's Italian-American Kitchen," Knopf, New York, 2003. Pg. 156-67. Get the book, because if you think this lasagna sounds delicious, you're going to flip out over the spaghetti and meatballs recipe. "Italian-American Meat Sauce" comes from that same book.
Add oil and salt to pasta water. Cook noodles to al dente. Meanwhile, blend eggs and ricotta. Then, build your lasagna like this:
(Top Layer) Parmesan
Thin layer of sauce
Fold in overhanging noodles
Parmesan
Sauce
Lengthwise noodles that don't overhang
Parmesan
Sauce
Mozzarella
Lengthwise noodles,overhanging pan
Eggy ricotta
Crosswise noodles,overhanging pan
Parmesan
Sauce
Lengthwise noodles, overhanging pan
(Bottom Layer) A bit of sauce
Bake at 350ºF, 45 minutes covered, 20 more minutes uncovered. Let stand.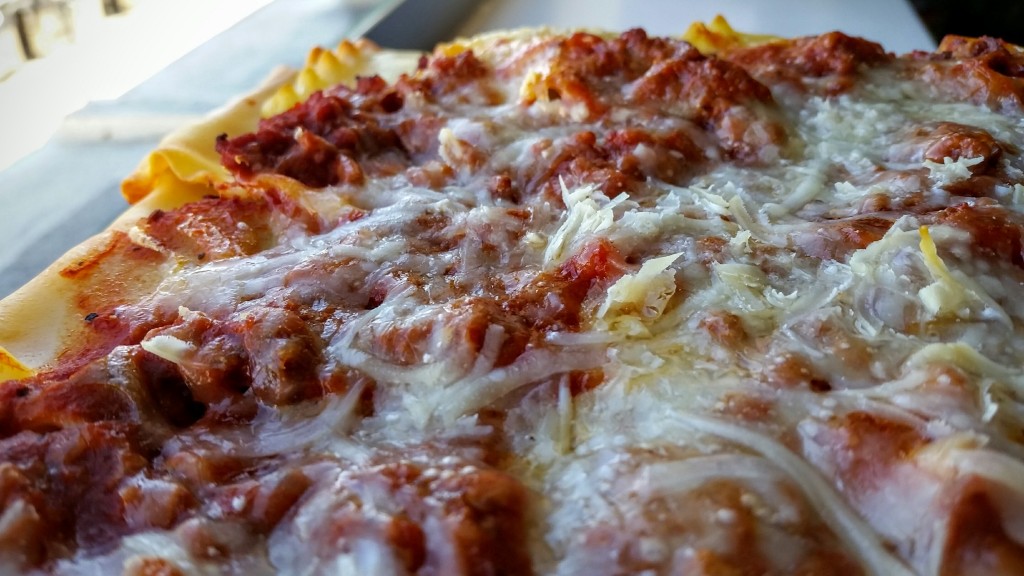 Notes:
This is "special occasion" food; you really have to go the distance and make your own sauce. Yes, it's true that eight cups of sauce is just shy of three 24-oz jars of Newman's Own "Sockarooni," to which you would have to add 1 lb of ground beef and 1 lb of ground pork, scrambled, in order to approximate Lidia's sauce. But the only reason I'm telling you that is so that you'll know exactly what you should not do. Even though with that shortcut, you could assemble the lasagna one day, and bake it the next – a relative breeze – I would never suggest it … never. And I would also suggest not telling anyone if you do! 😉
Lidia's Italian-American Meat Sauce produces more than you need, but that turns out to be a good thing. Serve the leftover sauce alongside the lasagna, so that people can pour it onto their servings like gravy.
Lidia asks you to bake this lasagna in a 15 x 10-inch baking dish. Although they do exist, you probably have a 13 x 9-inch cake pan; it will work perfectly.
Don't buy presliced mozzarella.  It's sliced too thick.
Taste every layer before you add the next element, to make sure it's perfectly seasoned. There's no way to correct the seasoning after the fact.
I give this recipe a huge five stars. I can't imagine better. It reheats perfectly in the microwave (4-5 minutes per massive piece) and freezes beautifully.

(5 / 5)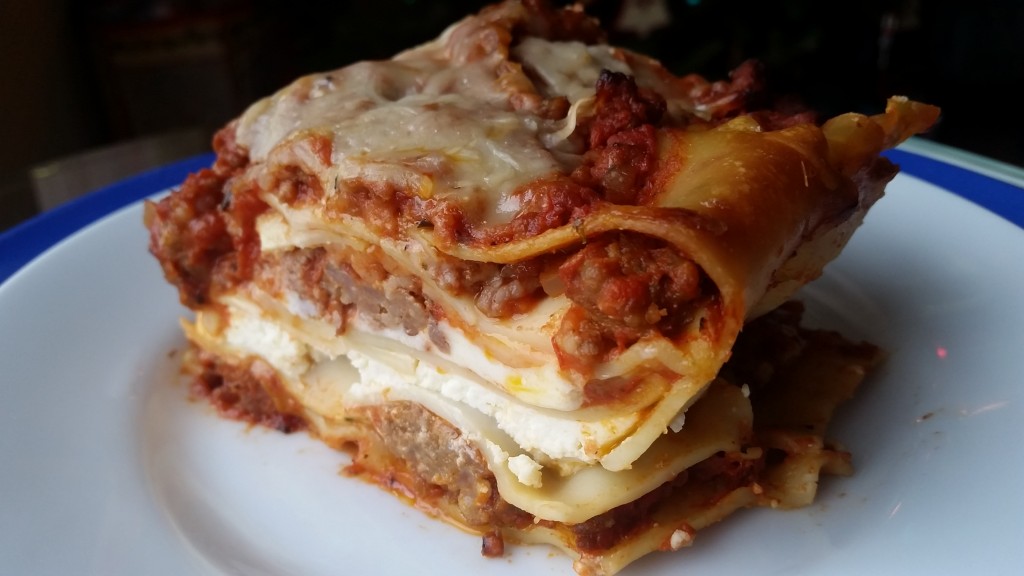 Italian-American Lasagna
Credit for images on this page: Make It Like a Man!. This content was not solicited nor written in exchange for anything – although we couldn't be  more pleased that Lidia retweeted it!