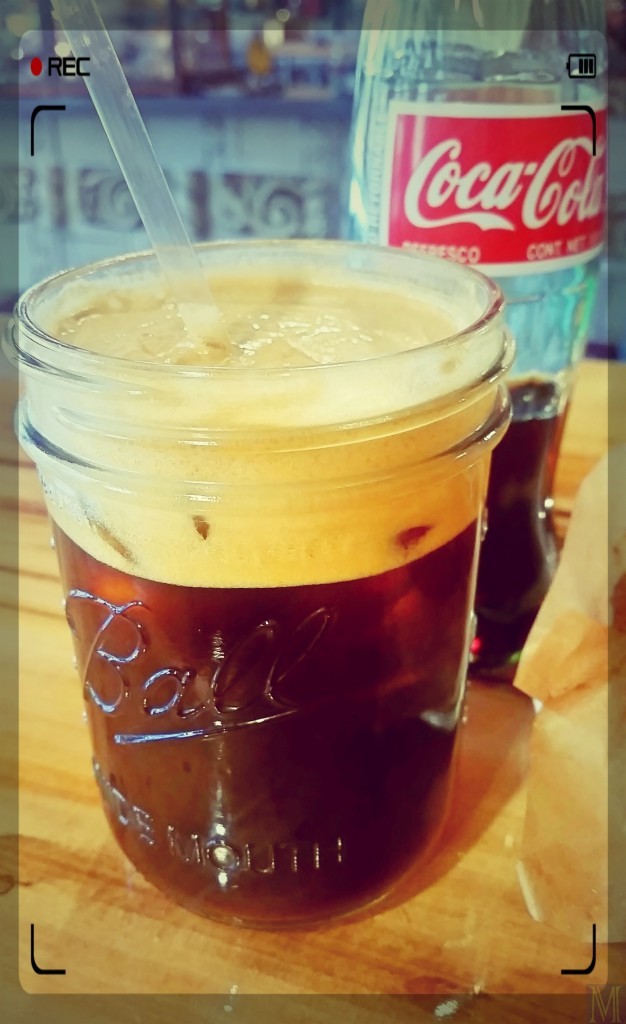 The force is strong with this one.
I drink a lot of coffee, so I think I'm acclimated to caffeine. But I am buzzing right now. I just had "The Vader," from Everybody's Coffee (Uptown, Chicago). It's a couple of shots of espresso and a shot of vanilla, poured into a Mexican Coke. Yeah, you read that right: two espressos and a Mexican Coke.
"What does it taste like?" has to be what you're wondering. Well, it tastes exactly like espresso and Coke. The really weird thing is, it's a great flavor combination. I can't explain it to you, but the cola and coffee flavors complement one another surprisingly well. It's delicious. I want to go so far as to say it's fucking delicious, but I'm trying to swear less during the holidays. "Has anybody shot at you?" has to be the other thing you're wondering, if you know Uptown. Not to worry, with this much caffeine and sugar in me, I'm pretty sure I'm impervious to bullets.
A curious thing, The Vader … you know how carbonated pop foams up when you pour it over ice (especially when there's a significant temperature difference between the pop and the ice)? Well, the espresso crema (that's what you call the foam atop an espresso) combines with the pop foam ("suds," I guess … hardly as sexy a name as crema), and together they form a thick head similar to what you might expect on a creamy, creamy root beer float.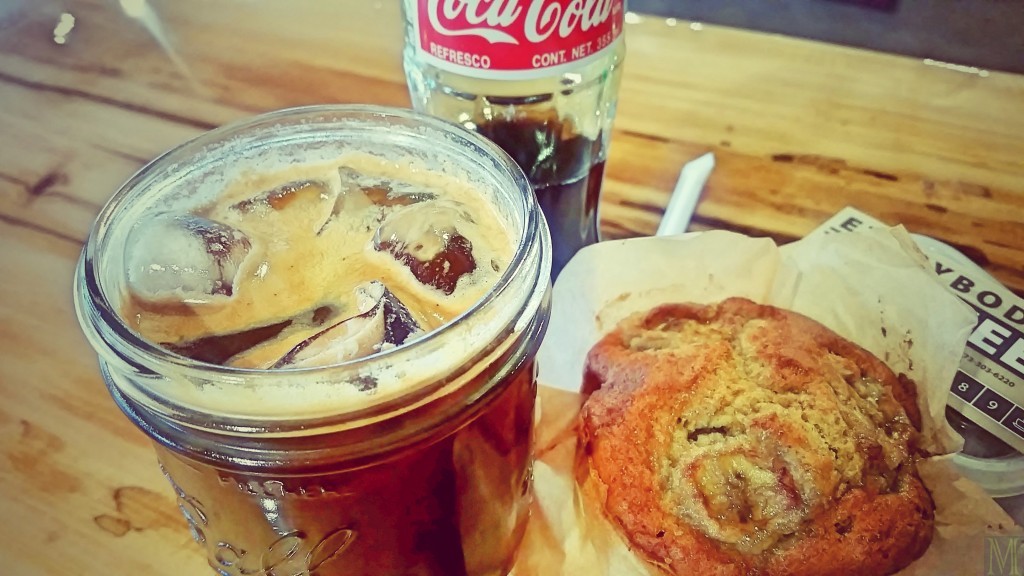 What an impressive buzz! My head is swirling with caffeine. I am typing 150 words per minute, and I'm thinking a million times faster than that. I'm not just alert, I have superpowers of alertness and energy out the wazoo!! My hearing has become super-human, and I'm pretty sure I've developed X-ray vision. I'll bet I could spontaneously tap dance if I wanted to, even though I've never had a dance lesson. I suspect that if I had a second Vader, I might develop telekinetic abilities.
Why Mexican Coke? At first, I was thinking that was a euphemism for cocaine, which would explain why after drinking it, I feel confident far in excess of my real abilities, but I suspect that it has to do with the sugar in Mexican Coke, as opposed to the corn syrup in American Coke. Of course, this makes perfect sense, considering the complex chemical properties of white sugar and its relationship to caffeine.
Unlike caffeine, most simple sugars like glucose, fructose, and sucrose are very soluble in water and exhibit little detectable tendency to associate in aqueous solution. However, they have different solubilities in water, with fructose being significantly more soluble than glucose or the disaccharide sucrose. As osmolytes in a Hofmeister sense, sugars hydrate strongly and generally are excluded from the surfaces of proteins, promoting conformational stability. National Center for Biotechnology Information
I find myself curiously able to trust my feelings … I'm going to type the rest of this post using the force, while I use my fingers to turn my cell phone charger into a light saber.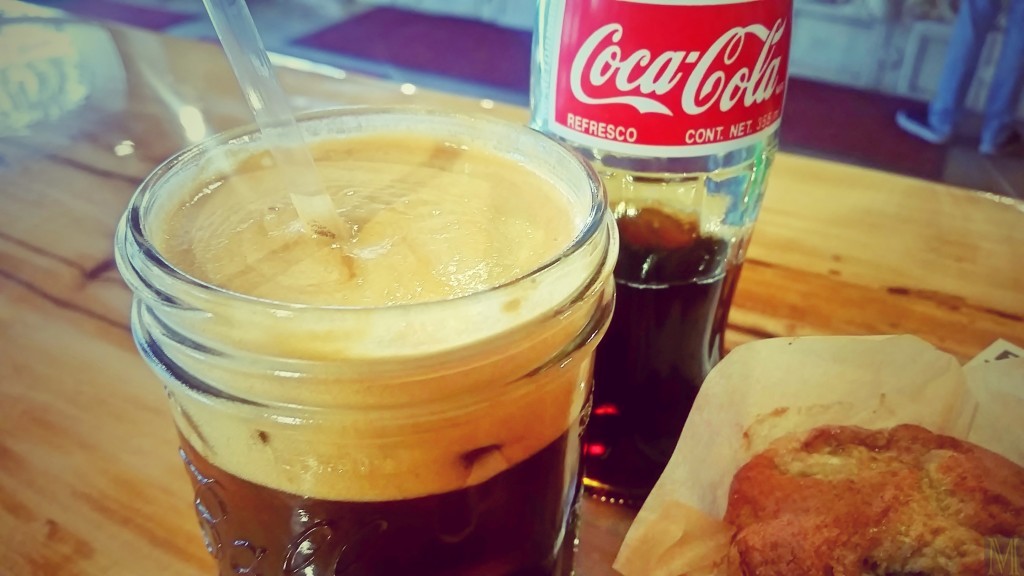 The Vader
Epilogue
I have to confess that my comprehension of osmolytes and aqueous solutions diminished as my Vader buzz – which impressively lasted all morning – wore off. Worse than that, my phone is sitting in front of me in a dozen pieces, and I don't know how to put it back together.
This content was not solicited – not by Everybody's Coffee, not by the Jesus People, not by Lucasfilm, and especially not by Darth Vader. Nor was it written in exchange for anything, including schematics on the Death Star. (I traded my recipe for Oatmeal Sandwich Cookies for that.) This is my second post on the general topic of Everybody's Coffee, and I have to say, if I were going to join a commune, this would be the one I'd join. The woman who rang up my Vader and whole-grain banana-chocolate chip muffin is wearing those so-trendy Adele eyes – and wearing them well – and the Jedi who made my Vader is a heavily bearded, lumberjacky hipster dude with color tattoos right up his arm. When he handed it to me, he said, "Watch out when you stir this, because it's going to foam up." But I swear to you, if he had said, "I am your father" I would've screamed "No!" but I would've believed him.
Credit for images on this page Baker & Nosh – The Sheridan Parkonian, Two Bearded Men – JPUSA, Green Mill – Uptown History, Uptown Marquee – The Red Line Project. All others: Make It Like a Man! Hover over images and/or green text for pop-up info. Click for joy.
Public Service Announcement: I call it "pop," because I'm from Chicago, and we Midwesterners know how to properly address a soda.
Warning: drinking The Vader on the way to see The Force Awakens at the theater this weekend might lure you too close to the dark side. Don't do it!
Keep up with us on Bloglovin'
Like coffee? Love Uptown Chicago? Check these out: