Everybody's Coffee is a cool Chicago space with interesting drink options. It's a stand-out in its neighborhood.
♣
Coffee and Wi-Fi in Uptown
This is the 4th in a series of Uptown cafe reviews. To see them all, click here.
---
Hotspots-a-Go-Joe, edition XIV
♣

(4 / 5)
935 W Wilson Ave
Everybody's Coffee offers interesting drink options; for instance, you can order your capp with a light or dark roast. They also offer you an outlet for your magnanimity: you can buy someone a cup of coffee and leave a voucher for it on the "love board." You could buy coffee for a friend, an enemy, a stranger, or even someone who isn't strange. In addition to coffee and espresso drinks, they serve a variety of baked-on-site goods. All of them look delicious, and if the (slightly pricey) raspberry-lemon muffin I had is indicative, they're definitely better than your average café fare.
This cafe's location is interesting: it's in the center of the last remaining hood holdout in Uptown. Uptown's changing so quickly, that many Chicagoans – even those in nearby neighborhoods – don't fully realize it. The hood is shrinking, practically by the minute. Given that this cafe is situated at the center of the shrinking hood, I wondered if Everybody's was a homeless outreach in the guise of a coffeehouse. But while I sat sipping a delicious dark-chocolate mocha, here's what I observed: most of the clientele and employees were white men – none of whom could be distinguished from men you'd see at the North & Sheffield Starbucks.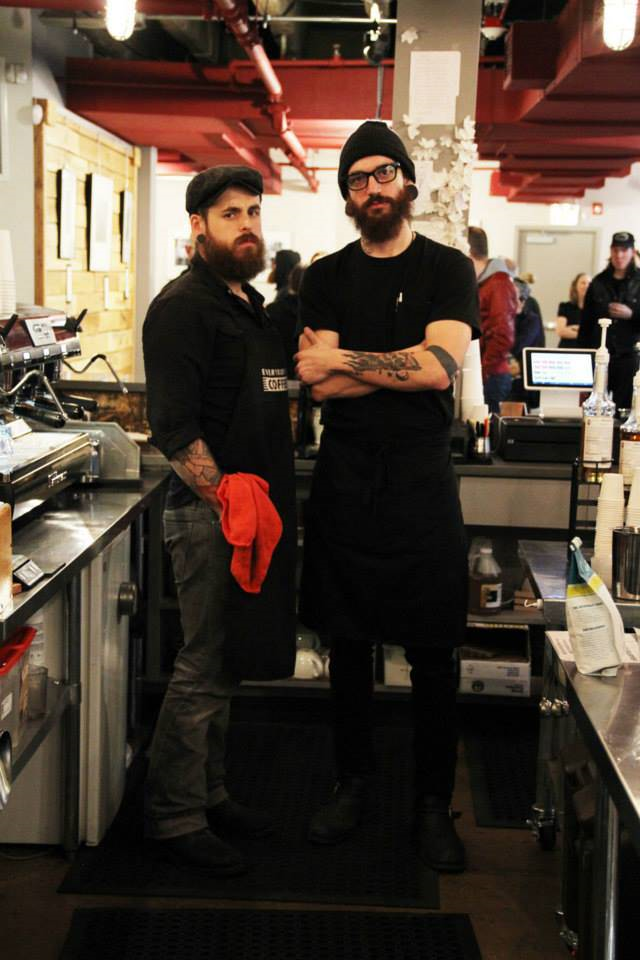 Each decade was represented: from a clean-shaven, Ivory-soap-scrubbed guy in his 20's, to a long-haired and bearded man in his 30's, to an every-man in his 40's, to a goodlooking dude in his 50's with a manbun … all the way up to an octogenarian who spent the morning making doctor's appointments on his cellphone. (They sounded like routine visits. I really question whether he needs to see so many specialists, but it sounds like his insurance will cover it, so…) The only thing I came across that was remotely un-Lincoln-Park-like was the behavior of a woman sitting near me. She was manipulating some kind of implement over a bound notebook full of lined paper. I think they used to call this "writing" and if I'm not mistaken, she was doing it in a style they used to call "cursive." I informed homeland security.
I was reluctant to check Everybody's out, because I'd heard that it's owned and run by the Jesus People. I wasn't sure if it was some kind of Venus flytrap. That reservation appears unfounded. It's just a really nice café. If there is any evangelism going on there, it's so laid back and passive that it's undetectable. The Jesus People aren't a traditional church; they are a community: not just in the sense of being a unified body of individuals, or people with common interests who live in the same general area, but of people living together communally. They are apparently one of the largest single-site communes in the United States. Many of them live above a skateboard shop on Wilson, not far from the café. The community runs businesses like the café in order to support the needs of its members.
JPUSA is a nonprofit and has several businesses that support it, and while many of its members work in those businesses, they are not considered employees and are not paid wages. All income goes into a common pool for living expenses. Members who have personal needs submit a request for cash. There is no health insurance or pensions; members use public health facilities at Cook County Hospital. – About Religion
I wasn't evangelized. I sat there for a whole hour and a half and was never spanked. Not even once. And I probably deserve to be. However, I did support some people who are taking the road less travelled, and I'm happy to do that. I think organizations like the Jesus People get misrepresented by society at large, almost as a rule. Anyone who chooses to live differently, separately, or both is generally regarded with suspicion and/or contempt. Love seems to have a necessary relationship with exclusion, and no one likes to be excluded – even by groups that they have no interest in joining.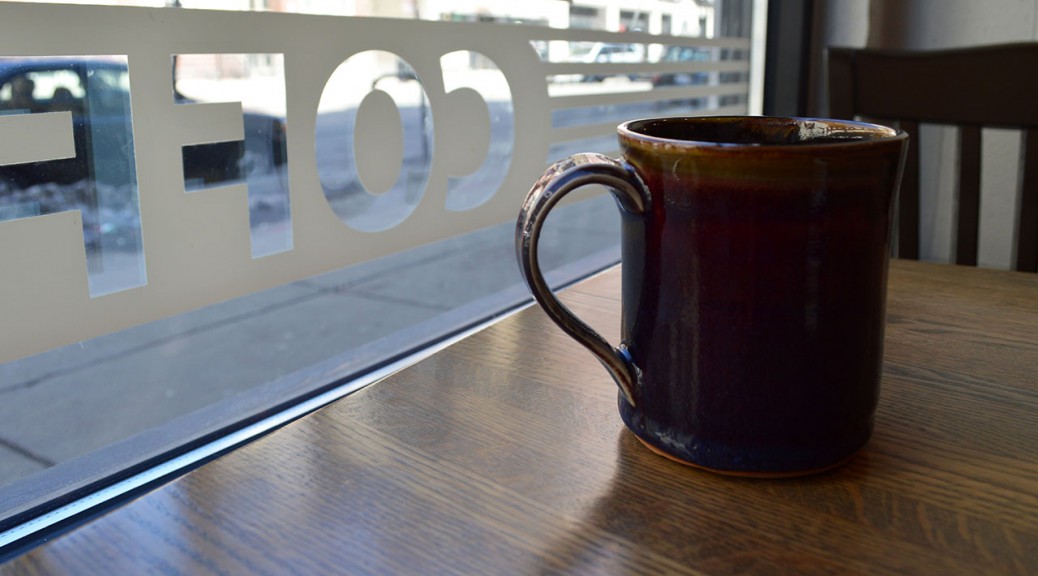 ♠
WIFI: good. BTW, they're website is beautiful.
Working or studying: plenty of space, fully plugged
Coffee: worthwhile
Good eats nearby: Yes
You may also like our Baker & Nosh review, our other Uptown reviews, or a list of all our café w/WiFi reviews.
Image credits: "Espresso Drinks Counter," Make It Like a Man! "Two Hipster Baristas," JPUSA.  Coffee mug: Medill Reports Chicago. Hover over images and/or green text for pop-up info. Click for more.
♠