♣
Is someone you love sick with a cold? Be the hero who whips up some homemade chicken soup from scratch in what seems like an instant.
♣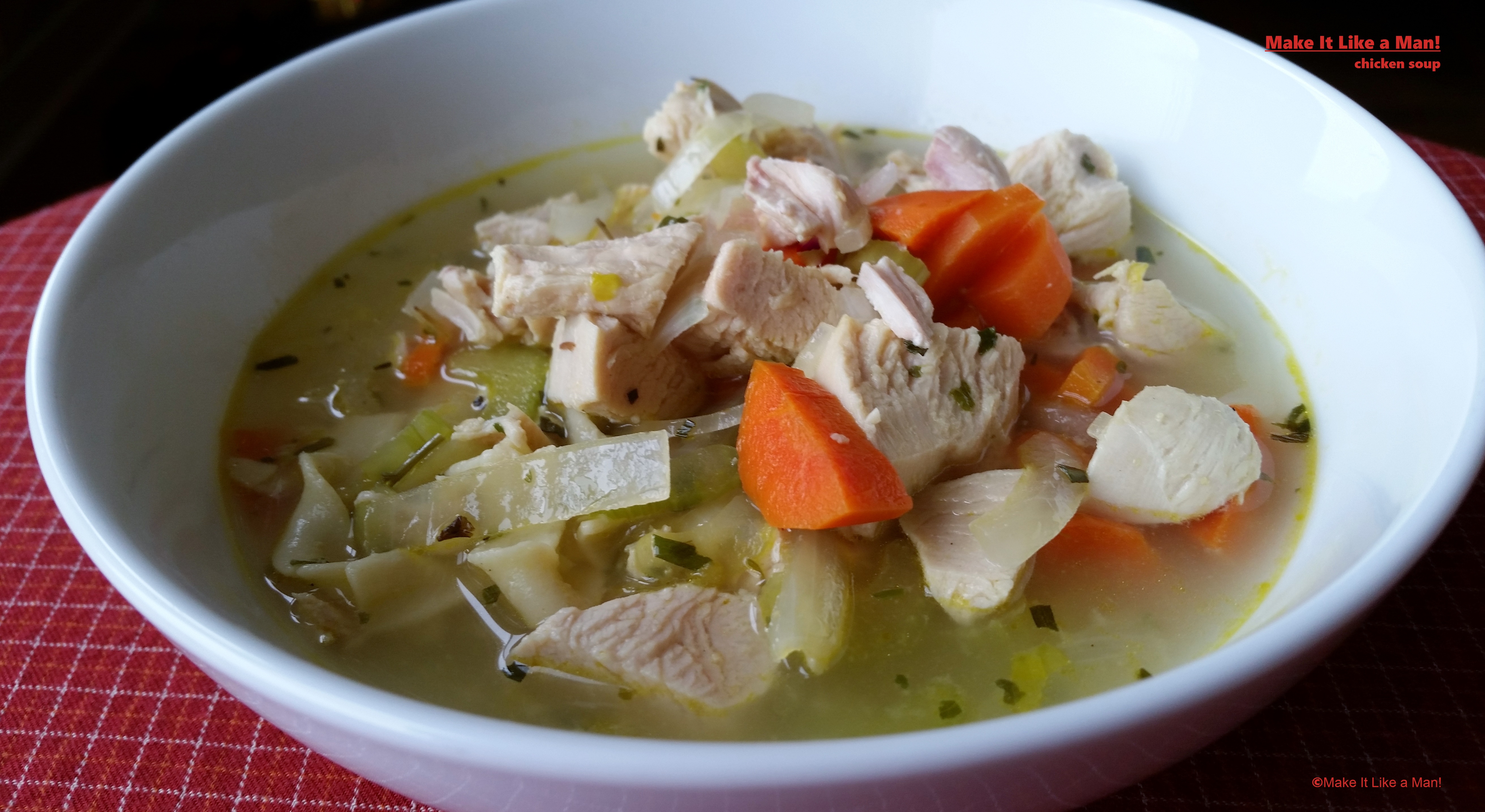 Serves 4
This is such a fantastic recipe for chicken soup, that I've served it to guests on many occasions: juicy chicken, perfect vegetables, and such a tasty broth that it's a complete stand-out.
You might think of chicken soup as an all-day affair, and if you're going to start by plucking a chicken, then yes, I see your point. If you're going to start with pre-made stock, however, it's actually something you can whip up in about an hour – and half of that time is spend sitting on your thumbs doing absolutely nothing … so, it's a half-hour of work, and you've got homemade chicken soup that is absolutely stellar. Really! Not only can you do this, but you can do it outstandingly.
This method for making chicken soup with vegetables comes from Julia Child's "The Way to Cook." It's so simple, also so easy to remember, that I haven't actually looked at the recipe in years … which is kind of what that particular cookbook's all about: once you learn the basics of making a chicken soup, you just roll with it. I've preserved her recipe, more-or-less, in the basic ingredient list, and presented my take on it in the options and notes. The real key to this whole thing is the stock, so be sure to read that note.
Basic Ingredients
1 or 2 boneless, skinless chicken breasts[1]
4 cups chicken stock[2]
1 bay leaf
1 cup julienned or diced[3] onion, or ½-cup of onion + ½-cup of leeks (white part only)
½ cup julienned or diced[3] carrot
½ cup julienned or diced[3] celery
1 Tbs oil or butter
¼ cup dry white wine or dry white vermouth[4]
Salt and coarsely ground black pepper
Options
1 cup cooked rice[5]
2 cups cooked egg noodles, or another spoon-friendly pasta[5]
16 oz potato gnocchi
1 tsp dried tarragon[6]
1 tsp dried fines herbs[7]
Directions
Place the chicken, stock, and bay leaf in a medium-sized pot. Poach the chicken: bring the stock to a boil, quickly reduce the heat to lowest setting, cover the pot, and maintain a bare simmer until the chicken's done through, about 10 minutes. Off heat, allow chicken to steep for a half-hour. Meanwhile, sauté the vegetables in oil until soft: start with the onion, add the carrot a minute later, and the celery (and leeks) a minute after that. Sauté about 6 minutes longer, or until the carrots are to your liking. Once the chicken has steeped, remove the breasts and the bay from the stock. Discard the bay. Add the vegetables and simmer briefly, as you shred or dice the chicken. Off heat, add wine and pepper. Taste for seasoning. Add chicken (and options), et voila.
Onion, carrots, and celery are the classic veggies for chicken soup (unless you're Martha Stewart). If you're making this for someone with a cold, you should stick with those, because whatever magic chicken soup has, I think part of it is the old-fashioned, homey kind of nostalgia that only the traditional version can convey … I mean, aside from the fact that chicken and vegetables are certainly nutritious. But you don't have to stick with the traditional mirepoix proportions. I'm fine with 50% less onion, for instance. If you're looking for something quite a bit less traditional, throw open the doors of your fridge or pantry and improvise. Lots of vegetables: potatoes, parsnips, mushrooms, spring vegetables, more-or-less any root vegetable. All sorts of grains: farro, barley. Spices like dill or ginger. Even something strange but true, like lime and avocado.
Notes:
[1]
Chicken Breasts:
one breast will do it, two if you really like lots of chicken. It's a matter of personal preference. Because chicken breasts often come three-to-a-pack, I will often poach all three, but then reserve the third breast for another use: slice it into cutlets and put it on a sandwich,
up to a week later
, with mayo and mustard, and lettuce and tomato, on a tasty ciabata.
[2]
Stock:
I like "
Better than Bouillon
" chicken base. Easy: 1 tsp per cup of water. And super tasty. (I also like
Kitchen Basics
. Even easier: just open and pour.) Steeping the chicken puts the stock over the top, but if you started with something really inferior, you certainly could wind up with a boring soup regardless of the steeping. It
has
to be good stock, or you're screwed. That is the kingpin to this recipe. Everything else is completely flexible. I almost never have time to make a homemade stock, but I almost always have time to watch two back-to-back episodes of
Marvel's Agents of S.H.I.E.L.D.
 So, when I've got chicken scraps – and it doesn't matter if they're from the rotisserie chicken I brought home from the grocery store – there's no reason I can't throw them in a pot and let them simmer while I watch Ward grow a beard, and find out what happens to Skye. Afterward, I strain it, feed whatever scraps I can salvage to the dog, and shove the crude stock into the fridge. It doesn't even have vegetables or seasonings in it, mind you. Next morning, skim the fat, and freeze the stuff. Then – and here's the magic – I use a 50/50 mix of this stuff and filtered water to rehydrate the Better than Bouillon.
[3]
Julienned or Diced Veggies:
how you chop them is nothing more than a matter of style. I like a hearty, manly soup, so I chop the onion into rounds and then ¼-inch slice the rounds. Peel the carrots and sever them into chunks. Cut the thinner pieces into ¼-inch rounds, and the thicker pieces into half-moons. Celery into ¼-inch slices – if the end pieces are especially wide, I might bisect them. Julienning the veggies is admittedly more sophisticated. Dicing them – especially fairly small so that you can easily scoop up lots of veggies in every spoonful – is also a very nice way to go. No matter what you do, though,
wear your goggles
.
[4]
Wine
has a short shelf life once it's opened, so I tend to drink it up as quickly as I can (by which I don't mean I guzzle it, Mom!) and I don't often find myself with leftover wine sitting around. Would I open a bottle just to use a quarter cup of it in this soup? If I did, I'd serve the wine with the soup. It's a fantastic pairing. Add a loaf of crusty bread and butter and you've got something going on, man. But if I'm not going to do that, then I'll opt for vermouth – which is what happens most of the time. An open bottle
lasts for months
. Julia says "French," so you might want to whip out your Noilly Prat, but you'll do just fine with Martini & Rossi Extra Dry. You'll also do just fine omitting the wine/vermouth. Adding it lends a kind of quiet sophistication, but this is a matter of style, not of quality: your soup will be 100% kick ass with or without it.
[4] Rice and Pasta, even thought they're pre-cooked, will continue to soak up liquid if you put them into the soup. So, if you know that you'll be eating all of it, go ahead and add them to the pot. If you suspect there will be leftovers, then add the rice or pasta to the individual serving bowls and then ladle soup over them. After dinner, store the leftover soup and rice or pasta separately.
[4] Tarragon doesn't really belong in a classic chicken soup, but as a bit of a twist, it tastes like it just belongs there.
[4]
Fines Herbes 
has a tarragon base, but the added herbs give it more complexity – not in the sense of "what's that," more like "oh yeah." I like Spices and Tease
Special Omelet Potato
blend.
Homemade Chicken Soup Recipe, Using Chicken Breasts
♠
Credits for all images on this page: hover over image and/or green caption text. Click to jump to source.
♠