♣
I'm not suggesting that anyone in their right mind would ever have leftover doughnuts. But in case you do find yourself open to that accusation, this flabbergastingly-easy cake will keep your friends from calling you crazy behind your back. Instead, they'll be calling you a mad genius right to your face!
♣
Makes two 8-inch cakes, producing 32 servings
This is a dufusly simple recipe, and it's kick-in-the-pants delicious.  Plus, knowing that this recipe exists gives you an excuse to come away from your favorite bakery with way more doughnuts than you could possibly eat. Finally! A plausible excuse!
The flavors of the cake mix and doughnuts harmonize nicely while retaining some independence, but the scent is distinctly and enticingly "doughnut."  Keeps for a couple days, covered, on the counter top.  Freezes extraordinarily well.[1] Serve Day-Old-Doughnut Coffee Cake to your guests.  It's conversational and delightful – a one-two punch!
You can use cake-style doughnuts, or yeast-style, glazed, chocolate-covered, fritters … nearly any kind of doughnut or any combination of them.  My two reservations are: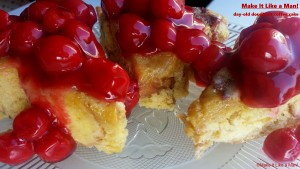 Doughnuts with filling.  Some types of jellies might bake well, while whipped, frosting-style fillings may not. Choose wisely, my friend.
Use doughnuts that were hands-down delicious when they were fresh and have become dry.  If you use doughnuts that weren't all that good to begin with, the finished cake will be miserably disappointing.
Here's the combination I used for my most recent Day-Old-Doughnut Coffee Cake: one Boston cream,[2] a cinnamon-sugar, 2 glazed, 1½ apple fritters.
"Cakeughnut" \kāk-ə-nət\ : Day-Old-Doughnut Coffee Cake
5-6 large, day-old doughnuts
1 yellow cake mix (which may require additional ingredients, such as eggs and oil)
1-2 cups chocolate chips and/or chopped nuts, optionally
2 Tbs sugar
2 sixteen-oz cans pie filling,[3] any flavor, optionally
1. Cut doughnuts into 1-2" chunks. If you have a combination of cake- and yeast-style doughnuts, keep them separate.  Set aside.
2. Follow cake mix package directions with the following insertions: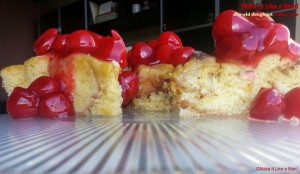 Just before pouring batter into pans, fold in doughnuts and options.  (Options are truly optional. Cake is delicious with or without them.) If using cake-style doughnuts, allow the doughnut chunks to soak in the batter for 2½ minutes before proceeding.  Do not soak yeast-style. If using a combination, add the cake-style and options, soak, then add the yeast-style and proceed.
Just before baking, sprinkle each cake with 1 Tbs sugar.
3. Test for doneness 5 minutes before the baking time given by the package directions.  Take care when testing: test the cake batter, not the doughnut chunks.  Top of cake should not be wet to the touch, although may be slightly tacky. Alternative ways to finish up:
Allow the cakes to cool until they (and the pans) are firmly past the point that they can be handled easily with your bare hands, but not quite to the point of being room temperature.  Remove from pans and serve immediately.  The aroma will make you delirious, and the texture will be almost as interesting as the flavor. A modest drizzle of white glaze might be welcome.
Or, allow to cool completely in pans before removing to cake plates. The cake's texture will be more homogeneous at this stage.  Its flavor, so much like pastry that it calls out for a filling – but not a frosting.  If desired, top cakes with pie filling, just before serving.  Top each cake whole, or top individual servings. I like cherry or lemon with most doughnuts, but choose a flavor you find most suitable for the type of doughnuts you've used.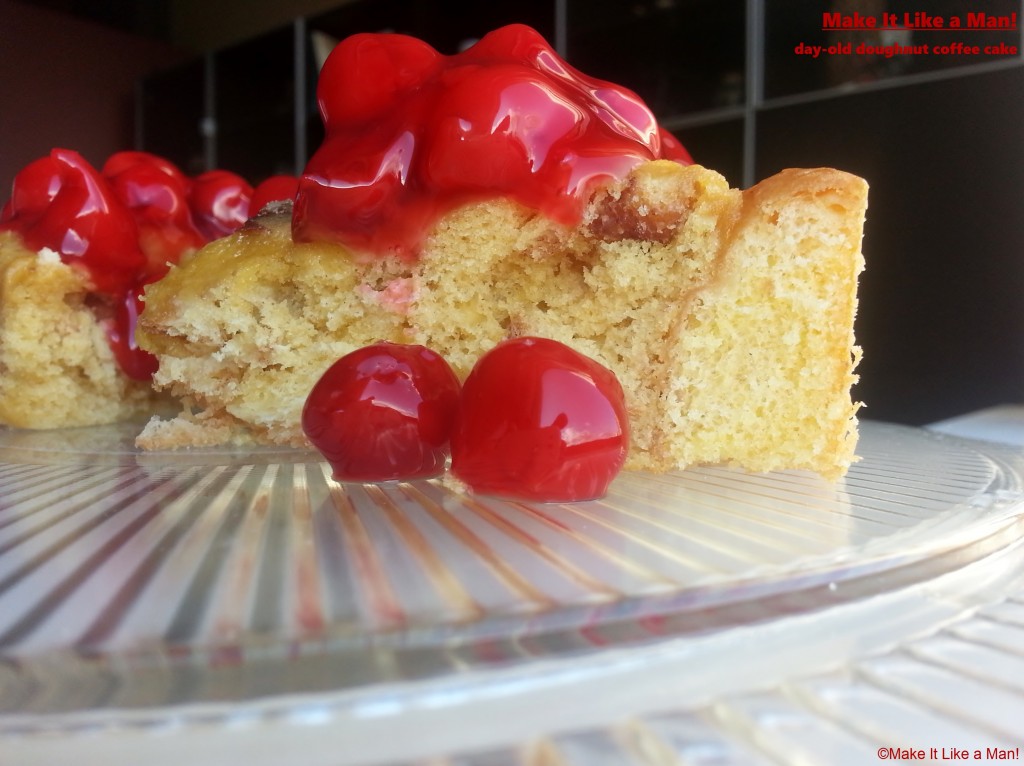 ---
Notes:
[1] Wrap it well (I wrap mine in plastic, then in foil) and keep it frozen for three months or more. Thaw, still wrapped, on the countertop.
[2] Boston Cream: After cutting the Boston cream into chunks, I worried that the cream would either get lost in or interfere with the cake batter.  So I ate all the super-creamy pieces and used the drier chunks.
[3]
Pie Filling
: I know I've
hated on canned pie filling
before, but those feeling are contextual. Although I still hold firm to the opinion that I would not bake a pie using canned filling, I have to fess up to the fact that if you set an open can in front of me and handed me a spoon, I'd devour it. Hell, I might not even use the spoon.
[4]
It's not as though homemade pie filling would be out of place on a Day-Old-Doughnut Coffee Cake. I'm sure it'd be spectacular. But come on … you've just dumped a cake mix onto some store-bought doughnuts. If canned pie filling ever had a home, this is it.
[4] Use a Spoon: OK, I probably would use a spoon. Know what else I'd do? I'd get a tub of Cool Whip and I'd curse them for selling it frozen because you can't just devour it immediately. That's OK, though, because canned pie filling is better chilled. So I'd put the can in the fridge along with the frozen Whip. Once everything had come to the proper temperature, I'd get my favorite spoon, dip it into the can of pie filling, double-dip it into the Cool Whip, eat. Smile and go, "Oh hell yes." Repeat. Repeatedly. (PS: this is my first ever footnote's footnote. A celebration is in order.)

See Also: